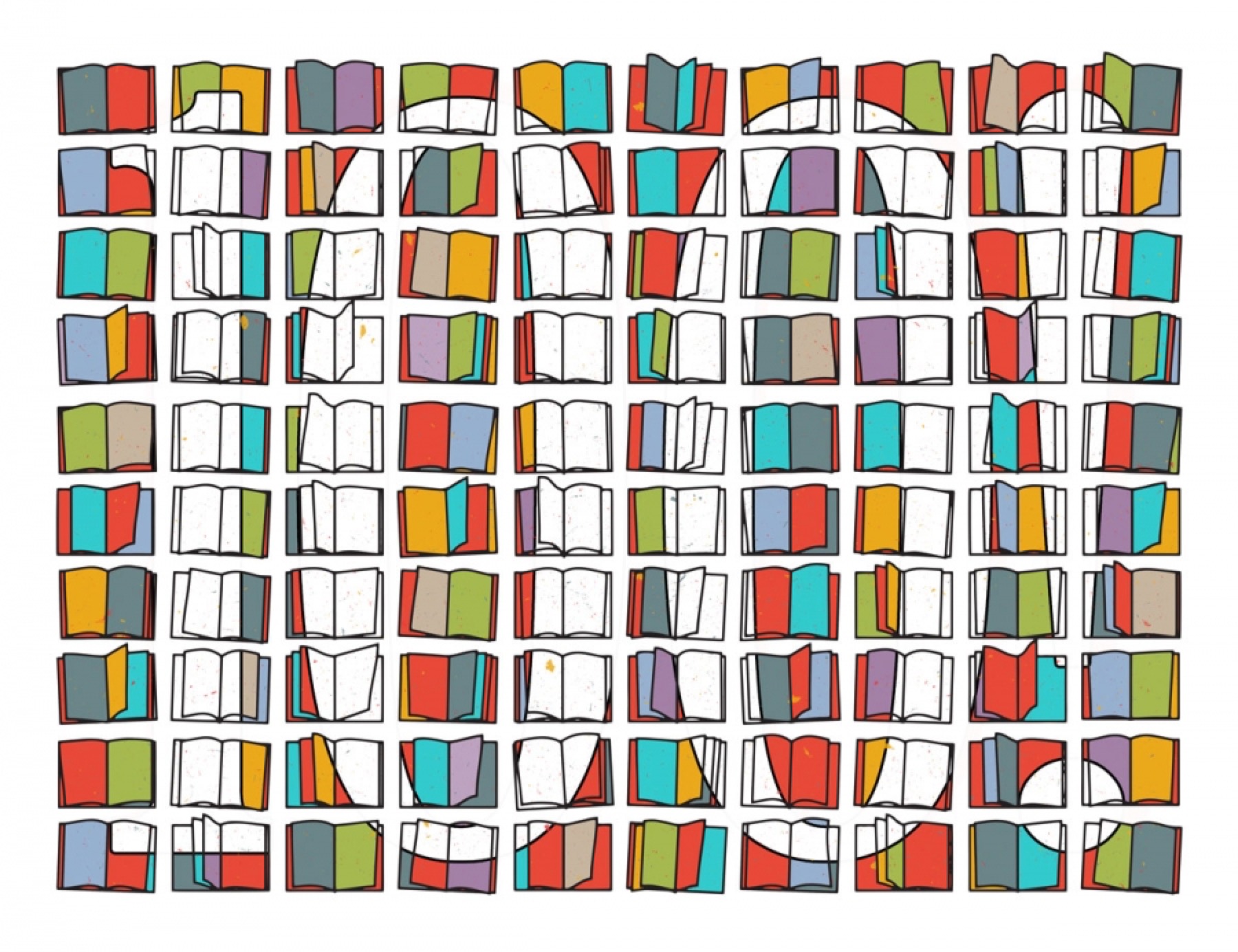 Illustration by Tom Martin
100!
By Eliza Borné
 A Letter from the Editor
---
During childhood, I used to visit my paternal grandmother, Elizabeth Borné, in Bull Shoals, Arkansas, a town in the Ozarks where she lived alone in a two-room house: a wonderland jammed with canvases and sketchbooks, paintbrushes and Cray-Pas, interesting rocks, feathers, papier-mâché faces, prisms to hang for the purpose of casting rainbows. "I just live my life and these images fall out of it," she once said, referring to her dreamlike paintings. "When I see something that has a positive effect on me, it has to come out." I've always thought this a lovely way to experience the world.
Wayne White refers to his art as a "twenty-four-seven lifestyle." His artwork is playful and defiant, mischievous and sometimes vulnerable. One of my favorites of White's paintings is titled "Hoozy Thinky Iz?"—which, depending on the day, sounds like either a rallying cry or the fearful voice of my subconscious. I learned of White in 2006, while reading the Oxford American's fifty-second issue. Paul Reyes, then the OA's senior editor, profiled the artist and the thrift-store landscape paintings he transforms with the addition of clever phrases. "They resemble Stonehenge letters," wrote Reyes, "acronyms standing in tall grass; a word balanced delicately above a glass-flat pond; a sentence stretching deep into a forest or curving around a cliff."
Raised in Hixson, near Chattanooga, and educated in the art department at Middle Tennessee State, White moved to New York City after college and landed a gig designing puppets for Pee-wee's Playhouse. His "word paintings" are something of a second act, and like much of his work, they are a manifestation of his belief that humor is sacred. White's studio, as seen in the 2012 documentary Beauty Is Embarrassing, is cluttered with books, drawings, glue guns, cardboard, mounds of stuff. "I immediately fall in love with scraps and junk," White explains in the film, while fiddling with an object made from sticks. "This is what makes me happy: a pile of garbage." Junk can be beautiful. Art is everywhere.
When it came time to select a cover artist for our one-hundredth issue, White's ethos felt like a natural fit. This time, his message is simple and buoyant, as befits the occasion.
Periodically, we at the OA have been fortunate to publish moving works by writers who are no longer with us (Margaret Walker, Thomas Merton, James Agee). When Casey Clabough, editor of the James Dickey Review, shared an essay he'd discovered in the archive at Emory University, we knew he'd found something special: a spirited argument by Dickey that "all one's inner life matters, from the most habitual modes of thought to the most secret," a still-timely call for "perpetual openness and receptivity to the things of our experience." Louisiana fiction writer Tim Gautreaux, a former student of Dickey's, introduces "The Kingdom of the Other," while Clabough contextualizes the essay's provenance.
This issue is packed with other luminaries: Nikki Giovanni, Lolis Eric Elie, and Wendell Berry express the tenderness of our closest relationships. Randall Kenan and Thomas Pierce, contemporary masters of Southern fiction, offer new otherworldly short stories. Lauren Groff pens an essay mourning the depletion of Earth's resources and ponders the possibilities of the next frontier. As we approach the fiftieth anniversary of Dr. King's death, Benjamin Hedin goes to Memphis, where its citizens—like so many of us in the South—still bear the burden of history: mourning the sins of our racist past; attempting to atone, however imperfectly; and finding a way to move forward.
For years, the OA published a department called Writing on Writing. We've brought it back in a special section, in which seven writers celebrate their mentors. Tayari Jones recounts how Pearl Cleage guided her through a feminist awakening. Kevin Brockmeier reflects on his affection for the "strange, singular, dexterous, involuting mind" of Donald Harington. Crystal Wilkinson admires Gayl Jones, her "mentor on the page" who helped her understand that omniscience could sound like a black woman. Tift Merritt finds songwriting inspiration in her hero, Eudora Welty. Pia Z. Ehrhardt learns from Frederick Barthelme to write fiction that is "messy, unvarnished, ugly, and clear." Bronwen Dickey gains confidence with the encouragement of Patricia O'Toole. And Jamey Hatley writes of the "razor sharpness" of the love of her friends—a love "that cuts through the muck of a world that tells us our stories are not important, are not worthy, are not enough."
At its best, the OA has served for readers as its own kind of guiding light. For isn't this the aim of stories, "to create living characters, to help us understand other lives, to move us, and make us dream," as Brockmeier wrote in a Writing on Writing essay in 2005?
As we mark this milestone issue, the Oxford American has invested in a project central to our future: nurturing emerging writers. In the fall, we announced a call for debut fiction submissions; more than seven hundred writers answered. Jessi Lewis, who grew up on a blueberry farm in the Shenandoah Valley, makes her major print debut with "False Morels," which portrays a vivid reckoning with mortality on a frightening walk in the woods. A year ago, we launched the Oxford American Jeff Baskin Writers Fellowship at our headquarters in Central Arkansas, a program designed to support the writing of a debut book of creative nonfiction. (Applications are open until March 24 for the 2018–2019 fellowship.) In "The Cost of Certainty," our inaugural fellow, Molly McCully Brown, contributes a passionate exploration of religious belief in a divided America.
Lewis and Brown join a long list of writers who've published with the magazine early in their careers, like Will Stephenson, a former OA intern whose essay "Perfectly Boring" is both a murder mystery and a profile of brilliant photographer William Eggleston, the "great poet of the color red" in the words of Donna Tartt (another OA alum). And Mary Miller, author of the story collection Always Happy Hour, first appeared in our pages in 2007 and returns now with "Eggs," a droll portrait of a woman who thrillingly says exactly what she thinks.
My grandmother always dressed humbly: She liked to wear blue jeans and a white button-down men's shirt, and a bandana she tied around her short gray hair, the easier for artmaking and riding her bike. She was unassuming about her talents. "I can't take credit for my ability," she said in an interview in 1999. "It's just that I have developed it over the years—which I really think is a responsibility when you're given a gift."
Spending time in these pages, with so many exceptional writers and artists, has been one of the great joys of my life. Picking up the torch lit by Marc Smirnoff, our founding editor, and carried by Roger D. Hodge, my predecessor, is an awesome gift. So here's to the next hundred issues; may they be even better than the last.
---
Order the Spring 2018 issue today or subscribe to the Oxford American.