Novel Roads
By Eliza Borné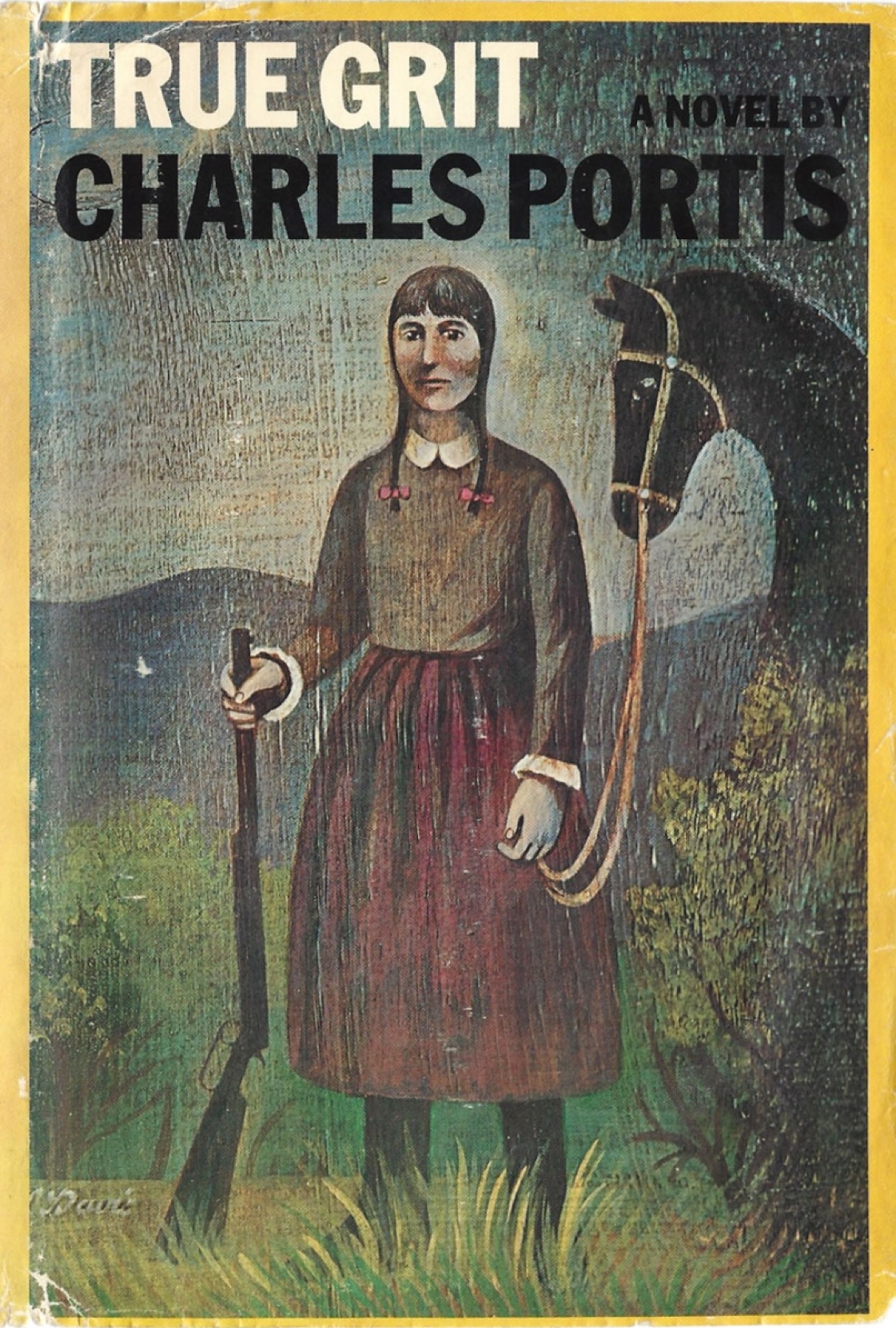 A Letter from the Editor
---
In 1969, my grandmother mailed a copy to my mom when she was away at camp in the Blue Ridge Mountains—the ideal summer reading for a young girl from Little Rock. My husband read it decades later, chuckling from our couch as he recited passages aloud. In the canon of great adventure narratives, few stories are lodged in my mind with greater depth and specificity than Charles Portis's True Grit, which this year celebrates its fiftieth birthday. And in the ranks of fictional adventurers, few heroes are as self-possessed as Mattie Ross, fourteen, of Yell County, Arkansas, on her Reconstruction-era quest into Choctaw Nation to avenge her father's death at the hands of the coward Tom Chaney. Accompanied by Rooster Cogburn, the hard-drinking federal marshal famously portrayed onscreen by both John Wayne and Jeff Bridges; the narcissistic Texas Ranger LaBoeuf; and her beloved pony, Little Blackie, Mattie says what she thinks, she bravely faces mortal peril, she does what she believes is the right thing. 
Here at the Oxford American, we have taken many opportunities to celebrate the inventions of Charles Portis, 2010 recipient of the magazine's Lifetime Achievement in Southern Literature Award. As we put this summer issue to bed, our editors lived alternate imaginative lives, immersed in the world of True Grit. In April, we commemorated the novel's golden anniversary in a joyful and jam-packed series of ten events—including film screenings, panel discussions, and a bus trip tracing the novel's geography—culminating in a variety show: "Music, Voices & Double-Rectified Busthead." Contributing editor Harrison Scott Key charmed as our host, with tributes provided by Roy Blount Jr., Calvin Trillin, and others. Iris DeMent, who hails from Paragould, Arkansas, on the opposite side of the state as Mattie Ross, performed the emotional grand finale: a rendition of "Leaning on the Everlasting Arms," which plays during the last scene of the Coen Brothers' 2010 film adaptation. Before the credits roll, DeMent sings, and adult Mattie Ross walks into the flat distance of Yell County, strong and tall, mourning the loss of Rooster Cogburn—her friend and fellow adventurer. 
Sometimes we go on journeys just for fun, and sometimes we go because we have to, even when it's hard. In our third annual Southern Journeys summer feature, five writers travel far and near in search of understanding: about their personal histories and roots, about our neighbors and changing landscape. Lucas Loredo, a Texan whose family escaped Castro's regime in 1960 on the second-to-last boat allowed out of Cuba, visits Havana and the town of Nicaro in an effort to heal a painful feud. On the Cumberland Plateau, Lisa Coffman trails an infamous historical fugitive as she forms an unlikely friendship born from a love for "the peculiar character of the land itself." Every day, more than seventy-five buses emblazoned with the Tornado Company's cyclone logo crisscross Mexico and the United States, ferrying Latinx passengers to seasonal agricultural jobs; contributor Daniel Blue Tyx takes the bus more than fifteen hundred miles, from McAllen, Texas, to Faison, North Carolina, meeting the migrant workers who power lucrative farms and live on the margins of their rural communities, enduring backbreaking work while also organizing for better conditions. (In Points South, Osayi Endolyn reports on African-American farmers in Florida. Though today less than two percent of U.S. farms are owned by black farmers, at one point that share was seven times higher.) 
For the past five years, Holly Haworth has reported for the OA on stories concerning the environment. Among her subjects have been a coal ash dump in Alabama's Black Belt and endangered mollusks in the Tennessee River Watershed. Now, she tells her most personal story yet, writing of her father, a horse jockey and farrier, who left Tennessee for Hawaii's Big Island to become a paniolo, or cowboy, when she was five—a journey inspired by ideals of "having little, living simply, of being free of the ties that bind." Back on the mainland, Justin Nobel goes on his own epic trip, driving the Gulf Coast and exploring a cycle of devastating storms followed by destruction and development. Why are Americans increasingly moving to the coast at a time when the coast is being subsumed? "Human beings want to be at the coast," Nobel writes. "This is the natural truth we must begin with." 
I can relate to the primal pull toward open water. After this issue closes, I'll head to Northwest Florida, speaking at a writers conference near the beach and enjoying those calming emerald waves. It will be my third trip to Florida in as many months, each trip for literary gatherings. Like Sarah Viren, I have sensed that Florida—the place that inspired Swamplandia! and Moonlight and so much other excellent art—is having a moment. Viren shares her theories for why that is in "Everything Went Wild" and ponders the many contradictions in the state. Florida is paradise, she writes, "but look closer and you find beach erosion, corruption, and a long history of racism and exploitation." It is the "South of the South," she tells us. It is our region writ large. 
---
Order the Summer 2018 issue today or subscribe to the Oxford American.