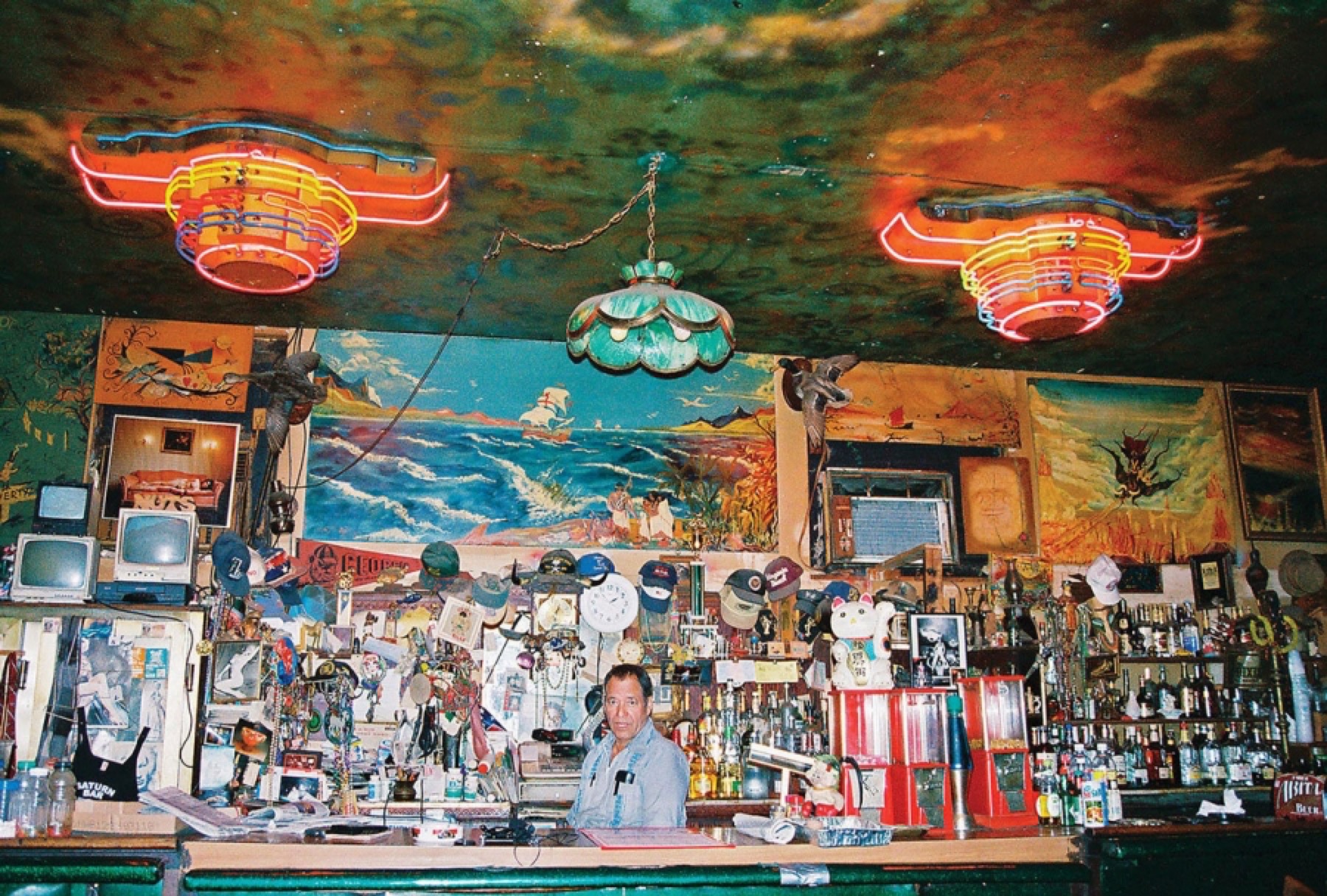 O'Neil Broyard at the Saturn Bar, New Orleans, 2005. Photographs by Amy C. Evans for the Southern Foodways Alliance
Keeping the Devil Close
By Anne Gisleson
Mike Frolich's artistic legacy in the Saturn Bar
---
C
hicken bones on the sidewalk, lone sneaker on the railroad tracks, and a bright festival sky all conspiring with my black, rootless mood, I'd convinced myself that the only relief to be found was in a shot of bourbon from the Saturn Bar, at the corner where I turn down toward my house. 
But the relief came even before Bailee, the third generation of Broyards to run the bar, poured me a shot. It arrived as soon as I stepped out of that spring afternoon and into the Saturn's particular quality of light and air, one that softens self-judgment. Finally, a much-needed leveling between my internal and external worlds. 
The Saturn Bar is a rare social space these days in New Orleans. Opened in 1960 on the corner of Clouet Street and St. Claude Avenue by O'Neil Broyard, it's retained a certain visceral continuity. Upon entering, you feel the texture and amber weight of lives lived, imaginations unloaded, lost loves lamented. Inseparable from the decades of dive-bar accumulation are paintings, many of them landscapes populated by fantastic and earthly creatures, narratives of wonder and discovery, creation and brutality. 
The bar's aesthetic is a product of the friendship between O'Neil—who'd been working in bars since he was thirteen, with side interests in boxing and bookmaking—and his childhood friend from the Ninth Ward, Mike Frolich. During the '60s and '70s, Frolich, a salvage diver and wounded World War II Navy vet struggling with alcoholism, painted the bar's walls, ceiling, bathroom doors, and freezers, along with dozens of pictures on Masonite boards, many of them dedicated to O'Neil. 
Demons and devils inhabit the Saturn, in many sly, fierce, and furry forms, and that afternoon, Bailee and her boyfriend/co-manager, Rob, were trying to fish one out from behind the massive carved oak bar with a straightened wire hanger. Like O'Neil, Bailee got her first taste of bar work as a teenager, serving drinks at O'Neil's memorial party at the Saturn not long after Hurricane Katrina. At thirty-one, she'd been there almost ever since. 
I told her that I appreciated how she and Rob had rearranged and rehung all of the Frolich paintings in the upstairs gallery above the pool table in the back room, how Rob had painstakingly removed the web of graffiti tags from the iconic paintings on the bathroom doors. She looked wistful and shrugged. "We try." 
At times overwhelming, managing the bar is like working an archeological dig site, Rob said. They're always discovering tucked-away ephemera; faded photos, trophies from forgotten tournaments, messages to O'Neil written on old matchbooks, sometimes at eerily opportune moments. Like O'Neil did before them, Bailee and Rob screen-print the bar's t-shirts themselves, and once, shortly after Rob had been thinking of recreating an old Saturn Bar design he'd seen online, O'Neil's original screen for the image, which Rob had never seen, appeared mysteriously on the floor of a back room.
From his deathbed in 2005, O'Neil asked three things of his nephew Eric, Bailee's dad: to care for his two poodles, Prissy and Sassy; to take over the Saturn; and to not sell Frolich's paintings. The Broyards inherited not only O'Neil's life's work—a flood-damaged, stuff-choked business—but also the artistic legacy of Frolich, who died in 1997 and whose paintings had attained both an underground cult cachet and an institutional endorsement as important local outsider art. 
The Saturn's new management also inherited the possessiveness of some patrons, people like me who felt an outsized, emotional attachment to what O'Neil referred to in life as just a regular corner bar, the only attraction being Frolich's murals. While cleaning debris after the storm, the Broyards found notes of appreciation sent from all over the world stashed throughout the place. Over the years, I'd shared the same sense of gratitude, that even in its most run-down state, before O'Neil passed away, there was something essential and affirming in his lifelong project.
Though the bourbon and the bar's fellowship had done its job for my spirit, as we talked about Frolich's art and the Broyards' attempt to wrangle his complicated legacy, a different uneasiness—guilt—took hold. Finally, I confessed to Bailee that I had one of Frolich's Saturn Bar devils in my house. He'd lived there, looking over my husband, two sons, and me, for about ten years. But now I was wondering if it was time for him to come home.
The impact of Frolich's legendary body of work in the Saturn Bar is hard to talk about. I know because I've been asking a lot of people lately—friends, admirers, curators. A recurring phrase when asked about the first moment of contact with Frolich's work, its imaginative power and epic strangeness, is holy shit.
And part of that reaction is the context. As an art venue, the Saturn Bar inverts expectation. If you open the door to the polar white of a gallery or museum, your mind has prepared its critical faculties to encounter art, has revved up its gears, sharpened its tools. In play, at various levels of awareness, is the whole of art history, century after century, decade after decade, year after year of responding to and smashing what came before it in an effort to move art forward. Traditionally, the white plane surrounding paintings gives deference to this setup. It offers a moment and a space to connect with something both beyond and within yourself.
If you enter a bar for a drink, however, seeking either company or solitude, there's little preparation for encountering a mind-blowing painting. Frolich's work can ambush you from a wall, a door, a ceiling—from the dusty, breathing world you're inhabiting at that moment. A rock show, a bad-day come-down, a '90s hip-hop dance party, a date. You might encounter the alert eye of a creature at the bottom of a redbrowngold vortex, or a pair of frothing, frenzied dogs mid-fight and airborne, a bloodied dog corpse below them—Frolich visions captured more than fifty years before. 
Visionary is a word often used to describe Frolich and others like him, artists working outside of the traditional contexts of art-making. Overtaken by an inspiration so urgent that it must be expressed despite circumstance or lack of access to materials and training, this purity of intention manifests directly to the canvas, or on a salvaged piece of tin, or a car door, unfiltered by graduate school or the market. Much outsider art is typically first displayed in more public, accessible spaces—front yards, tire shops, barrooms. Bradley Sumrall, curator at the Ogden Museum of Southern Art, where Frolich's work was shown as part of an exhibit of outsider art in 2014, says Frolich's work "exists at the intersection of the real and the unreal, of history painting and visionary art . . ." Frolich once said he wanted to create a museum at the Saturn for the children of the Ninth Ward, illustrating scenes from the history of the world. The oddness of that ambition is punctuated by a pervasive surrealism in his work that defies instruction.
"Most importantly," Sumrall continues, "while his work is often universal in scope, it is deeply tied to place—inseparable from the culture of downtown New Orleans. From Michelangelo of Florence to Purvis Young of Miami, painters have depicted the story of the people for public education. In the Ninth Ward, that painter is Michael Frolich." 
Over a couple of beers one night, my husband, an artist, described Frolich's style as "high modern folk," created by someone who was aware of mid-century art but also detached from it, afforded an absolute freedom by working outside of the marketplace. He admired Frolich for being fully invested in his vision, which was both figurative and abstract, creating an intimate, if inscrutable, cosmology. Drinking his beer in the upstairs gallery surrounded by Frolichs—not all of them great works, or even complete, seemingly—he gestured with his bottle toward a Frolich painting he loves. In it, a hand emerges from a blue volcanic mass spewing feather-drops of blood, holding out a small, flower-like object to two other disembodied hands reaching down, which offer their own familiar, though ethereal, objects. "Both a birth and death transaction," my husband observed. He's been puzzling over it for ten, fifteen years. 
The enduring, generative mystery of Frolich's world appeals to me as well. In an age of relentless newsfeeds, of nonstop information trying to hammer the world into place, I long more and more for things that can't be explained.
But I personally never had a holy shit moment with Frolich's work. It's been gradually revealing itself to me for more than two decades. I first visited the Saturn in the late '80s, when I was around nineteen, a blurry distant self whose natural habitat seemed to be bars, when not in class or waiting tables. I couldn't see past the whole wild accumulation of the place, the visual jungle O'Neil had cultivated. I couldn't see past the cheap drinks, past men and fun and the clunky jukebox of 45s. Later, in my thirties, my life swung a world away from bar life, though for the past fifteen years, I've lived and raised kids a few blocks down from the Saturn, visiting it every now and then for a spiritual recharge. 
It was Katrina that altered my vision of everything. Those days, the world was cleaved into what was lost and what remained. By the end of 2005, O'Neil was dead, the bar was a wreck, and piles of flood-damaged Saturn paraphernalia—ashtrays, old screens from the screen-printing operation, sodden carpet, whole jukeboxes—were junked and scavenged through on the St. Claude Avenue neutral ground. The Broyards cleaned and salvaged what they could, and during that period of discarding and rebuilding, Frolich's precious and vivid creations finally emerged in full force for me. The glittery, groping yet essential bullshit of my youth fell away, and I finally could see what marvels had been there all along.
"He's my favorite painter. That's it. When I first saw them, it was like, holy shit."
Quintron was seated with Miss Pussycat in front of what he refers to as Frolich's "Mona Lisa." "The Discovery of the New World," painted in the mid-'60s and mounted squarely above the bar, is the most prominent of Frolich's large-scale works, measuring about six-by-four feet. The Niña, the Pinta, and the Santa Maria approach across green-blue waters and bright, agitated whitecaps, and a Native American family occupies the foreground, crowded into the bottom right corner, their backs to the viewer, a woman holding a baby. They are watching history coming at them. 
"They're like, who are those guys?" Quintron muses. "What do you think they want?" 
The ocean and sky dominate the picture, emphasizing the vastness of the journey and the mystery that confronts both the ships and the watchers. A panoramic moment of wonder before the cataclysm, an instant of familial intimacy on a wedge of shore before their world is redirected toward our crazy present. 
When musician/inventor/composer Quintron and artist/puppeteer/alternate-reality builder Miss Pussycat moved to New Orleans in the early '90s, they discovered what Quintron called "the most successful suspension of adolescence" they'd ever encountered. Ninth Ward culture soon merged with and informed their own creative lives. Pre-internet and under the radar, '90s downtown experienced a symbiotic moment among newcomer musicians, artists, and the street-level life of the city's bars and musical traditions. Since their arrival in New Orleans, Quintron and Miss Pussycat have lived across the street from the Saturn Bar on St. Claude, becoming friends with O'Neil.
Like O'Neil and Frolich, Quintron and Miss Pussycat build immersive worlds that are creative extensions of themselves, from their early shows with the r&b legend Ernie K-Doe at their Spellcaster Lodge to the sweet and raw, but crazed, puppet plays of Pussycat Caverns. Heavily influenced by "the psychedelic soul of traditional New Orleans party music," they describe their shows as "barely controlled electronic chaos, 'Swamp-Tech' beats, small explosions, incredible clothes and entertaining puppet stories." Likewise, Miss Pussycat's videos are often grounded by neighborhood iconography—Saturn Bar calendars, Hubig's Pies, termites—but unhinged by their own singular "psychedelic soul." Both Quintron and Miss Pussycat maintain the youthfulness of people who live in their art (and, in Miss Pussycat's case, wear their art, in her self-created vintage and punk-joy inspired dresses). 
Their impact on the local arts scene merited a residency at the New Orleans Museum of Art in 2010, in the exhibition Parallel Universe: Quintron and Miss Pussycat Live at City Park. As part of their interactive installation, they chose art from NOMA's collection for Quintron's soundproof recording booth/workspace and hauled puppets and sets and music equipment from their St. Claude Avenue studio to the marble halls of NOMA. To show an essential influence from the Ninth Ward, they wanted to include several Saturn Bar Frolichs, which Eric Broyard consented to loan them. The paintings were arranged in a room around Quintron's sculptural and technical masterwork, the lo-fi, light-activated synthesizer The Drum Buddy. 
"We figured it was our only shot to elevate his paintings in others' eyes," Quintron said.
Not only did several Frolichs end up in Quintron and Pussycat's worlds-colliding NOMA show, but a snippet of O'Neil's voice joined them there, too. He narrated a gruff pirate in Miss Pussycat's Electric Swamp puppet film, and his line, Miss Pussycat told me, referring to a snowball his character orders, was, "I'll take the red one." I had a hard time picturing the tough, reserved O'Neil recording that sole line for Miss Pussycat, and as if Quintron could read my mind he said, "He'd do anything for her."
Similar to Miss Pussycat's Electric Swamp, some of Quintron's projects, like his experimental soundscapes using urban field recordings of frogs, are dream-like takes on the often surreal relationship between nature and the city—also a recurring Frolich subject. Quintron said Frolich's mystic swamp scenes had always intrigued him, and he pointed to a large one across from "Discovery of the New World," another six-by-four-foot view from the water's edge. A teal and orange Gulf sunset overtakes a small shrimp boat in the middle distance, framed by cypress and mangrove trees leaning toward it shelteringly, cattails fringing the shore.
A professional salvage diver, Frolich often painted from experience. In the '40s and '50s he would've spent a lot of time traveling through those transitional landscapes of moss-draped cypress groves and palmetto stands, to the depths of the Gulf of Mexico, repairing oil rigs and recovering bodies or lost outboard motors. On longer jobs, he'd sometimes spend days below the surface, playing cards with other divers in a spaceship-esque bell. Some of Frolich's underwater paintings reflect realistic marine detail, swaying sea grass and delicately finned fish, overlaid with a playful, cartoonish life of the mind. Rob's favorite Frolich is a furry though frog-like red creature wearing a diving helmet and flippers, grinning beneath sickle-sharp waves and circled by alarming black fishes, a representation of our species' comic amphibian longing to force ourselves into inhospitable habits.
As we talked, Bailee informed us from behind the bar that one of the paintings that had hung in Quintron and Miss Pussycat's NOMA show, "the sad drunken potato guy," was recently stolen, and the mood of our conversation darkened.
Quintron lamented the "alcohol-fueled thefts, people destroying what they love," and Miss Pussycat pointed out an increased tagging of the art, a lack of recognition and respect among the newer wave of patrons. Both acknowledged, however, that Bailee was maintaining the collection as O'Neil intended, not capitalizing on it. The paintings, especially upstairs, are still spottily lit and screwed to the walls. "Still alive, still doing their job," Quintron said. 
But what gives them power is also what makes them vulnerable. Quintron asked me to think about whether or not I wanted to write about Frolich's work at all, whether I wanted to compromise the secrecy and mystery, its essence and potency, exposing it to unforeseen threats.
"Have you thought about that?"
Miss Pussycat had to run back across the street to meet someone, and Quintron followed. Alone at the bar, I thought about Quintron's admonition. It was a deep preoccupation of mine, but I hadn't yet figured out how to write about culture, or what I love, without changing or compromising it. As one of my favorite New Orleans poets, Everette Maddox, once wrote about the difficulties of published expression: "Nothing on the page is true, / only the failure." 
Draining the last of my beer, I considered the certain failure that lay ahead in this Frolich endeavor. Above me, the tossing waters of "Discovery of the New World," those natives forever waiting, the boats never arriving.
One of Frolich's longtime champions, critic and photographer D. Eric Bookhardt, has written for decades about the visual culture of New Orleans and "the people who produce what we call art." He'd known both Frolich and O'Neil as a Saturn Bar regular since the '70s, when the bar was already a special island in a quickly changing neighborhood. Author of Geopsychic Wonders of New Orleans, Bookhardt appreciated the spontaneous possibility on O'Neil's island, where O'Neil could box naked in a makeshift ring, or buy a sea turtle to roam the bar (then later have the turtle stuffed and lined with neon, emblazoned with the word candy), or give permission and supplies to a troubled friend, allowing him to transform the bar with whatever strange visions he could conjure.
For Bookhardt, the bar and the paintings are one with each other, connected by an enduring directness between inspiration and medium. He believes Frolich's most important work was birthed from "the cave-like Saturn, the vivid colors emerging from the darkness" of the near-windowless bar, neon lit, sfumatoed by cigarettes, witness to mundane bar life, fights, and beery introspection. Presided over by the glowing ghost of a sea turtle. Among all that, Frolich held an imagination that Bookhardt calls "William Blake-like
visionary, fantastical, biblical." 
Dominating this biblical vision were Frolich's devils, a collapsing of personal and religious iconography. Black-winged devil-dragons plummet hellward dragging souls, and another dark, caped figure prances over a smiling skull. On the door to the men's room, a hairy beast with pointy bat ears holds a pistol in one hand, a bottle in the other, cork exploding up. where is pa! and you call we haul is written beneath his monster feet. Through all this, a vein of deep blood-flame Frolich red—red skies, red oceans, red vaporous trails, red stalagmites fringing hell's floor.
Frolich's devils occupy the ancient continuum of artists giving shape to what endangers us—fear, temptation, bad thoughts, destructive impulses. Some scholars believe the first pagan representations of devils were a response to sudden natural disasters, an attempt at conjuring causation. Later, in the rise of Christianity and religious art, with no visual guidelines from the Bible as to how the devil should look, Western devils appeared as varied as Frolich's, evolving from animals like snakes and frogs (Frolich's women's room door is a seductive frog smoking a cigarette, voluptuous lips and vampy eyelashes) to human forms endowed with horns, wings, claws, tails, and tritons, wild chimeras influenced by imagery from classical antiquity, the Far East, and Islam. 
Our devils continued to change with us, morphing over the centuries along with Western thought and our ideas about evil, from the monstrous, cautionary creatures of the sixteenth century to the sophisticated, charismatic rebel spawned by the revolutions of the eighteenth century to the cartoon, canned-ham hawker of the twentieth century. We shape the devil to the needs of our own time. In this way, he serves us. 
Devils proliferate when we need them, too. Just as zombies have become ubiquitous pop culture avatars processing our apocalyptic fears about the ravenous vacuity of contemporary culture (among other fears), near the end of the first Christian millennium, representations of devils also experienced a heyday. Along with plague, war, and famine, there was widespread anxiety about the prediction of the Book of Revelations that at that moment "Satan shall be loosed out of his prison, and shall go forth and seduce the nations." In Devils in Art, a vivid and comprehensive catalogue of devils from the Middle Ages to the Renaissance, Lorenzo Lorenzi writes, "The de-stabilising effects of a precarious present and an uncertain future introduced into religious iconography the monstrous, the bestial, the blood-curdling." 
Not only can creative expression work to stabilize us against a frightening and chaotic world, but it can also stabilize a frightening and chaotic self. During the Saturn years, while Frolich was working through his alcoholism, he kept the devil close, gave him terrifying and even congenial shapes. Echoing a "Dark Ages love of the fantastic and the irrational," Frolich controlled the devil with every brushstroke.
As evident in any tattoo parlor or thirteenth-century Italian church, the vitality of these representations is a compelling reminder of the constant threat to our goodness. They provide a sense of balance. Just as the devil would not exist without God, we can't be good without accepting our demons, which is also an acknowledgement of our full humanity. Granted free will by God, Lucifer, "bright day star," the most beautiful of the angels, chose to pursue evil, making himself an enemy of God and humankind, finding endless ways to impede our salvation. Thus, he requires our attention. 
For a time several years ago, my husband, our boys, and I would often spend the summer with friends in Cholula, Mexico, one of the oldest continuously populated towns in the hemisphere, considered a sort of ancient spiritual center in the world capital of spectacularly visceral religious art. There's a legend that Cholula's very first chapel, built in the sixteenth century in honor of the Archangel Michael, contained an image of a demon tied to a post. When people came to pray to the archangel, they would also acknowledge the demon, in case the angel didn't hear their pleas. Allegedly, however, townspeople began supplicating the demon more than the angel, and eventually both images disappeared altogether.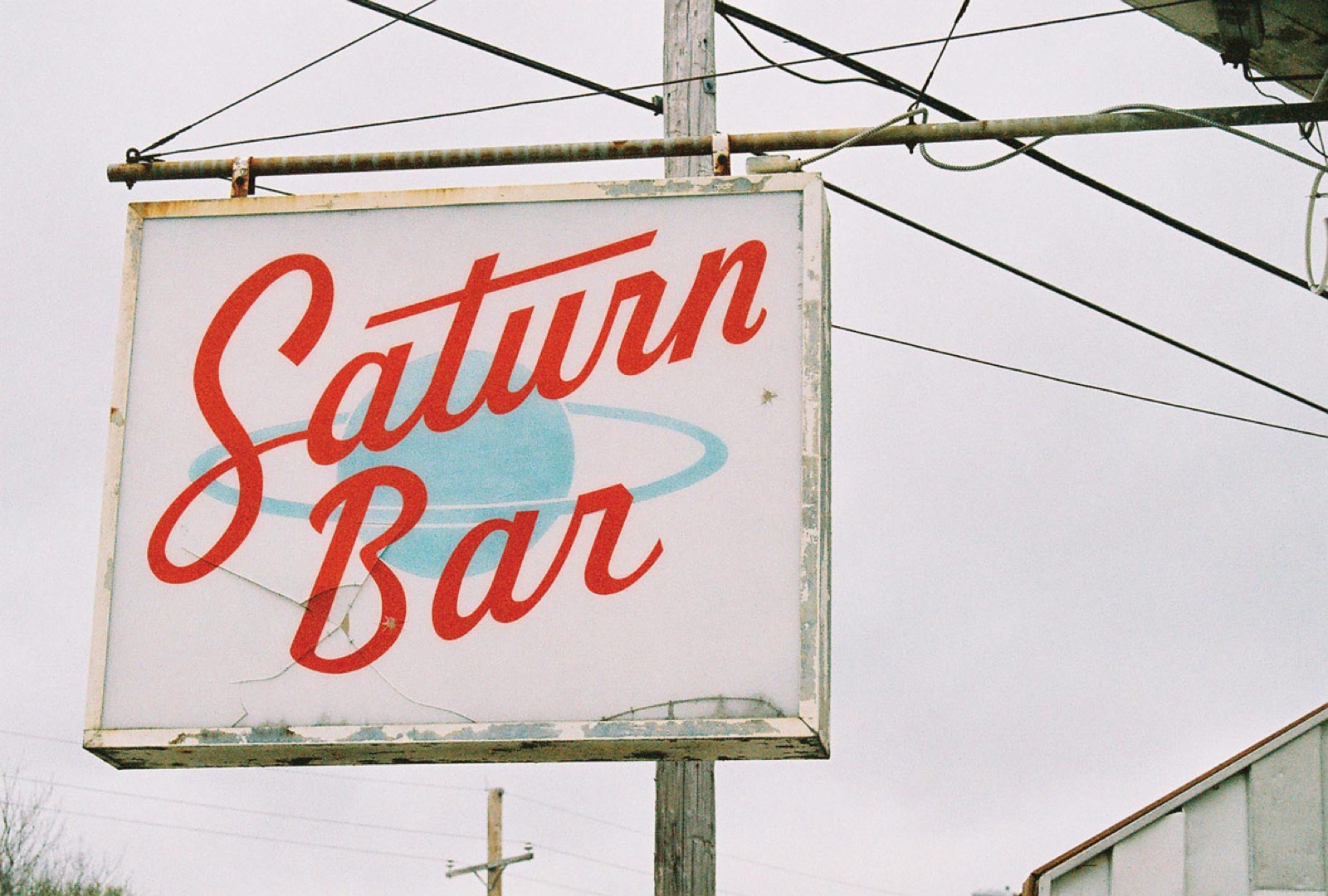 In 1990, Bookhardt interviewed both O'Neil and Frolich for a local weekly about the origins of their thirty-year collaboration. At the time of the interview, O'Neil was in the process of building a "mezzanine art gallery" in the back room for Frolich's work. Decades ahead of the current St. Claude Arts District, O'Neil's gallery would become an unwitting bridge between the Bywater's working class past and its "creative class" present. By then, Frolich was sober and the Saturn was still enjoying a steady business of neighborhood regulars and out-of-town visitors, celebrities like Nicolas Cage and John Goodman certifying its status as a destination. 
"I took over this place in 1961 and Mike Frolich was hanging out here then," O'Neil recounts. "I was getting set to paint the ceiling, and Mike says, 'I'll paint it for ya.' We were just horsing around, and I never thought much about it. So next day, I get there bright and early and Mike's waiting for me to open up. So we built a scaffold and Mike and another guy from around here, Joe the Wart, went to pick up some paint and rollers. You know, it was just like out of Michelangelo."
O'Neil's unselfconscious, pragmatic attitude toward Frolich's project was crystallized in a 2005 oral history interview with the Southern Foodways Alliance in which he claims Frolich was painting the Saturn "before art was art. . . . Now you go all over Uptown and all that, everything's art, art, art, art, art, art. You know?" O'Neil didn't set out to curate a gallery. He was just a neighborhood guy who bought a neighborhood bar that needed a paint job, and Frolich happened to be there to oblige. But he connected to Frolich's vision, supported it and protected it.
"See that rocket up there?" O'Neil asked Bookhardt. "Mike painted the moon mission before it even happened; he was paintin' that when President Kennedy was killed." 
Frolich began his Saturn Bar project by creating the cosmos, and everything he painted over the next several years felt tied into it. Saturn, the planet associated with brooding introspection, dominated the ceiling's center, bodies and galaxies swirling around it, some stars of the cartoonish, five-point variety, and others more accurately gaseous, trails of yellow and red spray paint curling softly across murky greens and blues. The ceiling seemed both primordial and celestial. 
"But the sun needs to be cleaned," Frolich lamented. That dirty sun was accompanied by a tiny blurred dot "to give you some idea of how big the sun is compared to the earth. That's done to scale. See, 11 million miles in diameter—ain't nothin' but a speck." 
On the ceiling, directly above where the bar's counter met the wall, as if anchoring the cosmos, was the devil—red-orange, full-cheeked, and straight-mustachioed with a neat triangle beard—definitely of the twentieth-century commercial variety, but with the flat, muted affect of a Giotto. Arms raised above a sulfuric swirl that's both flame- and cloud-like, he held a skeleton key aloft, but his eyes looked away from it, shifty and concerned rather than lordly and demonic. A pitchfork was propped indifferently behind him, as if forgotten against some subterranean cave wall. From the bar below, a weak circle of light from the torch of a Statue of Liberty lamp illuminated him.
"He's a personal friend of mine," Frolich said. "He cost me a lot of money, so I put him in heaven."
If Frolich could place the devil in heaven, he could find God at the bottom of the ocean. In a 1949 Times-Picayune profile, a reporter visits twenty-seven-year-old Frolich at his uncle's ironworks, where Mike and his brother Buck practiced underwater welding in their 210-pound diving suits, submerging for long periods of time in a ten-foot tank. Hooky-playing Ninth Ward kids would peer through the tank's windows, expecting Frolich to come up with an octopus wrapped around his chest, but much of the time Frolich would be down at the bottom of the tank, sitting peacefully in his suit, drawing pictures and cartoons on a slate. 
While working the Gulf was generally dark and murky, he tells the reporter, some diving experiences are marked by extraordinary clarity. Once, while he was serving as a Navy diver during World War II
on the bottom of the Mediterranean, this clarity was revelatory: "You just stand there and you can see everything—the fish, the rock formations. Everything is quiet. It's not just that there's no noise. It's like there never was any noise any place. You feel like there's a God. I know diving is going the opposite way from where heaven is supposed to be. But you still feel mighty close to it in that stillness."
Before noise was noise. Before art was art. Back in 1949, Frolich was expressing that transcendent otherness I'd been grasping at all these years while viewing some of his paintings, an attempt to be closer to God again through creating, through drawing at the bottom of a diving tank, or painting the heavens on the ceiling of a corner bar. He'd told Bookhardt that he was proud that many of his paintings were "blessed by priests." That validation meant something to him. 
The gym I go to a few times a week, one of those modest cinderblock franchises, faces the corner where Frolich's tank once stood, his uncle's former ironworks now a private compound. That corner's become a charged and changed place for me, and now, when I'm unlocking my car door, still sweating from my half-assed mortal strivings, I think of Frolich's diving tank, his buffer from life on land, inspiring undersea visions in neighborhood children. 
But extraordinary things from the past are revealed and then lost to you simultaneously. What do you do with that? I've long feared that one of my demons is nostalgia, a fear for the loss of what I love and value in the world, a particular sense of wonder and connection I find in places like the Saturn Bar. But it's impossible to regain the full tangibility of the past, and its melancholy weight shifts to the search for it in the present. 
In Denis Johnson's story "Emergency," the narrator recalls his job in the ER of a rural hospital back in the 1970s, eating pills and having spontaneous adventures, moments of beauty and weird brutality exploding upon him scene after scene. Near the end he expresses something I feel with greater and greater frequency these days as the future seems to bear down on us with disorienting velocity. "That world! These days it's all been erased and they've rolled it up like a scroll and put it away somewhere. Yes, I can touch it with my fingers. But where is it?"
When Michael Swindle was asked to curate a museum show in 1989, like Quintron and Miss Pussycat, he immediately saw it as an opportunity to give Frolich's work its institutional due. Swindle, a writer from Alabama who'd fallen into an assistant curating job at the Contemporary Arts Center, had begun hanging out at the Saturn when he moved to New Orleans in 1982, befriending O'Neil and becoming captivated by Frolich's work.
"My first thought when I saw it was, holy shit. What is this?" 
Over long evenings in the neon dusk of the bar with O'Neil, the closer he studied the paintings, the more he was moved by them. "The surreality, the grounding in place. It's spiritual, funny, rooted to the neighborhood yet transcendent. Frolich was not only a genius but sui generis."
O'Neil gave him permission to show the paintings, and Swindle hauled off all that he could and hired a conservator to clean them, removing decades of that nicotine patina, uncovering the original vibrancy. He said when he returned them in their newly re-enhanced state, O'Neil was thrilled, like he was seeing them for the first time again.
Because the CAC was under renovation, the show was called Outta Site: Beyond the Emerging, in reference to both the institution's temporary homelessness and its celebration of "outsider art," work normally featured in bars and cafes, not museums. Swindle included a black-and-white video of another Alabama writer and friend, brilliant and beyond-repair poet Everette Maddox (yes, a frequent apparition throughout my life), though there was no sound, only white words on black. Maddox had died a few months before of complications from alcoholism. 
In fact, Swindle had assumed that Frolich, like Maddox, was dead, that he was paying posthumous homage to another under-heralded barroom genius. One afternoon at the Saturn, O'Neil asked why Swindle kept talking about Frolich in the past tense. 
"He was like, No man, Mike runs a washateria at St. Ann and Burgundy in the Quarter and lives in the back." 
Swindle remembers hearing the news as "another 'holy shit' moment," paying his tab and walking the twenty-plus blocks into the French Quarter, headlong into an afternoon blown open by a resurrection.
"It was nice weather so the door was propped open and there he was, an overweight white guy with gray hair, stubble, khakis, and white V-neck shirt with coffee stains down the front, holding a cigarette with an inch of ash that hadn't fallen yet. He was reading a well-thumbed Signet edition of Dostoyevsky's Notes from Underground."
At this point in our conversation I held the phone away and looked at it in disbelief, asked Swindle, "Seriously?" 
"Oh yes, I absolutely remember that well-thumbed Signet edition."
He seemed to be describing a version of Frolich that I myself might've conjured, or better, John Kennedy Toole. French Quarter iconoclast, working-class intellectual of surprising depth. But Swindle, author of Slouching towards Birmingham among other books, has the mind and manner of a longtime writer, a seasoned detail harvester, so I trusted the literary truth of his illustration. 
"I introduced myself, and he showed me around his personal museum, a small spartan room in the back." 
Like the Saturn, Frolich had painted the entire laundromat, but the style and color palette were from a mind transformed, full of lightness and open spaces, the upward sweep of pink mountains, sharp peaks softened by star-like snow bursts. Below them, the westward trek of a Conestoga wagon train and steamboats churned toward a tangerine horizon, small settlements of white houses with tomato-red roofs set into mint fields, landscapes rendered in what Sumrall called "the highly-charged confectionery colors of a dreamscape." Aside from a few dark, leafless, tendrilly trees in the foreground, Frolich seemed to have detached himself from the menace and sulfurous imagery of the Saturn, from the city itself, expelled his demons.
Swindle started hanging out at the Tumble Dry and brought his wife, Linda, who passed away in 2010. 
"The man had no teeth," Swindle told me. "But Linda asked if he liked pie and he said he liked peach pie so she made him one." 
Linda developed a special affection for him and he gave her several paintings. Swindle said he was always very generous with his work, even repainted Swindle's favorite one from the Saturn, the famous "You Being Watch," an amorphous cyclops in the middle of a formal, red-curtained proscenium. But he was especially generous with Linda.
"Linda had converted to Catholicism. His first gift, from a lapsed Catholic to a converted one, was a tiny three-by-three-inch image of Jesus's head floating in front of a black cross, this tiny sad Jesus and cross on a light blue background."
After Frolich suffered a stroke in 1991, his family placed him in a nursing home. The Tumble Dry was sold and the place gutted, Frolich's walls ending up on the sidewalk. A French Quarter folk art gallery owner rescued and displayed them. Later, they were put in storage and ruined in Katrina, the fate of whole studios worth of New Orleans art.
Bookhardt owns a Frolich landscape from the Tumble Dry period, bought for twenty bucks at a Volunteers of America thrift store, but it's not his favorite.
"Too much 'Ivory Snow detergent' white in them. I don't even know if that's an actual product." 
The Tumble Dry period is not as celebrated as Frolich's Saturn Bar work; some think his genius was exorcised along with his demons. Though the landscapes were still strange and mythic, "the lightness and purity of his new sober regime wasn't as interesting," Bookhardt said. 
But others, like Miss Pussycat, disagree. She likes the Tumble Dry period, the crazy sherbet palette, the lightness. And besides, she said, even toward the end of his life, "He still had an itch to scratch." The local habit of venerating the dark pasts of these New Orleans heroes was limiting, she thought, when actually they can emerge from the difficulty, lead whole other creative lives, keep evolving. Produce the art they need at that moment.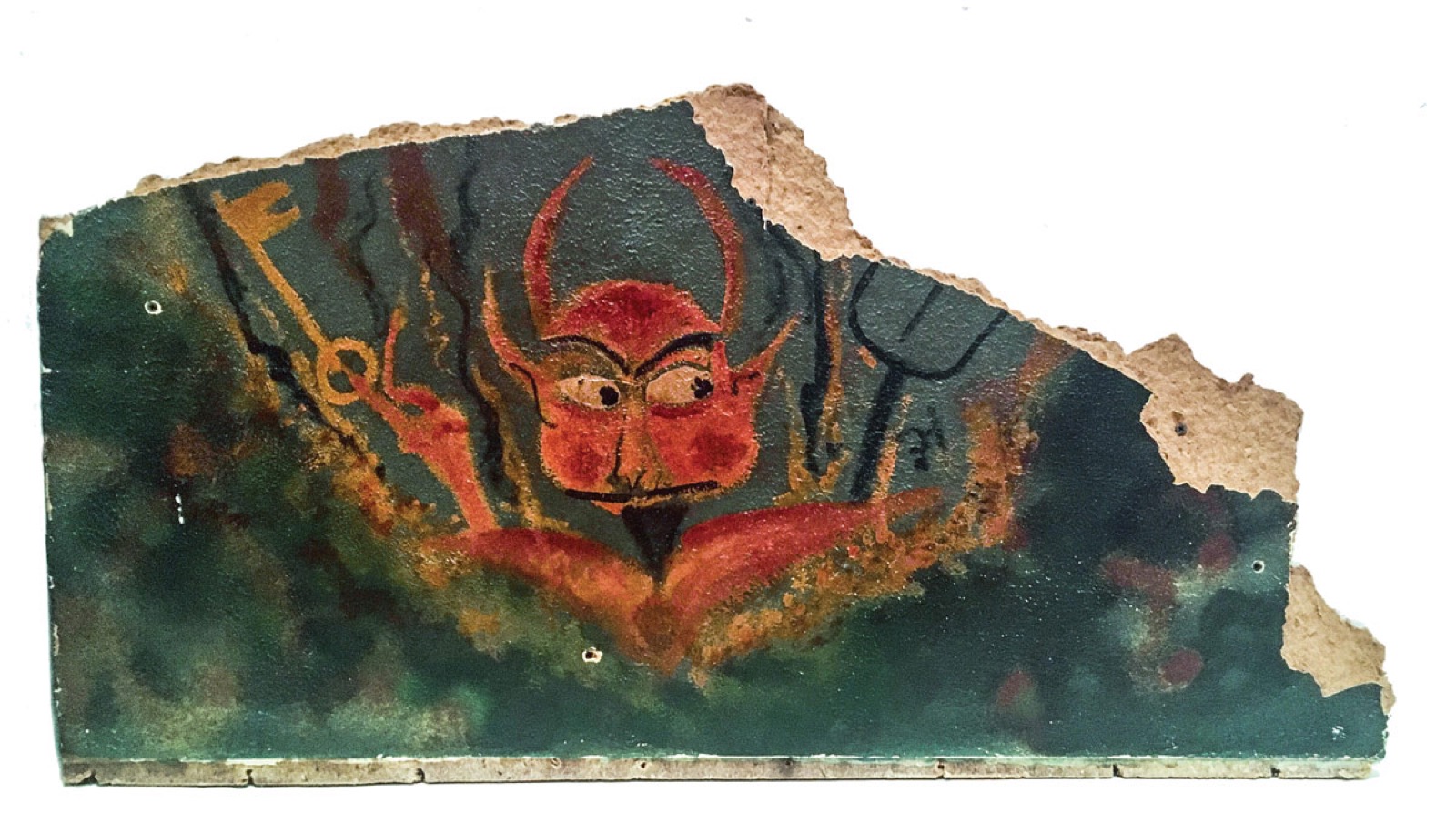 In 2008, when the city was still in a roiling cycle of tearing down and rebuilding, debris still a common feature of the landscape, I was strolling my younger son, then a toddler, down St. Claude Avenue and came across what looked to be a pile of gutted wallboard on the curb in front of the Saturn Bar. It took me a second to recognize it, but it was unmistakably Frolich's ceiling. The cosmos, stars, and planets were in tatters, ripped out and stacked up in ragged, sliding mounds, traffic trundling a couple of feet away. A few days before, the electricity in the old corroded wiring in the old neon fixtures had become unsheathed, undedicated and dangerous, igniting a fire. One of the firefighters had fallen through the ceiling, leaving a hole. Cleaning up in the blaze's aftermath, the Broyards decided to just rip out the whole thing. 
Frolich's ceiling was never meant to see the sunlight. In fragments on the sidewalk, yellowed with the smoke of many thousands of cigarettes passed through many thousands of lungs, it looked truly horrible, colors muddy and earth-bound with a nasty, reptilian texture. Still, I thought there must be some salvageable piece in there, some constellation Frolich saw in the far distance of his mind, somewhere beyond his troubles, dotting it out with a paintbrush, straining for the ceiling from the scaffolding O'Neil built for him. 
Or maybe even that devil? Cast out of the bar after his forty-year residency? After a little searching among the filthy, starry piles, my god, there he was, intact, on a roughly four-by-two-foot fragment, spared the sledgehammer and pry bar, yellow eyes glaring north toward Elysian Fields Avenue with a kind of dull intensity, still proffering his key. I swelled with luck and pride. I dug him out, freighted my son's stroller with the devil. On the walk back, my mind toggled between the rightness and the wrongness of my new treasure. At home I dragged out the ladder, and after several frustrating attempts to locate the ceiling joists through the sheetrock, screwed him to our ceiling with an impact driver. Today his home in our living room resembles a raggedy fissure, hell breaking through from above instead of below. 
For over ten years now, Frolich's devil has been our personal family friend, our household demon, his image absorbed into the house's already full visual tapestry. I've raised two kids under the devil's watch. For my sons, the most interesting thing about the devil is that he was painted by a World War II Navy diver, but when I brought up the possibility of giving him up, they protested. By now, he feels less like a tempter or accuser—something to be feared or shunned—and more like a family mascot, a little goofy, playfully menacing. The knowledge that he's a product of someone else's demons and hardships helps keep our own present, too. Part caution, part permission to acknowledge the ruddy, slippery reality of life on this earth.
Though Bailee said she was glad I had it, that I'd rescued him from the dump, I still wonder if I should return our devil to the Saturn, his true home. Bailee still has the Lady Liberty lamp over on the beer cooler, holding up her torch for him. Since the 2008 fire, much of Frolich's work has been reshuffled, some pieces stored in a nearby building, and even the ones still displayed seem to have receded into the background, as Bailee and Rob have worked hard to keep the scene at the Saturn dynamic with a steady lineup of live shows and dance parties. 
But the place seems entropically beholden to the past even as it moves into the future. In 2010, when Eric Broyard decided the repaired ceiling needed a new mural, two Saturn Bar regulars and Ninth Ward–based artists, Jessica Bizer and Adrian Price, volunteered, with Broyard covering the expenses. While Broyard gave them total creative freedom, Bizer told me, "It was obvious the ceiling needed a giant Saturn," the Frolich planet redux and reenergized. Earlier that year at the bar, Bizer had watched as the New Orleans Saints won their first and only Super Bowl, her husband spraying his Miller High Life across the ceiling in celebration. Bizer and Price later incorporated those "little comet-like streaky" beer stains into their Saturn design, or as Bizer calls them, "Victory space splats!" 
Even as Bailee has given the place new life, her attachment to it echoes O'Neil's, and she plans to run it until she can't anymore. And like her great-uncle, she's suspicious of the "fancy" tiki drinks Rob likes to make on Wednesday nights. But even Rob still buys random objects for the bar off of the same neighborhood guy that O'Neil did, most recently a spectacular baroque brass (broken) clock. He admits that the bar's material legacy can be a challenge, but he does whatever he can to help keep the place going. 
Turns out, that devil that Bailee and Rob fished from behind the bar was actually painted by O'Neil in 2003, a simpler, less skilled version of Frolich's devil, holding a skeleton key in his right hand, pitchfork behind him on the left. Years after Frolich's death and a couple before O'Neil's, they were still in conversation with each other, through painting, through the shared image of the devil. That key. When O'Neil died, the urn bearing his ashes was placed next to the cash register, right at the sandy shore of Frolich's newly discovered world, forever a part of their collaboration.
One of my many justifications for keeping the devil was Frolich's claim that his paintings were created in part for the children of the Ninth Ward, more of whom run through our house than the Saturn Bar. Kids need a relationship with their devils as much as adults do. Instead of renouncing or banishing them, children should know their features and particular hues, their habitats and gestures. Keeping them in steady sight, they're easier to manage. If I do end up returning the devil, though, I like the thought of my boys making their own pilgrimage when they're old enough, visiting the Saturn and pointing up, saying, I grew up with that guy. The devil would hold up the key to them once again. A small exchange made across time and space, a shared demon, a point of creation and return. Maybe it doesn't even matter which ceiling the devil ends up on, as long as they know where to find him, and can look straight into his jaundiced eyes.
---
Enjoy this story? Subscribe to the Oxford American.