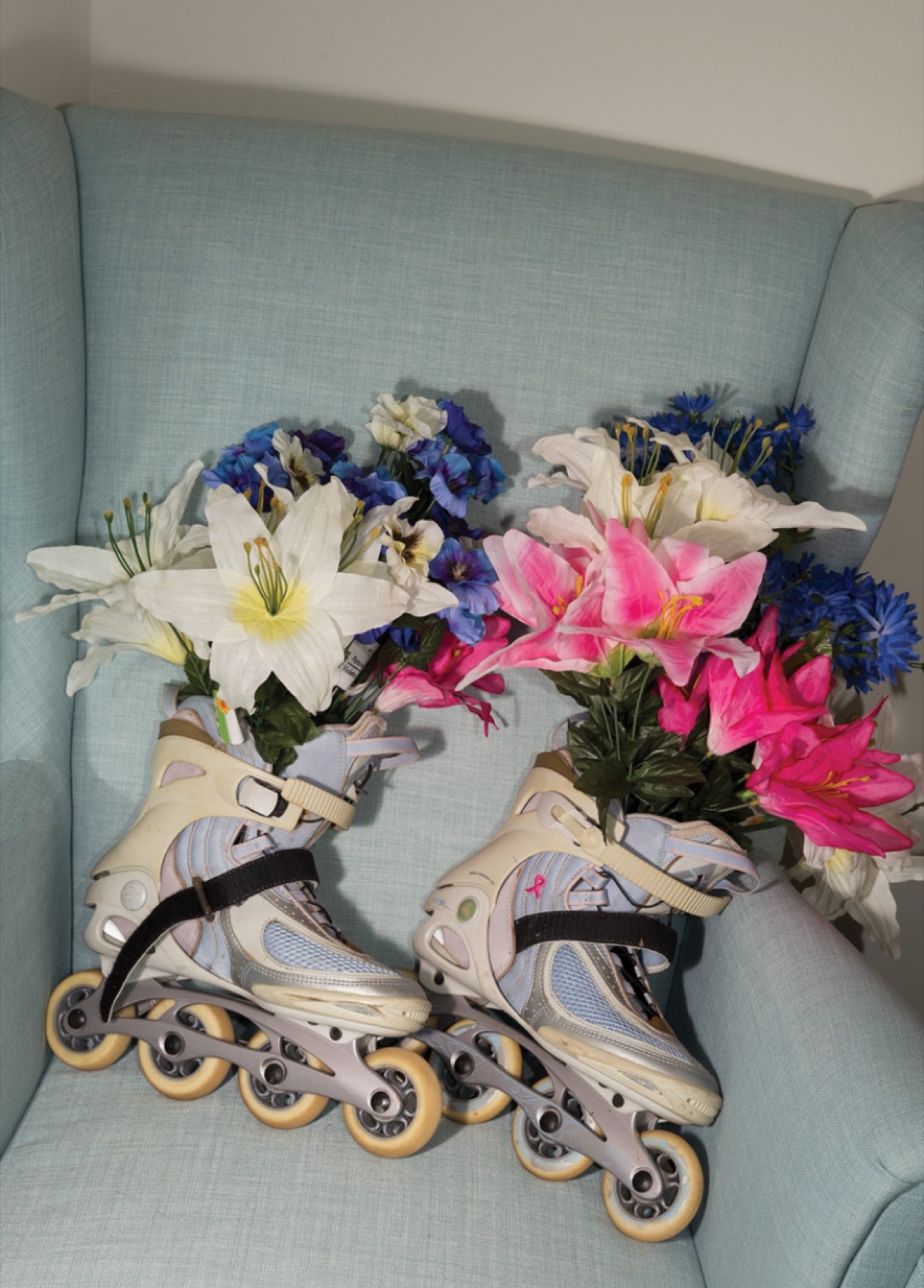 "Consider How the Wildflowers Grow." All photographs by Maury Gortemiller, from his book Do the Priest in Different Voices (Aint–Bad, 2019). Courtesy the artist
Resurrection Like Green Apple Plastic
By Jason Bruner
Maury Gortemiller's Do the Priest in Different Voices
---
I
 grew up evangelical in the rolling hills of north Georgia, where early on I learned the importance of hiding God's Word in my heart. The best way to hide it, my Sunday School teachers said, was to memorize it. To give us an incentive to keep it there, they promised a Jolly Rancher for every new Bible verse we could recite on Sunday morning. By the end of fifth grade, I'd committed the entire last chapter of the Gospel of Matthew to memory, for which I received all of what remained in their jumbo candy bag. 
As I basked in the lingering glory of my feat, I hardly cared that what I had recited was among the most magical of facts: "for an angel of the Lord came down from heaven and, going to the tomb, rolled back the stone and sat on it. His appearance was like lightning, and his clothes were white as snow." I'm struck now by the bizarre unreality of that moment—in Georgia, not post-resurrection Jerusalem; I memorized ancient words that, I was told, were transcribed exactly how God intended them to be, for the self-satisfied pleasure of sucking on artificial green-apple sugar. Taste and see that the Lord is good. 
Photographer Maury Gortemiller explores moments similar to this one in his series Do the Priest in Different Voices. I was startled to find my strange memories of this time reflected within his novel images, which seem to radiate with the command from the Book of Revelation to "write what you have seen, what is now." 
Gortemiller's work was born of his youth in east Texas, where the Bible and land and families and roads have shaped Christian faith into something singular. Growing up on the western frontier of the Bible Belt, Gortemiller found himself (perhaps against the desires of his Sunday School teachers) drawn more to the reproduced paintings bound within the family Bible than the verses that appeared alongside them. In his artist's statement on the series, he writes, "The pictures communicated in a far more powerful language, evoking both comfort and trepidation." I, on the other hand, learned to be skeptical of images, whether they were in illustrated Bibles, in a church's stained-glass windows, or on flannelgraph story boards. Images weren't considered bad, per se, but they weren't the Word itself, merely someone else's interpretation of it. It is the Word that is eternal, which is to say, perfect. Even if Gortemiller and I found ourselves having once been compelled by different languages of faith—either images or words—his search for what he calls a "semblance of the mythical in the mundane" amidst the "possibility of a personal faith" felt achingly familiar. 
Each of the images in Gortemiller's series takes its title from the strange, beautiful, unsettling words of the Bible. He uses that juxtaposition—eternal Word and contingent image—for the plastic possibilities it creates, making both the photograph and its source text more malleable than they might be if they were uncoupled. In doing so, Gortemiller shows us that the Bible Belt might be like the red rings I used to peel off bologna slices, that it merely gives shape to an amalgam of who-knows-what that is both terrifying and tasty in its turn. 
Gortemiller seems to be asking viewers whether his vision is any more unreal than other relationships between images and the Word from this same part of our country. His series, therefore, hovers between what undeniably has been, what is remembered, and what might be within Southern Christianity. But I found I could not remain in this imaginative space for long, for Do the Priest in Different Voices is, like April in Eliot's The Waste Land, cruel, "mixing / Memory and desire, stirring / Dull roots with spring rain." 
The truth I saw in Do the Priest in Different Voices is that, try as I might, I've never heard the Word apart from images, or outside of some moment. It is to this truth that Gortemiller's work has led me to testify.   
Consider How the Wildflowers Grow
The light-blue upholstered chair reminded me of my grandmother's long, pleated skirt, how its thick textured cotton would hang firm and straight on her tiny frame. Or maybe it was an old lady at church, who surely had a jacket to match. In any case, I know the fabric on that chair smells like pious mothballs, and that church ladies would mask that odor with a perfume that must have been made from those artificial flowers' plastic pollen. What matters to me more than that smell is the fact my mom would remember to bring Tylenol for me on Sundays because their lingering aroma would always grow into a headache on the ride home. 
You Always Resist the Holy Spirit, Just as Your Father Did
About seventy Sunday headaches after I memorized the 28th chapter of Matthew, I rode with my dad in his mid-'80s Nissan Sentra over to that Sunday School teacher's house. My dad is a good handyman and my teacher, Jerry, needed something fixed on his house. A Holocaust survivor, Jerry had been a Jewish kid on the streets of Chicago who'd found Jesus, and he was nothing if not certain of his joy in the beauty of God in others. He'd grin through a scrappy beard: "You're cool, man! Jesus, Jesus made you so cool!" Late in the afternoon, his house phone rang—my mom calling for my dad—though my dad wouldn't say why she'd needed to call. 
We left after a few dozen more injunctions about the cool things God had in store for me, so long as I kept walking with Jesus. Just before we got home, my dad said that my mom had found some notes in my pants pockets. My stomach sank into the gray cloth seats. He said they upset her. That he didn't want me talking that way. I'd moved the year before from a private Christian school to a public middle school, where Samantha, a funny, pretty girl, sat at a desk near me in science class. When she tore off the corner of a sheet of paper and wrote about another girl's pussy, I felt included, so I responded, then kept the record of our connection. My dad and I drove down the narrow roads of rural Georgia, my mom's discovery revealing the contours of my shrouded adolescent life. We were growing apart, together. 
Years later, I would be sitting in the back row of a church for a traveling evangelist's crusade. With head bowed and eyes closed, I raised my hand at the altar call because I wanted to renew my relationship with Jesus. I peeked to see only one other hand raised in the sanctuary. The evangelist urged those who had raised their hands to make their way to the front. I started to get up when I saw my dad, rows ahead of me, moving to the aisle, while I stayed glued to my seat, even as that evangelist pleaded, "Anyone who raised their hands—even those in the back!—come forward. God wants to do a work in your heart tonight."
In Vain You Have Multiplied Remedies 
Later that year, sometime after my mom searched my pants pockets, I became mysteriously ill, growing so weak that I was unable to walk. One Sunday evening, my parents wheeled me into the prayer service, right down front to the second row. The pastor—a stocky Canadian who seemed to have been born in a suit—called the deacons forward as he rested his knee on the front pew. Those men pressed their hands onto my arms, shoulders, neck, and head as the pastor asked me before he would anoint my head with oil, whether I had committed any sins I would like to confess. I shook my head no. But then I felt the weight of their damp righteousness pressing onto me as they pleaded with God to make me whole. I wondered if they needed to know that I had just learned to masturbate while soaking in the bathtub a few weeks before. They prayed for me, and then I went back to lying on the couch, choking down a regimen of multi-colored pills, laid out just so, arbitrary. My shaky hands would sometimes drop them onto the cushions. Later, my dad told me that my mom cried herself to sleep every night for months.  
A Flame Came up Out of the Rock 
I didn't start smoking cigarettes with Josh until the summer after I'd been so sick. He lived up the hill from me, at the end of a winding quarter-mile gravel driveway that only once was covered with enough snow for us to sled all the way down and out into the cul-de-sac below. Josh was shaggy and boyish, with perpetually untied high tops. That summer, I would stay at his house until just after sunset, when we would sneak into the woods with two or three or four cigarettes that he had scrounged up from somewhere. Having puffed and choked, I would race the darkening sky home on my bike, praying the humid air would absorb any hint of tobacco. 
When I saw those three lighters in the photograph, burning by some magic, like a desert bush, I remembered that Josh was always the one to light the cigarettes because I couldn't do the flick right. He said he learned this trick to keep the lighter lit on its own but I don't remember him ever doing it. 
When Josh was finally sent to rehab at fifteen, we hadn't spoken in two years. I'd long felt guilty about not being a better witness to him—setting a clearer Christian example, I mean, because good Christians wouldn't smoke. It was about a week after he came home from rehab that I listened to a message on our answering machine from a friend saying she called because she knew I had been close with Josh and that she was sorry to hear what happened, about how he killed himself. Beep. 
Right after the funeral, a small gathering in his driveway that looked out onto the woods we'd built mountain bike trails through, my dad said Josh's death made sense to him: he had been born again in rehab and when the depression came back, Josh was sure of where he would go. That explanation—that Josh tied his belt to a banister when his dad said he needed to run to the store and that he'd be right back, because he wanted to be with Jesus in paradise—never held water with me. 
They Sacrificed Their Sons and Daughters to False Gods
I remember my dad crying twice. Once was when he took me to see Forrest Gump and Forrest asks Jenny of the son he's just learned he has, "Is he smart or is he . . . ?" I later learned that a doctor had told my mom, when she was pregnant with me, that I might not have a fully functioning brain. The other time he cried was at a funeral for a family he knew through volunteering with a local missionary agency. Their oldest son, nineteen at the time, hoped to kill his parents and two siblings, but his younger brother escaped out a window as his elder brother stabbed their sleeping parents and then his sister as she awoke from the commotion in the early morning hours. I remember being told that they had been foreign missionaries—the most sacred of evangelical vocations—and that the son had gotten mixed up in a satanic cult. No further explanation was given because none was needed. We all knew satanic stuff was deadly, that the battle between good and evil is real. 
Tell Us Pleasant Things; Prophesy Illusions
The same year—eighth grade—that I started smoking with Josh, Samantha casually mentioned to me after math class that she knew about a ninth-grader who had a crush on me. The next day she told me that it was Katie, Josh's older sister, and that Katie would call me. I stalked our home phone every afternoon that week. I figured she thought I was cool because I knew how to smoke. Even when she ratted out her brother, she never ratted me out. (I would end up ratting myself out three years later, when I felt the need to confess my past sins to my dad before going on a week-long mission trip to northern Mexico.) When I finally asked Samantha about why Katie hadn't called, she laughed and said she'd made the whole thing up. I'd been titillated by the illusion of pleasant things. 
Once, after a summertime Wednesday night church service, my friend Thomas invited a bunch of guys from the youth group over to his house to spend the night. I stayed up with another friend until after the others had fallen asleep, then we went into the kitchen and tied the laces of their twenty shoes together. I held up the web of sneakers as Stephen snapped a picture on Thomas's disposable camera, only to untie them before we fell asleep. 
Thomas came to me the next week with a photograph he found familiar and puzzling. That the moment had happened in his house felt undeniable in light of the evidence of the image, but no one else he'd talked with knew when that moment had taken place. It was then that I learned the power of photography to induce amnesia, to prophesize illusions. 
In between the hilarity and terror and absurdity and plasticity of what I remember and what-could-be in Gortemiller's photographs, these things I know: 
My dad sold his Nissan Sentra after putting 263,000 miles on it. 
The infectious-disease specialists at the CDC in Atlanta shrugged their shoulders when my mom asked for a diagnosis of that mysterious illness. I got better anyway. 
I have mostly forgotten the four books of the Bible I used to have memorized. 
I once considered suicide after the tip of my finger slipped under my girlfriend's panties. 
The photograph of the shoes is the only memory I have of that night at Thomas's house. 
That murdered family hadn't been missionaries. The mother led a quilting club and the father monitored nuclear power plants. The son wanted the inheritance in order to start a business. The State of Georgia killed him in 2011. 
Josh will always be shaggy and boyish. 
I still think resurrection tastes like Jolly Ranchers. 
---
Enjoy this story? Subscribe to the Oxford American.