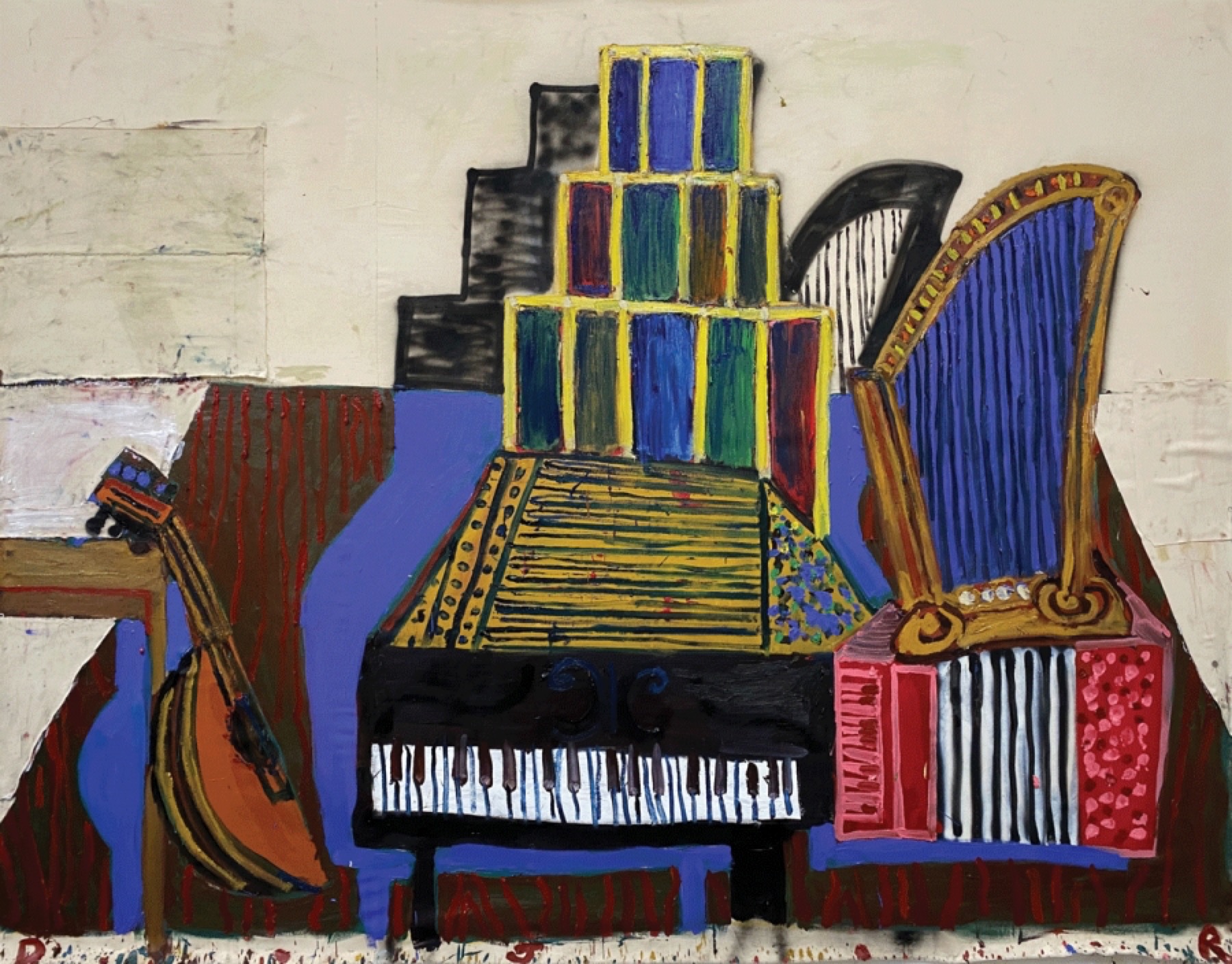 "Bigger music" (2020), by Danny Romeril. Courtesy of the artist
Ellis at the Crossroads
By Gwen Thompkins
T
here was a moment in 1958 when the future of jazz took an extraordinary turn that would be imperceptible to the world for another quarter century. That's when Ellis Marsalis Jr., freshly discharged from the U.S. Marines in Southern California, drew his mustering-out pay, loaded up his car, and decided which way to go.
He could head north and then east, along the old Lincoln Highway, all the way to New York City. That's where he wanted to be, knowing he could find like-minded people who loved bebop as much as he did. He could build a career playing piano among many of the same musicians he'd heard first on WMRY-AM in New Orleans, people like Dizzy Gillespie and his big band wending through "A Night in Tunisia," or taking flight for the exhilarating falconry of "Things to Come." Or, he could point his car south and then east, along the old U.S. Highway 80, and return to a place that seemed the opposite of New York in almost every way. New Orleans was full of music, but at the same time the city was fallow ground: No mid-century, forward-looking jazz scene. No record labels for jazz. No schools for jazz. Segregated bandstands. Segregated everything. 
Marsalis was a single man, a tall 'n' tan ex-Marine with a college degree, his own car, and fingers full of talent. He could do whatever he wanted. And for reasons that he spent the next sixty years wondering about, he went home.
"I think that I was being spiritually guided, above and beyond the decisions that I was making, which turned out to be the best thing for me to do," he told me in a 2017 interview for my public radio show, Music Inside Out. "At the time, I wouldn't be able to say that—but, you know, I do. I think a lot of times we have some idea. And we do something different, without fully understanding why we did something different. Especially if it works out."
Happy endings don't happen often during a novel coronavirus pandemic. Marsalis, eighty-five, died in New Orleans of complications from the virus on April 1. But when the crying is over and Marsalis gets the jazz funeral he deserves, even the most sober study of his contributions to music might begin with a celebratory cork popping from a bottle of champagne. Jazz spoke to him early, in a way that no music had before, and in its service, his character was revealed. Success by any measure was a long time coming. But Marsalis became so beloved as a teacher and musician that, in his later years, music lovers in nearly every room he entered in New Orleans leapt to their feet. The applause and acclamations were like Hollywood endings, sometimes formal, as when the black people rise for Atticus Finch as he leaves the courtroom in To Kill a Mockingbird. At other times, they more closely resembled the toast to George Bailey at the end of It's a Wonderful Life. Like George, whose money was never his most valuable asset, Ellis was the richest man in town.
Actual hoopla accompanied what became Marsalis's last performance at his eponymous center for music in the Ninth Ward. On Tuesday, March 3, New Orleans drummers Shannon Powell, Jason Marsalis (also on vibraphone), and the ever-versatile Herlin Riley, who for many years played with Wynton Marsalis and drove the Jazz at Lincoln Center Orchestra, were nearing the end of their rousing joint concert when Ellis sent word from the audience that he wanted to join the fun. It was as if someone had hit a giant piñata and cracked it wide open. The surprised crowd stood and cheered, while Ellis, with the help of his walker, made a slow progression to the stage. Kyle Roussel gave up his seat at the piano. 
The band swung hard on the first song, the next was heartfelt, and the evening ended on a funky note. With Jason on drums, Powell and Riley moved downstage, beating their tambourines and singing the New Orleans call and response "Tootie Ma Is a Big Fine Thing." (Response: Ooh nah naaaay, shake that thing!) Jazz doesn't often buckjump, but Ellis played along. He stayed with the melody on the right side of the piano and Roussel returned to play rhythm on the left. "Tootie Ma" always gets an audience singing, but that performance jolted people onto their feet—Ellis's son Mboya and extended family had their backfields in motion dancing around the room, just like all of the other locals, visitors, and staff members. The center quickly booked a reprise performance for Tuesday, April 28. That was before the Louisiana governor's shelter-in-place order and before Ellis went into the hospital.
Looking backward, most people's lives can appear triumphant, despite the disappointments and the missed opportunities and the dreams that never caught fire. Those fortunate enough to reach old age often have succeeded in finding the way around obstacles, so as not to be defined by them. In retrospect, they reframe their life's journey, finding a kinder, wiser narrative to tell. Or, at least, their obituary writers do. But looking forward in life to the uncharted decades ahead is another matter entirely. For a young, black, working musician driving home to the Deep South in 1958, the only way forward was to improvise, adapt, and overcome—which, coincidentally, are what jazz and the Marines are all about. Marsalis's long Hollywood ending of celebratory pomp and fuss was founded in a number of pivotal decisions he made in the mid-to-late 1950s. He met a series of crossroads back then and, in each instance, took the only propulsive path. In Southern California, he accelerated through a geographic crossroads. But at yet another crucial moment, in 1956, the only way forward was to stop. He put down the tenor saxophone. 


WHO'S BETTER?
It happened at the Dew Drop Inn, perhaps the city's best-known African-American-owned music venue, which for much of its history catered, by law, to black audiences, black touring stars, black up-and-coming musicians—and once, reportedly and defiantly, Frank Sinatra. The Dew Drop's compound, now defunct, is still on LaSalle Street in the Central City neighborhood of New Orleans, near the old Magnolia Housing Project. The property's weatherboards are weathered and the plaster's plastered. But its vertical sign—two white discs on a red L-shaped arrow—looks surprisingly good, like an oversized hair barrette. There's often talk of re-opening the Dew Drop. Memories of the good times are just that strong. Ray Charles rarely failed to mention the fried chicken he ate there as an aspiring artist in the 1950s and, later, as a star. Thanks in part to the Dew Drop's chicken batter and seasonings, Charles donated a million dollars to the historically black Dillard University in New Orleans in 2003, for the study of "African-American culture and foodways in the South." Others in the city who played at the Dew Drop, or ate there, or rented rooms there, or got haircuts, or snagged professional bookings from the agent/owner, enjoyed being part of the magic. Maybe they thought as fondly of other clubs in the city, like Tiajuana nearby, or The Hideaway in the Ninth Ward, where Fats Domino got his start. Or Club Desire. But after hours on Saturdays and on Sunday afternoons, the Dew Drop's jam sessions were where musicians went to find out who's who, who's new, who's good, and, perhaps most importantly, who's better. 
"I'd frequent the sessions on Sunday just to see who was there and who was playing and I'd sit-in on piano," Marsalis recalled in 2017. "I remember the first time I saw Ray Charles, he was sitting-in at the Dew Drop Inn. A trumpet player named Renald Richard was in his band. He was telling me, 'Man, he's from Florida.'"
By 1956, Marsalis had earned his music education degree at Dillard. As the child of motel owners living a notably middle-class existence in nearby Jefferson Parish, he had studied piano, as had his sister Yvette. But Ellis Jr. also embraced the clarinet and in high school took up the tenor saxophone. Mastering the solo on the 1948 Roy Brown smash "Good Rockin' Tonight" was a game changer, he said. "When you can play those current pop solos like that, the girls start to look at you. That was not lost on me." But in retrospect, he didn't know exactly why his renderings worked. "I had no theoretical understanding of that solo, even a blues, or any of that. That would come later."
Marsalis had had private piano teachers along the way, and, sometime after college, intended to return to the second, Jean Coston Maloney. But before that could happen, she had married and left the city. So, in 1956, he was a tenor saxophone player who also could play piano—not the other way around. In school, he and his friends had studied bebop on the down-low because, back then, no college music department in the state would allow jazz to be played on its instruments. The academics said the music wasn't serious enough. Without formal instruction in their specific field of interest, Marsalis and his autodidact friends were muddling through on their own, with varying levels of sophistication. Once, while playing the upright piano with drummer Ed Blackwell at Blackwell's aunt's house in the city, Marsalis asked why Blackwell chose him for the session. And, in one of the teeniest compliments Marsalis would ever receive, Blackwell said, "All the other piano players is tied up!"
And yet, by 1956, something in Marsalis suspected that, despite the jobs he was getting, maybe he wasn't a saxophone player. Saxes were everywhere at the time. Mid-century New Orleans was throbbing with blues, r&b, and early rock & roll, featuring players from home and away. The multi-layered rhythms that came to be known as the "New Orleans Sound" made ample room for saxophones as both percussive and soloing instruments. Fats Domino, the producing mastermind Dave Bartholomew, engineer Cosimo Matassa, and drummer Earl Palmer—all future members of the Rock & Roll Hall of Fame—had perfected the sound, along with a range of sidemen who regularly played gigs and jam sessions at the Dew Drop.
Marsalis had been getting work around town playing r&b and blues covers. "I'd play a job here, a job there, sometimes on piano, sometimes saxophone," he recalled. "It was a real disorienting, disorganized, helter-skelter kind of lifestyle." But a Sunday afternoon jam session on LaSalle Street brought clarity in the name of "Nathaniel Perrilliat."
During peak hours, the Dew Drop was a jazz-free zone. Owner Frank Painia showcased comedians, ventriloquists, exotic dancers, blues acts, r&b acts, rock & roll acts, big band stars, a gender-fluid emcee, and the New Orleans Gay Ball. He offered a delicious plate of red beans and rice with a pig tail for twenty-seven cents. But he did not promote jazz, particularly bebop. Unlike the academics, he thought the music was too serious. Too esoteric. But on Sunday afternoons, business was slow and the musicians weren't getting paid anyway. 
Marsalis heard saxophonist Nathaniel Perrilliat play at a Sunday afternoon jam session on LaSalle Street. Really play. "When I went to this piano session and heard him, I knew I wasn't going to play like that on saxophone, and piano was it," he said in 2017. "So that is when I really started to think more and more about playing the piano as a main instrument."
Perrilliat became best known as a sideman in Domino's band and a regular session musician for the arranger and songwriting producer Allen Toussaint. He was a reliable technical player, and then some. 
"He could read fly shit on paper," said New Orleans band leader Deacon John Moore, a guitarist and singer who also played for Toussaint as a session musician. "Everybody compared him with John Coltrane. Toussaint wouldn't have a recording session without him. 'I've got to have Nat in there to play,' he'd say. 'Even if he plays only two notes.' He wanted him just for inspiration. [Perrilliat] was a first-call player for recording sessions and gigs. We all looked up to him." 
Soon enough, Marsalis did, as well. He wasn't receiving first calls from potential employers. An unwitting Perrilliat, playing the tenor for free on an ordinary Sunday at the Dew Drop in 1956, had pushed him to an existential crossroads. Marsalis knew jazz was his calling, but he also knew that he only would be impersonating a jazz musician while holding a saxophone in his hands. He wanted to be the real thing. 
"I didn't really grow as a saxophone player," he said nearly sixty years later. "When I say that, what I mean is the tenor saxophone was an introduction for me into the workspace of music and musicians." The instrument he'd carried since high school had served its purpose but could do no more. 
For Marsalis, the experience was not exactly a tragedy. He was young enough and confident enough to make the change, and committing to a single instrument brought balance to his "helter-skelter" lifestyle. But his assessment of the tenor saxophone's limited usefulness was a typical Marsalis analysis, revealing his gift for draining sentiment from an experience, finding the lesson, and moving on—as steady and calm as a musical, mystical astronaut. Throughout his subsequent teaching career with high schoolers at the New Orleans Center for Creative Arts, and later on the college level, he didn't mind telling students to put down their instruments for others that might suit them better. "We weren't teaching music, we were teaching kids," he'd say. That may be why so many students trusted his judgment—not only Terence Blanchard, Donald Harrison Jr., and Harry Connick Jr., but students like Loston Harris at Virginia Commonwealth University, who switched from percussion to piano at the age of twenty. Then there were the many young people under Marsalis's sway who never became professional musicians at all, including Ellis Marsalis III, who played guitar and flute while in school, then realized he was a poet. That's the kind of self-awareness and adaptability that Ellis Jr. encouraged. 
"Most everything has a good and bad side to it," Marsalis told me in 2017. "Sometimes we can't see it, even if we are a part of it. . . . I know a friend of mine's wife got upset with him and took a hatchet and chopped up his instrument. Philosophically, he said, 'Well man, you know, I needed another instrument, anyway.'"


THE AMERICAN JAZZ QUINTET
Remember those young, self-taught jazz mavens Marsalis had been hanging out with—the autodidacts? Their story starts—as so many in New Orleans do—in elementary and middle school. Around 1946, Ellis, a tween, met the slightly older Alvin Batiste and Ed Blackwell, friends who would go on to illustrious careers of their own. Ed became best known for his work outside of New Orleans as a drummer with Ornette Coleman, Randy Weston, and Ray Charles. Alvin, who also played briefly with Charles, became a clarinetist, composer, and renowned educator, and—like Marsalis—a beloved standard-bearer for jazz in New Orleans. But back then, all three boys were playing clarinet and taking music lessons wherever they could—privately, at school, and in the Junior Orchestra of the historically black (and Catholic) Xavier University. As teenagers, Ellis, Alvin, and Ed were listening to the same radio programs and to the same jazz recordings, titillated by a new post-war sound that was neither big band nor Louis Armstrong. Bebop was the thing. Charlie Parker's 1945 blues "Now's the Time," featuring Miles Davis on trumpet, Dizzy Gillespie on piano, and Max Roach on drums, "lit me up for the rest of my life," Alvin would later say. He and Ellis and Ed were trying to emulate a genre that promised little by way of wages, or even accolades, in the city. But they were undeterred. 
"See, the thing about jazz is like a kid playing basketball," Marsalis said. "If you don't have a team, you can stand in your backyard with the hoop and shoot all day. I worked on a lot of things based on what I heard on the recordings." In 1949, those recordings came to life when Gillespie and his orchestra played the Booker T. Washington High School auditorium—a preeminent venue in Central City for traveling black performers, and a rehearsal space for the all-white New Orleans Symphony. Suddenly, like-minded devotees could look around the audience and find the makings of a brotherhood. 
Enter Harold Battiste Jr. As a young saxophone player in the late 1940s, Harold had already been working small, quasi-professional gigs around town with Ed and Alvin and the bassist Richard Payne. But in 1951, when Marsalis began Dillard University as a freshman, Harold was a senior, and theirs was a bromance that lasted. "Harold was like a mentor to me for a long time," Marsalis recalled in 2017, "not just while he was at Dillard." Indeed, Harold was a dynamic character in New Orleans and Southern California, as a player, talent scout, producer, arranger, record company executive, and, finally, teacher. That's his arrangement on Sam Cooke's "You Send Me," Sonny and Cher's "I Got You Babe," and countless other hits. In 1968, Harold also produced Gris-Gris, the first album recorded by Mac Rebennack as the "Night Tripper," Dr. John. 
In the early 1950s, however, Harold and his compatriots in jazz were not so much young lions in music as they were unusually aggressive house cats. In the absence of lesson books, they wrote their own compositions and treated them as case studies to understand jazz theory. 
"The only system I know of is autodidactic," Ellis's son Branford said recently. "It's thinking. Thinking your way through problems. 'What makes this song successful? What makes this song unsuccessful?' The regular musician starts talking in technical terms. The person I'm interested in talks in sonic terms. Because there is no mathematical equation to creating a sound that makes someone cry." 
Some of the early songs the group made were misshapen—the equivalent of the first pancake on the griddle. But others, like Harold's "To Brownie" (written for the trumpet player Clifford Brown), or Alvin's "Chatter Box," or Ellis's "Toni," were finely made, every detail an artistic and pedagogical insight. 
"Toni" exemplifies Marsalis's promise as a piano player and composer, as well as his "early skill and gift for melody and harmony," Harold later wrote. 
His melody is pure and plain, void of awkward intervals and accidentals. Yet, it is very effective in expressing "with distant admiration" (which was at, one time, the expression instructions on the music). The harmonic progression never strays too far from home. It stays within the tonality of the C minor/E major scale without even a brief modulation. The B, or bridge, section was marked "with optimistic hope" . . .
Writing like that makes it easy to see why Ellis chose Harold as a mentor. And yet, Harold also wrote that jazz can neither be taught nor understood unless it's heard, a point that Branford echoes. "The magic of the music is not in the notation, but the sound. The schools cannot teach you how to hear. What my dad and those guys did was play music informed by the sound of the music they loved most." 
Together, the young musicians took a leap that would introduce them to new horizons in jazz. In November 1956—more than a year after Ellis had graduated college—he and the others joined Harold in the French Quarter at Cosimo Recording Studio, an undisputed mecca of American popular music. Cosimo's was the next iteration of the famed J&M Studios, which had produced the original releases of "The Fat Man," "Tutti Frutti," "Lawdy Miss Clawdy," "Let the Good Times Roll," "See Ya Later Alligator," "My Ding a Ling," and "I Hear You Knocking," among many other hits. There, Marsalis and his cohort made their first recordings. They called themselves the American Jazz Quintet and pulled off ten original songs in the session, including "Toni." They also recorded a version of Jerome Kern's "Yesterdays." 
Recording those songs meant that the quintet members were moving up in the world. They'd crossed over from being talented and largely self-taught neophytes to professional recording artists. For Marsalis, the Cosimo session was also a culmination of thousands of decisions he had made to not only choose jazz, but to choose friends and fellow musicians who cared about the genre as much as he did. And their bond wasn't confined to music. After all, when Alvin eloped with his fiancée, Edith, she tossed her clothes out of a window for Ellis to catch. But because their bond was founded in music, that made it eternal. Thanks to that 1956 session—the first recordings of any Charlie Parker–inspired, contemporary jazz act in New Orleans—the American Jazz Quintet made history. 
Too bad no one heard it. Technically, the California label Specialty Records owned the masters. But Specialty's man Bumps Blackwell (no relation to Ed) reportedly never paid for the session, leaving the masters with the studio. It would be another twenty years before Harold could claim and release them. The original four-album set, called "New Orleans Heritage Jazz: 1956–1966," is no longer in print. But in 1991, Harold and Kalamu ya Salaam re-released the material on an AFO Records CD called In the Beginning.
"If I had to sum up in one word what [Marsalis] did in that early point of his career, I would say that one word would be 'integrity,'" the Chicago Tribune jazz and classical music writer Howard Reich told me. "Even as his piano style changes over the decades and becomes more distilled, and more clarified, and saying more with fewer notes, it never panders. It never seeks the audience. It just seeks to express itself, as far as I hear it. There's this elegance and cohesion." 
Marsalis's professional crossroads at Cosimo Studio could have seemed like a failure, but likely to him it was more of a damned shame, not to be internalized because it wasn't the quintet's fault. Shortly after the session, he joined the Marine Corps and served two years in the band, primarily in Southern California. Then he got out and jumpstarted the rest of his life. On the very last day of the decade—New Year's Eve, 1959—he married Dolores Ferdinand, joining her big Creole musical family, and committed to having children of his own. (Branford came first, then Wynton, Ellis III, Delfeayo, Mboya, and Jason.)
Had Marsalis gone to New York City from California, or even after he'd married Dolores, there's no telling what might have happened. Maybe he would have found out that he wasn't ready for the competition. Maybe he would have found out that he was. He was plenty tough, and Dolores, by all accounts, was even tougher. Her musical standards and personal grit are evident in their children, who conjure her—and not Ellis—when they're at their most fierce. "I will dress a motherfucker down," Branford, who now heads the Marsalis Music label, said. "I'm like my mama." 
And yet, if the Marsalises had settled in New York instead of New Orleans, "Branford and Wynton wouldn't have happened," Jason told me. "I've long believed that decision changed the course of jazz."


A "NEW JAZZ AGE"
A profound change in jazz—rooted in decisions Marsalis made in the mid-1950s— became evident to the world in the 1980s, when his sons and other students began selling records. Lots of records. They also began winning Grammy Awards and becoming ambassadors of the music. TIME magazine called what was happening a "new jazz age."
Wynton, in particular, demonstrated an early virtuosity, and—in a kind of contra flow to fusion, funk, and other electrified tastes of the day—his ensembles remained unplugged. He agitated for more reflection in jazz, encouraging his fellow musicians to connect the titans of the past to current and future iterations of the music. Branford, meanwhile, was appearing with his father's early heroes Dizzy Gillespie and Miles Davis. He performed with Sting at Live Aid in 1985, formed his first quartet, and collaborated with Spike Lee on School Daze and Do the Right Thing. In 1984, long before he began writing scores for Lee's films, Blanchard won his first Grammy as a member of Art Blakey's band, the Jazz Messengers. In 1989, Connick topped the Billboard jazz chart with a soundtrack of standards for the film When Harry Met Sally, an album that sold two million copies. New Orleans was suddenly at the center of jazz again, and the industry took note. Musicians trained by other members of the American Jazz Quintet were also on the rise, including pianist Henry Butler. But so many of Ellis's students signed contracts with the Columbia label that he joked he was the company's A&R man.
"When you think about the famous teachers in jazz and classical music, they are measured by what their students went on to do," the critic and author Reich said. "If you haven't heard of the students, you really haven't heard of them. Ellis Marsalis brought a whole new generation of jazz stars from New Orleans into the world. Through his students he reclaimed the importance of New Orleans being something not just locked in the past, but as being a source of perpetual reinvention and of progress. Is there a greater trumpeter in the world today than Nicholas Payton? I don't know of one. Is there a more influential thinker and advocate of jazz than Wynton? I doubt it. Is there a jazz musician who has reached more millions of people through movies than Terence Blanchard through Spike Lee's movies and others? I can't think of any. You can't even calculate the influence of all those people and their recordings, their films, their lectures, their audiences."
In 1997, Reich was on the jury that chose Wynton's work Blood on the Fields to win the Pulitzer Prize, the first Pulitzer that was ever awarded in jazz, or indeed in any music category outside of classical. The Pulitzer board also changed its future definition and entry requirements for music awards, more pointedly allowing for improvisation. Let Freedom Swing, Reich's 2010 book of his jazz, blues, and gospel writing, offers context to the Pulitzer board's decisions. In a nod to New Orleans, he asked Ellis to write the foreword.   
Of course, musicians often have more than one mentor—and their own ideas about what's right for their careers. But Marsalis's lessons seemed to linger with his students, as when he called jazz a "homeless music" without a grand performance space ever having been built for it. In 2004, Jazz at Lincoln Center—under Wynton's artistic direction—opened the performing arts complex Frederick P. Rose Hall on New York City's Upper West Side. 
"I was there when this was only a vision in Wynton's head," the drummer Herlin Riley remembered. "When I joined the band, he said, 'We have to do more things that have an impact on jazz. We have to do books on jazz. We have to do videos to teach people how to play. We have to create a big band competition . . .' The last thing he said to me is 'We have to build a hall for jazz . . .' All those things came to fruition."
Ellis's students continued to conjure him when they had important decisions to make. In 2014, Connick spoke on The Late Show with David Letterman about his role judging contestants on the TV show American Idol: 
CONNICK: You know Ellis Marsalis? He's the father of Wynton Marsalis and Branford Marsalis. [Applause.] Yeah, and he was my teacher. And he would sit there and he would listen to me play. He wouldn't smile. He wouldn't applaud. He wouldn't stand up. And he would basically say, "That's one of the worst performances I've ever heard and you need to go home and practice." And you would go home and practice. It was very, very direct and very blunt. I don't like to be that blunt. I think the honesty part is always great. Being honest is being honest. But I think it's nice to say, "Hey, look you've got great potential."

LETTERMAN: If your instructor is Ellis Marsalis, you've already been given a great stamp of approval . . .
Not everyone was a fan. Beginning in the 1980s, critics of the Marsalises and their New Orleans contingent were often vicious in print, calling their contributions to jazz "nostalgia," "indistinguishable," "too conventional," and even "boring." In 1988, a music writer alleged that Branford (not yet twenty-eight years old) had failed to deliver on his potential and called Wynton's sensibilities "anachronistic." And yet, even the most derisive critics acknowledged the magnetic effect that the Marsalises and their fellow New Orleanians had had on jazz worldwide, attracting new audiences—including consistent waves of young people. As a new generation of jazz teachers, Ellis's students helped shaped jazz studies programs not only at Jazz at Lincoln Center, but also at the Thelonious Monk (now Herbie Hancock) Institute of Jazz, Juilliard, Northwestern University, and the University of New Orleans. Not bad for the man who in 1988 had been described in the Atlantic Monthly as "the obscure pianist Ellis Marsalis."


SILVERBOOK
Sometimes, Marsalis unconsciously inspired efforts in the service of jazz. He did it in 1987, when he unknowingly put his old mentor Harold Battiste to work on a singular undertaking that would outlive them all. At a tribute to the former American Jazz Quintet drummer Ed Blackwell in Atlanta, Ellis mentioned that the recordings he'd made with the group remained essential to his own career playing music and, perhaps by extension, the success of his many past, present, and future students. 
"As we got ready to rehearse, Alvin [Batiste] gave me the lead sheets that he had copied out and put them on the top of the piano," Marsalis recalled last year at the Ninth Ward center that Branford and Connick had built in his name. "I said, 'Man, everything that I really know about music is in these songs right here.' And even though those lead sheets were just a few, Harold thought about it . . . and started to assemble the Silverbook, based on that retrospective. The history of the Silverbook started at that point." 
A musical workbook published in 1989, Silverbook — Modern Jazz Masters of New Orleans, includes sixty-one songs composed by Marsalis and other members of the quintet, as well as members of Harold's New Orleans–based, African-American, musician-owned AFO label. The book features every original song from the playlist that the quintet recorded in 1956 and then later taught to generations of students. Marsalis had continued to play Silverbook songs on nearly all of his own recordings dating from the 1960s and in live performances for the rest of his life. Recently, the drummer and band leader Herlin Riley has committed to showcasing Silverbook songs in his sets from now on. 
The Marsalis Center hired me in 2019 to interview Ellis about the Silverbook, which instructors there and at the University of New Orleans still use to teach up-and-coming players. Harold, Alvin, and Ed were long dead by then. So Ellis was left to tell the tale of how bebop originated in the city—a story that may seem inevitable to most people, and yet was anything but to the brotherhood of musicians who made it happen. 
"When it comes to the human beings that have contributed to your personal development, you only can do that when they pass away and you reflect on what it was like when you knew them," Marsalis had said earlier. It was a rare moment of introspection for him, during which he seemed tempted to share his feelings about those friends now gone. But the moment passed quickly, and he decided not to. He seemed typically Ellisian that day—analytical, detached, without sentiment. 
And yet, that wasn't always the case. When asked what song he'd like to perform at the end of our radio interview, the year his wife Dolores died, he didn't hesitate. Marsalis lowered his head, lifted his hands to the keys, and began playing with an unmistakable, romantic fullness, "Do You What It Means, To Miss New Orleans?"


POSTSCRIPT
More than sixty years after Marsalis made his drive home from Southern California, there's still speculation about why he chose to plant a flag for his kind of jazz in New Orleans, where music lovers prefer the dancing rhythms. Kalamu ya Salaam, who co-produced the 1991 CD version of the American Jazz Quintet's historic recording session, said he thought Marsalis's decision had to do with "optimism." After the U.S. Supreme Court struck down segregation in its 1954 Brown v. Board of Education ruling, ya Salaam said there was a palpable feeling of anticipation among black locals, an expectation that better times were imminent. Others wonder whether Marsalis was thinking of the young Dolores Ferdinand, whom he would later marry. But no one seemed as gladly baffled as Marsalis himself. He said that it was his choice and his alone. Both paths required constant work at the highest level just to survive, and perhaps that's better done in a place where people know how to make a 1-2-3-4 cake, stuffed mirlitons, and crawfish étouffée. Ellis Marsalis III, the poet who now lives in Maryland, captured his father's work ethic in "The Man and the Ocean":
What a more apt metaphor for this life

Than the journey toward this music

Not mythically ideal

But soup-stained and pock-marked all the way in
 Whether Marsalis did more to contribute to jazz as a musician or as an educator is a matter that remains open to interpretation, particularly among his sons. 
"Somebody asked Delfeayo and Jason, 'How do you see your dad?'" Ellis once told me. "Delfeayo said as a 'player' and Jason said as a 'teacher.'" 
"He was both," said Branford, who, aside from near-constant touring, also teaches students in North Carolina. "He wasn't teaching people how to play their instrument. He was teaching people how to think. His teaching is not about music. It's about self-discovery."
Ellis III agrees with Jason about their father's focus on teaching. "I heard my dad give a music lesson over a telephone," he said recently. "A kid called him and said he played a gig in St. Louis and got lost. My dad puts the phone on speaker and he goes to the piano and says, 'Tell me what you were playing.' And he proceeds to give this guy a lesson over the phone and on the piano. I tell my daughter, 'A teacher knows what they're doing. They can teach regardless of the medium. In a cave. With a flashlight. They say, 'I can show you.'"
Turns out, Marsalis showed everybody. One crossroads at a time.
---
Enjoy this story? Subscribe to the Oxford American.