Long-Haired Country Boy
By Elizabeth Nelson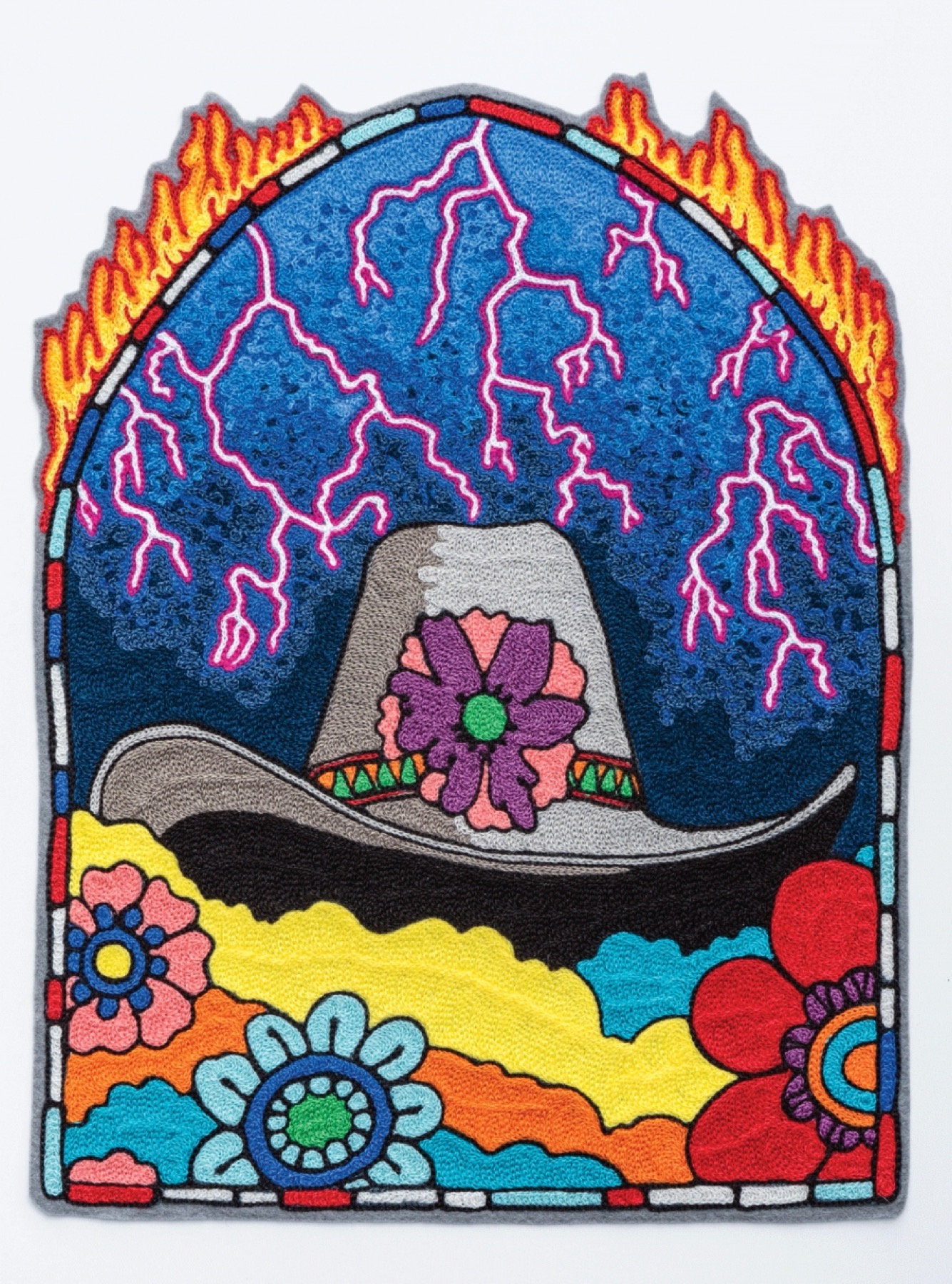 Chainstich embroidery by Lacy Van Court, Die Trying TX. Design by Milton Carter
C
harlie Daniels was a musical genius and a human charm offensive. This is the best available explanation for the scarcely credulous, Zelig-like life that saw him write for Elvis Presley, become a crucial sideman to Bob Dylan and Leonard Cohen, befriend Beatles and presidents, and invent an entirely novel form of country boogie over the course of a five-decade career in music. An instrumentalist of wildly diverse talents and little training, Daniels lacked the technical proficiency of the formally educated and was perceptive enough to make it a virtue. His specialty was knowing just what weird chord shapes to strike and which mood to evoke, however idiosyncratic. You know the queasy string arrangement and overall vibe of Leonard Cohen's 1969 standard "Bird on a Wire"? That's Charlie Daniels. Or the stately but strange guitar and bass on Bob Dylan's Nashville Skyline and New Morning? That was Daniels, too. He lost part of a finger on his right hand in a middle school shop accident, and his unique four-fingered strumming style became the hallmark of his playing. His signature hissing fiddle sounded like no one before or since.
He was always unique. Indeed, he was the first "Daniels" in his family. When he was born to LaRue and William Daniel in Wilmington, North Carolina, in 1936, a paperwork error resulted in an extra "s" being added to his surname, an anomaly within the extended clan that stuck. He was raised religious and with music. Where the music ended and the evangelism began was difficult to discern and ultimately immaterial. In his youth he learned gospel songs like "Kneel at the Cross" and railway blues like Waldo O'Neal's "Hobo Bill's Last Ride," which reduced him to tears when his father performed it for him. 
Like a lot of kids brought up during the pivot point between recovery from the Depression and the bombing of Pearl Harbor, Daniels developed a profound sense of patriotism coupled with a provincial suspicion of the big banks and speculators that had, in some faraway distance, nearly destroyed the country. This was and is a complicated cocktail. It confers a knee-jerk love of the military, along with a quasi-rational contempt for the government that makes their marching orders. To parse that particular contradiction is to understand something crucial about contemporary American life.


People think about hippies and they think of Woodstock or California. That's not really true. Like bison, they were once all over America. The counterculture of the 1960s South was fraught with cross-pollination and contradictions. Radio programmers would soon enough sort the "rock" and "r&b" genres into separate, racially coded categories, but that process of untangling took longer in the regions between Jacksonville and Memphis. The Atlanta International Pop Festival in 1969 drew a hundred and fifty thousand with a bill featuring Booker T., the Staple Singers, CCR, and Zep. 
Charlie Daniels was, in one very real sense, hippie to the core. The Charlie Daniels Band's first hit was a novelty song called "Long Haired Country Boy," the opening stanza of which went like this: "People say I'm no good and crazy as a loon / 'Cause I get stoned in the morning / And get drunk in the afternoon." Having grown up around segregation, Daniels's conceptions of hierarchies based in race and class were a hard-wired factotum. He knew that he had been privileged ahead of Black Americans, and he also knew he had been condescended to by wealthier white ones. Pain recognizes pain, even if it doesn't always react palliatively.
The Jesters, one of his first real outfits, was a four-piece cover band known for energetic takes on tunes by Fats Domino, Lloyd Price, and Little Richard. They were good enough to be in demand throughout the competitive mid-Atlantic touring circuit and to get booked on a USO tour of an army base in Greenland, where for a handful of weeks they entertained blitzed GIs in endless all-night blowouts at what felt like the barren edge of the known world. By the mid-1960s, Daniels was already a hard-luck veteran of the roughest margins of the music biz, having spent more than a decade playing in distinguished, itinerant boogie bands without any apparent future.
More or less out of the blue in the mid-1960s, his old friend and legendary producer Bob Johnston called to see if he wanted to move to Nashville to be a session player. Daniels packed up the family and moved straight away, and the next thing you know he was being prominently featured on Dylan's Nashville Skyline. Daniels was conscripted for a four-hour session, to be replaced afterward by another session man. Dylan and Daniels tracked together and when Daniels got up to depart, Dylan asked Johnston, "Where is Charlie going?" Johnston told him Daniels was leaving but another guitarist would take his place. Dylan responded: "I don't want another guitar player, I want him!"
Daniels called it "the nine little words that would affect my life from that moment on."
With Leonard Cohen, he toured the Old World, performing in Europe to massive crowds. Daniels was amazed at the scenery and the scene—the way in which throngs responded to the uneasy music of a complex spiritual seeker. For a small-town kid from North Carolina with a rapacious curiosity, the mindfuck was thorough but consensual. Daniels's conception of things became bigger. He obsessively studied world history. The mythic elements that would come to characterize his later work were undoubtedly influenced by Cohen's wry and wordy Talmudic passion plays.


Finally, following years as a dues-paying studio hand, he achieved fame fronting his own group, the Charlie Daniels Band. The hell-and-brimstone chooglin' of 1974's Fire on the Mountain extended their reach from regional Southern favorites to full-time national attractions, abetted by tours opening for Joe Walsh, Eric Clapton, and Lynyrd Skynyrd. Their following grew organically via diligent work, but the real breakthrough was the single "The Devil Went Down to Georgia" from the 1979 LP Million Mile Reflections.
A novel reversal of the Robert Johnson crossroads tale, the proto-rap epic tells the story of a country boy named Johnny, who, encountering Satan himself, gets lured into a battle of musicianship—fiddle against fiddle—Johnny's soul wagered against the devil's golden violin. Each party eloquently testifies and expertly plays their instrument. Johnny sounds like Bob Wills. Satan sounds like John Cale. It's all very tense. But in the end Johnny wins. He calls Satan "a son of a bitch" and proclaims himself "the best that's ever been." It is, by any reckoning, a great American song. 
Throughout the 1980s and '90s Daniels's fortunes rose and fell. Charmed and charming as he could be, he had a penchant for misfortune. In 1980 he busted his arm in three places trying to operate some landscaping machinery—Daniels conceded that he should never, ever touch tools—setting into motion a torturous recovery. President Carter took time off from managing the Iranian hostage crisis to call him in the hospital. Eventually he found himself $2,000,000 in debt, resulting from a tangled web of back taxes, poor management, and ill-considered investments. In 2001 he battled prostate cancer. This all was the flipside to his extraordinary good luck, and he received it with faith and stoicism. 
He soldiered on with new records and labels, ever the indefatigable workaholic committed to his music, even as it drifted further from the mainstream. With the sort of gumption that would have no doubt made his timber salesman father proud, Daniels willed his way back to solvency and then some without ever losing heart. The events of 9/11 essentially radicalized him, and going forward, Daniels was a reliably blinkered source of unclever takes on political correctness and its related outrages. Eventually, like a loved but fading uncle, he came to espouse the full menu of modern conservative grievances on guns, terrorism, abortion, and the rest of the shuck, though never with much resembling true malice. His convictions may have been real, but he wasn't made from or for these times of nuclear contempt amongst those who disagree.
The last great Charlie Daniels LP was a tribute to his hero: Bob Dylan. The ten-song Off the Grid: Doin' It Dylan from 2014 features the then seventy-three-year-old Daniels performing some of his most moving vocals on spirited and utterly sui generis takes on everything from "I Shall Be Released" to "Tangled Up in Blue."
In his memoir, Never Look at the Empty Seats, Daniels reflects on the album with pride, saying of Dylan: "Always a leader. Never a follower. He was an innovator who shunned Tin Pan Alley and single-handedly changed the face of popular music. By inspiring all serious artists who came after him, he introduced a freedom of lyric and unconventional approach to chord structure."
Daniels saw a lot of himself in Dylan, and as it happens the recognition runs both ways. 
"I felt I had a lot in common with Charlie," Dylan wrote in his own 2003 memoir, Chronicles, Volume One. "The kind of phrases he'd use, his sense of humor, his relationship to work, his tolerance for certain things. Felt like we'd dreamed the same dream with all the same distant places." A dream so strange you can hardly describe it. Charlie Daniels went out and made it all true.
---
Enjoy this story? Subscribe to the Oxford American.