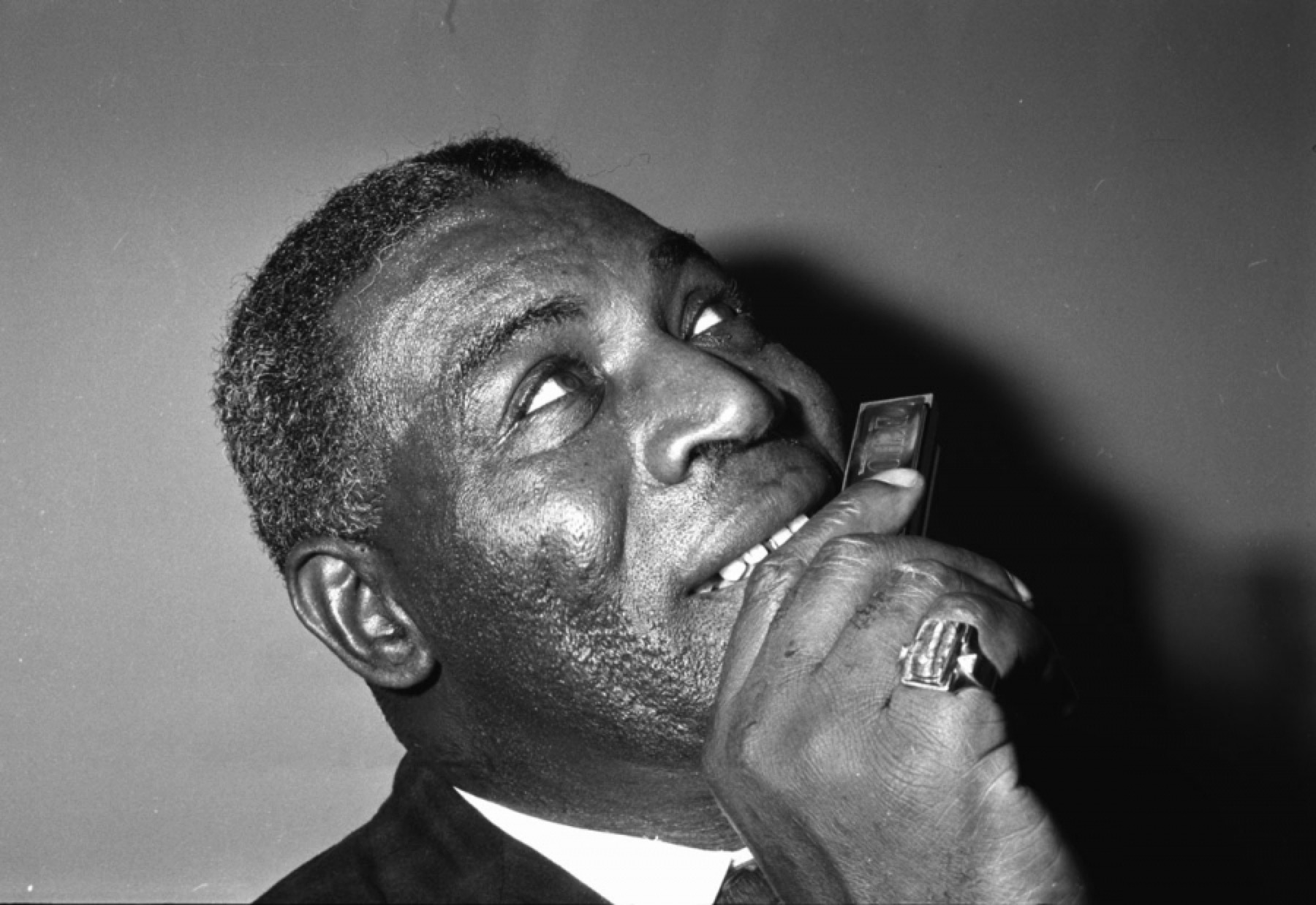 Photo of Howlin' Wolf (Manchester, England, 1964) by Brian Smith. © Brian Smith, from the forthcoming book Boom, Boom, Boom, Boom - American Rhythm & Blues in England - 1962-1968 (East-On-The-Eye Books, Sheffield, UK)
On the Edge of Diminished Light
By Yusef Komunyakaa
I've been listening to Howlin' Wolf since I was seven or eight. At first, his voice entered me almost through osmosis, a feeling in the night air, bloody moonlight falling through the trees on the outskirt of Bogalusa, Louisiana—a wooded section known as Mitch. This is where men plowed their small farms and big gardens with horses and mules in the 1950s, a half-step into the past and a half-step into the future. In this green limbo, a world between worlds, my grandmother Elsie and her second husband Wesley Pittman operated a small, one-room juke joint called Red's Place. It was open on Friday and Saturday nights. They sold whiskey and beer, Nehi orange and strawberry sodas, hot dogs, fish sandwiches, fried chicken, and potato salad. And, of course, a jukebox of pulsing neon rainbowed through the place. Those weekends at Mama Elsie's, as I lay in bed counting shadows on the wall, past my bedtime, I could hear music on the other side of the garden, beyond the pear trees: Bobby "Blue" Bland, B. B. King, Dinah Washington, Little Esther, Muddy Waters, and Howlin' Wolf.
"Smokestack Lightning" immediately struck me, recalling the Magazine Lumber Company's smokestack that reflected across our lives daily. Perhaps moments like this later brought me to poetry, knowing a phrase could mean more than a single thing, innuendo under the skin of language.
Ah oh, smokestack lightning
Shinin' just like gold
Why don't ya hear me cryin'?
A whoo hoo, whoo hoo, whooo . . .
Now, I wonder, is the song about a smokestack, a place, a woman, or a state of mind? "Whoa oh tell me, baby / Where did ya stay last night?" The phrases seemed to collide, creating tension essential to the blues shaped around the timbre of Howlin' Wolf's voice, which perhaps echoed the familiar robust presence of a deacon I'd heard at church. Perhaps this paradox is why Mama Elsie let her husband talk her into his "devilish ways," where the jukebox filled the woods with the sounds of the blues. She'd lapsed as an usher at the Tree of Life Baptist Church—that old conversation between the sacred sorrow songs and the devil's music. She argued with herself.
Out of the voices that swarmed over Red's Place on weekends, Howlin' Wolf was one to hold my feet to the fire. I don't know why, but I immediately believed in the bigness of his voice; I knew this had something to do with the soil I walked on, something shaped by hard work, and by the Southern rural landscape. The voice was rooted in the earth, in sweat and blood, and was hard to forget—thunder in a whisper. It sang the country, the deep woods, the Delta mud, a place and mood I knew by heart.
Oh the dogs begin to bark, and the hound begin to howl
Oh dogs begin to bark, hound begin to howl
Ooh watch out strange kind people
'Cause little red rooster is on the prowl
If you see my little red rooster, please drag him home
If you see my little red rooster, please drag him home
There ain't no peace in the barnyard
Since the little red rooster been gone . . .
Back in Mitch, everyone was kinfolk. Few strangers ventured among these backwoods people. Red's Place beckoned a few customers from across town, but not enough to keep the "business" in the black. In fact, it had always seemed like a hobby, and poor people can't afford hobbies that cost money and time.
Red's Place closed, but I took more than the blues with me, because I'd learned the art of signification, how to speak slantwise. And I also learned something about surrealism—how that "little red rooster" became a symbol in my imagination for Texas Red and other characters in the know—before I even understood what it was. Often, in attempting to find the human voice inside the guitar and master the classic twelve-bar, three-line, AAB structure, the bluesman would bend the logic of language into music, into something personal, and he responded mainly to the logic of feeling.
More than a decade later, when I first visited my estranged mother in Phoenix, Arizona, breaking bread with music in the background on the turntable, I was surprised to hear Howlin' Wolf. The power of his voice still towered over other voices and blues-sounds, so far away from my childhood, so close to everything I knew.
Chester Arthur Burnett was born in White Station, Mississippi, in 1910. According to the documentary The Howlin' Wolf Story, his parents separated when he was young; his mother, Gertrude, threw him out as a boy, and he moved in with his uncle, Will Young, who mistreated him. At thirteen, he ran away to join his father's large family in the Delta, and it was here that he was happy for the first time. On his father's farm he learned the rituals akin to the soil, and it is said that even after he began playing music regularly, he would return each year to work the farm beside his father.
By 1928, he met Charlie Patton, a Delta blues legend, and learned songs such as "High Water Everywhere," "Pony Blues," and "A Spoonful Blues"; he adapted his guitar style and showmanship from Patton. Traveling through the South during the 1930s, Howlin' Wolf made a living performing solo and with bluesmen such as Honeyboy Edwards, Robert Jr. Lockwood, Willie Brown, and Son House.
He was drafted into the U.S. Army in 1941, but was discharged in 1943 because "he found it difficult to adjust" (I wonder if this has anything to do with the fact that he was illiterate, or perhaps his inclination toward individuality made his relationship to the military a difficult compromise).
This bluesman stood 6' 3", and his voice, swollen with passion and power, was a unique instrument shaped and fueled by insinuation. He was close to the classic blues, still located on the cusp of the field holler and jug band, almost one step away from the sorrow songs. In 1951, Sam Phillips signed him with the Memphis Recording Service, and the same year his first recording sessions were cut for RPM Records and Chess Records.
Two years later, he was in Chicago, the home of Chess Records. In 1962, his Howlin' Wolf album featured Willie Dixon (a bassist and songwriter also from Mississippi), along with others, and had cuts like "Wang-Dang Doodle," "Going Down Slow," "Spoonful," and "The Red Rooster."
I think it is important to note here that Howlin' Wolf, although illiterate, questioned some of the tunes written for him, as Willie Dixon underscores in his memoir I Am the Blues: "The one Wolf hated most of all was 'Wang-Dang Doodle.' He hated that 'Tell Automatic Slim and Razor-Toting Jim.' He'd say, 'Man, that's too old-timey, sound like some old levee-camp number.'" However, British and American rock bands later covered many of these songs.
And it wasn't easy to deny or overlook the source—the blues tradition. This new recognition and popularity brought Howlin' Wolf to the American Folk Blues Festival tour produced by German promoters Horst Lippmann and Fritz Rau in 1964.
The following year, The Rolling Stones were scheduled on the TV show Shindig! and the group insisted that he appear with them, probably because they had covered "The Red Rooster" and it had paid off.
Also, in I Am the Blues, in an interview, Scott Cameron says, "When Led Zeppelin II came out, Arc Music brought a claim against them that 'Bring It on Home' was Willie's song and that 'The Lemon Song' was Wolf's 'Killing Floor.' They had a settlement, all of this without Willie's knowledge."
When Howlin' Wolf referred to "Wang-Dang Doodle" as an "old levee-camp number," one wonders if he was indirectly attempting to question his own foundation, the bedrock of his sound, the so-called primitive blues.
He was uneducated, and perhaps being in Chicago accentuated this. Even some members of his band called him stupid behind his back; of course, they wouldn't have confronted him face-to-face, disconcerted by his substantial ego and physical stature.
Despite feeling deprived of an education, he bragged about leaving Memphis and driving himself from the Delta up to Chicago, along the Blues Highway, with nearly four thousand dollars in his pocket. At the time, this was unusual for a bluesman. It was also unusual that someone like Howlin' Wolf would enroll in reading, writing, and arithmetic classes when he was almost fifty. This bluesman paid his musicians decent salaries, and provided for his family, without any of the vagaries surrounding many of his ilk.
Big and basic, down-to-earth, Howlin' Wolf seemed driven by the existential necessity of the blues to the end. His art defined him.
In 1970, he cut The London Howlin' Wolf Sessions for Chess, with musicians such as Eric Clapton and Bill Wyman, alongside his guitarist Hubert Sumlin and harmonica player Jeff Carp. Still singing and playing from the gut and heart, he cut his last studio album for Chess in 1973, The Back Door Wolf, fewer than three years before his death.
Perhaps, due to illiteracy, his lyrics, on their own, lack a degree of complexity that we see in other songs of their time, and perhaps they even exist on the verge of sentimentality. Yet the authenticity and immense power of his voice—which seems to exist with an innate opposition to sentimentality—along with his gift of delivery, lend ethos to his songs. He always stayed close to signifying, to the politics of the blues. And from the first howling note to the last, the listener feels that Wolf, initiated by the simplicity of everyday existence, knows something about getting his hands into the soil.
---
Enjoy this story? Subscribe to the Oxford American.