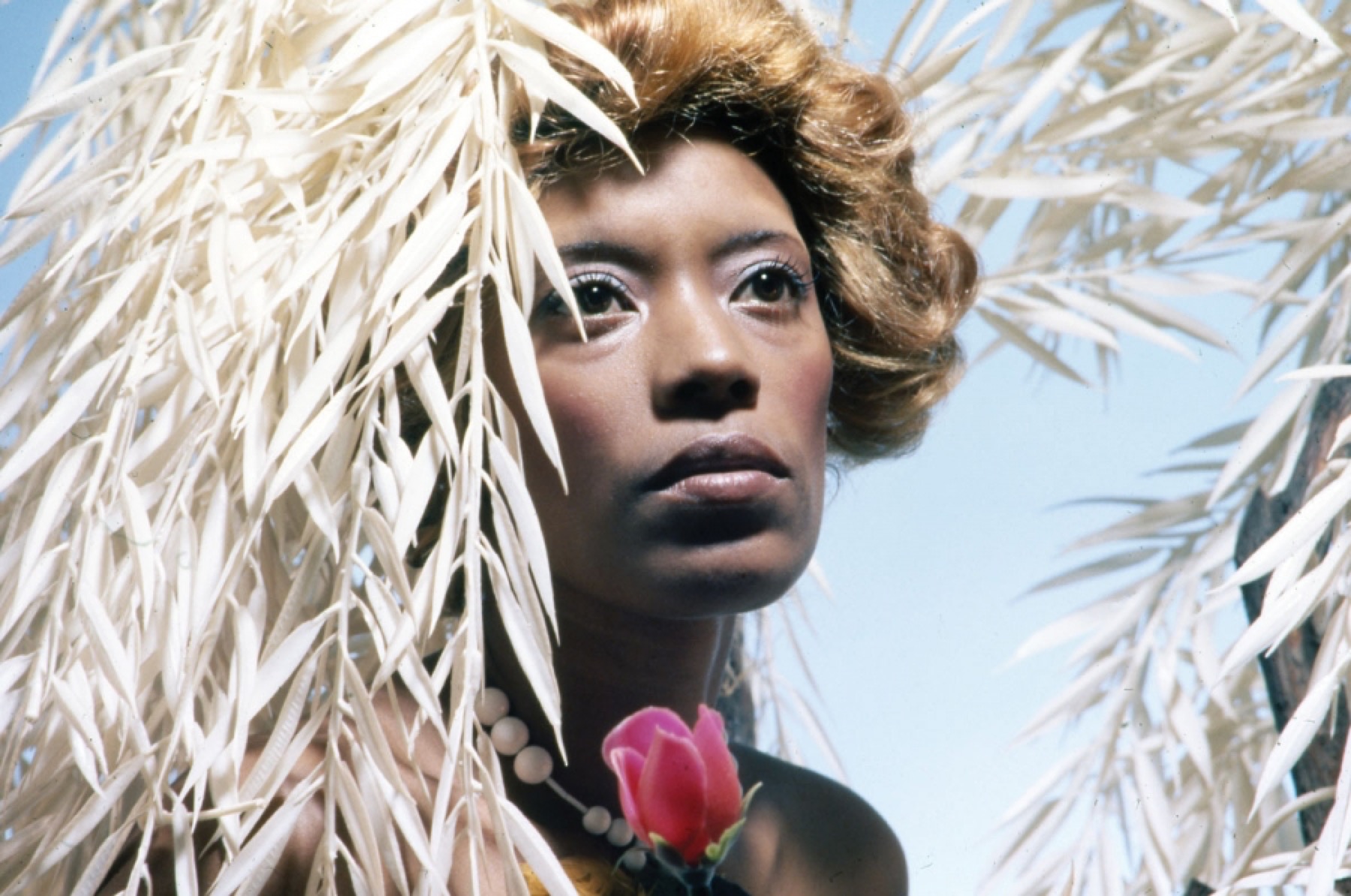 Photo of Ann Peebles by David Scruggs (1977). Courtesy Fat Possum Records / Hi Records
Soul Sensation
By Andria Lisle
W
hen Ann Peebles and Gene "Bowlegs" Miller first crossed paths at the Rosewood Club in South Memphis, neither would have called it destiny. As Miller saw it, Peebles was just another persistent young woman determined to sit in with his band. The veteran horn player was a session man involved in Memphis's burgeoning soul scene, and by 1969—the year he met Peebles—he'd seen and heard the best performers in town.
"Well, can you sing?" Miller asked. "Yes, I can sing," was the unruffled reply. After all, Peebles had grown up in her father's gospel choir in East St. Louis and had spent her free time posing in front of a mirror with an imaginary microphone. Without hesitation Peebles took her place in front of the Rosewood Club bandstand, chose Jimmy Hughes's "Steal Away" as her debut, and proceeded to astound both musicians and audience alike. Controlling her gritty voice like a professional, she whispered some lines, shouted others. Miller booked her for a Hi Records session the next day.
At the studio Peebles signed a contract with "Papa" Willie Mitchell, producer and chief operating officer. She had consulted with her father first, and to her delight the choirmaster responded encouragingly: "I knew that eventually you was going to head for the bright lights because it was in you. If I try to hold you back, you're going to do it later on, so I would rather see you go now and try to start that career." With his blessing, Peebles cut "Walk Away," which became a top thirty r&b hit.
Her debut album, This Is Ann Peebles, featured both "Walk Away" and "Steal Away," alongside interpretations of bigger soul hits of the day, including Otis Reddings's "Respect," Don Covay's "Chain of Fools," and the Isley Brothers' "It's Your Thing." But it's her version of Little Johnny Taylor's "Part Time Love" that hit pay dirt—the song eclipsed every other Hi release up to that point, breaking into the r&b Top 10 and establishing Peebles as a rising star.
Peebles and Mitchell had a dynamic working relationship. She could translate raw emotion into sweet soul lyrics while he provided the lavish aural backdrops for her voice. "He was like a father—fussy, demanding, giving you a note to try," Peebles remembers. "But I liked the way he arranged the music, a click that he had." With bassist Leroy Hodges, Jr., organist Charles Hodges, drummer Howard Grimes, and guitarist Teenie Hodges, Mitchell's team—later known as Hi Rhythm Section—was unbeatable.
Six more albums for Hi followed: from Part Time Love, released in 1971, to 1979's Handwriting Is on the Wall, Peebles churned out a decade's worth of primal soul. But it was her 1974 LP I Can't Stand the Rain that made Peebles a soul sensation. With eight hits to her credit, and her marriage to Hi songwriter Don Bryant, an experienced Peebles was poised on the brink of stardom when she began work on her finest album.
Seven of the ten tracks on I Can't Stand the Rain were written by Peebles or Bryant; their lyrical and instrumental input provides a cohesiveness seldom found in soul albums of the same era. Another Memphis songwriter, Earl Randle, lent two of his compositions for the project—"If We Can't Trust Each Other" and the seminal "I'm Gonna Tear Your Playhouse Down." 
Yet it's the album's title track that is the real masterpiece. Cowritten by Peebles, Bryant, and Bernie Miller, a local disc jockey, "I Can't Stand the Rain"—like Peebles's initial Hi session—came as a whim after the trio improvised on an offhand remark about the weather. "One night we were at the house getting ready to go to a concert later that evening, and it was just pouring down with rain, and thunder was cracking," Peebles told the Memphis Flyer in 1994. "All of a sudden I popped up and said, 'Man, I can't stand the rain.' And Don looked at me and said, 'Ooh, that's a good song title!'" The concert forgotten, they finished the song that evening. 
"I Can't Stand the Rain" opens with a unique, percolating timbale raindrop sound, courtesy of Mitchell. Halfway through the second bar, Peebles utters the first unforgettable line; moments later the groove arrives. Merely a sad song in lesser hands, Peebles's version is defiant, almost rebellious. By the time she hits the chorus, she all but dares the rain to pour down and remind her of a former lover. Broken-hearted, yes, but certainly not broken-down.
The song hit number six on the r&b charts, crossed over to the pop top fifty, and netted Peebles a Grammy nomination. In Europe John Lennon called it "the best record since 'Love Train,'" making it even more popular. Peebles bought her first house and toured for three years on the strength of "I Can't Stand the Rain," but her position at Hi was already surpassed by another Mitchell protégé, Arkansas native Al Green. Ironically, most soul aficionados refer to Peebles these days as the "female Al Green." 
After her retirement from the music business in the late 1970s and her subsequent return more than a decade later, Peebles still finds herself in the spotlight. It's been over thirty years since Bowlegs Miller asked Ann Peebles if she wanted to sing and she responded, "Gee, that's all I ever wanted to do!"
---
Enjoy this story? Subscribe to the Oxford American.