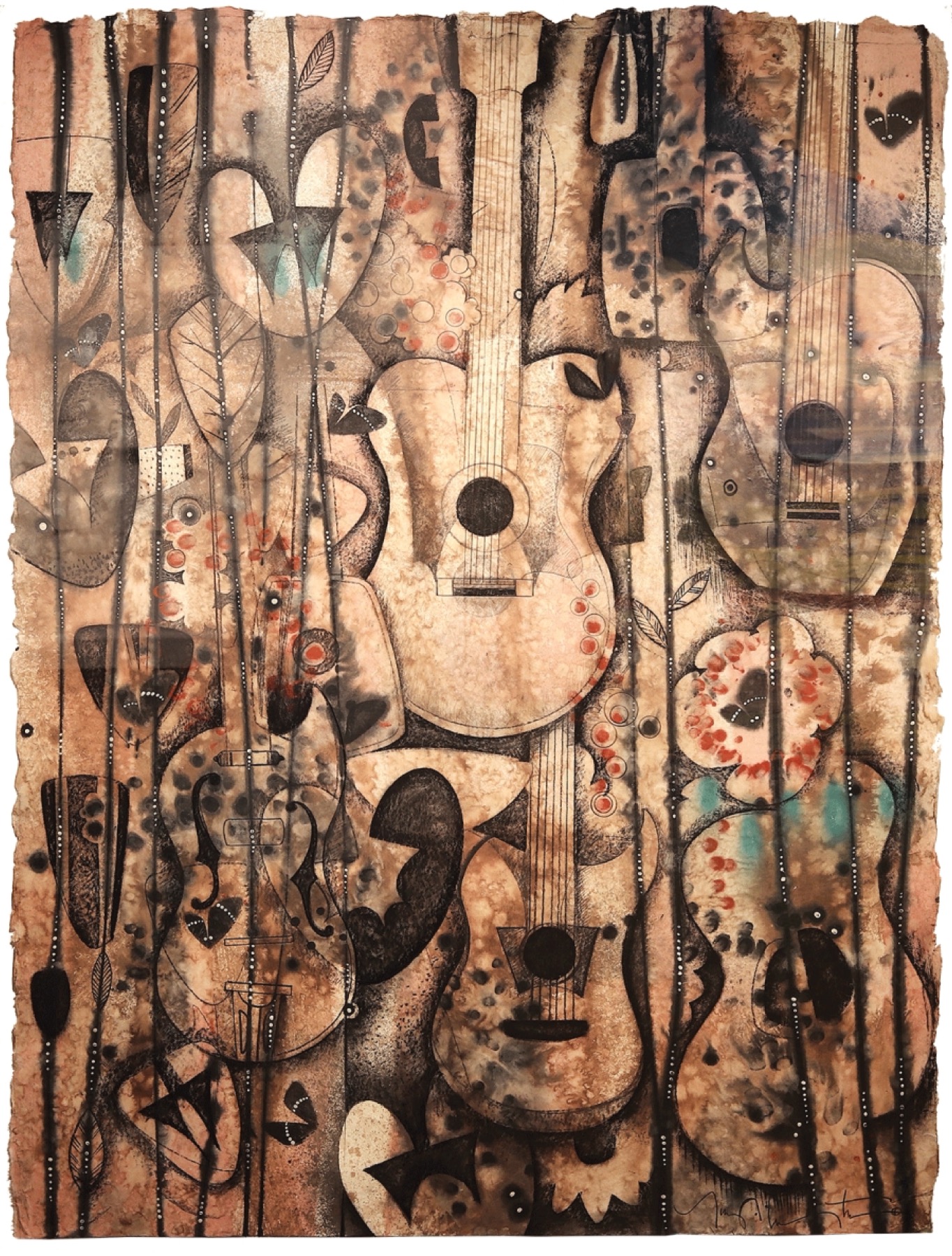 "Todas Las Guitarras (Que Nunca Deberías Haber Vendido)" by Tony Abeyta. Courtesy Altamira Fine Art
The Godmother of Soul
By Rosanne Cash
She traveled the world and left it scorched with her fearlessness and musical originality, inspired fierce devotion from an audience who thrilled to her enormous gifts and her personal excesses, and shook the celestial rafters with the force of her artistic character. She was also my dad's favorite singer. Sister Rosetta Tharpe was born in 1915 in Cotton Plant, Arkansas, at the edge of the Mississippi Alluvial Plain, one hundred and twenty miles northeast of where my dad was born seventeen years later in Kingsland, Arkansas. Sometimes he would shake his head and muse during odd or inexplicable events, "Strange things are happening every day," which was a nod to the title of her most famous song. "Strange Things Happening Every Day" was a hit for her in 1945 and reached No. 2 on the "race" chart in Billboard magazine, the precursor of the Rhythm and Blues chart. She was a musical prodigy who sang, played guitar, and performed gospel songs in the Black Pentecostal church from the age of four, then traveled with her mother around the South, performing in churches as Little Rosetta Nubin, billed as the "Singing and Guitar Playing Miracle."
She became Sister Rosetta Tharpe in 1938, after leaving her first husband, Thomas J. Tharpe, and moving with her mother to New York City, by way of Chicago. (Tharpe and her husband formally divorced in 1943.) The first songs she recorded on Decca in New York, "My Man and I," "That's All," "The Lonesome Road," and "Rock Me," were instant hits and made her the first commercially successful gospel artist. She started performing in nightclubs and at the Apollo Theater in Harlem, and for all-white audiences at the Cotton Club, where she played gospel songs with a wicked, emancipated, jaw-dropping confidence. By the 1940s, she wielded her guitar like a weapon and distorted the sound: a guitar technique that was completely original at the time and would be copied by legions of rock guitarists in the decades after. Her voice was like a freight train in its power and a poem in its expressiveness. A woman playing guitar, singing spiritual songs in nightclubs that harbored all manner of vice, was unprecedented. Gospel singers just didn't "cross over" to secular music. You were one or the other. She did it anyway, and Black churchgoers, the devoted core of her original audience, were shocked by her nightclub appearances, and shunned her. More than a decade later, mixing secular and spiritual music was still so unacceptable that the great Sam Cooke recorded his first pop song under an alias, in order not to alienate his gospel fan base. 
In 1946, Sister Rosetta saw a singer named Marie Knight perform with Mahalia Jackson. She was so taken with her that she showed up at Marie's door a couple of weeks later to ask her to go on the road. Marie and Sister Rosetta were almost certainly lovers. They toured together for several years and recorded a couple of hit records together: "Up Above My Head" and "Didn't It Rain." Marie eventually broke with Sister Rosetta to pursue her own career. 
Sister Rosetta married a few more times. Her third marriage, to her manager Russell Morrison, was held in Griffith Stadium in Washington, D.C., in front of 25,000 delighted paying customers.
She "played guitar like a man," people told her, as a compliment. Dozens of musicians and performers credit her as a major influence, from Chuck Berry to Elvis to Keith Richards to my dad, who must have felt as if a spell had been cast on him as he sat glued to his family's battery-powered radio and heard her voice pierce the gloaming over the cotton fields. The Black churchgoers eventually forgave her and found their way back into her audience. In 1998, the United States Postal Service issued a commemorative stamp to honor her, and then in 2017, forty-four years after her death, she was elected to the Rock & Roll Hall of Fame. 
I'm a musician and a performer. I'm white, from a privileged background, with a father who was a musician and performer, and whose name created extra interest in me and my songwriting. My world was set up for me to do what I do. I didn't have to deconstruct an entire destiny and create a new one out of whole cloth, like Sister Rosetta did. I signed with a major record label at the age of twenty-three, and opportunities fell into my lap. I made albums, toured, sang, and played guitar, and I lived the life that so many other songwriters and singers wanted. And I tormented myself. My confidence careened from bottom to slightly above bottom for those first difficult years, and longer than was reasonable. I couldn't stop the self-editing and the internal critic or the judgments about the notes I missed, the rhythms I played out of time, the lack of feeling or too much feeling, and the audiences I perceived to be disappointed or bored. This was the constant background noise of my life as a performer. It didn't matter if it was real or true, which, honestly, it mostly wasn't. I lost so much time, for no reason.
Then, around fifteen years ago, while wandering online through a procession of great blues and gospel performances by Mahalia Jackson, Skip James, Howlin' Wolf, Etta James, and more, searching for inspiration, I found the source of the Source. I came across a British film, which, given its near cult following, I'm surprised I hadn't seen before. There in black and white, with her uncommon strut and wail, Sister Rosetta pulled me up and taught me to let go, and it took her all of fifteen seconds. 
In the mid-1960s, Sister Rosetta toured the UK and other places in Europe with great soul and blues legends—Howlin' Wolf, Sonny Boy Williamson, Muddy Waters, and others. The audiences were worshipful. In May 1964, Granada Television in the UK filmed a performance by Sister Rosetta at a deserted train station in Manchester. The producers arranged a cheesy, faux-"down home" entrance for her. She pulls up in a horse and buggy, and New Orleans jazz singer Cousin Joe Pleasant helps her out of the carriage. She was very large by this time, and she is wearing a white coat with a loose tie-like sequined collar and high heels, as if she were going to church. As Cousin Joe helps her out, into the chilly rain, to escort her across the platform, the microphone is live and picks her up saying, "Oooohh, this is the wonderful-est time of my life." Then she struts across the edge of the platform, with a little shimmy in her step, talking all the way about how fine the people are, how happy she is, how sweet everyone is. The band on the platform is vamping and the crowd is clapping in time. She picks her guitar up, where it is resting in what appears to be an empty washbasin, straps it on, and hits a couple of notes, in the wrong key. She calls to the band to ask for the right key and then—she brings it. My God, she brings it. She launches into "Didn't It Rain" and it is transcendent, chilling, thrilling, and everything music is supposed to be. 
Then comes the moment, two minutes and forty-nine seconds into the film, the few seconds that are a master class in performance, which I have watched dozens of times. She makes this little move that I've seen her do in other performance clips, but there is something particular about this one. She is playing her solo, and she lets go of the guitar and holds her hand up in front of her chest and leans forward, rocking back and forth a little, as if the strings are vibrating through her body. Her face is inscrutable. She is, as they say, filled with the spirit. To me, she looks to be in a numinous, otherworldly place. She is incredibly graceful, decked out in her Sunday best with her close-cropped, finely styled hair. She doesn't care that it's raining or that she is performing in a Brit's weirdly conceived idea of the rural South, with wagon wheels and rocking chairs, or that the audience is sitting tightly packed on the other side of the wide expanse of the unused railroad tracks, shivering in the cold rain. She is not thinking of herself, or them, or about how to play the chords or the words of the song, she is not thinking of her last note, or the next one, or how her shoes look or if her hair is in place, she is not embarrassed that she started the song in the wrong key a couple of minutes earlier, she doesn't care how awkward that horse and buggy arrival was. She's not thinking of anything at all. She is a vehicle of musical ecstasy. She is, as Muhammad Ali said, "floating like a butterfly and stinging like a bee," but with chords and tone and rhythm. Her distorted Gibson and a voice that echoed from the center of the earth floated out of a lifetime of holy and carnal exaltations into the future, and changed the trajectory of rock & roll, blues, and soul music, as well as affecting individual lives—like those who borrowed from her musical freedom, and Tina Turner and Aretha Franklin, who both cite her as a major influence, and singer-songwriters like my friend Sam Phillips, who wrote the song "Sister Rosetta Goes Before Us," and Brittany Howard, who gave a sartorial nod to the white coat in the UK film by wearing a flowing white dress when she inducted Sister Rosetta into the Rock & Roll Hall of Fame, and so many musicians who struggle to settle into their own potential, like me. 
Strange things happen every day, but in my life, few things have been as beautifully strange as the inherited repercussions—father to daughter, cotton field to city streets—of seeing, hearing, and being forever changed by the godmother of soul, Sister Rosetta Tharpe. 
---
Corrections:  An earlier version of this article stated that Sister Rosetta Tharpe's first husband's last name was Thorpe (it was Tharpe) and that the couple divorced in 1938 (their divorce was not finalized until 1943).  "Strange Things Happening Every Day" was originally described as a traditional African-American spiritual; we have since learned that the song's history as a traditional is unconfirmed by scholars. Finally, Marie Knight and Sister Rosetta Tharpe did not record "Gospel Train" together, a claim that has been removed from the piece.  
---
Stream Rosanne Cash's playlist for the Oxford American:
---
Enjoy this story? Subscribe to the Oxford American.