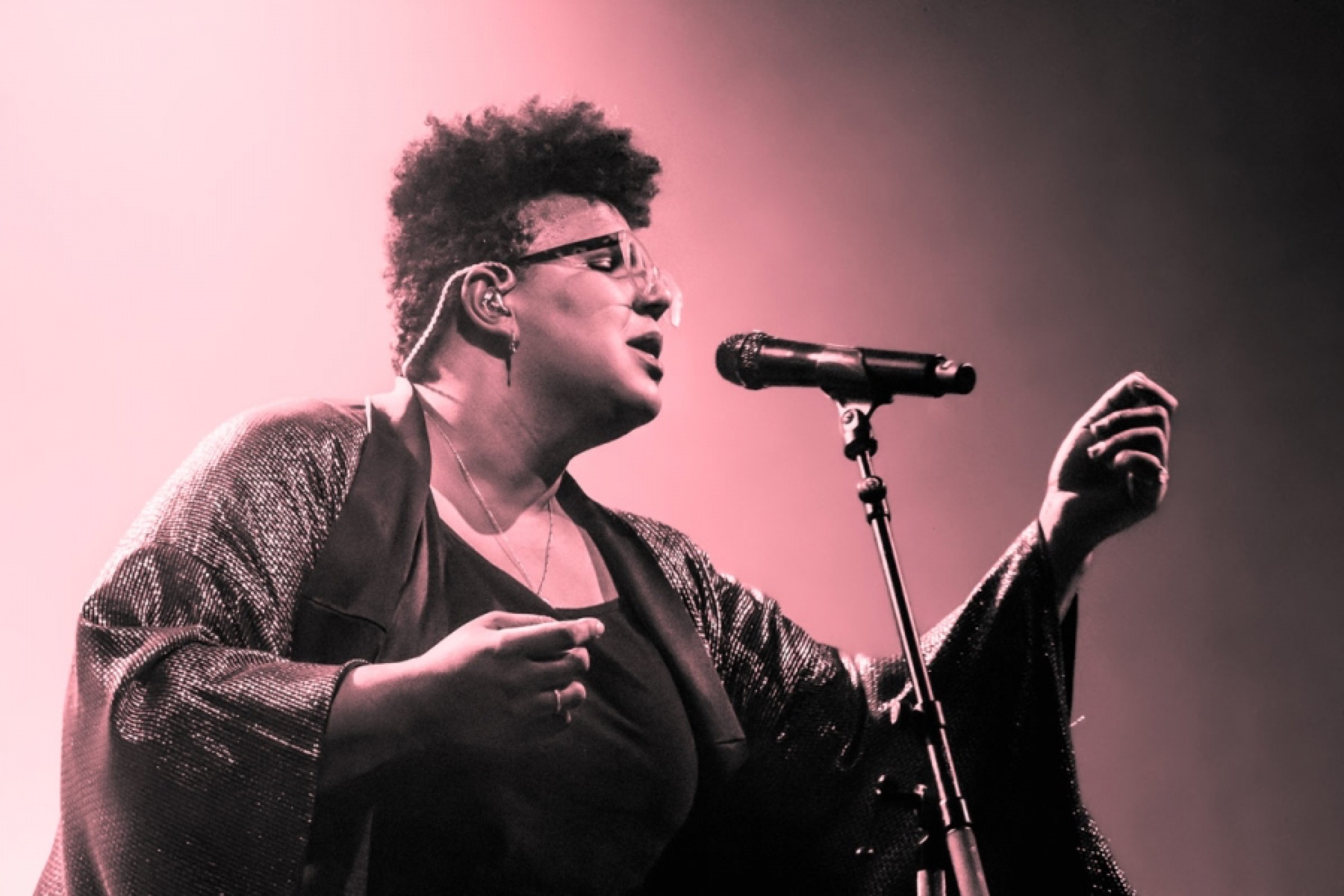 Photo of Brittany Howard by Anthony Harrison
The South Just Has a Thang
By Brittany Howard
Ajournalist asked me once, "Brittany, how has the South informed your music?"
At the time, I didn't know what the word "informed" meant.
But, even after clarification, I realized it was a hard question to answer.
See, the South has a thang.
That thang is hard to describe.
I grew up in a junkyard in Limestone County, Alabama. Limestone is rural and pretty flat. When I think of where I grew up, I see fields of cotton, large green expanses of pasture, cows, the hot sun, the fish jumping in the green water.
I was born to a white mother and a black father. My grandmothers lived nearby and I spent a lot of time at their homes learning to cook, to dance, to shuck corn, to do laundry, to clean house. You know, the basics.
For my immediate family, the junkyard was our little oasis. A double-wide trailer surrounded by just enough grass to support several farm animals: pigs, chickens, geese, goats, dogs, and a random turkey. I spent so much time outdoors. My sister and I would dress in costumes and use our imaginations in the surrounding woods or down by the creek until the sun went down and The Simpsons came on at 7 p.m. We'd come home tired and dirty, but happy.
We didn't have a lot of money. But I had what I needed: My family loved me, I had plenty of room to run around, I had my imagination, and I had music. My mom loved Elvis; my dad loved Prince. My maternal grandmother, Ruby, liked the pop hits of the '50s and '60s and in her kitchen I'd learn the words to songs that came long before me: the Crystals, Wendy Rene, Dion, Little Richard, Jerry Lee Lewis. I can remember Ruby telling me that "Ruby Baby" by Dion was written about her and that she "just knew she'd marry him" when that song was released. We'd laugh at ourselves singing and dancing all covered in flour from baking biscuits. My paternal grandmother, Helen, introduced me to music by Luther Vandross, Teddy Pendergrass, the Staple Singers, and Ray Charles. We had a lot of barbecues in her front yard while listening to the greats. It was a whole scene. The sun would just be setting, and all of my uncles and older cousins would park in the front yard. The younger cousins and I would bang on five-gallon buckets, singing along to "Here and Now" while my uncle grilled the best BBQ ribs you'd ever taste. Everyone seemed to have a smile on their face. So relaxed and so happy. It was just beautiful. 
How does the South inform my music? How do I describe the sound that your bare feet make when they pat the cool, packed red dust under them? How do I describe the color of the sky when you know there's going to be a tornado? How do I tell you about my grandmother's smile when she's singing old church songs? How can I even tell you the way it feels to hear the cicadas sing in the humid evenings on my great-grandmother's porch, or the first breeze of fall after an oppressive, jungle-like summer where you worked all week and never got ahead?
How do I relate to you the complications of an interracial household in the early '90s in a small county in Alabama and the joy I still found there? The freshly picked turnip greens or poke salad pulled from the front yard? The pecans we picked up from under a giant, ancient pecan tree to turn into pie? I would shuck corn with my grandma, snapping peas from her garden; her hard-working, worn hands were like sculptures to me. How do I describe the sorrow of a summer funeral where your sweat and your tears gather on your collar? How can I describe the unhurried rhythm of life here, the slow-drip of progress or the resilience of generations of folks in my family that taught me to believe "everything is gonna be alright"? How do I quantify the "soul" in our food or the experience of finding delight and beauty in a place with such a complicated, convoluted history?
How does that inform my music?
It's just life here.
You see, the South just has a thang.
It gets INTO you. And there is no historian like the music created here.
The musicians covered in this issue of the Oxford American are all important voices in understanding what this thang is, and I'm honored to get to be this issue's guest editor. In picking the "best of the best" of the magazine's more than two decades of music issues, I couldn't help falling in love with Tiana Clark's story of her trip to Tryon, North Carolina, where Nina Simone grew up, because it reminded me of my grandmothers and their love for and belief in me. I also love Kiese Laymon's homage to OutKast, who always made me so proud. The way they told stories about growing up in Atlanta—I could definitely relate. I feel the same complicated feelings about my hometown in Alabama. I found some connection to all of the stories inside this issue. And when the poet Yusef Komunyakaa wonders if Howlin' Wolf's "Smokestack Lightning" is about "a smokestack, a place, a woman, or a state of mind," I remember that it is impossible to talk about the South without poetry.
I want to welcome you to this issue in hopes that you will find more than you expected about the musicians who call the South their home. That you'll understand that the diversity here is what truly makes us great.
Here is what I believe: the South's natural beauty has inspired masterpieces. I know we can all agree time runs differently here. It has its own time signature with its own rhythm. The beat doesn't really land on time; it's just a little bit behind. And there is something in that space that gets into you and everything in the natural world here. It's a place where scars can heal and progress can be made. 
Stream Brittany Howard's playlist for the Oxford American:
---
Enjoy this story? Subscribe to the Oxford American.