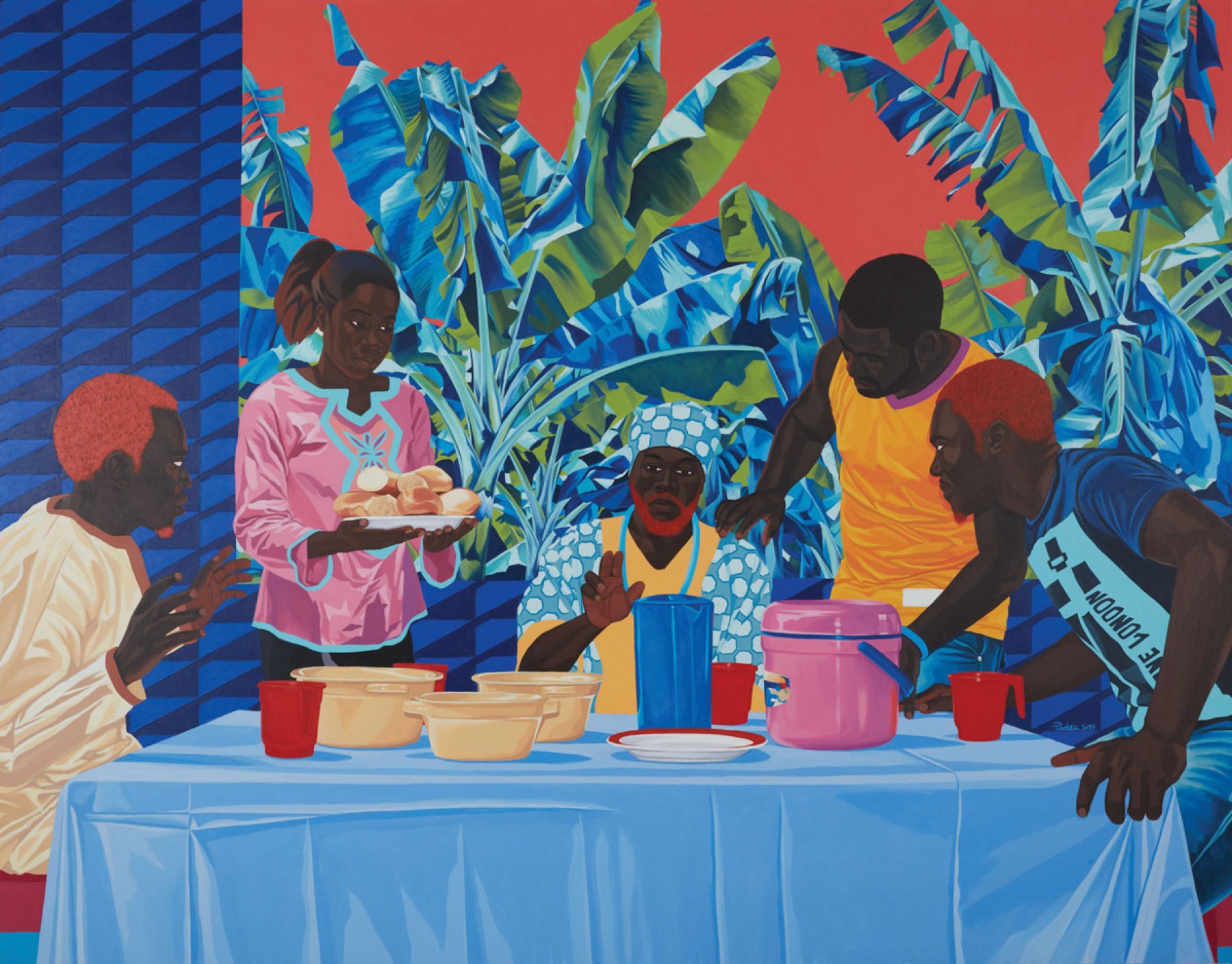 "Le souper a Penja" (2019), by Marc Padeu. Courtesy of Jack Bell Gallery, London
Nothing but Sweet Potato Pie
By Ayana Contreras
Most Black folk I know are ambivalent at best about the historical origins of Thanksgiving. Many of us have repurposed the day into Black Thanksgiving, a beautiful phenomenon that functions as a family reunion/cultural celebration/rite of passage that Rembert Browne expounded upon in a lovely Bon Appétit article back in 2017. A minor social media debate followed, revolving around the opinion that Black Thanksgiving is a needlessly divisive descriptor, i.e., All Thanksgivings Matter. But, I think that differentiation is far from needless. In fact, if Black Thanksgiving were a set in a Venn diagram, it might explain a truly divisive topic: pumpkin pie or sweet potato pie. Not an ounce of ambivalence there. Even though I wasn't with my family on Thanksgiving last year, I procured a slice of my Aunt Myrt's custardy sweet potato pie, and the taste brought me right to her kitchen.
The two classic desserts, though both similarly orange, are far from analogous. One dessert denotes a tradition that brings to mind starkly dressed pilgrims, while the other is intricately tied to enslaved people who worked actual magic with a root vegetable. In many circles, sweet potatoes are not only shorthand for Blackness, they're also as broadly Southern as macaroni and cheese, primarily because for centuries those enslaved Africans played an integral role in crafting Southern American foodways.
Native to the warmer climates of the Americas, the sweet potato (Ipomoea batatas) is not of the same species as the tubers known as yams throughout Africa—although many people use the term sweet potato and yam interchangeably, one of the dialectal vestiges retained by enslaved Africans that eventually became common parlance (alongside sterling Southern lexicon such as "banjo" and "juke"). Perhaps that's why the very mention of sweet potatoes feels inherently linked to Blackness.
In popular culture, name dropping the sweet potato conveys a certain downhome specificity. Booker T. & the MGs may be most known for their 1962 instrumental ode to green onions, but in 1966, the Memphis-based band released a song called "My Sweet Potato." And James Brown and the J.B.'s shout out the golden vegetable in a soul food roll call of sorts at the end of 1971's "Make It Funky":
Neck bones
candy yams
(collard greens)
turnips
Smothered steak.
(rice)
In the 1976 movie Monkey Hu$tle, the character Sweet Potatoe, a teen girl played by Lynn Harris, wears a pale pink t-shirt with her nickname in bold, flocked letters. She is the wide-eyed, gum-smacking love interest of a young man named Baby 'D (a precocious Kirk Calloway). We don't know much about either of the characters' backgrounds, but her nickname is such a solid signifier of honeyed, spice-flecked Blackness without pretense that it speaks volumes about her nature.
In her breakthrough memoir/cookbook Vibration Cooking: Or The Travel Notes of a Geechee Girl (1970), Vertamae Smart-Grosvenor writes of her rendezvous with one of the sweet potato's kin at an unspecified market in Paris. "I asked and the lady said, C'est le pomme de terre douce," she recounts. The shopkeeper notes the potatoes were from Madagascar. Vertamae continues:
Just then a sister from Senegal came by. I asked her how they cooked them where she came from and she said, "We make tarts. . . " (nothing but sweet potato pie); "We fry them in butter and
sugar. . ." (nothing but candied sweet potatoes); "We roast them in the oven. . ." (nothing but baked sweet potatoes).
The same vignette could have very well happened on this side of the Atlantic hundreds of years ago, as enslaved Africans began to impart their culinary virtuosity onto this nation. Upon seeing the Ipomoea batatas, West Africans knew just what to do. Maybe they whispered, "Nothing but yams." Sweet potatoes were a familiar flavor in a hostile land.
Sweet potatoes also epitomize a certain utilitarianism. Whereas Black Muslims in the North in the mid-twentieth century took the ubiquitous navy bean and created a pie that helped fund a movement, at the turn of that same century, educator Mary McLeod Bethune funded her fledgling Florida school, then known as the Daytona Educational and Industrial Training School for Negro Girls, by baking sweet potato pies. Her recipe is documented in 1991's Black Family Reunion Cookbook (created by the National Council of Negro Women, an organization that Bethune also founded).
Looking at Bethune's recipe now, I can't help but think of my own grandmother teaching me to make candied yams in her kitchen with her well-worn flame-enameled Le Creuset cookware. Same nutmeg, same butter, same sugar. Just a different, crustless application. And no recipe, no measurements. Watch and feel. As Vertamae would say, all Vibration Cooking. And that's what I do. The vibrations are in my own veins, now.
Sweet Potato Sounds
playlist by Ayana Contreras
Make It Funky (pt. 1)
James Brown
This record was tailor-made for the roller rinks where skaters snake and dance in the "JB" style. It comes alive there. However, the memorable ad lib at the end also provides a brilliant meal recommendation of neck bones, candy yams, and turnips, which I can't recommend enough.
Yams
Masego, starRo
Akin to "Brick House" by the Commodores or "She's a Bad Mama Jama" by Carl Carlton: this track is an unabashed glorification of a young lady with "yams straight out the can" (current lexicon for a particular physical attribute).
Around the Way Girl
LL Cool J
Riding atop a sped-up Mary Jane Girls sample, LL describes his kind of girl: bamboo hoop earrings (at least two pair) and (perhaps, more importantly) "sweet as brown sugar with the candied yams."
Soulville
Aretha Franklin
A rocket fueled cover of a Titus Turner original, recorded for Unforgettable, Aretha's 1964 tribute album to Dinah Washington (who also recorded a version). Aretha is absolutely smoking here, shouting out black-eyed peas and candied yams . . . and hinting at soul sounds to come.
Sweet Potato Blues
Lonnie Johnson
A 1920s acoustic soft shoe blues about a sweet potato that's "steaming hot." Spoiler alert, Lonnie's not about to give that potato away . . .
Sweet Potato Pie
Al Jarreau
A funky 1975 recording that brings to mind the trappings of a long, sticky summer. Long story short, anybody who has a slice of sweet potato pie "won't want pumpkin again."
Yams
Jackie Mclean
Written by (and featuring) languid bluesy lines by a young Herbie Hancock, this 1963 recording makes me long to slip into a Naugahyde and chipped Formica booth, icy gimlet in hand.
Chitlins with Candied Yams
Ray Charles
This is one of those songs that plays perfectly with the razor thin lines dividing blues, gospel and soul. Ray's organ trills positively shout, only outdone by his syncopated piano licks.
Beautiful Ones
Mary J. Blige
A luscious love song from the Queen of Hip-Hop Soul, built around an Earl Klugh guitar sample.
No More Sweet Potatoes
Big Three Trio
A jazzy post-war dirge recorded by a Chicago-based band featuring blues royalty Willie Dixon, with a refrain that laments "no more sweet potatoes, the frost done killed the vine."