A Return to the Black Mountains with Moses Sumney
From the web
By Clarissa Brooks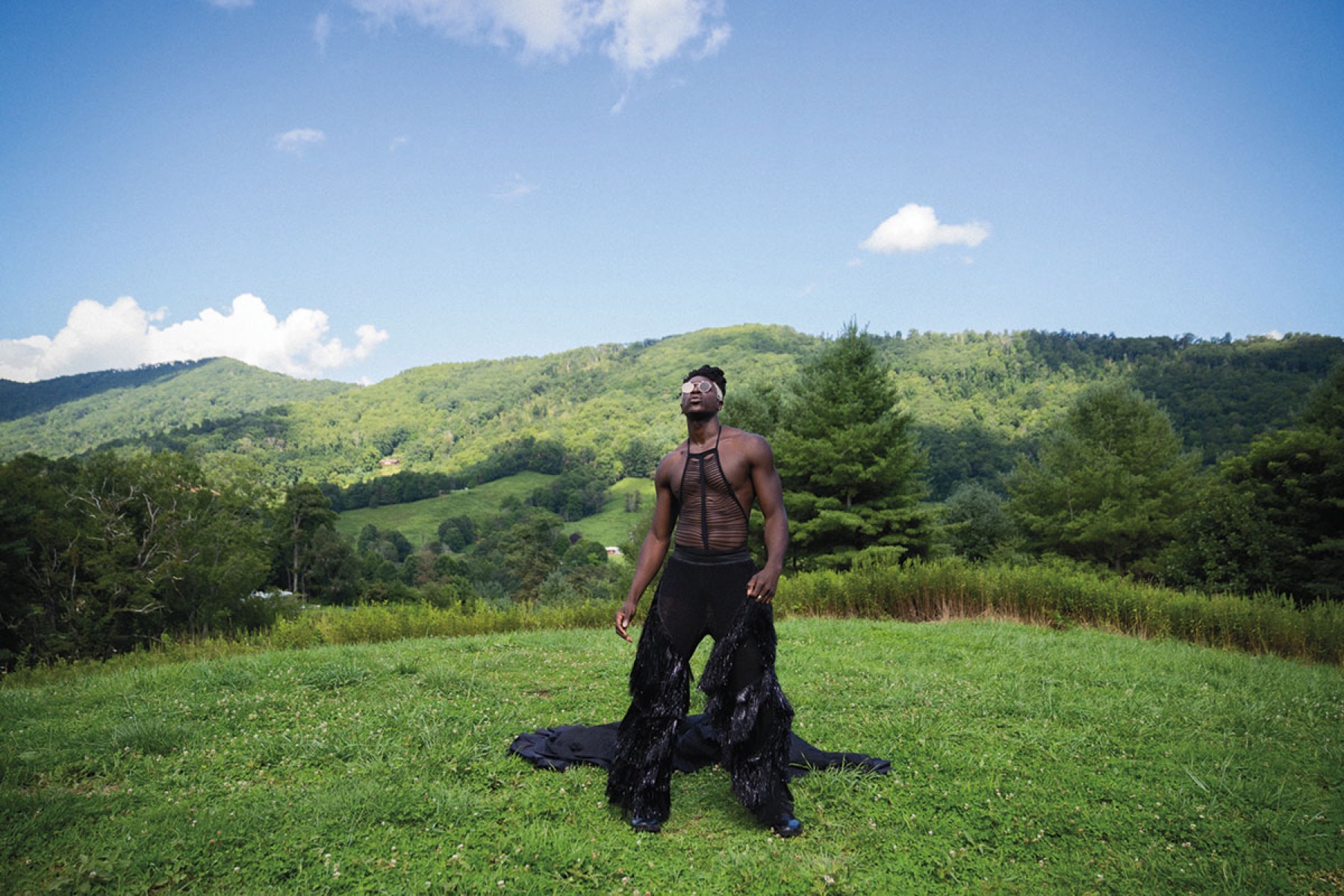 Photograph by Spencer Kelly
In late 2021, Moses Sumney released Blackalachia, an hour-long concert film and accompanying live album recorded in the midst of the 2020 summer of uprising. Sumney filmed his feature-length directorial debut in two days with a full crew in the Blue Ridge Mountains of western North Carolina, creating an in-depth exploration of intimacy and vibrancy that leaves those watching unable to see where the lines of majestic nature and performance depart. In the film, we initially encounter Sumney nestled in the grass of a soft valley, a mess of mountains resting over his right shoulder, bellowing his voice to the high heavens on a perfect sunlit day. The sonics of the deepest earth and forestry as backdrop act as the film's lulled but engaged participating audience.
The history of black Appalachia mirrors the legend of sound that Sumney evokes unknowingly in Blackalachia. The Kingdom of the Happy Land was a maroon community of nearly two hundred formerly enslaved black people who lived throughout the mountains of western North Carolina from 1860 through the 1910s. The people of Happy Land were known for their bold hymnals and cheerful greetings, moving through Appalachia with ease while dodging discovery by the Klan. Appalachia has never been a region of simply white domination. Indigenous tribes, formerly enslaved folks, and groups of immigrants have taken to world-making and community building even as the record books wrote them out.
Sumney filmed Blackalachia just an hour's drive from where the Kingdom of the Happy Land's last dwellings and people can be found. The OA caught up with Sumney to discuss his motivation behind the album, the work it took to produce the accompanying film, and how community was integral to the creation of this masterful pairing.
Clarissa Brooks: What was the moment where you were like, "This film has to happen."?
Moses Sumney: I think a lot of it has been percolating for a long time in that I love live performance and I would have eventually made a live album regardless. But it definitely would not have happened in film form if not for the lockdown. I was initially supposed to make a sort of film for my second album, græ. Once lockdown happened, that became pretty much impossible to do, so instead, I said, "What can I do locally? What can I do in a way that incorporates other people but feels safe?" And taking to the mountains made the most sense, actually. But then it also meant that I could perform the record filmically, because we had also made a bunch of arrangements, spent all of January [2020] just living in my house and arranging the live show and figuring out how to perform it live in a way that's dynamic.
CB: What films inspired this one?
MS: Amazing Grace. Those shots of Aretha Franklin just like, in the spirit, covered in the blood. Very important. That was a big one. Eve's Bayou in a weird way is like a fixture in my mind. That's probably one of my favorite movies. There's a couple of Sun Ra performances that were a big inspiration as well. And then a lot of photographic inspirations, like Deana Lawson's images. The images that she shot in Africa of black people in nature were a big inspiration and made me think, "What would it look like for my black body specifically to be engulfed in nature?" That was hard to find references for, so a lot of it was my imagination as well.
CB: What was the process of translating songs to the visuals, of getting each song to feel as intentional as possible visually?
MS: That's the challenge, I think, of making a concert film. In the way that I wanted to make it, you want to imagine that if it's on mute, it'll still be cinematographically stunning. And so I went through every song, and I made a treatment as if we were making a film or music video and said, "This should be shot like this, this should be shot like that. Even though these songs are in the daytime, they should be shot differently. Let's change the location, and this way, this one will have more long shots in these specific moments..." And it was just really important to have variety and, for anyone who isn't into the music or maybe the music's not enough, for the feeling of dynamicity to translate. The cameras are doing a lot of work and creating a different language from song to song.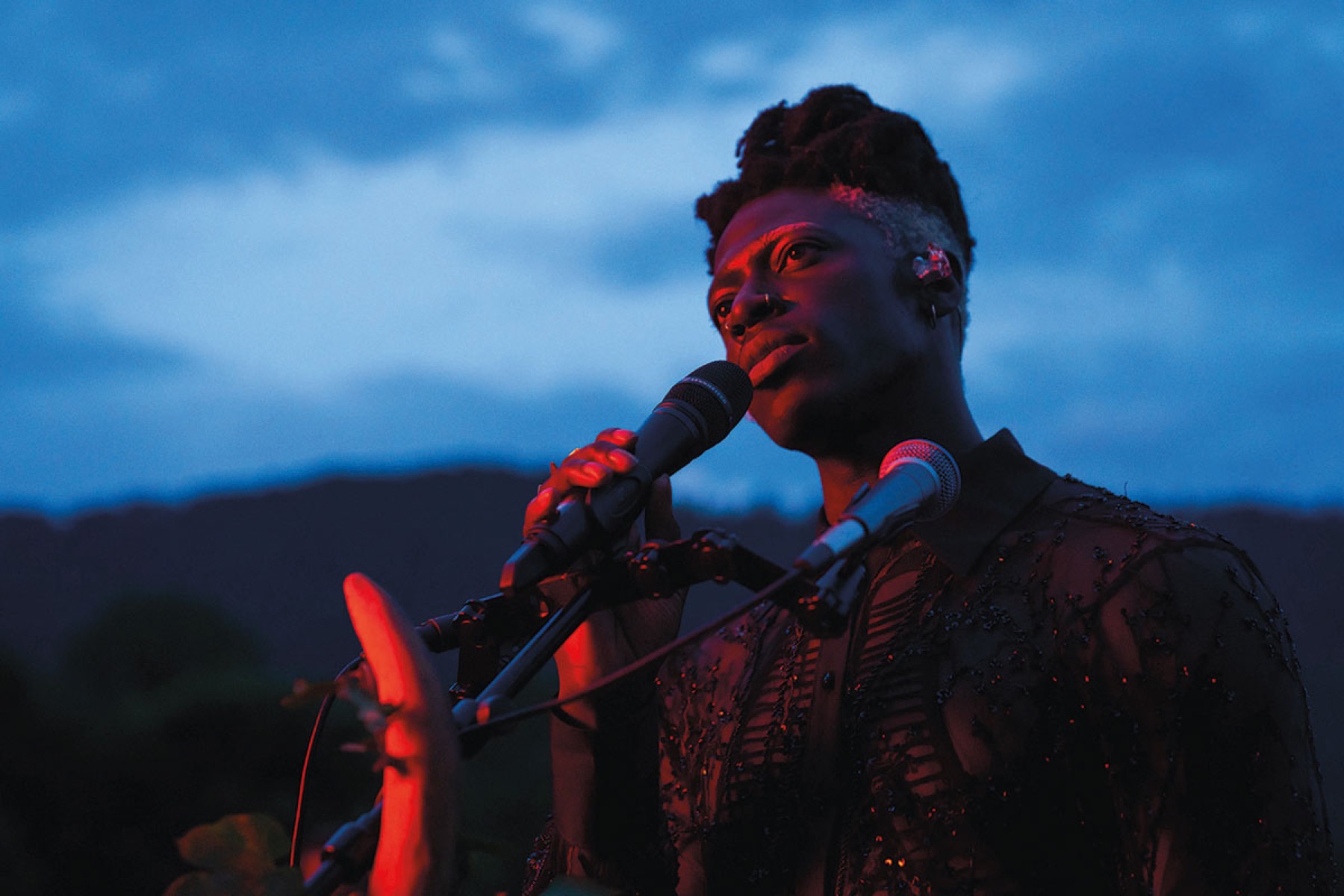 Photograph by Spencer Kelly
CB: What was it like filming in the mountains of Burnsville, North Carolina?
MS: We shot on private property, and if we hadn't shot on private property, it would not have been possible to do everything that we did. I just found someone who was generous enough to give us access to their land, and that changed the game. We were in this mountain range with this flatland. We had this big techno crane that was like forty feet tall that we had to drag with a tractor all the way up a mountain, and that was really scary. We were also at the mercy of an intense North Carolina summer. It was just raining all the time, but randomly and sporadically for five minutes, we'd get brilliant sunshine. It rained every day leading up to the days of the shoot. And it was forecasted to rain on the days of the shoot, so we just had to believe. We only had two days to shoot everything. And the sky got just cloudy enough for the shots to be really good, you know? It actually dimmed the sky just enough for the shots to be really beautiful.
CB: I wanted to talk about the spirituality of filming in the mountains.
MS: Well, many of these songs were written in these mountains. I moved here before making [græ] because I wanted to live somewhere kind of isolated, close to nature, somewhere that was generative and inspiring. And I feel most inspired by the mountains. The song "Virile" opens with the words "On a long hike through the Blue Ridge Mountains / I can feel the earth overtake my skin / And I realize none of this matters / 'Cause I will return to dust and matter." And that's just like how it feels. There's a surrender to nature, and also a kind of existential purpose that emerges for me when immersed in nature. And we had to surrender to the elements in order to make the film. There are sounds of birds, there are bees flying around. There's literal locusts or grasshoppers, maybe cicadas, I'm not even sure—they're just loud as hell—that we couldn't get to shut up. And that's all part of it.
CB: How critical has community collaboration been for you in this past year, during the pandemic, in the midst of it still?
MS: Actually, it hasn't been incredibly critical to my life, but it has been very critical to my work, which I did not expect going into the making of Blackalachia. There was so much good communal energy. I had a friend who was helping me find locations and recommending places to me. I brought on an associate producer from Nashville who was incredibly helpful with location scouting and gave advice in helping us find crew. A few of the camera people are from Nashville. My friend Coco, who works under the moniker Casa de Coco, came in and helped style and made all the outfits that the band is in. I found these choreographers who were based in Asheville. It was very important to me to feel like I was incorporating as much local talent and crew as possible instead of just flying people in from Los Angeles and Atlanta. Before last year—ironically, before the pandemic—I didn't really know anyone here. I moved here because I didn't want to know anyone. I wanted to live somewhere where I could just be anonymous and work and live and breathe and kind of reset. Then I started asking myself, "How much do I want to bolster and encourage the creative community? How much do I want to encourage, especially brown and black folk who are here, to come here, to remain here, to feel like there's a place for them and that, creatively, they can actually still be generative here?" That's an important mission that supersedes all my personal feelings about being a loner. That feels important.