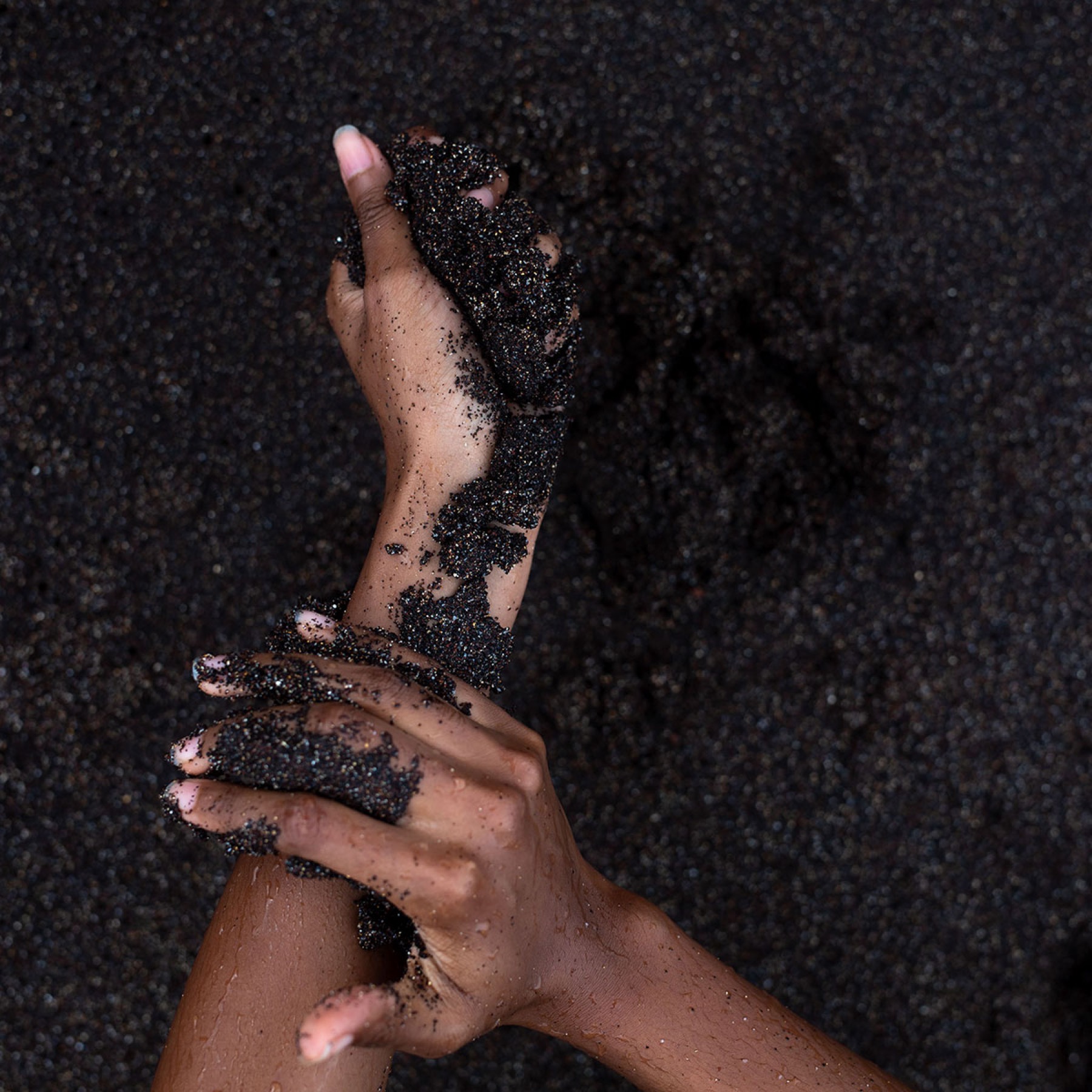 "Untitled," a photograph by Nadiya I. Nacorda © The artist. Nacorda's book A Special Kind of Double was published in 2020 by Kris Graves Projects
For Daughters of Southern Sundays
An African name in an American place
By Imani Perry
... called Quasheba but lived life without
Sundays—a severity of tongues, a raw vernacular
the freight of jealousies a cloak of hornets, on my way
nowhere, voiceless, unheard, yet seeking redress.

—Wanda Coleman, "O Soul Concealed Below"


Sometimes a song will catch hold of you, make you sit with it, and the feeling is a teacher. I saw and heard "Quasheba, Quasheba" at once, and I found myself as captivated by watching the musicians at work as I was by the beautiful sounds they made. It was a music video of Our Native Daughters, a supergroup of four Black women roots musicians, shared through Carnegie Hall. "Roots" is a trickster of a term. It isn't so much a genre as a word for music that describes who made or makes it. It is music that began with people who lived close to the land and worked it. It is traditional music that is nomadic, changing through encounters and time. It is often acoustic and analog, but it cannot be simply considered music of the past. Maybe the best evidence of its immediacy is that when society was changing due to civil-rights and anti-war activism in the mid-twentieth-century United States, the folk forms that fell under the category "roots music" were revived. Joan Baez and Peter, Paul and Mary had high-performing Billboard debuts, and blues musicians like B. B. King returned to the charts. That revival wasn't because people longed for the old-time ways. It was because people yearned to create new relations, and roots music is a flesh-to-flesh gathering kind of music-making. It reaches across the breach.
Our Native Daughters is the brainchild of Rhiannon Giddens, who invited the three other Black women to work on an album informed by race and gender and shaped by the sonic histories of the Americas while paying particular attention to Black women's lives. Giddens and Leyla McCalla had toured together as members of the Carolina Chocolate Drops. And Giddens met both Amythyst Kiah and Allison Russell through folk music communities; all were reinterpreters of traditional music. The resulting album, Songs of Our Native Daughters, was released in 2019.
Photograph courtesy Shore Fire
Russell, Giddens, and McCalla play strings on "Quasheba, Quasheba": Giddens of North Carolina, McCalla, who is Haitian American and lives in New Orleans, and Russell, the author and composer of "Quasheba, Quasheba," who is Canadian and Nashville-based. The fourth member, Kiah, is from Tennessee. These four women—gold, russet, pecan brown, umber (can't you just feel Nina Simone's spirit tremble?)—work the strings of the African and European diasporas. Russell's is a banjo. Its sound resonates through a membrane stretched across the frame like a caul on a new baby's face, sending tremors across space, layered underneath her pleading voice.
"Quasheba, Quasheba" is named for Russell's ancestor. In the liner notes for the album, she writes:
I met my biological father, Michael George, and my paternal family when I was 30 years old. I learned that I am a first-generation Canadian on my father's side. He was born and raised in Grenada, one of 13 children. I found out that ours is a family that values education deeply. I found out that we have a historian in the family who has traced our line back to an enslaved woman named Quasheba, who was sold off the coast of Ghana. Such was her strength and resilience that she somehow survived the transatlantic crossing in the hold of a slave ship, and was eventually sold to a large sugar cane plantation in Grenada. She survived multiple rapes and sales. She survived backbreaking labor in the cane fields. She survived her children being taken and sold. She survived, and she founded generations. I wept to learn her name.
The song is both praise song to and lament for Russell's ancestor. So many of us, daughters of the African diaspora, live with fragments of ancestral mothers whom we find ways to invoke and honor even if we cannot fully touch the details of their lives. Russell's connection to that ancestor might not ever have been made explicit had she not connected with her biological father and his family as an adult, or had someone simply forgotten Quasheba down the generations. Each successive generation has a new responsibility, and it is easy for one faltering memory to snap a thread of connectedness.
There is something glorious in the mere fact of her name. That is part of the resonance I felt from the song. I thought of my Easter and Esther and May Jessie Craig, a woman whose face I share but whose story is elusive. I only know their names as a result of the contemporary marvel of digitization, and the happenstance that my foremothers were documented by state and federal governments that certainly didn't document all Black women in the nineteenth and early twentieth centuries. A name may be just a fragment of history. But it is also a mark of resilience against the odds of erasure. Quasheba survived.
***
The name in Akan means born on a Sunday. It is a traveling name. Like Russell's Quasheba, the name itself survived crossings and ships and sales and bondage and violence. To honor the song and Quasheba too, I started to follow the name and its women by searching through colonial slave schedules, census records, and European travelogues and memoirs of visits to the Caribbean and the Deep South. The name is one of many teachers available to us of how the South was made, if we listen.
That region of places built in a circle around the Gulf of Mexico, the South, and the Caribbean: Cuba, the Bahamas, Florida, Alabama, Mississippi, Louisiana, Texas, Central America, Mexico, and skirting around the other side to the Atlantic Ocean: Georgia and the Carolinas, have a common history. History tells of competing conquests among Spain, England, France. Louisiana and Florida, for example, had flags from all three empires planted there before becoming part of the U.S. empire. The early European aspirations to claim the abundance of this land, notwithstanding the fact that it was already occupied, saw lust turned to bloodlust, driving people out, grinding Africans down, and begetting fugitivity, abundance, mutilation, new languages, new peoples moved about again and again, guns, music, dance, destruction and rebirth, religious ecstasy and religious violence. Our ancestors endured it together, even though we may not know each other much these days. In the national anxiety for forgetting, history is elided.
Quasheba contests her own erasure. In eighteenth-century European colonial slave registers from the Americas, the names of some enslaved people were listed, unlike the formal U.S. policy of later years. Quashebas are everywhere in them. There is Quasheba Agusta Bryan in Trelawny, Jamaica, and Quasheba, property of David Brown in Barbados. There are many in those two colonies, and more in Tobago, Berbice, Guyana, and Nevis. Dozens of women born on Sundays.
In Jamaica the name was common enough to have a stereotype attached to it. First published in Jamaica in 1765, Isaac Teale's "The Sable Venus. An Ode" described sexual desire for Black women as "pleasure" and "rapture" with an exception marked for "Quasheba," writing of "gentle Phibia...artful Benneba...wanton Mimba...sprightly Cuba...Or grave in sober Quasheba, I still shall find thee out." In various British documents, "Quasheba," which had become a catch-all term for Black women who were troublesome, was imagined as defiant and headstrong. Or as with Quashee, the male version of Quasheba in the United States: incompetent and childlike.
There was the stereotype and there was the reality that the stereotype supported. In 1816, a Colonel George Arthur reported the horrifying treatment of a woman named Quasheba in Honduras by her master Michael Carty, writing that she was "stripped naked, and her hands being tied to her feet with tight cords, a stick was passed under her knees, and above the elbow-bend of her arms, a large cattle-chain was fastened round her neck with a padlock, and in this agonizing posture, exposed to the burning heat of the sun, was this wretched female tortured from morning until night." She nearly died. But when her master was brought before court, and convicted, his own penalty was a measly thirty-five pounds sterling. Quasheba remained a slave.
But in western Jamaica, where a 1795 maroon rebellion took place, there is a mountain named Quasheba. Hence, some Quashebas also fled.
By 1844, six years after the full emancipation of the enslaved in British colonies, the Manchester Guardian predicted the name would disappear. "In former times, the negroes were generally known by the names of 'Sambo,' 'Pompey,' 'Quashy,' 'Quasheba,' &c. &c.; but those days have long ago passed. The 'march of intellect' has marched into the West Indies; and we now have 'Arabella Christiana,' 'Adeline Floretta,' 'Rosalind Monimia'..."
Yet Quashebas persisted. Or, as Russell sings, "Ashanti's kingdom carries on."
***
The name is quiet (though not silent) in the U.S. South until the 1870 census when Black people are enumerated in large numbers. There are exceptions: In the 1812 last will and testament of Samuel Thomas, a physician in Charleston, South Carolina, he asserted, "It is my wish and desire that my house negroes namely Handy, Tom, Mary, Quasheba, Jennett and Rose be equally divided, share and share alike between my beloved wife Mary Thomas and my three children..."
Share and share alike.
These Black women in the Thomas household were dispossessed, to be shared without a right to a portion. Their name is an intimate holding of a way of being in time and space. And by this I mean West Africanness of course, but also a way of marking one's time of birth and place in the world. The birthdays of the enslaved in the U.S. were not recorded in the census, and that was a quite deliberate effort to identify them as less than white people. There have always been other means of noting a child's birth. Seasons, days, a name that records one's relationship to ancestors. When I see these Quashebas I think of the name as more than holding on to the past; it was a way of being.
In the 1870 census I find a Quasheba Britton, a farmhand born in South Carolina around 1855. And a Quasheba Dawson, described as a full hand employed by the Freedmen's Bureau in 1866. I even find two white women named Quasheba, in Tennessee and Virginia. Maybe they weren't white by law, even if they were seen as white according to this document. Maybe they had some African ancestors and wouldn't have passed the one-drop genealogical rule. This idea is teased further because there was an 1862 novel by Captain Mayne Reid titled The Maroon, about a sugar plantation in Jamaica in which a girl named Kate, who by all accounts appears white, is referred to as "Lilly Quasheba" by the older slaves. They remember Kate's mother who had died when she was young, a "quadroon" named Quasheba. Mayne Reid was born in Ireland in 1818 and arrived in Louisiana in 1840, and lived in Nashville before traveling around the country and writing novels of even further travels he took in the "New World."
This New World was and remains a place of fragmentation and reconfiguration. I know that these Quashebas are in fact a fraction of how many there were. As much as I cherish the research tools I have, and the recovery of documents that offer windows into the past, I also have a mantra that is a reminder: Beware the seductions of a census record. They tell something. They don't tell everything. And the absence of these documents can feel devastating. Our ancestors were not seen as "counting" or as worthy of being counted. This yawning gulch in the documentation of national history when it comes to Black people specifically can provoke a crisis.
Yes, it can provoke a crisis. But it doesn't have to. There is more than one way to tell a past. History, an academic discipline requiring argument to rest upon fact rendered through material objects, is one path. And it is good and important. But that isn't all we have or use. People around the world tell the past in other ways and have since before time was counted and history was thought about. They do it through lore, poetry, folktale, and song. Those stories are not just about recounting and accounting the past. They are about ethics and appreciation, grace, tragedy, love, and endurance. Mind you, that's true of formal history, too. But it's just so easy to lie about what the formal historical record is doing when you have all those document rectangles and lined pages. With those tools, you can make the past seem like science instead of conjure.
But making the past present is always a form of conjure.
I can claim it all, everything in that historic void into which we've been cast, including all the voices that make meaning despite history's voiding on us.
***
Orlando Patterson's 1972 novel, Die the Long Day, takes place in eighteenth-century Jamaica. And the Quasheba in his story protects her daughter from a master's sexual assault by stabbing him with a knife. She is then hunted down and killed. Her death leads to an awakening and resistance among the enslaved. Michelle Cliff's 1993 novel, Free Enterprise, tells the story of two Black women who joined John Brown's insurrection. One, Mary Ellen, is the daughter of a woman named Quasheba. Her Quasheba is a blacksmith who forges gunmetal and teaches weapon-making skills to Black maroon communities through the South.
Conjuring up Quasheba as protector and fighter is one way of honoring her. The late Wanda Coleman, the beautiful Black Blues poet of Los Angeles, wrote Quasheba differently, as a woman who endured while keeping herself intact:
the woman born whole casts her body into the radiant void
between disdain and desire,
becomes ebony pearl tossed back …
Coleman calls the void radiant. And I believe that's because it's only a void from a certain gaze. The absences, the gaps, the forgetting, are official. But from the underside, inside the void, it is vast. I can claim it all, everything in that historic void into which we've been cast, including all the voices that make meaning despite history's voiding on us.
Coleman herself often lived on the margins. She was prolific and poor. A singular voice in the transition from Black Arts to the Black women's renaissance, her writing is electric and urgent. She looked into the gaps for inspiration. No wonder then, that when the poet gives Quasheba a voice, she marks her as an alternative to Eve. She writes:
my eyes are harbor for the world. travel them
to enter an infinity of darknesses, the tests
and tensions of weakened spirits, the travails
and hungers harp, where satiation brings
dissatisfaction, unblinking, brazen, beguiling ...
And you can see her, siren of a slave ship. It's not romantic, but it is indeed conjure. As much as I loved playing Glen Campbell's version of "Rhinestone Cowboy" on the mandolin as a little Black girl, it never felt like this, where the artist's instrument tells the listener's history.
It is a characteristically American irony that Black women are rare in roots music. Those women who traveled against their will, who carried stories and fortitude with them, whose bodies produced wealth through labor and reproduction, and whose songs have birthed every American genre of music have been expunged from a history that would have been impossible without them. But they are natives to this endeavor, and their daughters tell the story in song. Our Native Daughters' recordings are remixes of old forms, and the album is a geographic journey through destinations including Haiti, Barbados, and Southern mountain country. As a listener, I am transported to their respective places of origin, but I'm also reminded that roots music isn't dated. It is always present because more than a genre, it is the music of human beings in relation to their physical world and historic circumstance.
Music is different than history-writing. It doesn't require the documentary proof of each assertion. A song is whole by virtue of what it is. But it is no less a testimony to where we come from. That's why we can do so much good storytelling through it. The echo of those first encounters with this New World can be reached for at the upper registers and deep in the diaphragm. They resonate, quaking from then to now to knowing. That is a temple of the familiar. There we call the ancestors by name, and name them, our own.