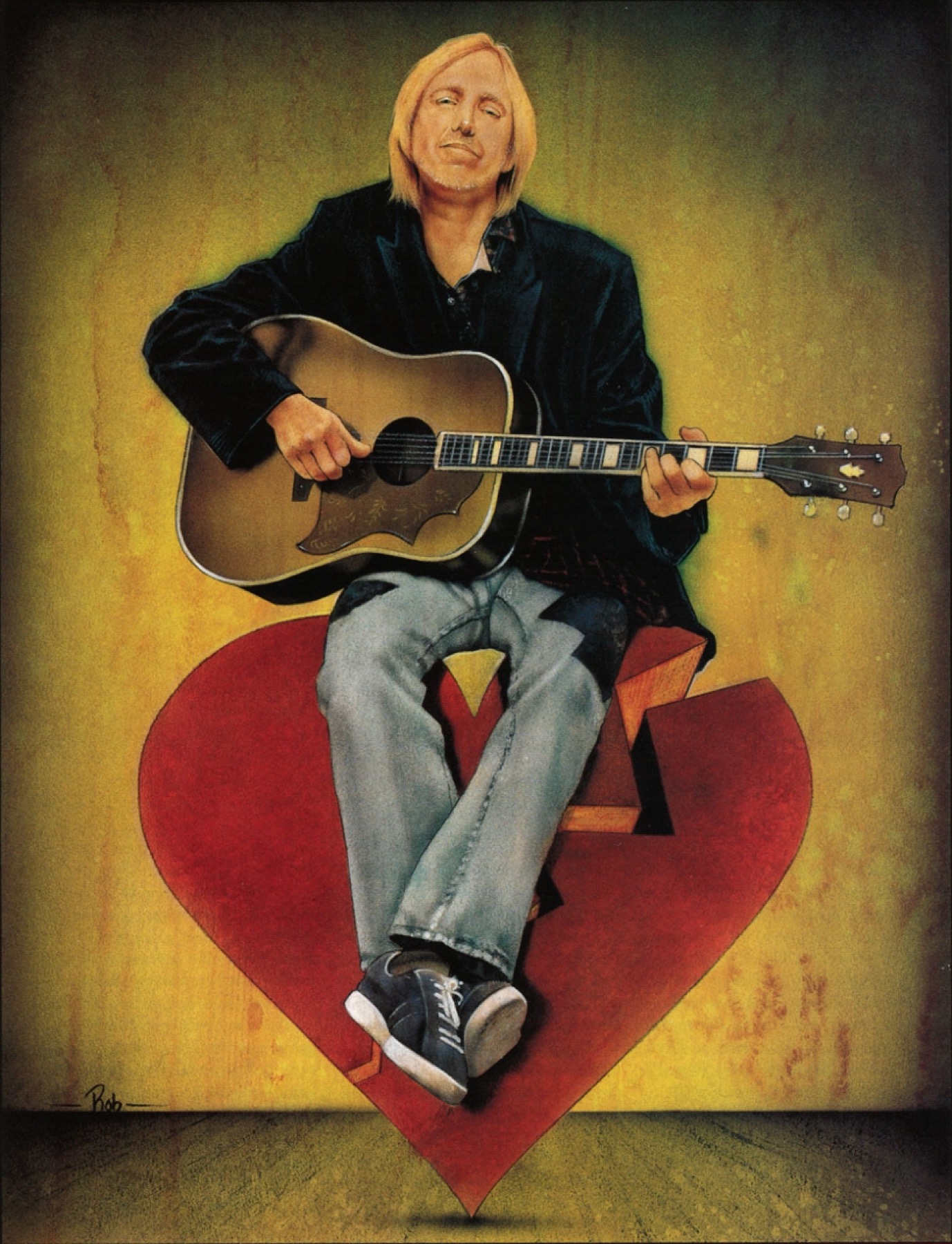 Art by Rob Johnson
Tom Petty
By Holly George-Warren
Editor's Note: We are saddened to learn of the death of rock & roll legend Tom Petty on Monday, October 2, 2017. He was sixty-six. Revisit Holly George-Warren's interview with Petty from our Fourth Annual Southern Music issue in 2000.
Southern Gallery
I guess you can say it was my theme song: Its jangling, melodic guitar riff perfect for pogoing, and the urgent vocals laced with a kind of down south English accent insisting that "there was a little more to life somewhere else.'' Tom Petty's "American Girl'' in the late 1970s inspired at least one North Carolina girl to get the gumption to leave town for the "great big world with lots of places to run to.'' Singer-songwriter-guitarist Tom Petty had already embarked on his own journey. Leaving behind the Gainesville, Florida, bar-band scene, twenty-four year-old Petty and his pals drove cross-country to California in 1974 to find the record deal that had eluded them on their home turf. Since his 1976 debut, Tom Petty & the Heartbreakers, there have been ten mega-selling Heartbreakers albums, two triple-platinum solo releases, a six-CD box-set retrospective, and the soundtrack to an Ed Burns film. In the 1980s Petty played in the Traveling Wilburys, a young'un among legends Roy Orbison, Bob Dylan, and George Harrison, and the Heartbreakers themselves have collaborated with Dylan and Johnny Cash, among other luminaries. Through it all, Petty's roots have continually poked through his earthy pop-rock, most obviously on 1985's Southern Accents, with its elegiac title track and anthemic "Rebels". He and the Heartbreakers—the guitarist Mike Campbell, the pianist Benmont Tench, and the bassist Howie Epstein—have remained a tight-knit bunch, with fellow Floridians Campbell and Tench sticking with him since 1971.
Petty is also known for his stubborn tenacity in going up against the system, fighting legal battles, and speaking his mind against record labels that done him wrong. That same rebellious spirit has been propelling many of the memorable characters populating his songs up through "Swingin','' an evocative track from 1999's Echo. In it, another American girl, in cowboy boots and spurs, is taking chances, hitchhiking to the "yellow moon'': "She said, 'I'm never goin' back. . . at last I'm free.''' Even though the song's author left his own hometown behind more than three decades ago, it's still very much a part of him. During our lengthy chat one April evening, Petty vividly recalled his Florida upbringing and discussed the effect it has had on his career, jokingly pointing out, "You can take the boy out of the South…''
Holly George-Warren
---
OXFORD AMERICAN: Tell me a little bit about your growing up in Florida. Didn't you have a very early run-in with the King?
TOM PETTY: My dad died last year, and during one of our last conversations we were talking about Elvis, and I told him I remembered really quite clearly that day in 1961 I met him. I was eleven, just about to be twelve. My uncle was the only guy that processed film in Gainesville, so when film productions would come through, they would usually call him, and he would sign on to do whatever job he got. He worked on some things like The Creature from the Black Lagoon that we felt were pretty groovy. Then an Elvis film, Follow That Dream, came through. I was just sitting under a pine tree, doing nothing, when my aunt pulled in and said, "Would you like to go see Elvis Presley? They're filming in Ocala.'' I just had a vague memory of Elvis from when I was around five or six and there was a big commotion in the house about Elvis and his "wiggle.'' But I had never seen anyone famous, and I didn't have anything else to do, so I got in the car with my two cousins, and we rode down to Ocala, which was like thirty miles away. We went back behind a chain-link fence, where they had some trailers lined up for the actors. I remember a long line of white Cadillacs that came in, and getting out were guys in mohair suits—really very flashy lookin' cats in sunglasses. Every time one would get out, I'd say to my aunt, "Is that Elvis?'' and she'd say, "No.'' Then all of the sudden, she went, "That's Elvis.'' And it really was a semireligious experience. I mean, he glowed to me. I'd never seen anyone's hair dyed so black that it was blue—it shone blue in the front. He looked amazing. My uncle was there, and he says, "Elvis, these are my nieces and nephews.'' He said hi, and then he went in his trailer. And we stayed and watched them film throughout the day. I remember at one point a crowd was handing records over the fence for him to sign and then hand them back. And I was like, "Damn, if I had an Elvis record, I could get an autograph.'' So when we went home, I was a changed person. I set about finding Elvis records, so I could get Elvis's autograph in case I went back. That was how I fell in love with rock 'n' roll records—and that was my only interest ever since.
Had you already gotten into listening to the radio at that point?
I always liked the radio, but at that point I became consumed with it. At night we could get WLS [in Chicago]. There, you got to hear all that great r&b and stuff. I had to listen to everything. I became completely obsessed. There was a record shop, and there were a couple of five-and-dimes that had really good record departments. And I loved to browse there. I became so obsessed with it that my parents were worried—really worried that it was strange that I had no other interests than that.
When did you first get a guitar and start learning how to play?
It never struck me that I might play or perform—I just wanted to listen. I don't really think that I had any ambitions. I don't think that I thought it possible that I would sing and play. I was really a fan. And it wasn't until the Beatles that there was a real bolt of lightning to the brain. You know, "Oh, a self-contained band.'' They had the singers and the band all in one thing. Then the kids around the neighborhood would talk about "Let's form a group and be like the Beatles.'' And it looked to me like a really good job—they were obviously young and in charge of their own lives. And it was a good way to have friends and meet girls, and I loved music so much that I hustled up a guitar and got in a group long before I could play [laughs]. We hammered it out. And I've been in a group now since 1965.
Did you hear any family stories growing up that eventually inspired your songwriting? I read somewhere that your grandfather murdered someone and had to flee Georgia.
I never heard that story until 1990, when I had my dad on my tour bus. We were going down the road somewhere, and it just struck me to ask him, "How did we wind up in Florida if everyone comes from Georgia?'' And I remember him sitting in the back lounge of the tour bus telling this story: My grandmother was an Indian, so they had an interracial marriage, and it wasn't popular. They were attacked on a logging road in their wagon. And my grandfather took a logging ax and wound up killing one of the guys in the fight. And they fled during the night down into Florida.
So they had kept it a secret.
It was very repressed. They didn't ever tell you nothin'. I still don't really know their birthdays or how old they were. My parents never let much out. And they really weren't proud of the Indian thing and didn't want that coming up much. Because people didn't like it, they held it against you. Nobody wanted to really 'fess up about it.
Did you know your relatives in Georgia?
No, I thought the ones that came from the woods and the country were crazy, to be honest [laughs]. I guess I shouldn't say that. I'm not talking about the ones that I knew well, but most of them I never really knew. The ones that didn't live in Gainesville seemed so foreign and strange to me. We were really kind of citified compared to them. Now, when I'm down there to do shows, a hundred Pettys will turn up and they all want in, and I have no idea who any of them are.
You're not related to Richard Petty, the race car driver, are you?
I don't think I am, though he looks a great deal like my dad.
When you started out playing in bands, were you on the same circuit as Lynyrd Skynyrd and the whole Southern rock thing that was happening then?
Yes, though they didn't call it that then because it hadn't become anything that had a name. I thought of Lynyrd Skynyrd before they started making records as being like a British blues band. That's what I thought their influences were. That was how they presented themselves.
You had a band in Gainesville called Mudcrutch. What were its influences?
Mudcrutch was strongly British Invasion-influenced and tended to hang on to that into the early '70s. It wasn't as popular. And then we were also real influenced by the Byrds and the Flying Burrito Brothers. I think we were trying to kind of be the Southern version of the Flying Burrito Brothers. We stuck a lot of country and '50s rock into our stuff and tried to blend it all together.
Who else was on the Florida club circuit when you started out?
There were so many musicians down there. The Allman Brothers were around in various bands. They were one of the first groups I ever saw. They were called the Escorts. They were playing strictly Beatles stuff. And Gregg played the guitar then, rather than the organ. They were a four-piece band and wore suits like the Beatles. They were the first group other than the Beatles that I saw in real life that had long hair, and it dawned on me, ''Oh, other people are going to do this'' [laughs]. I thought only the Beatles could wear their hair that way.
How did Mudcrutch end up leaving Florida in 1974?
We were friends with a guy named Tom Leadon, who had been in our band, and his older brother, Bernie Leadon, went to California some years before we did and got into the Flying Burrito Brothers and then from there into the Eagles. We thought, "Bernie's doing really good out there, and we're not getting a record deal here. So we should probably go to California.'' It made more sense than going to New York because we knew we'd be starving and it would be cold, and we thought, "Well, at least it's warm there.'' And all of my heroes have come from there—the Beach Boys, [Buffalo] Springfield, and the Byrds.
The first Tom Petty album sounded very different from what a lot of Southern bands were doing back then.
It was a reaction to coming from where everyone would jam—the seven-minute thing. We wanted to get back to the song structure kind of thing. And we were purposely making the songs really short. [Before moving to California] we drove up to Capricorn Records [in Macon, Georgia], with our demo tape and were told that we were too English.
I love the version of "Southern Accents'' that Johnny Cash did with you and the Heartbreakers on his album, Unchained.
The greatest compliment I ever got is, he told me, "That should replace 'Dixie.''' And I went, "Wow'' [laughs]. He said, "No, I mean it, it's a better song than 'Dixie.'''
I just read some liner notes Cash recently wrote that said: "To me, God likes a Southern accent, and He tolerates country music and quite a bit of guitar.'' Would you agree with that?
I would, yeah. I would agree with most things John says. I loved doing that record with him. I think it was our best ever—I mean, I think that's the best we've ever played. I actually still play that album—it's the only one of ours I'm not embarrassed to put on. I put it on all the time. And I'm very proud of it—I go around the room telling people, "That's us!'' [laughs].
Didn't the Heartbreakers reconvene to do Unchained between your solo album Wildflowers and last year's Echo?
Yes, and I think it loosened us up quite a bit in the studio. We were very comfortable doing [Unchained], and I think it made us comfortable with each other again, as far as being in a recording studio. I've noticed a few times little landmark things that changed the band. When we worked with Bob Dylan, it had an effect on the band.
In what way?
Bob took us through a lot of music that we hadn't really paid much attention to. And we did a lot of marathon playing with him—really long shows and long rehearsals where you had to learn lots of songs. You just had to come up with a lot of arrangements and store a lot of stuff in your head. And at the end of the night you always felt like you really played a lot of music. And I know that that expanded our whole way of thinking and performing.
And then what would you say the Cash effect was, as far as on Echo?
I think we were really enjoying playing, just the old Heartbreaker thing, how good a band it was. It really was effortless making that record. And I think we'd gotten, in our old age, pretty proud of the group, like "It's a damn good group.'' And really powerful. When you've had a group this long, there's times when you don't really understand how good your band is.
You take it for granted?
Yeah, or you are more interested in somebody else's, like "Oh, I wish we could be like them.'' But you realize that what you got goin' is far greater than that. I think the Cash thing gave us some confidence.
A lot of your songs have interesting women characters, as in "Swingin''' on Echo. Have you ever tried to sort out your attraction to those kinds of characters?
No [laughs], I never really sat down and tried to do it. I know that I admire independent women. "Swingin''' was totally ad-libbed from start to finish. I just started playing, and they fell in, and I ad-libbed the entire vocal, and it was over. And then I wouldn't take it seriously that I had made a song, and [producer] Rick Rubin was saying, "That's really a good song. Why don't you record it again and get all the wrong chords out of it and stuff?'' So we had another pass at it, and that was it.
The album in general has a real spontaneous, immediate feel. Were other songs written during the recording sessions?
"Billy the Kid'' was. The true story is that we were in the midst of the sessions, and I had this song idea come into my head just as I was about to leave for work. I actually wrote the song driving in the truck to [the studio]. My longtime, very loyal roadie Bugs told me later that he was trying to take the curves easy 'cause I was going off the page as I wrote [chuckles]. We got to the studio, and I sat down for a moment with the guitar and found the chords I heard in my head. Then I showed it to the band and they began to play it. It was really exciting, and I asked Mike Campbell to turn on the recorder. On the album you can hear at the beginning [of "Billy the Kid''] a little vroom [sound] 'cause the band had already started playing, and then Mike hit "record.'' That was really the first time the band had ever played the song—I sang it, and the band played it. It was totally live. Then we sat back and said, "Wow, this is great, we've got a new song, this is killer.'' And we spent the rest of the night trying to get a better take, and we couldn't do it. Nothing compared to that original take. In the end, I decided to live with the rehearsal take for the album.
What inspired the lyrics?
I was going through a lot in my life at that time. I'd just gone through a divorce and all that goes with it. In school I'd read a couple of books on Billy the Kid—one was actually written by Pat Garrett, who killed him. Billy the Kid was murdered half-awake. They found him in his sleep, and he kind of stumbled out, and his last words were "¿Quién es?''—"Who is it?'' And Pat just opened fire on him, not taking any chances on a character like Billy the Kid. And I always thought that that was a hard way to go. So I likened it to my present-day experience [laughs]. I'd just gone down in a similar fashion.
I really like the Western theme of "Billy the Kid'' and several other songs on Echo, like the Roy Rogers and Davy Crockett references in "About to Give Out.''
When I was really young, I liked cowboys who played guitar. That's why I thought the guitar was cool—the guitar just always seemed like a kind of rebellious instrument to me. And then Elvis came along—he was kind of like a cowboy, too.
To tell you the truth, I was surprised that Echo didn't get more airplay…
I know, I was too [laughs]. I don't think anyone at that time was interested in rock. People just weren't interested in the whole genre. People seem to like the record, and I read really nice reviews of it, but it certainly didn't make the impact that most of our records made. And I felt, "Hmm, maybe no one's interested in this kind of music.''
Was "Billy the Kid'' ever considered as a single?
I thought it was one of my best songs ever—and nobody even noticed it [laughs]. No one at the label. I kept saying, "There's this song that I really think is good. I'd bet the farm on this song.'' I am disappointed.
What's your theory behind what's happening with radio today, why the masses aren't interested in rock 'n' roll?
Well, I don't think that [the music business] is really exposing it to a new audience. It's very bizarre. I think it has a lot to do with how corporate the people running the music industry have become—they're not music lovers. I remember a time when the people running the record companies were people who came up through loving music, and that's how they got involved in it. And now, it's people that don't even listen to it or give a f—. That attitude is never going to bring about great art. It's all about money—how much dough you can bring in. I mean, look at the movies—that's all about how much dough you can bring in that first week. And if you do, then you've got a viable thing that people are going to hear about. If you don't, no one's ever going to know it even happened. So the music business has become very much like that. Echo was a top ten record the first week out, and people were amazed that a rock 'n' roll record had come into the top ten. But it didn't have the support of radio, and another thing that didn't help was that I didn't make a video.
You had so much success with that medium in the past. How come you decided not to?
I just couldn't do it. I just can't stomach it. It's just too silly now. I think it's a dead art form [laughs]. I don't think there's anywhere to go with it. If they would allow us to give them one of us performing. . . but they'll even tell you, "We won't play it unless it's from the studio.'' I felt kind of bad about it. I take a lot of flack because I didn't promote that record, because I didn't get out there and do the three thousand interviews that they expect of you—they really do expect hundreds and hundreds of interviews and sound-bite TV shows and things that I just can't. . . if I do that, I fall to pieces—and it's just not worth it to suddenly feel like I'm a pitchman. And I don't even know what I'm saying after a while, I've said it so much. I don't mind doing a few interviews with someone who's intelligent, but I can't go out and spend more time hawking the product than I did making it. These new artists are completely content to do all the photo shoots, videos, and interviews. I'm just not. . . my brain is too delicate. Maybe it's from too many years of having it rattled around, but I just don't want to do anything that I can't feel like I'm doing honestly. It's caused me to retreat a great deal from the whole music business.
Do you still have that craving for a hit that you had twenty years ago?
No, 'cause I've had so many. I don't have to prove anything. I do want people to hear my work, though. It's no fun to make it, then no one hears it.
Any advice for rock 'n' roll bands starting out today?
If I was a new group comin' up, I damn sure wouldn't sign with some record company. I would stay away from that. I have this theory that [the major labels] only want to work with artists that are sort of like moldable clay. They don't like people that think for themselves. They want people that are going to play along, and so the best way to get those people is to create your own pop act [laughs]. You know, "We'll get all these Christian boys and cut their hair just right and. . ." It's sh— goin' on out there.
Do you think things have gone back to how they were in '61, when Elvis was doing movies and all the original rock 'n' roll artists like Buddy Holly, Jerry Lee Lewis, and Chuck Berry had been replaced by puppet teen idols?
Those guys like Fabian really rocked compared to what's out there now! Bobby Rydell and Bobby Vee kick the Backstreet Boys' ass all day long.
I think there's hope for the future of rock 'n' roll as long as people like you keep putting out great stuff. . .
On we go. . . keep the vigil.
---
Enjoy this story from the archive?  Subscribe to the Oxford American.