Bill Clinton's Favorite Songs
A Q&A with the former president about his passion for music
By Oxford American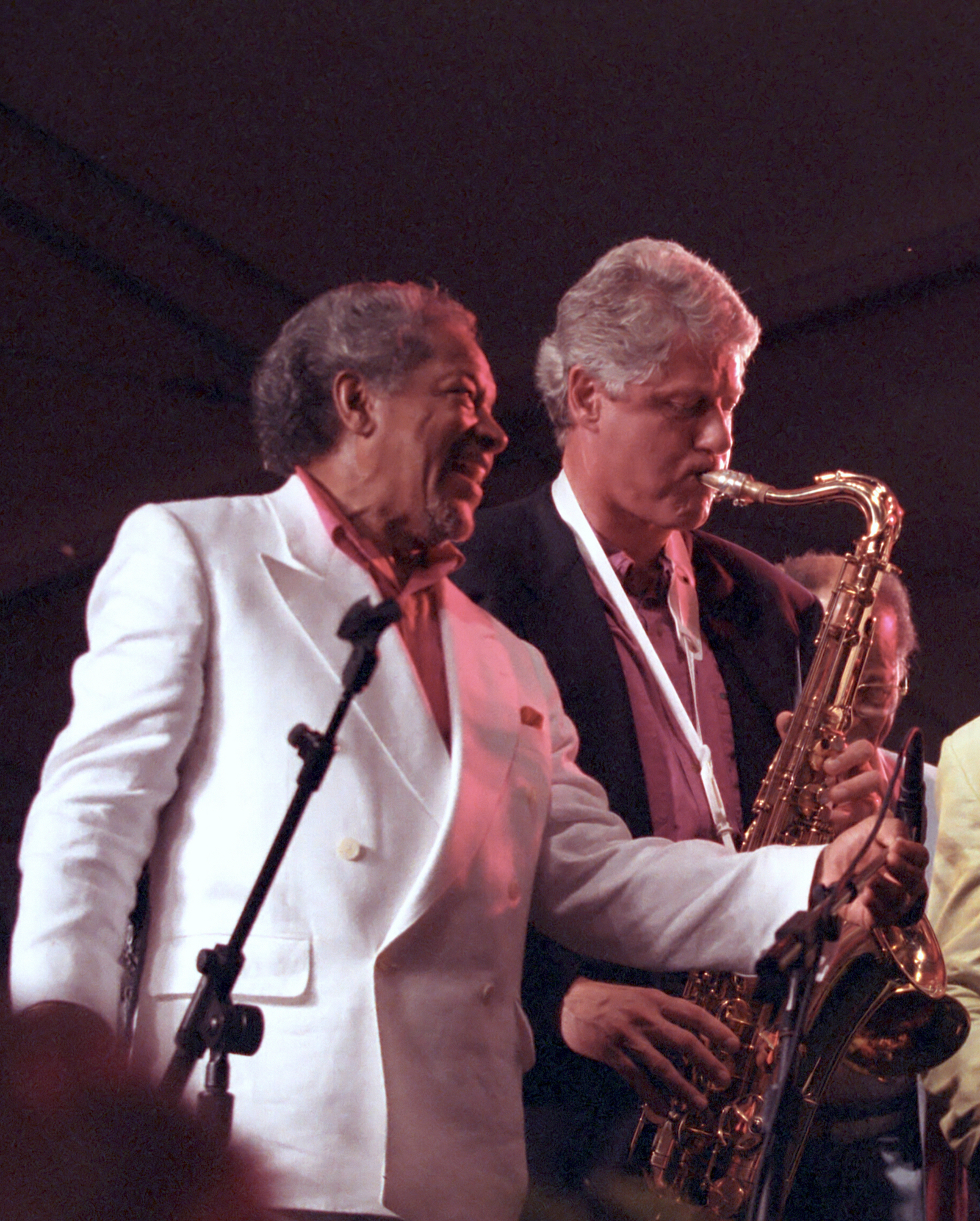 President Clinton plays saxophone during the Newport Jazz Festival on June 18th, 1993. Photo by Sharon Farmer. Courtesy of Clinton Digital Library
Editor's Note: This interview originally appeared in the 2001 edition of our annual Southern Music Issue, in a section called "Southern Gallery." It has been digitized for the first time in memory of tenor saxophonist Peter Brötzmann, who died on June 22, 2023 at the age of eighty-two.

Bill Clinton's status as America's foremost amateur saxophonist has been noted and duly entered into the pop culture annals. But little else about Mr. Clinton's familiarity with music is known, by the public at least, and it was with the desire to find out more that we questioned Mr. Clinton on this subject. He was gracious enough to take some time while on a bus ride to Oxford (England) to answer our questions.
OXFORD AMERICAN: Who was your musical hero as a child?
BILL CLINTON: Elvis.
What was your favorite song as a child?
"Don't Be Cruel." Later Stevie Wonder's "For Once in My Life."
Both you and your brother, Roger, are musical. Was there something about your upbringing that led to this?
We listened to a lot of music from a very early age, and our mother encouraged us.
How has being Southern affected your taste in music?
I like Southern music—soul, gospel, the blues.
Who is your favorite Southern musi­cian?
B. B. King.
Were you ever in a band in high school?
A jazz trio and a dance band.
What is your favorite example (on record) of saxophone playing?
Stan Getz's Brazilian music.
What is your favorite line from a song?
"I love you in a place where there's no space or time./I love you, for in my life you are a friend of mine." Leon Russell, "A Song for You."
What song/piece can you play best?
"Summertime."
Is there a particular piece that you have trouble playing or have never been able to master?
"Take Five"—I could never improvise or cover it very well, no matter how many times I heard Paul Desmond do it.
Do you have a favorite musical moment from the White House?
There were so many—probably Jessye Norman's beautiful performance for the NATO leaders and Fleetwood Mac's reunion performance for my farewell party.
What is the best concert that you have ever been to outside of the ones you held at the White House?
Ray Charles, Constitution Hall, June 24, 1967. I saved the ticket stub for ten years.
What do musicians and politicians have in common?
A balance of order and creativity; disci­pline and passion.
What is the most memorable thing a musician has ever told you?
"Don't quit your dayjob!"
What campaign songs did you con­sider before choosing "Don't Stop Thinking About Tomorrow"?
None! A young friend suggested it to me in 1991, and I knew he was right.
When was the last time you sang in public?
A few weeks ago with a band in Ni­geria—"Georgia on My Mind."
What do you sing in the shower?
Songs I'd like to sing in public but am afraid to do so.
There are widespread concerns about the lyrical content of a lot of rap music. What's your take on rap?
I find it interesting. I've tried to appreci­ate it, sometimes successfully.
What would people be surprised to know that you listen to?
Brötzmann, the tenor sax player, one of the greatest alive.
Is there an album that you could not live without?
The Gentle Side of John Coltrane.
In 1994 your brother, Roger, put out a CD called Nothing Good Comes Easy. We loved the song "Brother, Brother" and in fact wanted it for one of our CDs, but Roger seemed to feel that we were making some kind of joke (which was not our intent; our editor thought it sounded like a really good Journey song). What do you think about that tune?
I like it.
Do you and Chelsea listen to any of the same music?
Yes, the Beatles and Elton John.
What about you and Hillary?
Hillary and I love Carly Simon, Carole King, Judy Collins—all friends—and Joan Baez.
What is your and Hillary's song?
[Gershwin's] "My One and Only Love."
What is in your CD player now?
Virginia Rodrigues, a fabulous Brazilian singer.