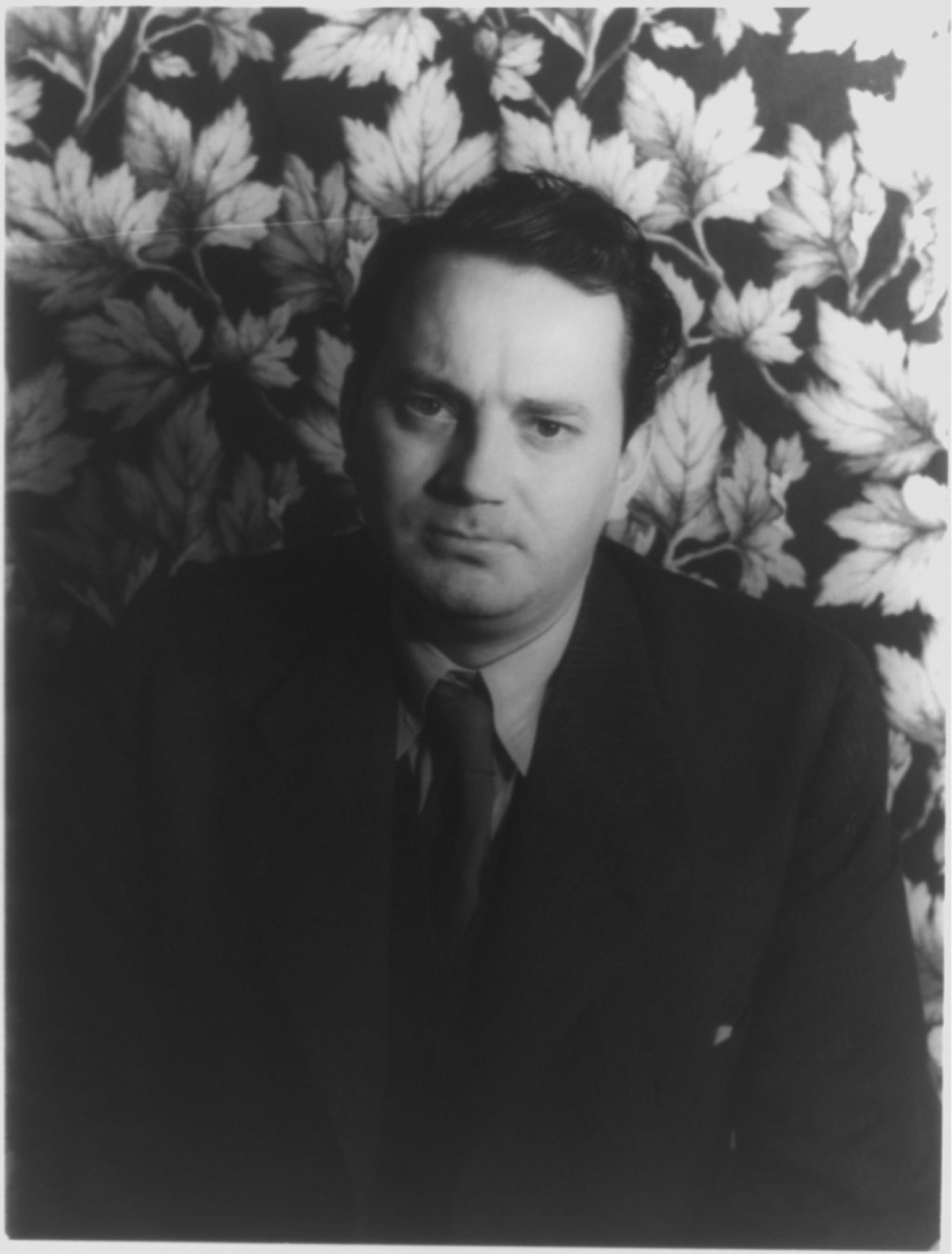 Thomas Wolfe, 1937. Portrait by Carl Van Vechten
Fading From View
By Anne Trubek
Was Thomas Wolfe a genius? And should we care?
---
The Thomas Wolfe Memorial, in downtown Asheville, North Carolina, is being swallowed up. New developments are dwarfing the yellow frame house on every side, like that little pink house in Virginia Lee Burton's classic children's book. First, the Renaissance Hotel went up across the street. Then, in the summer of 2006, a developer scooped up a parking lot catty-corner from the Renaissance and began construction on new, upscale condominiums.
As I sat on a rocking chair on the porch of the Memorial on a spring day, I watched workers across the street fill in the outlines of a bathroom in a building that would soon house the young professionals and retirees now choosing to live (or live out their days) in Asheville.
I suppose it is fitting that hotel rooms and condos are engulfing the Memorial, which was originally a boardinghouse run by Julia Wolfe, Tom's mother. The house was formerly called "The Old Kentucky Home," and was never a domestic, single-family residence. It was a business and housed guests from one night to one month. As Hanna Raskin, a former docent, put it, "This isn't a writer's house. It's a historical, commercial site."
Though rambling and large, the Memorial on Market Street, a busy, central Asheville thoroughfare, is becoming increasingly harder to find.
So, too, is the man to whom the house is dedicated. Thomas Wolfe is fading from view. Go to your local bookstore and try to find a copy of his best-known novels: LOOK HOMEWARD, ANGEL or YOU CAN'T GO HOME AGAIN. You will likely strike out. Scan college syllabi for American literature courses. You will find few weeks, if any, devoted to Wolfe. I have a Ph.D. in English, and I was never assigned Wolfe in college or graduate school; no one even suggested I read him for my dissertation on American literature.
Yet Wolfe was once a literary lion, famous for his prose and infamous for his hard-drinking, bad-boy behavior. His death from tuberculosis at the age of thirty-seven (eighteen days before his thirty-eighth birthday) only added to his mystique in the mid-twentieth century. When I told my seventy-something mother that I was going to the Thomas Wolfe house, she immediately started talking about Aline Bernstein, the older woman with whom Wolfe had a long affair. "It was a big thing when I was a girl," she recalled. "Everyone read him and talked about him and his life." A generation later, though, his reputation had plummeted. A well-read, forty-something friend of mine thought YOU CAN'T GO HOME AGAIN was "a truism, [or] maybe a biblical phrase," but not a weighty novel.
More damning, many think the Thomas Wolfe Memorial honors that Tom Wolfe—the white-suited journalist and author of books like BONFIRE OF THE VANITIES and THE RIGHT STUFF.
Mark Boyd is a creative-writing major in his twenties who likes reading the classics and moved to Asheville when he decided to take time off from school. I have known him for years, he's the son of a friend. When I called him to say I was in town, I asked him to dinner so I could hear his thoughts on Wolfe.
"I know that he wrote THE ELECTRIC KOOL-AID ACID TEST," he told me on the phone, "but I have never read it." Wrong Wolfe.
One of my current college students told me that when he was in high school, his teacher assigned a Wolfe short story and gave her class a little introduction to its author.
"Now my teacher was a good woman, but not the brightest," he said, recalling that her introduction of the writer's life created a composite of the two Wolfes. According to the teacher, "Thomas Wolfe wrote these books of the '30s and also wrote books about drugs and the stock market."
When I share these anecdotes with Chris Morton, "interpretations" manager at the Wolfe Memorial, he laughs hard, buckling over at the waist. "Happens all the time," he says, smiling. "Recently, after a forty-five-minute tour of the house, I took the group back out on the porch and asked if anyone had questions. This one lady raised her hand and asked 'When did he start wearing the white suit?'"
Back when he was alive, when people talked about the greats of the day, the following names were often grouped together: Hemingway, Fitzgerald, Faulkner, and Wolfe.
That suited Thomas Wolfe just fine. He wanted fame. He wanted it so badly he would stay up all night writing and then wander the streets of New York in a daze, proclaiming to passersby, "I wrote ten thousand words today!" Wolfe worked on his first novel, originally titled O LOST, for three years. It would become LOOK HOMEWARD, ANGEL, a story about a boy named Eugene Gant, who grows up in the mountain town of Altamont, North Carolina, a place he mostly hates for its provinciality. He also hates his alcoholic father. He also hates his cold, calculating mother, who runs a boardinghouse. So he leaves town for college, and then Boston.
Wolfe wrote the book while in the midst of a long-term affair with Aline Bernstein, twenty years his senior, and Jewish (despite Wolfe's being somewhat anti-Semitic). Wolfe was Bernstein's protégé; and she his mother figure. She helped him write, and helped him find a publisher when he completed his 1,113-page, nearly 330,000-word manuscript. Bernstein sent it to Boni & Liveright, the press that at the time published Theodore Dreiser and Dorothy Parker, among others, while Wolfe waited anxiously. The publishers rejected the manuscript for being, among other concerns, "so long—so terribly long."
Bernstein then sent it to a literary agent, Madeleine Boyd. Boyd spent all night reading the book; at three in the morning, she ran through her apartment screaming, "A genius! I have discovered a genius!"
Despite her regard for his work, Boyd was not fond of her new client. She told Wolfe he "needed to take a bath" and let him know that she would not sleep with him, though he crowed that all women wanted to. Still, they worked together. Boyd sent LOOK HOMEWARD, ANGEL to several publishers, who, like Boni & Liveright, rejected it as "fearfully diffuse," "terrible," and of "elephantine length," respectively. In 1928, when Boyd "shrewdly maneuvered" Maxwell Perkins into asking for the manuscript, the legendary Scribner's editor was also working with Hemingway and Fitzgerald. Scribner's signed up Wolfe in January of the following year, and Perkins took a very active roll in shaping the manuscript.
Perkins suggested that Wolfe alter some of the characters so they didn't so closely resemble the real-life counterparts they were based upon. According to David Herbert Donald's Pulitzer Prize–winning biography, Wolfe told the editor he could not do it: "He had described the people exactly as they were." It was then that Perkins realized Wolfe's book was "often literally autobiographical—that these people in it were his people." Out of fear of libel suits, he forced Wolfe to change all the real names to fictional ones. Wolfe would often complain about Perkins's intervention, telling Boyd, "Those sons of bitches, they are taking the balls off me!"
When the book came out in October of 1929, Scribner's heavily promoted it, even displaying the cover in the window of its Manhattan office. Wolfe loved the attention: "[He] walked back and forth in front of the window so regularly that he drew the attention of the police and came close to being arrested," writes Carol Ingalls Johnston in OF TIME AND THE ARTIST. He checked on bookstores, too, to see if people were buying it.
Wolfe's first reviews came from back home in Asheville. A friend praised the new work in one newspaper, while another paper panned it, stating that most of the characters were real people, portrayed harshly, and that folks in Asheville would be able to identify those whom Wolfe was pillorying: "If there attaches to them any scandal which has enjoyed only a subterranean circulation, it is dragged forth into the light." A third local paper critiqued Wolfe's crudity and titled its review FORMER ASHEVILLE WRITER TURNS IN FURY UPON N.C. AND THE SOUTH.
The controversy, however, made LOOK HOMEWARD, ANGEL a sensation in Asheville, where it sold well and angered a number of readers. "The boy should be spanked for his impertinence," a bank director said of Wolfe. Even more attacks focused on the book's earthiness, the "bad" language and sexual content. Townspeople began to look differently at Julia Wolfe, who was particularly stung by her portrayal in the book. However, since the book was so successful, Wolfe's mother also took pride in her son, whom she referred to as "the only Asheville author who ever sold one hundred thousand copies." (LOOK HOMEWARD, ANGEL sold a similar number of copies as its contemporary, THE SOUND AND THE FURY by William Faulkner, though its sales were far below another publication of the same year: Hemingway's A FAREWELL TO ARMS.)
Wolfe was hurt by the harsh reaction in Asheville. He had hoped to make a name for himself in his town—a goal he accomplished, but it was a name usually reviled. He imagined a future in which:
the same people who now criticized [me] would be building monuments to me, comparing me to O. Henry (hah!), naming their children after me, and nigger children too (hah!), and stuffing me with food, just so they can get a good look at me, and tell of my great contribution to the great literature of the South (hah!).
In New York, though, Wolfe was a darling of the literati. But fame can pinch back. Wolfe complained to Fitzgerald that he was being made into a cliché—everybody insisted on picturing him:
as a great "exuberant" six-foot-six clod-hopper straight out of nature who bites off half a plug of apple tobacco, tilts the corn liquor jug and lets half of it gurgle down his throat, wipes off his mouth with the back of one hairy paw, jumps three feet in the air and clacks his heels together four times be-fore he hits the floor again and yells out "Whoopee, boys, I'm a rootin, tootin, shootin son of a gun from Buncombe County—out of my way now, here I come!"—and then wads up three-hundred thousand words or so, hurls it at a blank page, puts covers on it and says, "Here's my book!"
As is clear to readers of the book, Wolfe was no idiot savant. Highly (though idiosyncratically) educated, he was an incessant reader, a habit that deepened during his studies at the University of North Carolina and Harvard.
In Asheville, Wolfe received at least as many negative reviews for LOOK HOMEWARD, ANGEL as positive ones. Literary scholars seeking to salvage his reputation today argue for classifying LOOK HOMEWARD, ANGEL as an autobiography. The late essayist and novelist William Styron summed up Wolfe's style this way:
Wolfe, though superbly gifted at imaginative projection, was practically incapable of extended dramatic invention, his creative process being akin to the setting into motion of some marvelous mnemonic tape recorder deep within his cerebrum, from which he unspooled reel after reel of the murmurous, living past.
Chris Morton is not a fan of Wolfe's writing, a fact he's surprisingly up-front about. An Asheville native, he read LOOK HOMEWARD, ANGEL "out of a sense of obligation." Then in college, he enrolled in an American literature course. One of the books on the syllabus was Wolfe's 720-page tome YOU CAN'T GO HOME AGAIN.
"It was huge!" he recalls. "I thought, 'I'm not doing this,' and dropped the course."
Spending the last ten years working at the Thomas Wolfe Memorial has not changed Morton's view of Wolfe: "I don't like much of his work. I have struggled to read his lesser-known novels. He was an undisciplined writer."
Visitation numbers at the Memorial are "unhealthy," Morton tells me. The house was partially burned down a few years ago by an arsonist. The fire destroyed the dining room completely, and damaged thirty percent of the structure in addition to melting or burning up two hundred artifacts. The house closed down for six years, from 1998 to 2004, and it cost 2.4 million dollars to restore it. (The culprit was never found.) The staff kept the visitors' center open during all the years the house was closed for renovations; maybe five thou-sand to six thousand people came each year. When the Thomas Wolfe Memorial reopened in 2004, there was a surge in visits. But last summer, they only had about nine thousand tourists, roughly a quarter of the people who examined the Memorial annually before the fire. Morton is working very hard to figure out ways to get more people in, but another question lurks, I suspect, in the back of his head: Maybe the whole thing should be shut down?
Wolfe's obsessive realism makes the Thomas Wolfe House one of the few writers' homes that achieves its aim: The restored boardinghouse provides the autobiographical context for scenes from his fiction.
Thomas Wolfe did not live in this house—if we consider "living in a house" to be an experience of conventional domesticity, i.e., parents and children sleeping in their rooms every night. Julia Wolfe bought the boardinghouse in 1906, when she realized her alcoholic husband, William Oliver (W.O.) Wolfe, would no longer be able to support the family. She was a shrewd businesswoman, eager to gain financially. Julia forced her son Thomas—the youngest of her eight children—into the family business, sending him to the railway station in the afternoons to pass out advertising cards for the house. When you take a tour of the house today, you receive a reproduction of these cards. BLOCK FROM SQUARE OR POST OFFICE, it reads. NEWLY FURNISHED. RATES REASONABLE. NO SICK PEOPLE. Wolfe and his seven brothers and sisters floated between W.O.'s home, a few blocks away, and the boardinghouse. He never had his own room; he slept in whichever room had not been let for the night. Wolfe hated the boardinghouse, and he had antipathy toward his absent, abusive father and his bottom-line-obsessed mother.
The Thomas Wolfe Memorial does not move us to think about the creative spirit so much as it moves us to think about everyday life. Cleave it from its ties to literary celebrity and it becomes replete in and of itself: Come see how, in a certain place at a certain time, some people lived, and some made a living.
And these were not fancy people. The Wolfe home offers a stark contrast to Asheville's primary tourist attraction: the Biltmore Estate, the late-nineteenth-century, sprawling summer home of the über-rich Vanderbilt family. "This place is not wholly unfamiliar to most visitors; coming here is not like going to the Biltmore," Chris Morton tells me. "How can you relate to the Vanderbilt family? You can relate to the struggles of Eugene Gant. It's a timeless story. It's a story of adolescence that all of us at some point get through."
Morton is jealous but good-naturedly derisive of the Biltmore pitch: "Come See America's Largest Home."
"I mean, anyone can say, 'Let's load the kids up and see America's largest house, honey,'" Morton tells me. "They get people there all year long, even for the Festival of Flowers, which takes place at the Estate when there really aren't that many flowers in bloom."
Asheville is funky and lovely, if perhaps a bit smug and pleased with itself in that way of small, liberal cities. The enclave formed by the mountains around it only reinforces the charm and provincialism of the place. It's a literate place, too: Zines still proliferate. At Malaprop's, the independent bookstore that serves as a social hub for the city, the coffee-shop drinks are named after writers. You can order an Anaïs Nin, an Isabel Allende, or a Gail Godwin. The Walt Whitman is a macadamia-nut latte.
Plenty of people buy Wolfe's books, according to the clerk at Malaprop's, especially tourists and "people thinking about moving here." Of course, buying a book and reading it are two different things. A woman I met who moved to Asheville five years ago told me she has started "those damned novels seven, eight times and can never get through them," before exasperatedly proclaiming: "All that description. God!"
Today, among critics and academics, it is slightly embarrassing to admit to liking Thomas Wolfe. The conventional thinking is that he has appeal to some adolescent males, but that's it. As Kurt Vonnegut wrote:
I enjoyed LOOK HOMEWARD, ANGEL when I read it at the age of twenty-two or so. I read the novels in the order they were written, and lost en-thusiasm before I reached the end of YOU CAN'T GO HOME AGAIN. I have not dipped into any of the books since, nor have I found myself wish-ing that Wolfe had lived longer so that I might have more of his work to read. I outgrew him, perhaps. 
Alfred Kazin calls Wolfe the "Tarzan of rhetoric," adding that, "[He] pilfered recklessly from the Jacobeans and Sir Thomas Browne, James Joyce and Swinburne, Gilbert Murray and the worst traditions of Southern oratory, was a gluttonous English instructor's accumulation." Robert Penn Warren calls Wolfe "sometimes grand" but "more often tedious and tinged with hysteria."
William Styron finds Wolfe a "bothersome presence." He writes, "[He] refuses to fit gracefully and inevitably into any niche we have reserved on the face of that edifice memorializing Great American Writers." His critical standing, Styron continues, 
which has always been shaky, and the grave unevenness of the work itself—torrentially powerful, nervously alive and radiant, at its best; at its worst, sophomoric, hyperinflated and tediously repetitive—have persistently kept Wolfe out of the Valhalla where we have enshrined the leading writers of his generation: Faulkner, Hemingway and Fitzgerald.
Most criticism—whether praising or damning—focuses on Wolfe's ambition to sum up all experience. You can see this on the walls of the Wolfe Memorial's exhibit hall, in glass: Quotations from still-famous writers are hung as you enter the exhibit, as if to convince you that this Wolfe was indeed a great American writer: WOLFE TRIED TO DO THE GREATEST OF THE IMPOSSIBLE…TO REDUCE ALL HUMAN EXPE-RIENCE TO LITERATURE (Faulkner); WHO WAS THE GREATEST WRITER? WOLFE! THOMAS WOLFE. AFTER ME, OF COURSE (Kerouac); WOLFE WAS WONDERFUL AND UNSURPASSABLE…A GREAT TALENT, A VERY FINE DELICATE SPIRIT (Hemingway, whose criticism owes nothing to his "book-jacket-like" praise. It was known that Hemingway also called Wolfe "a one book boy and a glandular giant with the brains and the guts of three mice."); LOOK HOMEWARD, ANGEL WAS MY SPAWNING GROUND, MY BIRTHPLACE, AND MY CRADLE (Pat Conroy). Conroy goes on:
While reading that fabulous book, I learned that there was a connection between literature and ecstasy. I had been waiting my whole life for Wolfe to present himself to me. My writing career began the instant I finished LOOK HOMEWARD, ANGEL. Thomas Wolfe taught me that the great books change you immediately and forever.
Morton is good-looking in a Southern-preppy way. He sports a light-blue polo shirt, khakis, and brown-leather loafers. He has clear green eyes and a distinguished widow's peak in his brown hair. He lives with his wife and two small children in Buncombe County. He is calm and smart. He has a remarkable and soothing talent for storytelling. Morton sees no conflict between his view of Wolfe and his job. "There's an assumption that if you work here you're a Wolfe scholar or fan, but that does not apply to me," he says. "The novels are high, lofty, flowery narratives. As a lyricist, his prose is beautiful—it's always easy for me to find a good quote for a Chamber of Commerce newsletter. But Wolfe does not speak to me." What does speak to Morton is public history.
His father and grandfather worked for the National Park Service, and his dad took Chris on trips to other parks. "I loved how gifted interpreters—gifted storytellers—could bring a place to life. They could take these stagnant things and, through the senses, make them come to life." His father nurtured his son's ambition by planning vacations to various national parks and historic sites, like Colonial Williamsburg and Gettysburg.
In college, Morton didn't want to teach in a conventional setting, though he did get a teaching certificate, and worked at the Southern Appalachian Center in Chapel Hill.
All those experiences make Morton well-suited to maintaining the relevance of the Thomas Wolfe Memorial. "It is my hope that I can present a story that can engage the visitors, to pull in influences of this little small town and this situation that he grew up in. In so many of these historic sites, you come away with static figures. I want to make them real and very three-dimensional. I want visitors to know that they can relate to what happened in this house." 
A Morton-led tour of the Wolfe Memorial conjures two authorial presences—Wolfe's and Morton's. Both know how to set a scene. In Julia's bedroom, Morton showed through words her complicated relationship with W.O., and I imagined, based on their inward-looking gazes, that some of my fellow tour-goers were reflecting on their complicated marriages as he spoke. At the end of the tour, Morton led us into the room in which Wolfe wrote "Return," an account of his first trip back to Asheville since the publication of LOOK HOMEWARD, ANGEL. Morton slowed his delivery and shifted his tone. Gone were the anecdotes about Julia and clever quips about the boarders who stayed in the odd collection of small bedrooms. Morton grew quiet, and sadness deepened his voice. He explained how Wolfe, prodigal son, returned to Asheville and to the house that gave him material and pain. It was 1937, one year before his death. Morton gestured to the copy of "Return" on the desk and had us gather around the small pamphlet. Inside, Wolfe describes what it was like for him to tour his childhood "home" as an adult:
And all of it is as it has always been: again, again, I turn, and find again the things that I have always known: the cool sweet magic of starred mountain night, the huge attentiveness of dark, the slope, the street, the trees, the living silence of the houses waiting, and the fact that April has come back again…. And again, again, in the old house I feel beneath my tread the creak of the old stair, the worn rail, the whitewashed walls, the feel of darkness and the house asleep, and think, "I was a child here; here the stairs, and here was darkness; this was I, and here is Time."
Reading these words in this house and on this tour, it is hard not to be just a bit transported, and to forgive Wolfe his excesses. Morton's tour is an ephemeral work of art, a narrative that rises and falls as we climb and descend the old stairs. But not enough people show up to take it. "Maybe it is Wolfe's diminished stature," Morton speculates about the lack of interest. "There's nothing to motivate the average museumgoer to come here." Last summer, to help determine how to attract more people, the staff asked visitors to complete a survey about their reasons for stopping by.
Wolfe could have become a cult favorite like Burroughs or Bukowski, other alienated writers loved by male adolescents. Asheville could be like Lawrence, Kansas, is to followers of Burroughs: a mecca for Wolfeans. With its dropout charm and teeming, underemployed twentysomethings, the town is well-positioned for stoner pilgrimages to Wolfe's house. But those fanatics who exist tend to be older, like the members of the Thomas Wolfe Society, a group of admirers that publishes THE THOMAS WOLFE REVIEW, which is responsible for about eighty percent of the scholarship on the widely forgotten author.
Wolfe followers do show up at the Memorial. Morton calls them "gushers"—idolizers—men, usually—who consider him the greatest American writer, ever. Gushers love what many hate about Wolfe's prose: its intense, rambling mysticism. And, yes, Wolfe tries to trap the whole of experiences in his sentences. Here is the second line from LOOK HOMEWARD, ANGEL: "Each of us is all the sums he has not counted: subtract us into nakedness and night again, and you shall see begin in Crete four thousand years ago the love that ended yesterday in Texas." Morton says that gushers occasionally come from the literary crowd, but the author also tends to attract misfits: "Wolfe seems to be appealing to the class of folks who don't fit in, who feel alienated from their families, communities."
The gushers seek out Morton and the staff of the Memorial for their expertise on Wolfe. One in particular, a German man, e-mailed Morton in a seemingly desperate attempt to track down sources for a biography on Wolfe, after his local booksellers proved unhelpful. "Our conversation ultimately turned to the fact of Wolfe's diminished stature," Morton recalls. "And, of course, my German friend simply could not believe that this would be the case in the U.S. To me, in the tone of his e-mails, I heard a man who, having heard 'a voice in the chaos of the man swarm,' as Wolfe called it, had lost it and was desperately and frantically seeking someone who could help him find it once again."
While I was sitting in Malaprop's at my laptop, the man sitting next to me and I got to talking, and he turned out to be the purest example of a gusher: one who credits Thomas Wolfe with changing his life.
Tom Mahon is a businessman from Saratoga Springs, in Upstate New York. He's a noticeable guy, the kind who looks vaguely famous. He's lean, with a lined face, a head of white hair, and blue eyes so intense you almost can't look into them. He's traveling through Asheville, he says, on a long trip without an itinerary. At its end, he will relocate to New York City to try to make a living as an actor.
At this particular moment, however, Mahon is my literary guide, explaining to me Wolfe's genius, and his own devotion to the writer. "He was excessive, that's one of the grandest things about him. Wolfe records things the way Hemingway never did. I love his 'bombosity,' his voluptuousness. He's embedded in a culture, embedded in people. He had the tempo of the blood. There's something Wolfean about him."
We talk for two hours. Or, rather, he talks, narrating in precise language—combined with asides—Wolfe's place within twentieth-century literature and the story of Mahon's life. I listen, transfixed. "He writes about the wonder of being alive, people to love, people to hate, all these things. He was much more interested in Hugo, Goethe, and that whole sweep. Wolfe followed that Whitman maxim—the first thing to do is to get it down and then go through it all. Wolfe had an intangible no other writer had. Fitzgerald didn't have it. Hemingway didn't have it."
Mahon discovered Wolfe in college. "A friend of mine was mentioning Dylan Thomas and I got a copy of his poems and I couldn't believe, as Dylan says, the goings-on on paper. I was like, What the heck? And the way they were using language was to me fascinating.
"It's a misnomer to call it falling in love; it's more like a rising in love. The more I read, the more I saw how daring you could be in language. I couldn't believe how great it was." Mahon left college for Vietnam. He took LOOK HOMEWARD, ANGEL with him, reading it late into the night, then getting up at four A.M. to keep reading. He read passages to the soldiers in his company, but none of his Army buddies were interested.
I ask Mahon if he's gone to the old boardinghouse. No, he says. I ask him if he would, and let me know what he thinks. Six months later, I get an e-mail: "I didn't get to the house, but no regrets," he writes. "I had an up-and-down excursion in Asheville. So did Wolfe. I imagined he was looking down and feeling he'd accomplished something after all, and probably laughed when I did, and caught his breath when I did, and his eyes moistened when mine did."
Chris Morton tells me that he'd hoped traffic through the Thomas Wolfe Memorial would pick up in 2000, the centennial of the author's birth: A stamp was issued by the post office. The original manuscript of LOOK HOMEWARD, ANGEL was published, and some biographies came out, too. None brought a Wolfe resurgence. Then Wolfe was left off the Modern Library's 100 Best Novels list. "They said that they might put it back in," says Morton, "but that's even more insulting. It's like, 'Oops, we forgot about him.'"
With no bump from the centennial, Morton hopes that by reinterpreting the site, he can draw more of a crowd. For one, he'd like to eliminate "the shrine aspect"—which might make the house more accessible to people other than the gushers—adding that he wants to change the name from the Thomas Wolfe Memorial to something that decreases the reverential aura.
"Maybe we limit ourselves because we don't offer choices to visitors," Morton says, musing out loud. "I mean, do people really want to spend two hours of their day vacationing in Asheville at the house of a writer they've never read?"
Morton also thinks that placing the house in the context of early-twentieth-century Asheville would make it more appealing to visitors, though he acknowledges that Wolfe's story cannot be abandoned: "There are more stories here that need to be fleshed out, such as the rise to prominence of Asheville," he says. "The boardinghouses that are all gone. We think of them as flophouses, but boardinghouses were the forerunners of the bed-and-breakfast. They were typically run by women. This was a very typical, mainstream, ordinary family. It had in its midst a genius. Visitors find that story interesting."
Maybe the problem is not that people do not come to the Thomas Wolfe Memorial, but that the Memorial was created in the first place. The boardinghouse was sold after Wolfe's mother died in 1945, only a few years after his own death, when his reputation was at its height. Since 1949, the house has been preserved as a memorial. Perhaps we got ahead of ourselves in the literary-canon game. God did not hand down a list of literary masterpieces on a stone tablet, after all. The canon of American literature is man-made and mutable. What we consider "classic" differs from generation to generation, as critical tastes and readerships evolve. In his book on canon formation, the literary scholar Henry Louis Gates, Jr., satirized the misconception that classics are selected by a "man up there" doing the dirty work of picking and choosing the greats:
There's no immortality in this business. You want twenty years, even forty, we can arrange it. Beyond that, we'll have to renegotiate terms at the end of the period. Sooner or later there's going to be a, whaddaya call it, reassessment. We send a guy down, he does an appraisal, figures the reputation's not really earned, and bingo, you're out. Maybe you'll get a callback in fifty years or so. Maybe not.
Maybe Wolfe will never get a callback. Maybe Max Perkins made a literary star by pushing hard and got people to chalk him up, wrongly, on the side of the greats. And since it is onerously difficult and expensive to dismantle a historic state house, maybe Chris Morton is doomed to endlessly trying to figure out how to get people to visit.
"Some think the house should be a marketing outlet—that it is up to us to promote Wolfe as a great American author, to get his reputation back up again, if he and the museum are going to survive," says Morton. "I don't see it that way. My responsibility is to interpret his life and writing and give people an understanding of the influences on his life. I don't need to be his advocate and promoter. Wolfe's writing needs to stand or fall on its own."
Whether he likes it or not, Morton has become a latter-day Max Perkins. He is trying to create an accessible narrative out of Wolfe's life and writing, to prune and rearrange the house he curates, and to provide the representative examples of Wolfe's prose on the tours. He's doing for Wolfe what Wolfe couldn't do himself, perhaps because he was, as Mahon put it, so "Wolfean."
Wandering around the house with Morton, listening to him shape history, I imagine the great tours he could be giving at Colonial Williamsburg.