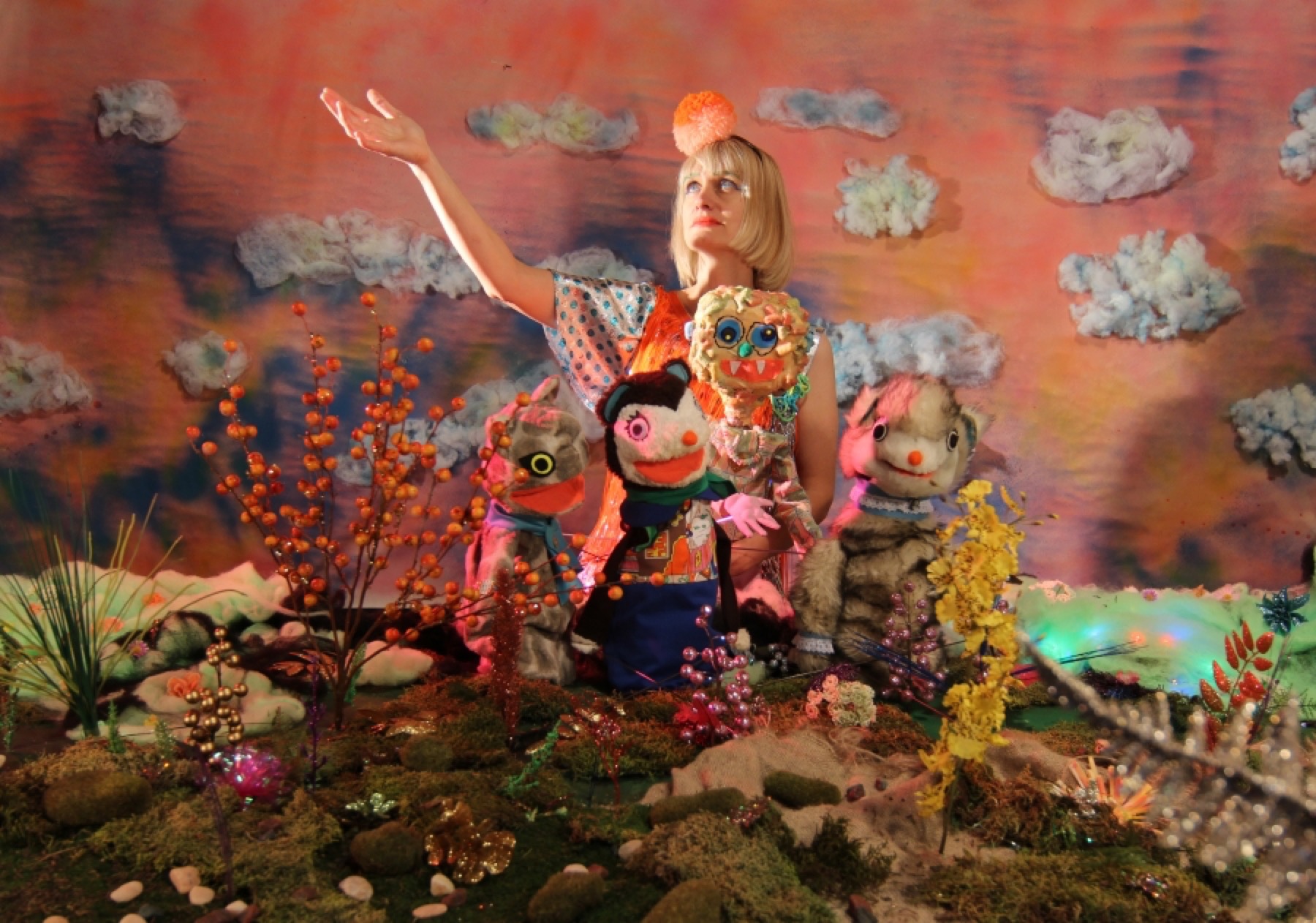 Ode to Miss Pussycat's Puppets
By David Ramsey
"You just have to see" is always good advice in New Orleans, which is how I ended up at the 2007 premiere of Trixie and the Treetrunks, a ten-part puppet telenovela in which Trixie and her pal Marsha try to make sense of a post-apocalyptic world by starting a band to send secret messages from the center of the earth. The moment I fell in love was around the time the puppet drummer, J.J. Suede, is dancing, along with a trio of glow-in-the-dark stray cats, to a video of local blues cult-fave Guitar Lightnin' Lee performing on a shoebox-sized TV.
Suede, mid-boogie, gets hungry, murders one of the cats, and cooks it in a stew. This, I thought, is an expansion of the possibilities of funky. In New Orleans, the cultural history of fusion is driven most deeply by a spirit of we'll try anything—Miss Pussycat's rambunctious puppetry emerges as only-in-New-Orleans psychedelic soul.
Trixie takes place in a richly conceived miniature universe populated by a large cast of excitable puppets, including witches, animals, monsters, talking instruments, various uncategorizable creatures, and an advice-giving "Happy Tree" made of pipe cleaners and an old Christmas stocking. These days, feature filmmakers seem heavily invested in the odd notion of making fantasy look as lifelike or "real" as possible. Miss Pussycat, ecstatically, goes the other way. Her puppets are rapturous, do-it-yourself, arts-and-crafts projects made of felt and Magic Marker and knickknacks. They look like plush toys created by a dreamy child on a ferocious imagination bender. The props are tiny, lo-fi delights (tinfoil remote controls, toy-size turntables); the sets, pastel-and-glitter dollhouse surrealism. Rather than employing the precise details often fetishized by miniature enthusiasts, the design seems impulsive, sloppy, and loose.
All of this self-conscious artificiality is nonetheless deeply immersive as a world. Cute, yes, and bizarre, of course, but also emotive, even strangely familiar. It's easy to make something look trippy, but Miss Pussycat achieves the much more elusive feat of getting you wholeheartedly lost in the trip.
Miss Pussycat, née Panacea Theriac, started making puppets in junior high school, touring with elaborate puppet shows as part of the Christian Puppet Youth Ministry at a Baptist church in Antlers, Oklahoma. She quit church, but fell in lifelong love with the puppets. She moved to New Orleans in 1993, founded the now-defunct underground nightclub and puppet theater Pussycat Caverns, and eventually met and married Mr. Quintron, an eccentric musician who plays darkly oddball r&b on homemade electronic instruments and an organ custom-built into the front body of a classic car (with working headlights).
The pair inspired a rabid following in the New Orleans rock scene for their raucous concerts, with Miss Pussycat joining Quintron onstage for backup vocals and maracas. As she does offstage, she wears a brightly colored pom-pom ball clipped on top of her blonde pageboy haircut, along with sorbet-colored, handcrafted costumes that might be what stewardess outfits would look like if druggy cartoon characters ran the airline industry.
Before or after their music set, the husband-and-wife team often do a live puppet show, staging tales of kidnapped raindrops or unicorn rock bands. While a live show has its virtues, the confines of a puppet stage render the adventures a bit boxed in. As with all of their endeavors, Mr. Q and Miss P's decision to make movies out of the puppet shows is marked by a giddy commitment to diving full bore into whatever fanciful impulse occurs to them.
So they build numerous elaborate sets; employ jump cuts, multiple camera angles, and soap-opera zooms; and ham it up with low-tech effects provided by fog machines, flashlights, and foam. Quintron's jagged keyboard bursts, schlock-horror organ chords, and electro bleeps punctuate the action.
Their first video, 2002's twenty-eight-minute North Pole Nutrias, tells the story of nutria rats who win a trip to the North Pole and help Santa and the elves vanquish a nasty toy-eating virus, voiced by infamous longtime Jefferson Parish Sheriff Harry Lee. The virus also leads a band in song, highlighted by a call-and-response yelp, "Bad Guy Power!" Comments one nutria, thoughtfully, "Actually, I really like the way the germs sang—I mean, what it does to toys is unfortunate but I like that music."
Electric Swamp, their 2005 follow-up, tracks an alligator and a crawfish who are tormented by termites juiced up on magical sno-balls. The movie features a termite rave down in the bayou ("the new drummer is very loud," squeaks the termite queen, "it makes me want to lay a bunch of eggs!") as well as a trip to Mother-in-Law Lounge, the Tremé music club then owned by iconic soul singer Ernie K-Doe.
The use of Harry Lee or the Mother-in-Law is typical: All of the movies are littered with references to the city—sno-balls, daiquiris, nutria, Mardi Gras beads, Hubig's pies, feral cats, rampant termites, natural disasters. Local bars, bands, streets, and magazines are everywhere. Chris Rose, the renowned local journalist, voices a dog; Al Scramuzza, regionally known for a once-ubiquitous commercial for his Seafood City restaurant, plays Santa.
David Simon, whose new show, Treme, is a very different attempt at an allegorical reckoning of the city, has noted that "in New Orleans, the nuances have nuances." But like the city itself, the in-jokes in Miss Pussycat's movies are strikingly inclusive. One needn't recognize the campy performance of local show band Glitter N' Gold or the distinctive wrapper of a Hubig's pie to be enchanted. Celebrating the city's meticulous commitment to its own folkways is reward in itself.
Trixie and the Treetrunks's the latest video project, takes all this playful noodling to epic scale. Made for Vice magazine's VBS television network, Trixie was conceived and filmed by Miss P and Mr. Q in the aftermath of Hurricane Katrina, which flooded their Spellcaster Lounge house/nightclub in the Ninth Ward; the Trixie saga centers around a terrible snowstorm that has ravaged a magical forest. Miss Pussycat's storytelling style—lilting, soapy narrative with absurdist leaps of raffish illogic—blossoms over the space of ten episodes (an eleventh was made for a recent exhibit at the New Orleans Museum of Art).
New Orleans is probably most famous now for jazz, sin, and tragedy. But that neglects its capacity for beautiful lunacy and transcendent fun. If Miss Pussycat and Quintron, the human beings, seem a bit like surreal puppets, perhaps that's part of the point. I think of the Lorrie Moore story in which a character, bored with her lover, begs him: "Endeavor to baffle." There is wonder, and maybe redemption, in getting weird. There is freedom in following your wackiest instincts.
Bad things will happen, in the parallel puppet universe and our own world, but Miss Pussycat suggests that with a puckish spirit and a psychedelic sense of the possible, we'll find a way to survive. If a terrible snowstorm destroys your magical forest, maybe you ought to house all the stray cats in the neighborhood and start a band. Why not?