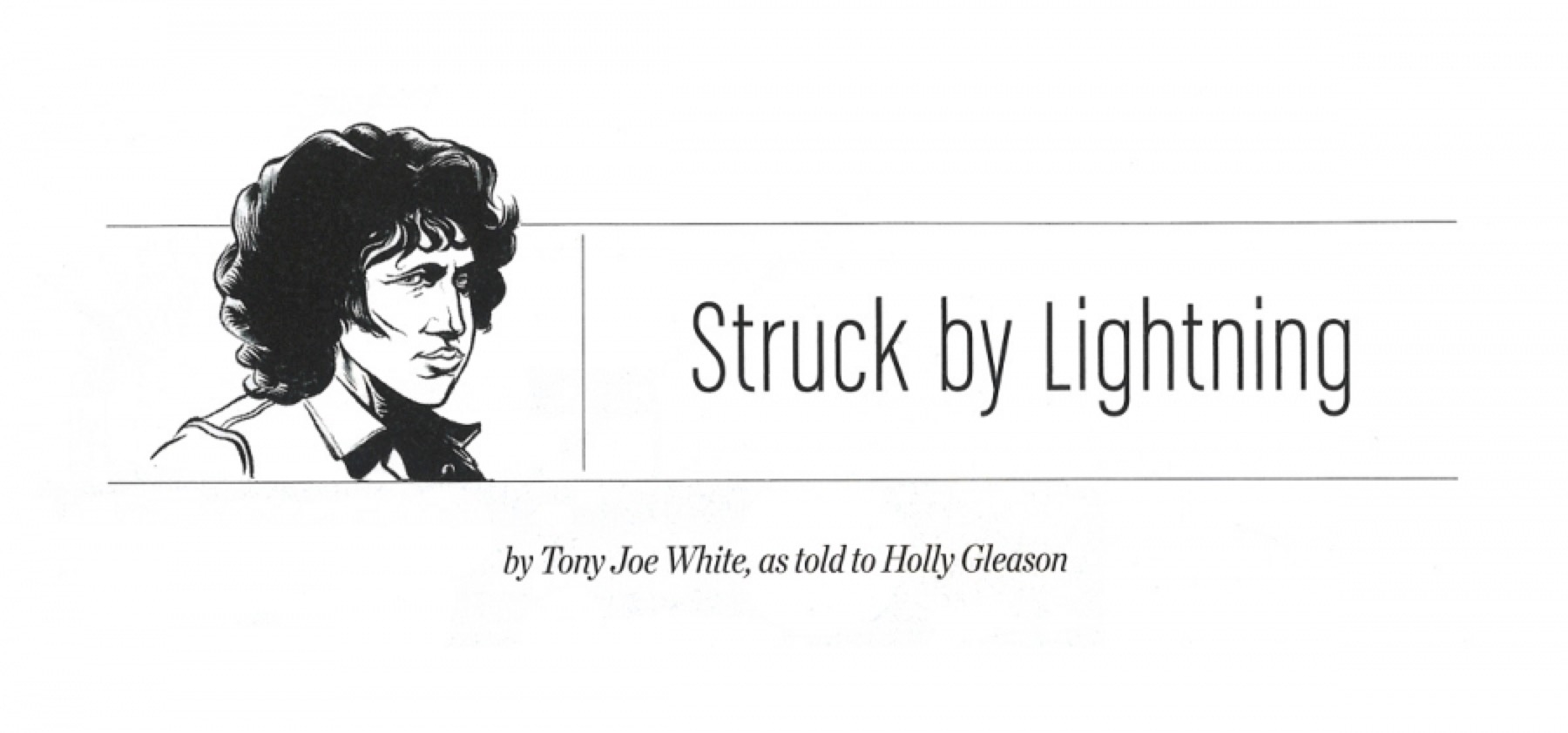 Struck by Lightning
By Holly Gleason
Tony Joe White is a singer and guitarist from Oak Grove, Louisiana, best known for his 1969 hit, "Polk Salad Annie."
---
My dad was a cotton farmer down by the river, the Boeuf River and the swamp. I had one brother, who was the oldest, then five sisters in between, and I was the seventh child. People used to say, "Maybe you're going to have the luck," and I have been lucky. Back on the cotton farm, you worked six days a week till school starts. But even then, you come home and there's still time to work. That's how it was for everybody, so you didn't think about it.
I remember thinking that if I ever got off that cotton farm, I'll never pick any more cotton or haul a bunch of corn again. You'd wonder what's going on besides this dirt road and these tall, tall stalks of cotton, but then Mama'd call for supper, and then that'd be the best place in the world. My Mama cooked all the time. On Sundays, she'd go out in the yard and kill one of her little chickens and make the best fried chicken I've ever eaten. She'd boil polk salad with corn bread at certain times of the year. You can't let it grow up and get berries on it; then it's poison. But if you get it young, boil it and put a little pepper sauce on it.... Mmm.
Back then, Dad and Mom played piano and guitar and sang songs with the family. Mostly gospel and blues, some country and western. There was a kind of church song, "The Land of Milk and Honey." That was my favorite. For a blues singer like me, that might surprise people, but it seemed to give you hope and promise that however hard it is now, it's going to get better, it's gonna be alright.
On the north end of the Delta, the music was mostly blues. When I was fifteen, my brother brought home an album by Lightnin' Hopkins. I got real turned around by that. I took that record and a guitar up to my room. A month later, I came downstairs into the living room and played "Baby Please Don't Go," played it for the family. They didn't say anything, and that's it. I played from the time I heard that album. It was something I couldn't stop thinking about. I had no choice.