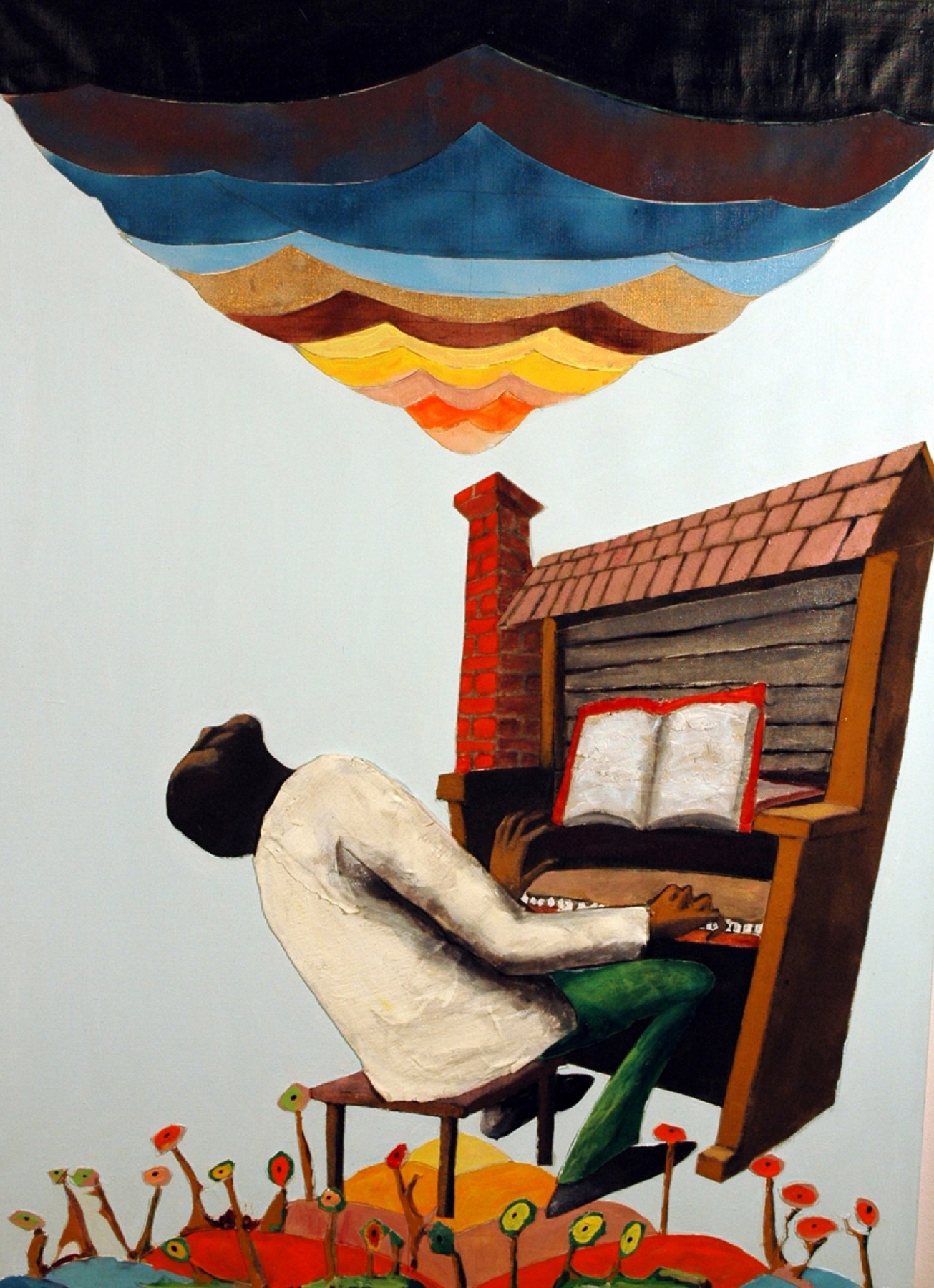 "Cabin in the Sky" (1996) by Benny Andrews © Estate of Benny Andrews. Licensed by VAGA, New York. Image courtesy of ACA Galleries, New York
Stax Magic
By Robert Gordon
When I was a kid in 1970s Memphis, limousines were a rare sight, though two would occasionally appear in traffic. From the backseat of our family station wagon, we'd scream for Mother to pull up closer. We'd know whose it was by the license plate. Elvis Presley's was not customized. Isaac Hayes's read MOSES, referring to his nickname, Black Moses. He was leading people to the Promised Land.
I didn't appreciate it then, but Memphis has always been a place where people come to realize their dreams. In the vast rural area that surrounds us, where the light of opportunity glows dimly if at all, Memphis is the radiant destination, the beacon of hope on the horizon. The disenfranchised, the hungry, the hopeful are drawn here, where a lone voice in the Delta multiplies, can gain mass and volume to become a political and economic force. Memphis is the crossroads, the grand intersection of information, commerce, and diverse citizenry. Dirt and gravel roads, train tracks, creeks and rivers—all paths lead to Memphis.
But the plantation prejudices still prevail here. This is where the train out of the country discharges its passengers. Had there been another train depot beyond us, Memphis would have been like any of the racist, peckerwood towns around it. It became, instead, a racist peckerwood city. Publicly, racism was embraced and enacted as a civic enterprise. From segregation to gerrymandering, from financial chicanery to murder, rape, and abuses both physical and mental, African Americans were beneath lower-class. One blues song reminded us that if you shot a rabbit out of season, you'd wind up in jail, but "the season was always open on me / Nobody needed no bail." White farmhands shrugged at the brutality, saying, "Kill a mule, buy another. Kill a nigger, hire another." Memphis was one of those small towns, metastasized.
Contrary to its intentions, that oppression inspired great art, desperate art, lifesaving storytelling art. The blues that came from Memphis and Mississippi are a cry in the night for freedom, for justice, and at their foundation, for recognition. Dismiss me no more, I am a man. (The church and religious music fostered a similar narrative—I am a creature of God.) Despair and hope imbued the plea with immense beauty, extending beyond generations, beyond geography, beyond creed and race. The rule that was intended to silence instead fostered a voice that outlives that of the tyrants. The blues, rock & roll, and soul music—all indigenous to Memphis and Mississippi—are expressions of the heart and soul in defiant response to oppression.
Stax Records was a little side project that became massive, an opening in the wall of subjugation, an accidental refuge that flourished, nourished by a sense of decency. Rays of hope, beams of trust, and the warmth of friendship cultivated relationships that have become the legacy of the era and of the area. Stax songs are burned into our consciousness by their funky grooves and their enduring appeal. They are resurrected time and again simply because of their good feeling. Stax is what we hear today on the radio, what we dance to at weddings, what triggers a smile even when diluted as elevator music. Stax music is an inspiration for hip-hop, a reliable source for sampling because the vibe of the music has meaning—of togetherness and of independence, of the conflict between the two and of their unification. The music made at Stax Records became the soundtrack for liberation, the song of triumph, the sound of the path toward freedom. In the country, you could dream big. But in Memphis, you could ride in a big limousine.
On his first day of work, smack in the middle of the 1960s, Al Bell stepped into Jim Stewart's office. The room was small for two people. There was one desk with two chairs on either side. There was one telephone. Jim was white, Al was black. Jim owned Stax Records, Al was joining the staff to promote the records: get 'em played, get 'em sold.
It was 1965 in Memphis, Tennessee, the heart of the American South. Throughout this wide region, race mixing was nothing short of an assault on the social realm. Inside Stax Records, whites and blacks had worked side by side for half a decade. People who couldn't publicly dine together were making beautiful music that the public—black and white—loved to hear. Many times, however, they'd step outside and white cops would stop to check on the whites' safety, to hassle the blacks.
Stax had scored several hits, but money was tight. Stax could make the hits, but they needed Al's promotional whizbang to get more out of their success. His job would involve contacting disc jockeys across the country. On Al's first day, Jim Stewart gestured toward his seat at the desk. Jim showed Al the stationery drawer, encouraging him to write. Stamps were inexpensive. There wasn't much of a long-distance budget, but calls would be necessary.
One telephone and one desk. While Al situated himself, Jim made a call. When he hung up, Al watched as Jim slid that phone across the desk toward him.
Al Bell made his call. When done, like his boss, he slid the phone back across the desk. It was such a quotidian act, yet revolutionary in 1965. Marchers in support of African-American voting rights were being beaten by police in Montgomery, Alabama. Malcolm X had recently been assassinated. Chaney, Goodman, and Schwerner—three Freedom Riders—had the previous year been delivered by Mississippi police to the Ku Klux Klan for murder. In Memphis, thirty-three African-American men had been recently fired from the sanitation department for fomenting strike talk, seeking better wages and union recognition. Downtown, while sit-ins broke barriers at banks and businesses, the City of Memphis defied integration orders by closing its public swimming pools—for two consecutive hot summers—rather than have blacks and whites share the same water.
The expanse of the desk was either a great divide or a cultural bridge. Jim may have looked at Al or not. His heart was beating fast, or it wasn't. Al's sure was. But whatever Jim was feeling, no handkerchief came out of his pocket to wipe clean the phone, no sanitizing spray. Jim had another call to make. He picked up the phone and he placed the call, sharing the earpiece, sharing the mouthpiece, sharing responsibility for the company.
"I was amazed to sit in the same room with this white guy who had been a country fiddle player," says Al. "We had separate water fountains in Memphis and throughout the South. And if we wanted to go to a restaurant, we had to go to the back door. But to sit in that office with this white man—sharing the same telephone, sharing the same thoughts, and being treated like an equal human being—was really a phenomenon during that period of time. The spirit that came from Jim and his sister Estelle Axton allowed all of us, black and white, to come off the streets, where you had segregation and the negative attitude, and come into the doors of Stax, where you had freedom, you had harmony, you had people working together. It grew into what became really an oasis for all of us."
Racism has long been the grit that produces musical pearls in Memphis. When Stax Records settled into its South Memphis home, it had only to open its doors and the warm welcoming air attracted those who'd received society's cold shoulder. It quickly—and accidentally—unleashed a torrent of talent. People who wanted to be heard, to contribute, gravitated to Stax's embrace. Stax released eight hundred singles and three hundred albums between 1960 and 1975, becoming a national business entity on a scale like no other Memphis label. Stax had 167 top-100 pop songs and nearly 250 top-100 r&b songs. Stax established the careers of Otis Redding, Isaac Hayes, the Staple Singers, Sam and Dave, Booker T. & the MGs, and Wilson Pickett. Isaac Hayes became the first black American to win the Academy Award for Best Original Song ("Theme from Shaft"). Stax created the Wattstax concert in 1972, dubbed "the Black Woodstock," which spun off into a movie and two best-selling double albums. Many of the company's achievements are notable for their cross-cultural appeal. Previously, even twenty years prior, the go-to civic response to such expressions of African-American pride would have been lynching. Through the 1960s and into the '70s, when every step toward equality seemed to bring two back steps of repression and retraction, a small group of people in Memphis quietly reveled in racial harmony.
The story of Stax is more than a record-label history. It is an American story, part Horatio Alger, part Alexis De Tocqueville—where the shoeshine boy becomes a star, the country hayseed an international magnate. It's the story of individuals against society, of small business competing with large, of the disenfranchised seeking their own tile in the American mosaic. Stax and its struggle for success has both the miraculousness and the foolhardiness of alchemy. In it, the better and worse angels of our nature are interlocked, engaged in a righteous battle that, even now, remains undecided.
In its time, Stax was the rare place where everyone had a chance. The sound of the street could walk in the door. Regardless of age, background, and race, inside Stax you could get someone's ear. In the city where segregation reigned, where the civic laws screamed "No!" Stax Records sang, jubilantly and simply, "Yes."
---
From Respect Yourself: Stax Records and the Soul Explosion, published by Bloomsbury. Enjoy this story? Subscribe to the Oxford American.