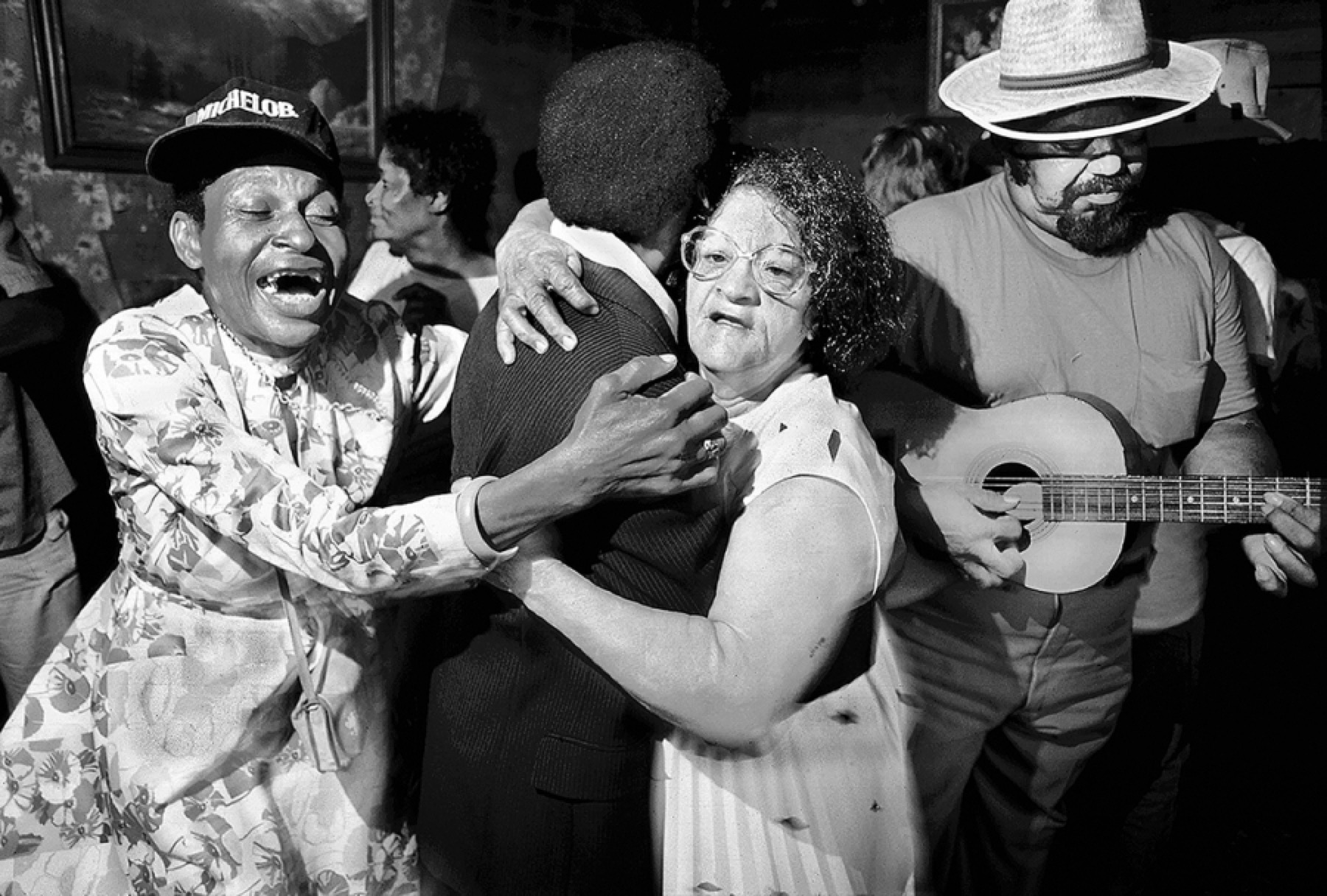 The 50,000-Watt Quartet
By David Henry
In the early 1960s, the Staple Singers marched with their gospel rhythms and church-house fervor into the arena of civil rights–inspired folksong. Some saw this as a straying from the one true way, a betrayal even. For the Staples, it was a seamless progression, a greater embracing of all creation. And so it was that a like-minded admirer came by one day to introduce them to a scruffy young songwriter from northern Minnesota. 
"Bob," Mavis Staples remembers the guy saying, "these are the Staple Sing—" That's as far as he got before young Dylan turned huffy (in Mavis's reenactment) and cut him off. "I know who the Staple Singers are," he snapped. "I've been listening to the Staple Singers since I was twelve years old." He could prove it, too. Pops, he said, had a fine, velvety voice. And Mavis, he said, turning to her, sang low and heavy. He even sang her lines from "Sit Down, Servant," a 1954 release on the Chicago-based United Label. The Staples had released their first 78, "These Are They," backed with "Faith and Grace," on their own label, Royal, the year before, when Robert Allen Zimmerman was indeed twelve years old.
Pops Staples was astonished. How did a Jewish kid from the iron-ore Midwest know so much about the Staple Singers?  "I listen to Randy," Dylan said.
"Randy" was WLAC, the 50,000-watt clear channel CBS radio affiliate—"fifteen-ten on everybody's dial"—famous for broadcasting late-night blues, r&b, gutbucket jazz, and gospel programs from the twelfth floor of the Third National Bank building in downtown Nashville from the mid-1940s through the early '70s. 
Far-flung listeners, including Johnny Winter in Beaumont, Texas; Rick Danko in Blayney, Ontario; brothers Duane and Gregg Allman in Daytona Beach; Johnny Cash in West Memphis; future Muscle Shoals session man and songwriter extraordinaire Dan Penn in Vernon, Alabama; Richard Penniman in Macon, Georgia; and Elvis Presley and Carl Perkins in Tennessee, reflexively referred to both the station and its quartet of nighttime deejays as "Randy," taken from Randy's Record Shop, a mostly mail-order store in Gallatin, Tennessee, that sponsored Gene Nobles's 10:15–midnight show and advertised with the infectious jingle Randy's Record Store is on the air / here, there, and everywhere. 
"Everywhere" indeed. On a summer's night, WLAC's 50,000 clear-channel watts might bounce from Alberta to Argentina, from Iceland to Navy destroyers off the west coast of Africa. The soul-stirring sounds that poured forth from twelve-year-old Bobby Zimmerman's radio, he would later say, seemed like something from outer space. He wasn't far wrong. The station employed skywave or "skip" propagation, whereby A.M. radio waves skip and bounce off the ionosphere back to Earth. Unbound by the curvature of the planet, WLAC had listeners in twenty-eight states, three Canadian provinces, and four continents.
"I've interviewed a thousand musicians over the years," says Scott Mullins, program director at WTMD in Baltimore (whose mother regaled him with childhood memories of tuning in to WLAC while lying awake late at night), "and so many of them have cited WLAC as an early influence. I doubt there is a country, rock & roll, blues, r&b, or soul artist from that era east of the Mississippi who wasn't touched by the magic of that station."
WLAC was licensed to broadcast at a powerful wattage in 1942, but during its early years it remained unremarkable, spinning the same network fare and hit parade records that could be heard on any other network-affiliated station. Then, late one night in the autumn of 1946, Gene Nobles looked up from his mic in WLAC's cavernous studio to see two young men—students enrolled at Fisk on the G.I. Bill, each holding a box of 78s—waiting patiently for him to finish his live pitch for Royal Crown hair dressing or Gruen wristwatches ("Give your wife a Gruen for Christmas").
A former carnival barker, Nobles had found his true calling on radio, filling in for younger, abler men sent off to war. He'd play the day's hits by night while killing off a full fifth of Seagrams V.O. mixed with "Co-Cola," and send out dedications laced with inside jokes to his old carnie friends, out there on the road, in the dusty fairgrounds. As the night wore on and his bottle grew lighter, Nobles, a lifelong fan of gospel and blues, would spice up the playlist with personal favorites. 
Nobles finished his pitch, got the next record started, and asked the young men what he could do for them. Never mind how two "black dudes" had made their way unchallenged up to the twelfth floor of a downtown bank building at that time of night in 1946. ("They'd been in combat," deejay "Hoss" Allen shrugged decades later.) 
They liked his show, they said. They wondered if he might play some of their records. Sure, said Nobles. Let me see what you've got.
In the parlor game—a national pastime in some quarters—of pinpointing the moment of conception that would give birth to rock & roll, there are many who argue for the day in March of 1951 when Ike Turner's Kings of Rhythm drove up from Clarksdale for a session at Sam Phillips's Memphis Recording Service. A downpour and a leaky trunk lid conspired to ruin the speaker cone in Willie Kizart's amplifier, giving his guitar its distinctive fuzz tone on "Rocket 88." 
Others point back to 1926, when Jackson, Mississippi, music merchant and talent scout H. C. Speir installed a metal disc recording machine in the spare room above his store to capture the "lonesome sounds" of the Delta bluesmen who lived, congregated, and passed through Clarksdale, Greenwood, and especially Will Dockery's sharecropping plantation near Ruleville. If not for Speir, the earth-shaking sounds of Charley Patton, Son House, Tommy Johnson, Skip James, Robert Johnson, Blind Joe Reynolds, and the Mississippi Sheiks might be nothing more than the dimly remembered stuff of legend.
To those nominees I would add the night that Gene Nobles agreed to give a listen to the boxes of records from those returned soldiers. They included blues, boogie-woogie, and gutbucket jazz. Not the brassy glitz of Glenn Miller, but the growling, reedy jazz of Cab Calloway, Dizzy Gillespie, Duke Ellington, Charlie Parker. The raunchy boogie-woogie and blues of Albert Ammons, Meade "Lux" Lewis, Pete Johnson, T-Bone Walker, Wynonie Harris, Champion Jack Dupree, and Bull Moose Jackson.  
Nobles played their records, and within the week—ten days at most—the station started getting mail from listeners in Nashville, El Paso, Washington, Detroit, New Orleans, the Bahamas, Jamaica, Panama, Venezuela, Canada, and Tuscaloosa. People wanted to know more about this music, and where they could buy the records.  
By day, WLAC continued to ride the network, airing CBS news, soap operas, serials, quiz shows, and the top hits of the day. But when the sun went down all hell broke loose. Deejays Gene Nobles, "John R." Richbourg, Bill "Hoss" Allen, and Herman Grizzard, known together as "The 50,000-Watt Quartet," gave 15 million listeners their first dose of Slim Harpo, Muddy Waters, Sister Rosetta Tharpe, Elmore James, Dorothy Love Coates, Howlin' Wolf, Memphis Minnie, and Lightnin' Hopkins. Some listeners played guitar and sang along to the music, struggling to disentangle the occult tunings employed by their distant teachers. The deejays composed their playlists in cahoots with their record store sponsors: Nobles and Hoss played records from Randy's; John R. from Ernie's Record Mart; and Grizzard was sponsored by Buckley's Record Shop on Church Street, near the Vanderbilt campus. The deejays spun what the stores had in stock, and the stores stocked what the deejays played.
On the twelfth floor of the Third National Bank building in the heart of Nashville's slumbering business district, every night turned into a party. The echoey chamber of the studio, large enough to seat an orchestra, was filled by singers and their managers, who came bearing acetate discs and bottles in brown bags. Record company reps were present, too, milling around, working the room. As each record faded, the man at the mic would shush the congregation and adjust his glasses so he could read the ad copy for White Rose petroleum jelly or baby chicks from Reich Poultry Farms: "Now, you like fried chicken, I know. Everybody does. How would you like to have fried chicken on your table most anytime you wanted it, huh? Well, baby, you can. You can, if you just listen to ol' John R." One hundred and ten baby chicks shipped to your door for just $2.95 plus 50¢ handling charge plus C.O.D. At these prices, he gently warned, the chicks would be mostly cockerels (scrub roosters and other undesirables), "no sex or breed guaranteed." Any that failed to survive at least three months would be replaced at half price. "How about that?" he enthused, segueing into the next record. "Ain't that a mess? Alright, let's go with Sir Lattimore Brown. He's got one that's breaking out crazy-like, you know. One called, 'It's a Sad, Sad World.' And you know it is. Tell us about it, Lattimore!"
Hard-drinking Hoss was beloved for telling stories about his hapless self, like the time in November 1962 when he cut young Jimi Hendrix out of a record he produced for some long-forgotten r&b up-and-comer. Allen just needed a basic "chunka-chunka" rhythm track, but Hendrix was playing "so wild," Allen recalled, "I had to shut him up." (Imagine what the outtakes alone might fetch today at Sotheby's.) 
It was while listening to Grizzard's midnight-to-one A.M. show, "After Hours," that brothers Duane and Gregg Allman first heard a record of Jimmy Smith playing some kind of swirling, carnival keyboard. They didn't know what kind of instrument it was, Gregg Allman told me when I spoke with him this past spring, but they knew they had to have one in their band. Not long after, Duane and other members of the Allman Brothers led Gregg, their rhythm guitarist, blindfolded into a Victorian house where they revealed a Hammond B-3 organ with eight or ten fat joints laid out on the console. "We'll be back in a couple weeks," they told him. When they returned, he could play it. And does still. 
Listeners took it for granted that WLAC's deejays were black. They played and promoted black music and shilled for black hair products. And they sounded black. In the late '40s, and even into the mid-60s, it was nearly unheard of for a white radio announcer to do a dignified black voice. Whites who imitated blacks usually took on the drawl of the lazy coon, the buffoonish minstrelsy of Amos 'n' Andy. Even nasally Gene Nobles, with his wisecracks and prerecorded Tarzan yells, was mistaken for a black man. "Well, the other deejays all sounded black," Dan Penn explains, "so I just assumed Gene was, too." The station did have one African American on the air, news announcer Don Whitehead. Everyone delighted in noting that he was the only one who sounded white.
John R. first turned to radio to help make ends meets when, as a young man, he went off to New York City to seek his fame on the Broadway stage. When he read the fifteen-minute newscasts at 7 and 8 P.M. on WLAC, he did so in the voice of a trained announcer. "That voice was the put-on," says singer and radio personality Frank Jolley. "His deejay voice? That was the real John R."
James Brown could not mask his astonishment, the first time he visited WLAC's studios, when he was greeted by a white man who introduced himself as John R. The deejay would soon be responsible for breaking Brown's first big hit, "Please, Please, Please." He forever after regarded John R. as both a brother and a father, and his band the Famous Flames, with Bobby Byrd on vocals, performed the jingle that introduced John R.'s one-to-three A.M. broadcast every morning: Hey, John R. Whatcha gonna do? Come on John R.! Play us some rhythm and blues. In 1985, Brown roused himself from a drug-induced haze to deliver what many attest was the Godfather of Soul's last truly transcendent performance, at a Grand Ole Opry benefit concert to help pay the ailing John R.'s medical bills. 
The deejays at WLAC had nothing to do with creating this music, of course, but they knew what it was worth. They loved it and propagated it and made possible so much of the music that came after. As singer, songwriter ("A Love That Never Grows Cold," "Someday We'll Be Together"), and onetime WLAC producer Jackey Beavers said of John R., "He liked black music more than I did."
They scattered the seeds far and wide. And everywhere those seeds found purchase, new music flourished. That is, after all, where the word broadcast comes from.

---
Enjoy this story? Subscribe to the Oxford American.