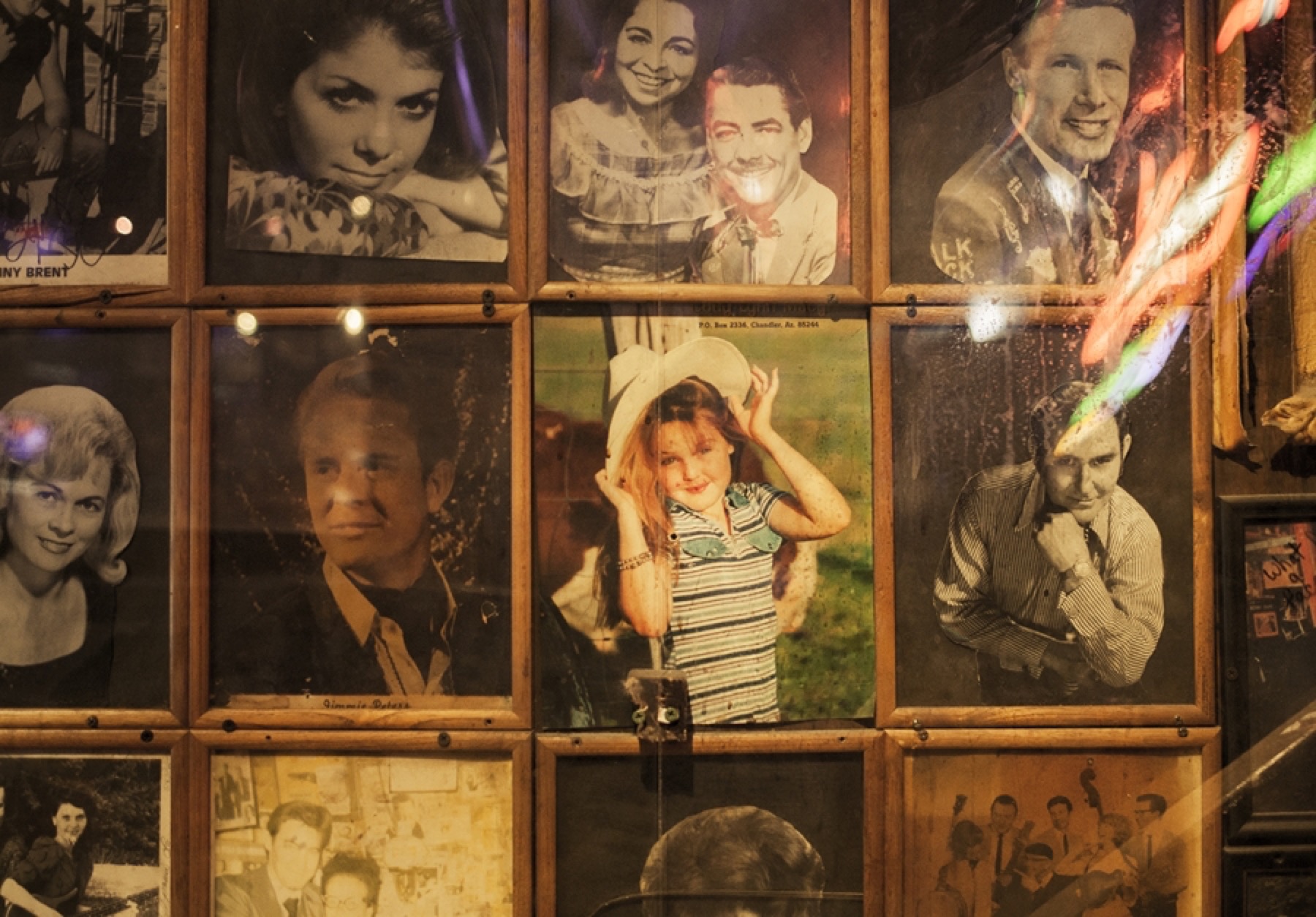 Untitled photograph by Tamara Reynolds
The Daughter of Music Row
By Holly Gleason
A slight, young brunette stood alone in a navy Richard Tyler slip on the Opry House stage, backed by a pianist and a string quartet, and sang "Back When We Were Beautiful," a heartbreaking song about aging. Less than thirty minutes before, she'd won the Country Music Association's coveted Song of the Year Award for "Strawberry Wine," then Vince Gill had introduced her to the roomful of superstars and music industry power brokers as "an artist, a true poet." And so Matraca Berg, voice slightly quaking, made her network television debut.
The Cinderella moment seemed preordained. The young woman who'd scored her first number-one hit at the tender age of eighteen, saw her first Grammy nomination at twenty-two, had five number-ones chart in a single calendar year, was taking her own turn in the spotlight.
Country music's creative forces bathed her in utero, and as a baby she'd been lulled to sleep by the bottom-y reverberations of playback speakers, tucked into the shabby, overstuffed Naugahyde couches that exist in front of recording studio consoles—she went to sessions when her mom, Icie Berg, couldn't find a sitter. "Feeling that low end used to soothe me," Matraca remembers now. "To me, that was heaven. I knew even before I could talk that I belonged there, somewhere."
Icie was one of the Callaway Sisters, background vocalists who performed on the Renfro Valley Barn Dance and were mentored by eastern Kentucky's Coon Creek Girls; they were brought in to sweeten all kinds of country hits, as well as provide a dose of hillbilly authenticity. Icie always said, "The purest country song has the fewest words and says the most with the least embellishment." Matraca took those words to heart, going on to supply a string of heavy rotation hits for Patty Loveless ("I'm That Kind of Girl," "You Can Feel Bad"); Trisha Yearwood ("Wrong Side of Memphis," "XXX's and OOO's"); Martina McBride ("Wild Angels"); and Deana Carter ("Strawberry Wine," "We Danced Anyways"). A Nashville Songwriters Hall of Fame inductee, Matraca has now defined common women, battered hearts, and broken dreams for three decades.
Born out of wedlock in 1964, the shy Matraca was raised in Nashville by her mother and her stepfather, Ronald Berg, who studied nuclear physics at Vanderbilt. Matraca was only four years old when she composed her first song. Ron wrote it down on computer paper, took it home, and said to Icie, "I think she's got something."
Certainly she was steeping in country songs before they were born and as they were being turned into records that would float from scratchy AM stations and neon-bathed jukeboxes. An uncle played steel for Mel Tillis, and future Hall of Fame songwriters Red Lane and Sonny Throckmorton were regulars around the Berg household. Lane would sit at the kitchen table, singing her nursery rhymes. "Ring of Fire" co-writer Merle Kilgore used to tease Icie to "leave that mad scientist and run off with me." Matraca took to this loose-knit creative hive.
"I wanted to marry Red Lane," Matraca laughs now. "And then there was Kristofferson." Kris Kristofferson was mythic: a poet who'd risen through the ranks, moving from his job as an Oxford-educated janitor at CBS Recording Studios to landing a chopper on Johnny Cash's lawn to pitch a song, to becoming the Dylan of Music Row.
"That was a different kind of songwriting: simple, but there was deeper meaning he was trying to convey," Matraca remembers. "I was too young to really know, but I knew there was something going on."
Matraca listened, absorbed, and dreamed—and she didn't tell anyone she wanted to write. But she slept with an AM transistor radio under her pillow, asking herself: What makes this song work? Why does the melody do that? What are they trying to say? She experimented alone in her bedroom. At sixteen, she came downstairs and told Icie she had a confession. But she didn't talk. She picked up a guitar and played a song she'd written called "Holding You Close With My Eyes."
"It wasn't a great song, just good enough," Matraca says, though she remembers how her mom looked surprised when she started playing—then without skipping a beat said, "Well, obviously this is something you're gonna be doing, so let's coach you and get you good at it." So Matraca kept writing while Icie, who had two other kids, lived out her own version of a country song replete with divorces, moves that came too frequently, odd jobs to pay the bills, and different schools for her children. But she encouraged her oldest to say things in ways nobody else had, to bring in analogy and metaphor to her writing—"the stuff I should've been learning in high school," Matraca says.
The young writer learned a lot from the pickers and the poets. She fell in with a bunch of kids following around Bobby Braddock, who was flush with the recent success of "He Stopped Loving Her Today." The quirky forty-year-old songwriter, who once baptized this ragtag fellowship of wide-eyed kids in the pool at legendary Spence Manor on Music Row, let them come to his parties. On one of these nights, he heard a sound coming from his music room: Matraca had wandered off, and she was playing the piano. In twenty minutes Matraca and Bobby had written a song. A couple weeks later it was demoed, then recorded by T. G. Sheppard and Karen Brooks. The teenager had a number-one record.
"My mom and I were going over a bridge the first time I heard it," Matraca says. "She had a big smile and a tear in her eye. She pulled over, then said, Tell me how it feels. I'd have given anything for it to be her." By then, Icie had long given up her music dreams and gotten a nursing degree to support her children.
Matraca dealt with success like most young people would who weren't ready for the pressure: she took off for Louisiana with a boy, playing keyboards in his band. It didn't work out—the boy or the band—but that disappointment informed much of her future lyrics about being busted, about faithless men, about finding one's strength when all seems lost. Without anywhere else to go, she returned to Nashville, where she survived on $100 a song from Merit Music and the free happy-hour tacos at a local fern bar called Michael's. Then a plugger found an old tune of hers called "The Last One to Know" and pitched it to Reba McEntire. Around the time it went to number one, Icie Berg learned she had late-stage lymphoma. Within a year, McEntire would have a Grammy nomination and Icie would be gone.
Matraca often remembered how her mom would say "Red wrote that" when his songs came on the radio. She knew there was power in the writing, in creating songs that distilled life. She knew, too, how unforgiving the business was, recalling how Sonny Throckmorton went back to Texas to dig ditches when his songs didn't do well, then had to rush back to Music City when his songs were suddenly hot. But still she was a writer, penning songs that were hits for other artists. That was plenty to keep her going. Then RCA label head Joe Galante heard one of her song demos and said, "We don't have anyone who can do that." Matraca had never thought of herself as a singer, and she had no need to entertain. "But you don't say no to Galante," she says with a sad laugh. The resulting album, Lying to the Moon, was released in 1990. It confounded country radio and became the must-have album among a new generation of girl singers. The sultry "I Got It Bad" and "The Things You Left Undone" electrified fledgling country video channels.
"Unbeknownst to me, Trisha, Faith, Martina, Patty, Deana, and a whole bunch of girls all had my record—and when my album fell apart, they started cutting those songs," Matraca says. (So did Linda Ronstadt, Dusty Springfield, and a host of others.) She cut a second album, 1994's The Speed of Grace, an aptly named commercial failure neither alternative, contemporary, nor anything else that could fit in a box—though it did lead her to a truth she still lives by today. Recording that album in L.A, she found herself trapped on a clogged freeway when a Merle Haggard song came on the radio. She broke down. The song brought it all back home: the importance of her Southern roots, the legacy of classic songwriters, the reality of women trapped by circumstance.
"I came home more clear and focused about who I am," she says. "That's why I wrote 'Oh, Cumberland,'" a song eventually recorded by the Nitty Gritty Dirt Band and Emmylou Harris on the third installment of the Grammy-winning, groundbreaking project Will the Circle Be Unbroken. She describes the song's genesis as "that idea of being where you shouldn't, what you miss, how you cope." Berg knew she needed to go back to the songs that felt closer to her soul, to her roots, to her life.
So she did. She returned to Nashville and wrote those five number ones that hit in a single year. She signed a deal with Rising Tide, a start-up label headed by artist manager Ken Levitan and Grammy-winning producer Emory Gordy (George Jones, Steve Earle, Patty Loveless), and released Sunday Morning to Saturday Night, which made 1997's Top 10 lists at Time, Entertainment Weekly, USA Today, and People.
It all led to the Opry House stage. But even with Matraca's single "Back in the Saddle" picking up momentum on country radio (driven by a jailhouse video featuring Faith Hill, Patty Loveless, Martina McBride, Suzy Bogguss, and Trisha Yearwood), Rising Tide suddenly shuttered. No advance notice, no warning. Matraca knew the ropes—she knew how sketchy the music business could be. Once again, she retreated into her songwriting.
It's hard to think that someone as beautiful, sensual, smart, and talented as Matraca Berg could have fallen into the cracks. Seemingly custom-crafted for stardom, her albums didn't sell and the singles died. Yet such are the wages of Music City. In a world of stardom by any means, Berg opted for her own kind of literary grace; she wrote tales that go below the veneer and speak to the brittle nature of the human condition.
"My mother was a feminist, but came from a generation where women didn't chart their own course. She didn't have the luxury to go out on her own and figure it out. But she was one of those parents who believed honesty was the only way. I grew up with the knowledge of her romantic life, how the world worked." Matraca pauses; she wants her mother to come off as practical, not harsh. "I think she knew she wasn't gonna be here long, so that's how she raised us."
Icie's candor wasn't for nothing. Her daughter specializes in songs of yearning, betrayal, and anger delivered by blue-collar women—and of the euphoria of love occasionally realized. Matraca writes about life as it actually plays out, something she was raised to value. Something she sees missing in today's pop and country music.
In recent years, she's had a pair of Grammy nominations for "I Don't Feel Like Loving You Today" (recorded by Gretchen Wilson) and "You and Tequila" (recorded by Kenny Chesney and Grace Potter). "You and Tequila" was a number-one for two weeks and received several Grammy and Country Music Association nominations. And she just finished Love's Truck Stop, another jewel box of songs destined to be hits for others.
She thinks back on how it felt to spend so much time with artists when she was most impressionable, when she was just a little girl. "I was surrounded by masters, bounced on their knees, and I thought they were magical. They were my heroes." With the wisdom of Hank Williams, she says, "Those people weren't Hall of Fame songwriters when I was young; they did it for love—and to capture something. That's why I got over everything. Nobody becomes a songwriter because they wanna get rich. It's something you have to do."
---
Enjoy this story? Subscribe to the Oxford American.