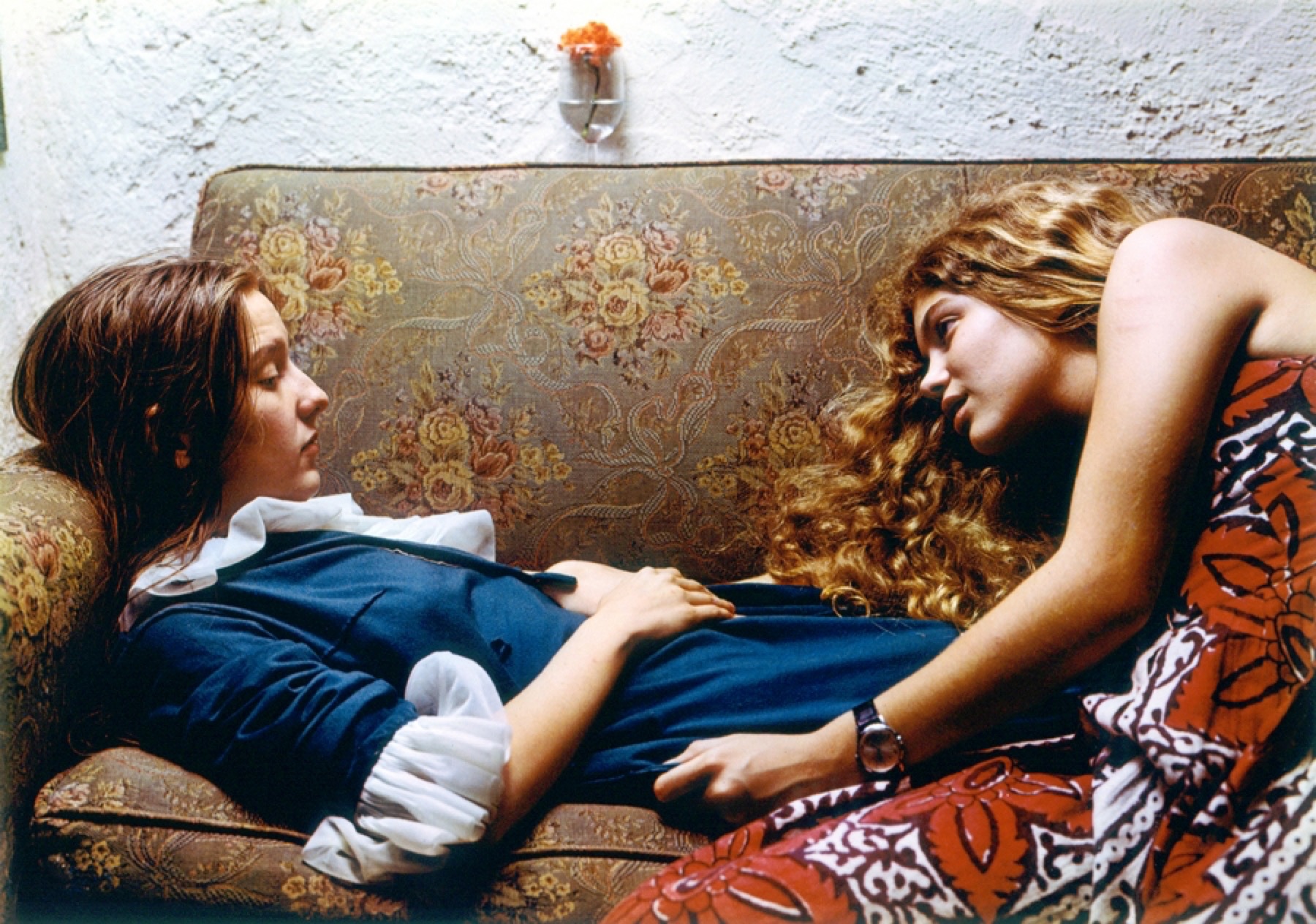 "Untitled (Two Girls, Memphis, Tennessee)" (1974) by William Eggleston © Eggleston Artistic Trust. Courtesy of Cheim & Read, New York
The Muse of Memphis
By Holly George-Warren
Her music is scarce but her influence was large. The only official output consists of one limited-edition 45. Her presence haunts Big Star's obscure yet highly lauded 3rd, also known as Sister Lovers. Though her vocals only made it onto a single track, singing the Lou Reed lines to Alex Chilton's Nico on the Velvet Underground's "Femme Fatale," she languishes between the grooves, hovering in the spaces between the notes—and everywhere in the lyrics. She was immortalized, too, by the camera of her mother's cousin, the great William Eggleston, who photographed her the first night she laid eyes on Alex Chilton. Her name then—one she no longer uses—was Lesa Aldridge. 
"Lesa is a muse, unquestionably," Jim Dickinson, Chilton's producer, once said. "Nearly every song on 3rd is about her. The world will never know the extent to which Lesa was responsible for that record."
Lesa (today known as Elizabeth Hoehn) was born in 1955, the second of five children born to Elizabeth and William Aldridge, natives of Mississippi who moved to Memphis.  Her father, a Presbyterian minister, marched alongside Martin Luther King during the sanitation workers' strike. His conservative church, outraged by his politics, planned to fire him, so he took a position in Princeton, New Jersey, in 1968, when Lesa was thirteen. During the four years her family lived in the Northeast, the counterculture made its mark on Lesa. "The hippie movement came to Princeton, and my mother and therefore my father had this liberal outlook on life," she says. "It was pretty hard to rebel—we had to go pretty far if we wanted to do that."
With $60 that she earned as a babysitter, Lesa bought a Yamaha acoustic guitar. "I wrote my first song," she recalls. "Because I studied piano, I actually knew notes, and I wrote it out with the little musical notes across the clef. I still have it. I really liked early Bob Dylan and Joni Mitchell, but when we moved back to Memphis, I went from that folk thing to Velvet Underground and Lou Reed—what a shift." Lesa and her family returned to Memphis in 1972, settling in Midtown, not far from the city's thriving nightlife. 
One year later, on the evening before she left for freshman year at Sarah Lawrence, Lesa and her friend Karen Chatham stopped by Yosemite Sam's, a raucous Midtown bar. In walked Alex Chilton, his hands full, literally, with a very messed-up female friend. "That was it—that tiny little place at Cooper and Madison," she remembers. "Time stood still, like in a movie, and light shone down on us. But he didn't see me; he was too busy with this girl who was overdosing or something. Karen jumped in, but later that night she was crying over him. Things didn't go well from the get-go." 
Afterwards, Lesa and Karen visited the Eggleston home, where Aldridge consoled her friend, who was distressed over Chilton's prickliness during their first encounter. With his camera, the photographer captured the young women immersed in conversation on a sofa. With her high cheekbones, upturned nose, wide-set eyes, and flowing honey-colored hair, Lesa looked as if she had stepped out of a pre-Raphaelite painting. 
When Lesa returned home before the semester ended, Karen and Alex had become a couple. But she doesn't believe she stole Alex from her friend. "It was obvious that he liked me—the way I had when I first saw him," says Lesa. "I did not get the feeling that they were head over heels. And he and I—there definitely was a spark. Not long after that, he called me. He had a coupon for one free lesson at the Arthur Murray Dance Studio. So he picked me up in his little white convertible with the red seats, and he took me there and we waltzed for an hour. That was our first date." They were smitten; Lesa didn't return to Sarah Lawrence.
During their early days, Alex frequently stayed at the Aldridge home—and his Big Star bandmate Jody Stephens moved in once he started dating Lesa's younger sister Holliday. "A lot of what we all did together, and what Alex and I did together, was based around music, whether we were writing or singing," says Lesa. "He was really sweet about working up songs. He'd play and I'd sing and we'd harmonize." The two spent hours listening to the first Velvet Underground album and Berlin, Lou Reed's dark portrait of a destructive relationship; eventually, its lyrics bore an uncanny resemblance to Alex and Lesa.
Big Star had just finished recording their second album, Radio City, minus the band's founder Chris Bell, when Alex and Lesa got together. Due to record label difficulties, the first LP had vanished, selling only a few thousand copies, though it had received stellar reviews. Bell quit, but Chilton, who at age sixteen enjoyed a number-one hit with the Box Tops' "The Letter," stuck with it. After his early success, Alex developed a jaundiced view of the world; Dostoyevsky and Wilhelm Reich were his favorite writers at the time, and he commemorated Lesa's nineteenth birthday by giving her a copy of Crime and Punishment. He inscribed the book with "Sois sage"—behave yourself—"Love, Alex." 
"He took me to lunch at Trader Dick's and gave it to me," says Lesa. "Then he took me home, so I spent my birthday reading it. It was not a great birthday." Alex also gave her long lists of famous actors, writers, and musicians who were Geminis like Lesa. Alex, a Capricorn, had been a serious student of astrology for four years, and he told her things didn't look good astrologically for their relationship. 
By the summer of 1974, following a disastrous Big Star tour, Alex was constantly writing. He got the idea for a Christmas song, "Jesus Christ," by swiping lines from Bill Aldridge's Presbyterian hymnal. "He was always jotting down ideas on little pieces of paper," Lesa says. Lesa admired Nico's singing with Velvet Underground, and Alex loved "I'll Be Your Mirror." That song inspired him to write "Blue Moon," which he finished and recorded on a tape recorder one night while Lesa was sleeping. When she awoke there was a note on the recorder: "It's all cued up for you, baby." "When he wrote that song for me, it validated our love," Lesa says. "That was once in a lifetime, that particular sweetness of feeling, that tenderness. It's heartbreaking—'cause we really loved each other."
Alex wanted to include Lesa on his next album, and with his key to Ardent studio, they'd slip in to cut tracks when the spirit struck, even at 3 a.m. "It was just after my nineteenth birthday, he came over and woke me up and said, 'You have to sing a song,'" she remembers. "We went to Ardent—just the two of us. I think that was the first time, and it was fun." Chilton and Stephens, now the sole members of Big Star, began the new album, with Jim Dickinson producing. The sessions were chaotic, though the original tape of a dozen demos Alex handed Jim prior to recording included beautifully played acoustic versions of songs they would dissect and rearrange in the studio. 
"Blue Moon" remained spare and pristine, but "Downs," which Alex and Lesa wrote together, became a test tube for sonic experimentation, including a basketball instead of a snare. The song was inspired by a favorite pastime of Lesa and Alex's—popping Quaaludes and barbiturates. "He encouraged me and I wrote most of the lyrics," says Lesa of lines such as "cool downs, rub downs, lie downs, any downs at all." "He put it to music. That was the first time we wrote a song together from scratch." In the studio, Alex showed Lesa how to engineer and edit tape with a razorblade; sometimes blood and booze spilled onto the console. After he'd tracked the Kinks' "Till the End of the Day" with the band, Alex had Lesa re-cut the lead vocals late one night, informing Jim Dickinson of the change the next day. 
"I said, 'Oh damn, Alex, what did you do?'" Dickinson later recalled. "He said, 'I put Lesa's voice on it. Wait till you hear it.' And, he's right, Lesa's voice is brilliant on it. It was so honest and fresh and in your face." Then they would have a fight and Alex would go into the studio and erase her from the tracks. "That volatile part of our relationship was no fun," Lesa says. "He'd get mad at me and just remove me from the recording." Dickinson fought to keep her wispy vocals on "Femme Fatale," but Alex demanded that neither his nor Lesa's version of "Till the End of the Day" be used on the album that came to be known as 3rd. (Its alternate name, Sister Lovers, was inspired by Alex and Jody's relationships with the Aldridge siblings.) Lesa's version of the Kinks song was later released on her 1980 solo single. The recordings puttered to a close in early 1975; 3rd did not come out until 1978. Of the twelve Chilton originals on the first U.S. release, "Stroke It Noel," "Kizza Me," "Kanga Roo," "Take Care," "Nightime," "You Can't Have Me," "Blue Moon," "Big Black Car," "Thank You Friends," and "Holocaust" reflect bits of Lesa—lyrically as well as in the anguish conveyed in Chilton's voice. ("Downs" wasn't included.)
Alex and Lesa's very public fights became legend. "He was insecure and jealous," she recalls. "I was social by nature, and I would be people watching, and suddenly he would go nuts. We did better alone together than we did out in public." Lesa always attracted attention. "When I first met her," says Rick Clark, then a musician in Memphis, Lesa was dancing with her sister Holliday at Lafayette's Music Room. "I asked my friend Tommy Hoehn who they were. They were moving around on the dance floor in an uninhibited and sensual way. Their sense of play as they danced was so mesmerizing and lovely. I thought they were lovers. Everyone in the room seemed entranced by them."
As Alex and Lesa's topsy-turvy relationship continued, they occasionally performed as a duo. A longtime fan of vintage country, Alex taught her songs by the Carter Family and the Louvin Brothers, which they taped on his cassette player. "It sounded so pretty with him singing harmony with me," Lesa remembers. The tape survives, documenting the pair working up their vocals, backed by Alex's acoustic guitar. "It has an almost disarmingly sweet pure spirit that conveys a side of Alex and Lesa that no one has really heard," says Clark, who was given the tape by Chilton. "It authentically conveys the joy of making music without any pretense or recognition of the music industry, careerism, and all that."
Another outlet for such music-making was Gangrene and the Scurvy Girls—Alex, Lesa, and Karen Chatham. In addition to old-timey tunes, the trio performed songs by Lou Reed, Bonzo Dog Band, the Troggs, and Les Paul and Mary Ford. They were mostly playing for the fun of it; the homespun trio rarely appeared in public. "I didn't feel like he was humoring me," Lesa reflects. "He really liked playing together." 
Harmonizing onstage didn't prevent discord from again rupturing the Chilton-Aldridge alliance. When she left him for a local drummer, Alex wrote "My Rival"; after they reunited, the pair co-wrote the love song, "All of the Time." Chilton recorded both during post-Big Star sessions in late 1975. Over the next five years, the cycle continued to spin; she left town for New York, then he did the same. Both back in Memphis by 1978, they again recorded together, this time at Sam Phillips's studio. Lesa contributed to a new version of Chilton's single "Bangkok" and other tracks for his LP Like Flies On Sherbert. Those sides have never been released.
In the spirit of that anarchic album, Lesa formed an all-girl band, the Klitz. "Alex helped get the Klitz started," says Lesa. "He wrote us our first seven songs," one of which was "Hook or Crook," which he'd recorded for Sherbert. "We were just trying to be a rock & roll band," says Lesa, who played guitar and sang. "I actually meant to sound beautiful and sing well and play nicely—it just didn't work out that way. We were so loud and simplistic we got labeled as punk. So what to do? We embraced it." Though I.R.S. Records was briefly interested in the group, the Klitz broke up after making sporadic recordings with Chilton, Dickinson, and others.
In 1980, not long after 200 copies of her three-song solo 45 ("Till the End of the Day" and two other covers) were released by Barbarian Records, Lesa left town. She rendezvoused with Alex one last time the next year. Then, living in New Jersey, she reconnected with Tommy Hoehn, the singer-songwriter who'd previously collaborated with Clark, Chilton, and others. Lesa and Tommy originally became friends in the '70s, and Lesa co-wrote lyrics to his 1977 single "Blow Yourself Up." Her photo, taken by Eggleston, graced the back cover sleeve alongside Hoehn and another girl. 
After playing a gig together at CBGB in 1983, Lesa and Tommy decided to get married. The couple had three children and, though struggling personally and financially, they occasionally played music. The Hoehns recorded a few songs in the early '90s, with Lesa talk-singing French on one ("Speaking French to Whales") and simulating an orgasm on another, called "Zero." (That audio had been recorded in a session with Alex; Jim Dickinson remembered the track and added it to the mix.) Eventually, the couple divorced, and Lesa returned to school and became a teacher. 
In 2007, again living in Memphis, she played a Klitz reunion gig with keyboardist/vocalist Gail Elise Clifton. Alex Chilton, to whom she hadn't spoken in nearly three decades, died in March 2010, followed by Tommy Hoehn's death a few months later. She mourns them both.
 "With every experience and heartache," says Lesa, now living alone and teaching school in rural Mississippi, "all the heartaches you've ever had come back. Alex was the most profound one of my whole life. But you never know what's around the corner."

---
Like this story? Subscribe to the Oxford American.