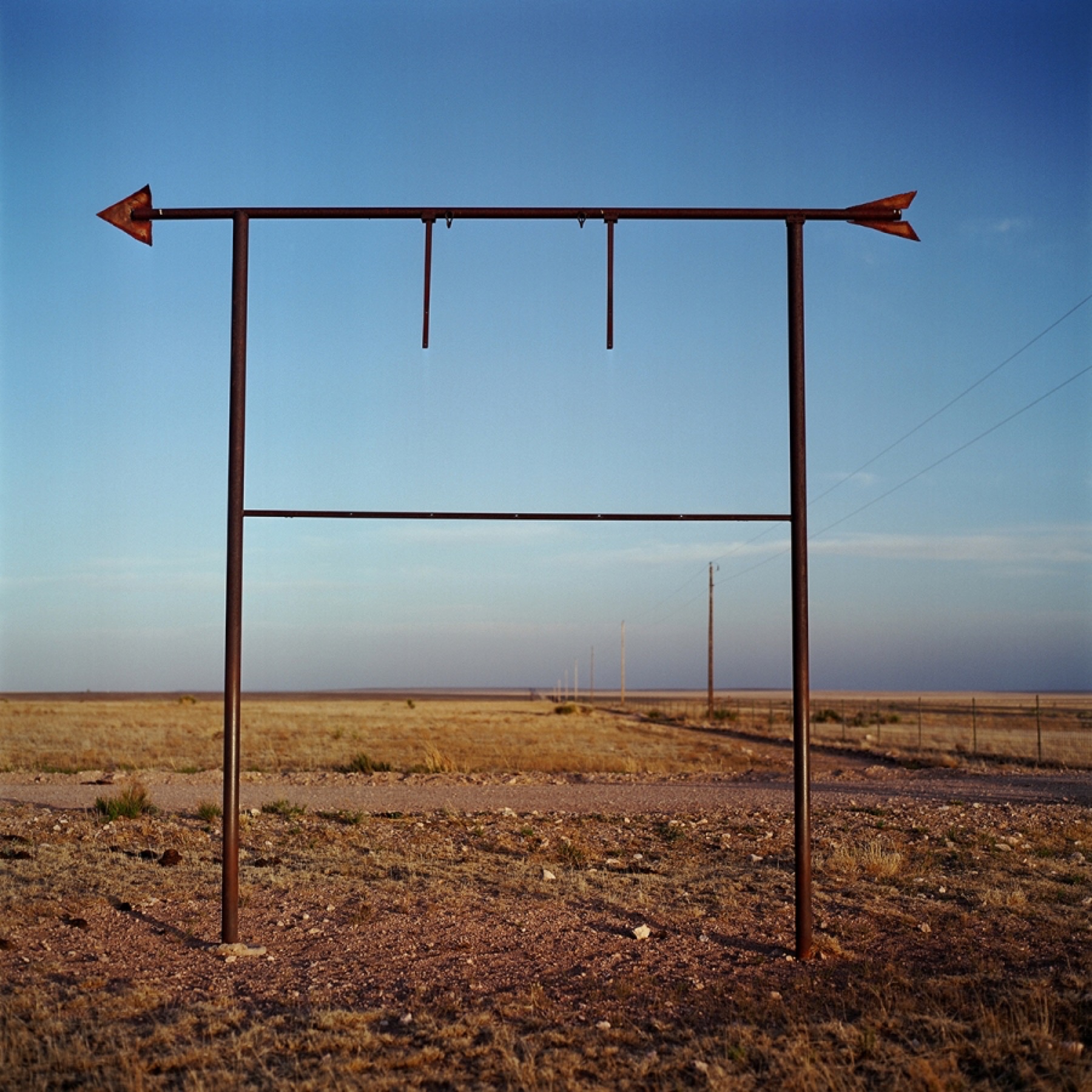 "Road to Valentine. May 2008. Lobo, Texas," by Allison V. Smith; Represented by Barry Whistler Gallery, Dallas
Born Warblin'
By Aaron Alford
The first time I saw Amanda Shires perform was at a folk art gallery in Lubbock, one block away from the Buddy Holly Center, in the Depot District downtown. I had lived in West Texas a couple years by then, but I still wasn't used to the place. I grew up down around Houston, in the green, swampy portion of the state that is pretty much Louisiana. West Texas struck me as downright unlivable—too dry, too dusty, no goddamn trees. The land was flatter than a bedroom door. And that mighty Lubbock wind, the way it sings in off the south plains—it was no joke. A fresh layer of red dirt coated my windowsills every morning, no matter how tightly I'd closed my windows the night before. Lubbock felt like another planet.
What I didn't understand about West Texas is how all of those inhospitable elements work together to create a brand of music—a mindset—that really can't come from anyplace else. Butch Hancock, one of the Flatlanders, remembered Townes Van Zandt telling him: "All you West Texas guys have that High Plains air in your sound. I can't tell whether it's in your voices or in the general feel of the music. But there is something about that West Texas wind in all of your songs." I knew about Lubbock's past: Buddy Holly, all the guys in the Flatlanders, the Dixie Chicks. But I knew nothing about the new crop, had no clue how West Texas sounded in the here and now.
Some Lubbock natives took me to see Shires play. They called her "Pearl," her childhood nickname, later cemented by the members of Thrift Store Cowboys, stalwarts of the local scene, with whom Shires used to play fiddle and sing backup. Some have compared her voice to Emmylou Harris's or Dolly Parton's, but that's too easy, a good starting point at best. Shires's voice is sweet, for sure, but there's something rough there, too—a warble in every other line. You can say the same for her fiddle playing. Her phrasing is smooth, flowing out in straight, unobstructed lines, yet occasionally aggressive, even abrasive. It makes sense: as a teenager, Shires joined Bob Wills's legendary backing band, the Texas Playboys, fiddling in the Western swing tradition—but she also loved Nineties grunge rock and gangsta rap.
The show that night was free, all ages welcome. West Cross Timbers, Shires's first solo album, had just been released, and she was getting good reviews coast to coast. The pride of Lubbock. Old-timers in the crowd arrived early, white-headed men in Wrangler dress jeans pulling out folding chairs for their wives. Tattooed hipsters stood around, cross-armed, decoding the pictogram puzzles underneath their Lone Star Beer bottle caps. A couple of toddlers were spinning in circles near the stage, just out of reach of their mothers. When Shires strolled up to the mic everyone hushed. She wore a black dress and custom-made white leather cowboy boots with fiddle f-hole designs curving up the sides, AMANDA and SHIRES emblazoned on the uppers. A hawk feather stood erect in her hairband. She softly strummed a ukulele for a few bars and then, with her eyes turned up to the ceiling, she sang for us the sound of West Texas right now.
A few years ago, Shires moved to Nashville. ("Not East Nashville, though," she says. "I'm not that cool. I like to keep things quiet.") I called her up the day before she hit the road to open for John Prine in St. Louis—after that, a string of gigs with Richard Thompson. Her cell phone number still has the Lubbock area code.
---
You started out as a sideperson, playing fiddle and singing backup with Thrift Store Cowboys and later recording and touring with national acts. What made you pursue a solo career?
It started back when I was doing side work for Billy Joe Shaver. After you ride many miles in the car together, sometimes Billy Joe says, "Let's hear some of your work." So I played him some songs. I didn't want to, but you can't really say no to the person who's writing your checks—or to Billy Joe Shaver—so I let him hear it. He said, "You should really do that. Go be a songwriter." I didn't think too much of it at the time. I was mostly hoping that he wasn't trying to fire me. But after a while, I starting thinking, yeah, that's what I want to do.
I was trying to be on my own in Lubbock, playing my own songs, but I guess people didn't see me like that. It was my fault, because I had to pay my rent, so I was still taking sideperson work, which kept me from being known as just that. I had written some songs with Thrift Store, but it was never an idea that I could do it on my own, solo, until Billy Joe told me to. He even said, "There's no loyalty in side work. This week, fiddle is cool, but next week, it might be a dobro, and then where will you be?"
So then I moved to Nashville and started waiting tables and not being a sideperson at all, really, except for people that I really liked. I told myself I was never gonna do studio work or play with people that I didn't feel like I could learn anything from. I used to do quite a bit of that—side gigs that weren't my favorite—just to pay the bills, saving up money to make West Cross Timbers. I had to reestablish myself. And Nashville works a lot better, logistically—you can drive a couple hours and be in a different state. It's not like that in West Texas.
Before West Cross Timbers, you released Being Brave, a record of mostly instrumentals and traditional tunes. Why'd you start with that?
It was a sideperson release. All covers, except for maybe two songs—just demonstrations of my fiddle playing. And singing, too, so people could hear me sing harmony, just in case they wanted that. It's sort of like a calling card. I learned it from the Playboys. A lot of them, the fiddle players individually, have solo records. Bobby Boatright and Frank McWhorter—they all had fiddle albums for sale, and they would sing the songs for people to hear how they sang. They needed some audio to pass around. The Internet wasn't that good back then [laughs]. Being Brave was all about that. I had no intention of being a solo artist then. I was just playing fiddle and singing harmony. Occasionally at gigs I'd sing lead so that the lead singer could take a break.
You grew up in Mineral Wells in North Texas, but you spent a lot of time in Lubbock when you were young, right?
My folks are divorced so I went back and forth.
Growing up in West Texas, were you aware of the Western swing fiddle tradition? Is that what made you pick up the instrument?
No. I picked up the fiddle because it was pretty. I was at a pawnshop with my dad, and a fiddle was hanging there, and I was like, I wanna play that. I don't know how, no one in my family's a musician, but I wanna learn how to play that. To me, it was beautiful, and it was really mysterious-looking. We were a poor family, and that fiddle was sixty dollars. It was a lot of money for my dad—and for me, even, now—but he said, "If I get this for you, you have to learn how to play it." And I got it, and I broke all the strings, and when the summer was over, I went back to my mom's and told her, "I have to learn how to play this." I was taking orchestra at school, and she enrolled me in lessons with Lanny Fiel. He's the one who started transcribing the fiddle tunes from Frankie McWhorter, and McWhorter had learned a lot of his fiddle repertoire from Eck Robertson, who was a Texas fiddle player way earlier, a 1920s guy, up in the Panhandle I believe. Lanny's the one who introduced me to the Texas Playboys. So I was listening to a lot of Bob Wills music, along with rap and hip-hop. I had to keep up with whatever was cool on Z102 FM in Lubbock, so I wouldn't be the odd man out at school. But I just listened to so much Bob Wills at that time.
Is Texas fiddle music a strictly West Texas, Western thing?
Well there are fiddle players from West Texas and the Panhandle and East Texas. There's so many fiddle players in the world. Even really good ones come out of Florida. But Texas fiddling is its own thing. You kind of have to hear them next to each other to know what I mean, but if you put a Cajun fiddler next to Eck Robertson you can tell the difference right off. And Texas is next to Louisiana, too. Those Cajuns, man, that's a whole different ball game. Texas is so many different things, and so is Texas fiddle music. Texas swing is different from Texas contest fiddling is different from zydeco fiddling.
If you're gonna play in Texas, you gotta have a fiddle in the band.
True that.
Did all of that traditional music influence the way you sing? Were there female singers you modeled your voice after?
I mostly listened to male singers, growing up. I think the comparisons I get are because I kinda sound like a goat sometimes. I was in the studio once, during Carrying Lightning, and David Henry, the producer, would say, "Less goat, more note!" I went to a vocal coach to try and get control of it, you know, but it's not really that controllable. Some of us are just born warblin'.
Your solo records are decidedly not Western swing, and you obviously don't play like the Playboys when you're playing with Justin Townes Earle, Todd Snider, or your husband, Jason Isbell. How have your roots in that musical tradition stayed with you?
I learned how to improvise from playing with the Playboys, and that's a tool I use anytime I'm on stage playing fiddle. Sometimes, if a song sounds a little more Western, I know how to take it in a Western direction. But I've been learning a lot of more rock & roll–style fiddle, too, and whatever else I pick up along the way. You absorb everything, and eventually you grow into your own thing. You figure out what you like. If somebody wants a grittier, more eccentric fiddle, they might call me, like Todd Snider did. But if they want somebody who plays real clean, more traditional, they'll probably call somebody else. But the guys I play with are all songwriters, and I'm way more into words now than anything else.
I've heard a lot of musicians talk about the landscape in West Texas and the effect it's had on their work. Some say that the sky is so huge out there, and the land so flat, that it makes you feel very small. You have to create something, make some sort of noise, just to know that you're alive.
I'd say that's true, for sure, though I can't say I've thought about that too much. It's interesting, when you drive through Texas, from Nashville, how the sky just opens up. There are no trees, it's all flat. It's so relieving, just to be able to breathe that much. It's a different headspace. When I bring people there, they find it very odd, but they eventually love it. It's unique in the way that it looks, and the people are so hospitable there, friendly. You have to be if you're in a place that has a lot of prairie dogs.
It's a different kind of niceness, though.
It's not like Southern hospitality. In West Texas, we don't say "Bless his heart" as often and mean it sarcastically or facetiously. We're a bit more genuine. There's not as much of that polite just because you have to be. People tend to speak their minds in West Texas. They don't mask it. They're a little more direct.
Everything is direct in that landscape. There's no hiding anything. You can see what's coming at you from around the bend because there are no bends.
That's the damn truth! You can see your enemies approaching.
Maybe this ties into what you said about your fiddle playing, how if somebody wants a grittier, more abrasive sound, you can do that, but if they want something smooth and sugarcoated, that's just not you.
And I'm not gonna do it! In my early days of playing, I might have tried to, but now I know myself and what I do.
---
Enjoy this story? Subscribe to the Oxford American.