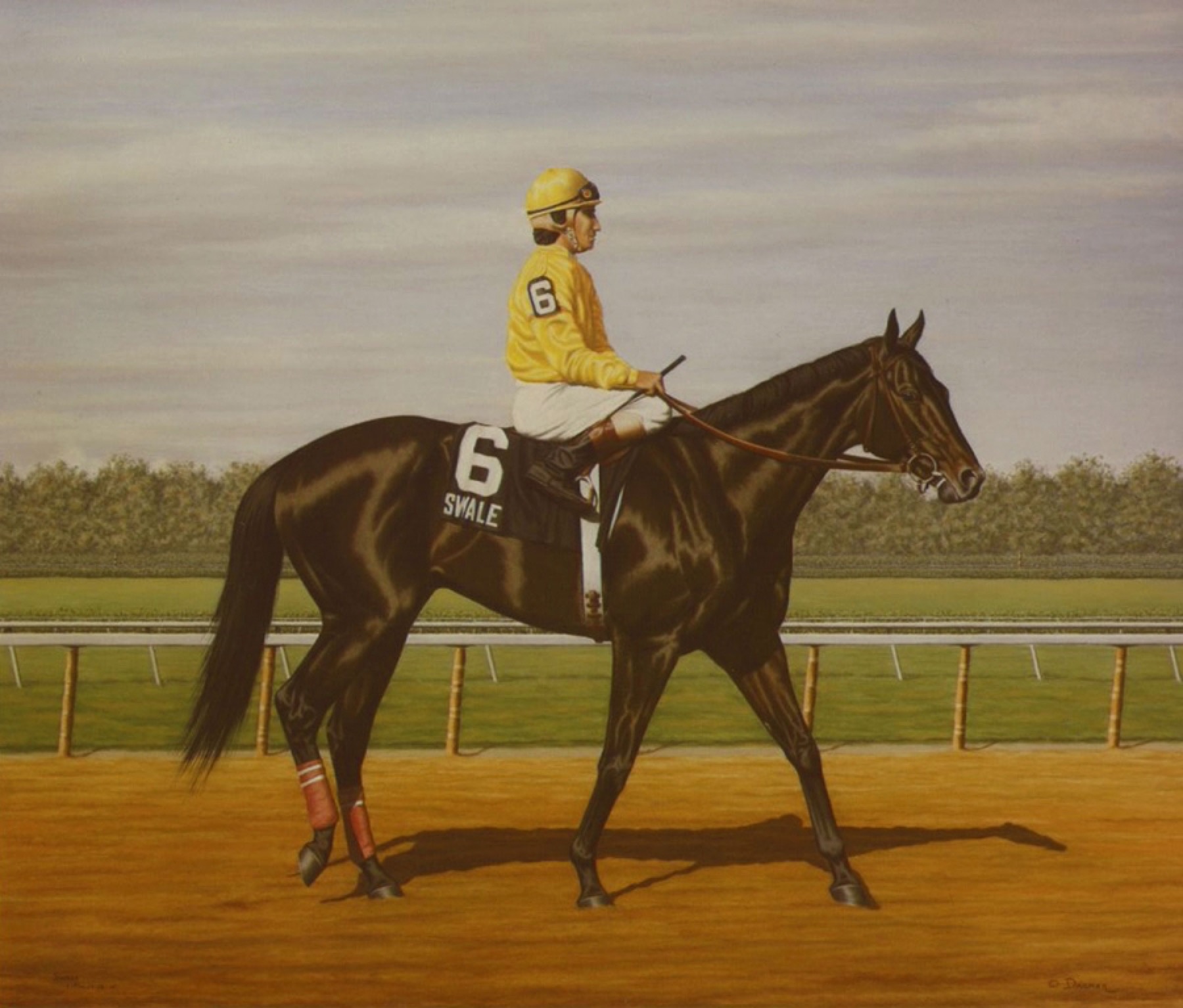 "Swale" by Dagmar (info@dagmarhorseart.com)
Swale
By Michael Klein
It's Derby Day. And it's been 30 years since 1984 when I stood in the grandstand at Churchill
Downs after betting my last $20 on Swale that horse I groomed and watched as he pulled away
from Wayne Lukas's great filly Althea to win the 110th running of the race. Thirty years and
a lot of souls have risen to the upper register of life and my own life has been made more reach-
able by what their love did to me. I read some books and wrote some books and watched perfor-
mances that moved my thinking. I've seen the man who gave me horses go home to his mother
and I've seen other horses break down or go home to the grasses of their beginning to make more
of their blazing kind. And after it all I met the love of my life and when the government turned
something over I foolishly married him foolishly only because all marriage is foolish—that er-
rand into the maze. It's Derby Day and I'm remembering my life in a stable and the ordinary
living that spilled around it. I've eaten good food in places that had views of the everlasting and
I'm certain I've seen the face of God on more than one occasion and I've held animals so close to
my own body that something in theirs must have passed through mine. But nothing has given
me more life than watching that big black beautiful shining soul run through the animal line and
past all comprehension into the music of his speed and win that race on The First Saturday in
May, in The Year of Forever. Here's to Swale and to others of his kind, creature of my joy and of
my sorrow.
---
 Listen to Michael Klein read "Swale"

Unable to embed Rapid1Pixelout audio player. Please double check that:  1)You have the latest version of Adobe Flash Player.  2)This web page does not have any fatal Javascript errors.  3)The audio-player.js file of Rapid1Pixelout has been included.
Enjoy this poem? Subscribe to the Oxford American.