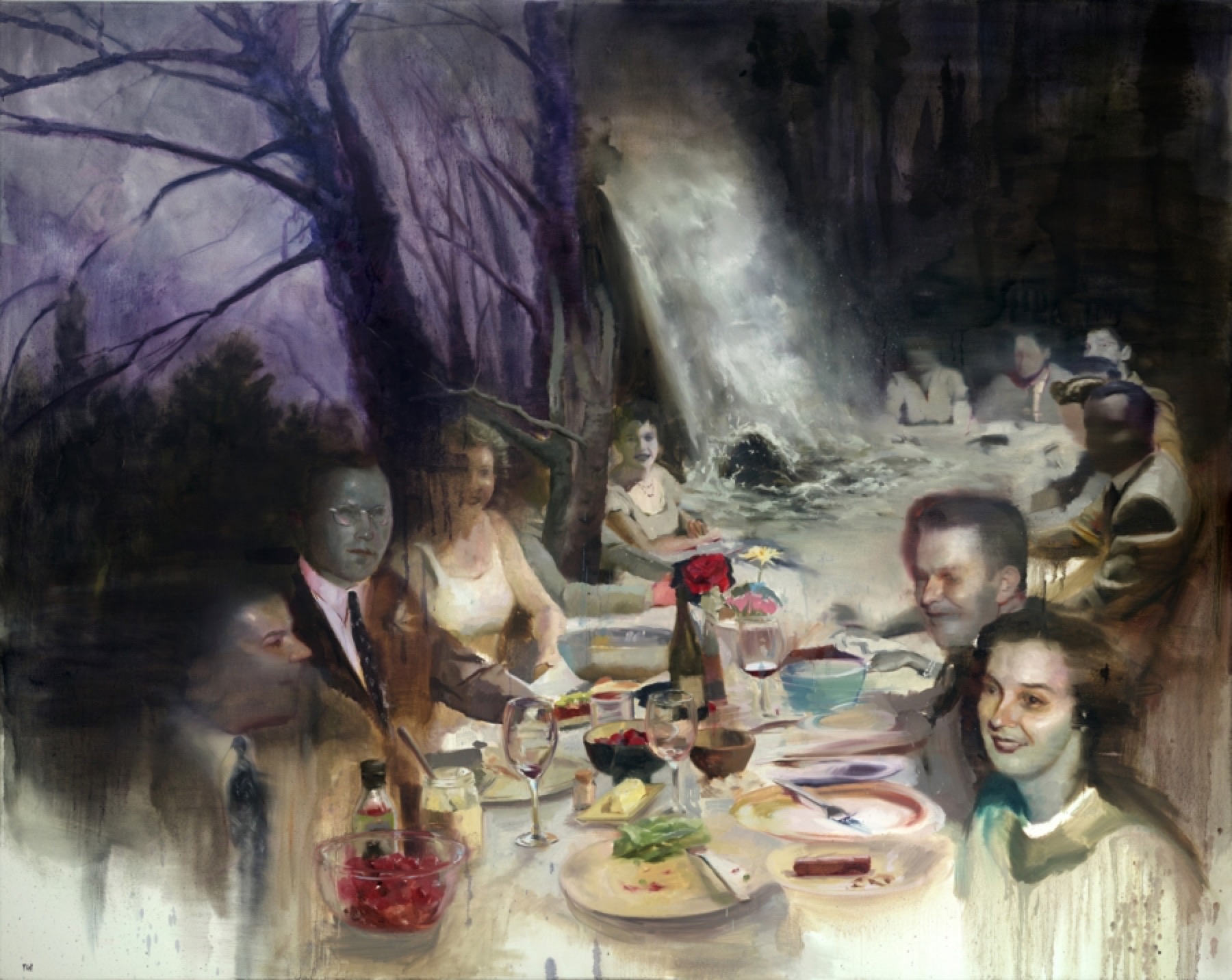 "The Banquet" (2015), by Joshua Flint
Road Tripping with Nathalie Dupree
By John T. Edge
We did those things that road trippers do. Nathalie Dupree and I split a fried pork chop sandwich on white bread and ate it as the crust broke into shards that disappeared between the velour seats of my rental car. From the same South Carolina café, named after somebody's momma, we bought a clamshell of randy liver pudding floated in a puddle of chalky grits, and, because we weren't really hungry, tucked the box in the backseat, where it perfumed the interior with the sweet offal smell of gelatinized pig. 
Nathalie, a doyenne of Southern cuisine and a dominant food television personality of the late 1980s and early 1990s, told a story about a famous food writer who got tore up the night before taping her show and groped an aspiring restaurant critic beneath the dinner table. "The next morning, we had to drag him bodily from his room to get him on the set," she told me. When I mentioned a beloved Louisiana chef, Nathalie cut me a quick and sparkling glance that suggested she knew him in a more intimate and complex way. "We were very close," she said, her voice gone soft, almost kittenish. Nathalie's second husband, whose last name she kept after they divorced in 1976, was gay, she told me. When other wives of that era went through similar breakups, a phenomenon that proved fairly common in the culinary world, Nathalie commiserated and counseled. 
The night before our drive, Nathalie had taught a cooking class in Atlanta with cookbook author Virginia Willis, one of dozens of female chefs, writers, and entrepreneurs she has mentored over the past four decades. I had stopped in Atlanta in the middle of a long drive from Oxford, Mississippi, to Charleston, South Carolina, where Nathalie has lived since 2002. She needed a ride home. I wanted to confirm some of what I had learned while rooting through her papers, researching a history of the modern South told through food. In advance of negotiating deposit at an archive, Nathalie had stacked a couple dozen boxes of letters and manuscripts and ephemera in the Atlanta home of one of her oldest friends, a book dealer who does appraisal work on the side. 
A couple days of plumbing the pasteboard in his garage had offered insights. Her grandfather had been a socialist newspaperman. She had volunteered for a college bloodletting experiment because she needed the money and because she aimed to rebel against her Christian Scientist upbringing by violating its teachings against medical intrusion. Her first husband had been a Democratic Party activist. She had married her third husband, Jack Bass, in 1994, during a chicken junket to Jamaica sponsored by the National Broiler Council. When she was preparing to fly to New York City in 1991 to cook on one of the morning shows, she told the gossip columnists at the Atlanta newspaper that she planned to stow her ingredients for the demo in her carry-on: "It's an exciting life. I travel with chicken, asparagus and my underwear in a suitcase."
Back in the 1960s when culinary epiphanies were vogue, Nathalie glimpsed a path forward while watching Julia Child simmer coq au vin on public television, and while subsequently living and traveling in Europe. By the time Nathalie returned to the States in 1971, she had earned an advanced diploma from Le Cordon Bleu in London, operated a dessert kitchen out of her Mayfair flat (delivering lemon soufflés via taxi to wealthy matrons), and run the kitchen at a restaurant on Majorca, Spain. Ten years after Child swanned into American living rooms, espousing the Life Bourguignonne, Nathalie, born in 1939, emerged as a second-wave women's libber, determined to sidestep "the problem that has no name."  
Together with her second husband, David, she opened a restaurant, Nathalie's, about an hour southeast of Atlanta near Social Circle, Georgia. They lived in a trailer on the restaurant property. To raise money, Nathalie delivered newspapers, flinging them across the seat and through the open window of her Vega. Set across from the Tri-County Cattle Auction Barn, in sight of a drive-in movie theater, near a rural bus transfer station then said to be the busiest in the nation, Nathalie's opened in the rear of an antiques store in 1973. The vibe was equal parts Green Acres, which had ended its prime-time television run two years earlier, and Diet for a Small Planet, Frances Moore Lappé's argument for a vegetable diet published that same year. 
Served out of what had recently been a machine shop warehouse, the menu was tearoom fare like chicken salad on a bed of watercress and iced cucumber soup with shrimp. A focus on Southern cuisine would come later, as she worked alongside Kate Almand, a white, working-class woman who had labored in the mills. Almand was forty-five when she began working for Nathalie, first as a dishwasher, later as a prep cook. 
As Lappé would have it, Nathalie sourced her vegetables from nearby farmers. She grew backyard crops of Jerusalem artichokes, fennel, and garlic. As Eva Gabor would have rendered it, a community theater staged earnest musicals in the same building, and Nathalie set the tables with red-striped napkins, family china, and heirloom silverware.
The ladies-who-lunch liked that Nathalie tended plots of herbs that she stirred into vinaigrettes and grew pots of pansies that she scattered as garnish on salads. The restaurant drew Atlanta day-trippers like Andy Young, the civil rights movement veteran and future UN representative, and members of the Rich family, who ran what was then the largest and most influential department store in the South. Before David and Nathalie Dupree amicably divorced, Nathalie moved to Atlanta to found the Rich's Cooking School, which she ran from 1975 to 1984. David eventually decamped to San Francisco.
An hour outside of Augusta, on the Charleston side of Orangeburg, where my mother grew up, Nathalie signaled for a stop at a roadside farmer's market. She moved swiftly through the lean-to, buying boiled peanuts, apple butter, and oversized bags of field peas. From a bin of tubers, she selected the smallest turnip roots and talked about the recent vogue in vegetable cooking. I asked her about the school, in which my mother had once enrolled, I seem to recall, to learn French onion soup technique.
Rich's Cooking School was a social boot camp for the newly arrived and the newly middle class who longed to bake Julia-worthy tartes Tatin and wield Cuisinarts in the service of beaten biscuits. A generation of Southerners learned to cook in the twenty-stove basement kitchen of Rich's flagship downtown department store in Atlanta. Dozens of Nathalie's graduates went on to start their own businesses or write their own books. Bill Neal, the Chapel Hill, North Carolina, chef who led the restaurant renaissance of the 1980s, enrolled in pastry classes. Novelist Pat Conroy was one of more than 10,000 students who learned how to truss chickens and whisk vinaigrettes at Rich's. At Nathalie's suggestion, Betty Talmadge, ex-wife of U.S. Senator Herman Talmadge and sideshow star of the Watergate hearings, began staging elegant events she termed magnolia suppers at her columned antebellum home. 
Flyers for the first round of Rich's classes promised mastery of oeufs aïoli, pommes Mousseline, and lamb Breton. Early in her tenure, Nathalie introduced the gentry to pan-sautéed kidneys. For a generation then trying to leave the farm behind, however, the barnyard scent proved too strong. "I thought I knew so much, and, of course, I knew nothing at all," Nathalie said. "We cooked those kidneys, and they smelled like baby's diapers. The whole Rich's store, from top to bottom, smelled like baby's diapers."  
In addition to Continental frillery, she cooked a classic Southern repertoire of cheese straws, country ham, and black-eyed peas. Later came the dishes that would make her famous, like a yogurt-thickened grits roulade stuffed with button mushrooms and ham, turnip-greens pasta, and butter bean soup brightened by Champagne. Nathalie played the New South card early and often. To sell Cooking of the South, her first widely distributed cookbook, published in 1982, Nathalie printed flyers that read, "Putting the glory back in Grits & Gravy." 
At a time when the urban South was awash in faux French and Italian restaurants and the creative class wanted for a salon, the culinary and literary elite gathered at Nathalie Dupree's Atlanta dining room table. When Jacques Pepin came through town, Nathalie hosted him. Paul Prudhomme and Julia Child got the Dupree treatment, too. Child got too much of it. After eating a grits roulade in the Rich's kitchen, Child asked Nathalie to promise that, next time, she would get to eat "good old Southern food."
She met expectations. And, when she thought it necessary, she played to stereotypes. "We have not been willing to relinquish those foods that satisfy our yearnings for days gone by," Nathalie wrote in New Southern Cooking, tipping her metaphorical bonnet to the ambrosia- and magnolia-scented past. In the introduction to New Southern Cooking, her 1986 book that went on to sell more than 300,000 copies, she spoke for white Southerners in a tone that rang falsely patrician: "Our desire to preserve, to hold on to, and remain set in our ways is reflected in our politics and customs and in the soul food that became a trademark and mainstay of Southern cooking," wrote Nathalie, a self-described military brat, born in New Jersey. "Much of it came from former slaves who were our cooks." 
More often, Nathalie embraced an expansive view of the South. Through the classes she taught downtown and the social set she cultivated in her home, Nathalie subverted bourgeois traditions while taking best advantage of the creature comforts they promised. 
I got to know Nathalie back when I was young and full of myself, and when she was stalling after a long ride atop the Southern food world. We didn't get along. When she briefly lived around the corner from me in Oxford in the late 1990s, I remember an argument we had in her living room about how grits were ground. (After I got home and dug into my library, I realized she was right.) 
I didn't appreciate Nathalie. That was my problem back then. And that's often the problem today among a chef- and youth-obsessed American food oligarchy that undervalues its forebears. On that subject, Marlene Osteen—who, along with her husband, Louis Osteen, rode the crests and trenches of fame during the same era—told me, "Chefs are like gymnasts and models. They get noticed early and become irrelevant quickly." 
Nathalie had ascended when cooking was thought of as women's work. So was writing about food. I came on the scene as men began elbowing women out of the conversation. I did myself no favors. Others wrote about mere food. I tackled race and class and gender. As evidence of my serious-minded approach, I quoted William Faulkner on verities. I cited Richard Wright on hunger. And I spoke with more self-satisfaction than I care to recall of my early work for this magazine. As I talked, Nathalie tossed her bob of blond hair and flashed a toothy smile that said she was on to me. 
Beginning in 1986, White Lily, the biscuit flour miller then headquartered in Knoxville, Tennessee, bankrolled a television show. Nathalie, who would go on to host eight more series on public television and, later, the Food Network, misplaced ingredients in the midst of an episode and burned herself while the cameras rolled. Back when fealty to farmer's market produce was a budding mark of sophistication, she told viewers of New Southern Cooking with Nathalie Dupree that she shopped at the grocery store. During one taping, a crawfish escaped and skittered across the set. 
Nathalie proved a sort of everywoman cook, famous for on-camera gaffes. Every third publication crowned her the Julia Child of Southern cooking. People called Nathalie the anti–Martha Stewart. The magazine revealed that she liked to serve boiled shrimp on newspaper placemats spread across her living room floor. And that she once presented a cheater grocery store cake on a Today Show cooking segment. Before chefs became brand embodiments who make their money doing things other than cooking, Nathalie pioneered corporate consultations. Krystal, the Chattanooga, Tennessee, hamburger chain, contracted with her to help them bake morning biscuits for drive-thru consumers. The Richmond Marriott opened a restaurant, Nathalie Dupree's, serving recipes inspired by her books.
But Nathalie was never satisfied with her status. She thought her talents were underappreciated, her shows underfunded. She sometimes stamped her feet for attention. "My show is a hit in Hong Kong, and I can't even get an appointment here with Coca-Cola," she said in 1994, when her fourth show, Nathalie Dupree Cooks, was the second-most-popular cooking program on public television (behind the Frugal Gourmet). "You'd think somebody would want to sponsor us, but no. Kroger told me they didn't want a national show, then I'm told by national people I'm too regional."
Nathalie and I were talking through her recipe for turnip-greens pasta when she motioned for me to pull over the rental. She had spied a field of cotton that had not yet been picked clean. Before I knew it, she had pointed her slippers toward the ditch and jumped over a low berm. As I looked over my shoulder for a farmer with a gun, she waded into the field, snapping branches into a ready-made bouquet and telling me that she likes to have cotton bolls on hand for the dinner parties that bring out-of-town visitors to her Charleston table. "Jack and I hand these over to dinner guests and instruct them to pick the bolls clean of seeds," she told me. In her telling, Nathalie spun the story of how the cotton gin catalyzed the spread of cotton monoculture, and helped entrench the slaves and tenants on which it depended.
Throughout her career, Nathalie has been called on to explain the South. When a New York Times reporter came to Atlanta in 1986 to take the measure of the latest Southern cultural renaissance, she was his guide. Nathalie took the writer to Mary Mac's for potlikker and corn sticks and a talk about the unsung female tearoom entrepreneurs of the South. She spoke of beaten biscuits, about how they had once been the labor of slaves, about how poverty imprinted the foods of both whites and blacks, and about the challenge of replicating dishes handed down through oral traditions. Nathalie made a strong argument that Southern cooking should be considered a cuisine. "People go all the way to Italy to study how to make pasta under Giuliano Bugialli," said the woman who went all the way to London to learn how to stew coq au vin. He moves his hands, she said, in the same way a Southern cook shapes biscuit dough. "It's just that no one ever bothered to say that making Southern biscuits was a technique worth learning."
As we gossiped down the highway, passing clapboard churches, abandoned freight depots, and ruined fast-food restaurants, I realized that I had previously dismissed Nathalie's work in the same way that some academics had previously dismissed my own writing, saying the study of food can't amount to much more than indulgence and dalliance. We had kept up through the years, but I had never paid honest attention to Nathalie Dupree until recently. 
Ever since she met Kate Almand, Nathalie has spoken up for women's rights, agitating for better pay and honest attribution. Almand was her understudy in French cuisine and eventually taught Nathalie much of what she knew about Southern cuisine. From Almand, Nathalie learned to roll and shape biscuits by touch and how to teach that touch to others. "I believe she was born with a biscuit bowl in her hands, as other people are born with silver spoons in their mouths," Nathalie wrote. "I'd rather have her gift for baking biscuits than any number of silver spoons." Working with Almand, she learned to value the labor of all working-class women. 
The morning after speaking to a men's group one night in the 1990s, Nathalie sat to reflect. The person who decides what and when and where food will be eaten wields power, she wrote. "I know this because I am a Southern woman, and for us, the only place to wield power was in the home—most specifically in the kitchen. Blacks knew this too. Keep a white man happy, be you slave or woman, and your lot in life will be better—you may even be able to get some of what you want."
Before food personalities became cultural lodestars, called to speak out on everything from gun control to same-sex marriage, Nathalie was one of the earliest television hosts to mix food and politics. For television tapings in the late 1980s, she wore an AIDS ribbon, a bold move at the time for a woman whose audience skewed middle-class conservative. When Salman Rushdie's The Satanic Verses was banned in some countries and Ayatollah Khomeini of Iran issued a fatwa ordering Muslim believers to kill Rushdie and his publishers, and attack bookstores that sold his book, Nathalie—who had volunteered for the ACLU as a college student—helped plan an Atlanta publication party for the author. And then, when Muslim protesters gathered to speak in opposition to Rushdie, she defended their right to be heard. She also presumably served the activists celery boats stuffed with pimento cheese.
In 2010, Natalie crossed over to the other side of the political divide, as had her husband, Jack Bass, who distinguished himself as a journalist before he ran unsuccessfully in 1978 for a U.S. Congress seat from South Carolina. Unlike her husband, she sprinkled speeches for her write-in candidacy to unseat Tea Party–leader Jim DeMint with food metaphors. "I'm a long-shot candidate, yes, but I've been in the homes of hundreds of thousands of South Carolinians over the years through my cooking shows and books," she said in a prepared statement. "I know you, you know me, and you know I mean business when I tackle anything. It's time to cook some goose, and the goose is Jim DeMint." She told a New York Times reporter that she was qualified to "bring home the bacon." 
When I dropped Nathalie at the Queen Street house she shares with Bass, I double-parked out front and off-loaded her farmer's market score onto the piazza. The field peas had begun to thaw, but the clamshell of liver pudding had not yet gone stinky. Just before I hugged Nathalie good-bye, I paused to apologize for my past hubris. Rooting through her papers and then driving her across two states, I had been humbled. But the spell of the road was broken. I lost my nerve, and with it my opportunity. 
Later that afternoon, after a long lunch with a friend, I drove to a Charleston bookstore to buy a copy of Mastering the Art of Southern Cooking, her cookbook with the Julia Child shout-out of a title, the book she won a James Beard Award for in 2013. Nathalie had told me on more than one occasion over the past couple of years how proud she was of that effort. I figured that buying a copy might serve us both as a reconciling gesture. But when I plopped down my credit card, the clerk told me they were out of stock. 
---
Enjoy this story? Subscribe to the Oxford American.