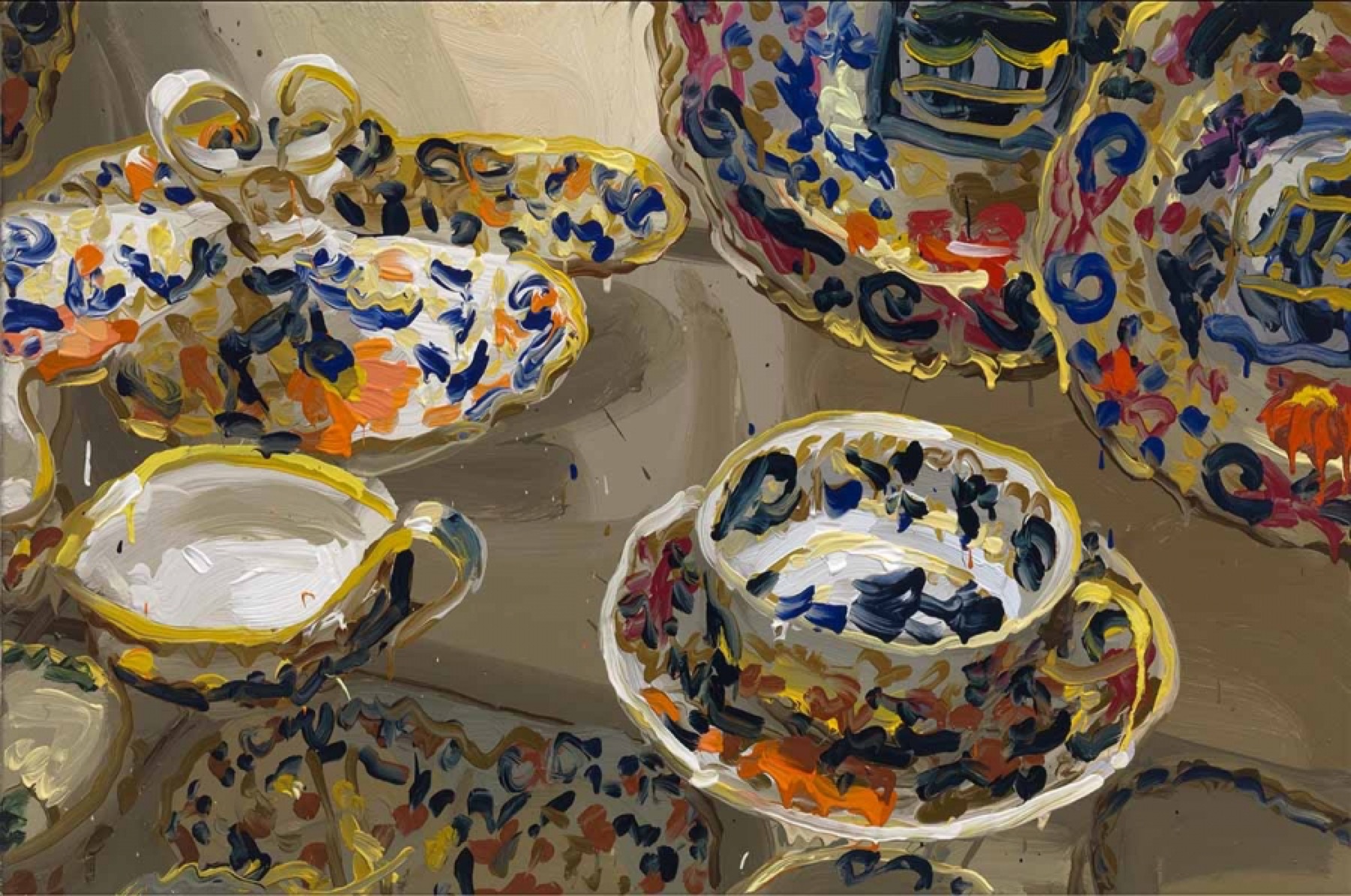 Paintings by Jan De Vliegher
The State of the Plate
By Kelly Alexander
When I drove into the parking lot of Replacements, Ltd., on the outskirts of Greensboro, North Carolina, I thought of a saying that Rosanne Cash attributes to her father, Johnny, who was an avid collector of rugs, china, linens, and furniture: "Every possession is just a stick to beat yourself with." There are many, many sticks with which one might beat oneself at Replacements, a compound devoted to items for the table—amassing them, maintaining them in fine form, and repairing them when they get damaged. It is also the nation's largest dealer of discontinued fine china, silver, and crystal.
I came to see the huge collection of Fiestaware, the beloved American-made brand of colorful china, and to follow a hunch I had that a plate has special significance in the South. This was both an ethnographic mission for my work as a cultural anthropologist and a personal quest: I am one of countless Americans who collect Fiestaware. Nietzsche would describe me as an "antiquarian," or someone who believes that the past "belongs to the preserving and revering soul—to him who with loyalty and love looks back on his origins." Mostly, I hoped to understand the pull in my gut, an embodied sense of longing, I feel every time I see those brightly colored dinner plates.
The business was dreamt up by Bob Page, a native North Carolinian who grew up on a tobacco farm in Rockingham County, in the north of the state near the Virginia border. Page opened the place in 1981. Though "place" doesn't really cover it. Replacements started as only one small warehouse, but now the grounds consist of a showroom, a call center, a silver-polishing facility, a shipping warehouse, and aisles upon aisles stocked with more than twelve million pieces of merchandise, from bedside water carafes to one of Harry Truman's mint-green trimmed dinner plates. All told, Replacements is the size of eight football fields. The stock includes more than 400,000 china patterns, from very rare porcelain to melamine plasticware to paper plates decorated with blue and yellow flower prints.
A sign above the main building's façade directs visitors to the showroom, which is essentially a gigantic lobby that Page created as an entrance for Replacements' massive warehouses. But what a lobby it is. Page is something of a collector's collector, and one of his passions is large display cases—the kind you might find in stately old department stores. Some of the cases are stuffed with silver, some with Art Deco pitchers, others with Fiestaware. Show tables coordinate with the holiday of the season. My visit was near Easter, and several tables groaned under the weight of sterling candelabras and lead crystal candlesticks. Another featured Wedgwood's Beatrix Potter–inspired Peter Rabbit porcelain china, a whimsical yet high-end item designed for the tiny collector. Near the front door was an enormous table devoted to Fiestaware and all of its latest colors and pieces, including a hand-soap dispenser I'd never seen before. As I stood gaping at a plum-colored spoon holder, I noticed a small crowd gathering near the doorway to await a free guided tour of the facility. Tours are offered every half hour, seven days a week.
A small and cheerful woman with a Replacements name tag arrived and introduced herself as Nicole Hall. Sporting shiny blond-brown hair, frosted-pink lipstick, and a long floral skirt, Hall greeted us and announced that she had been working at Replacements for a decade. (Her husband, Todd, she added, had worked there for more than twenty years. He runs Replacements' on-site "Imaging Services," where photographs of the wares are shot for catalogs and billboards.) Hall has a mellifluous voice and soft features, and the effect of being in her presence was rather like that of eating a Brach's butterscotch candy.
She whisked our group through sliding doors, from the showroom into a Home Depot–like warehouse, or several Home Depots strung together—only in this industrial space the rows of light bulbs and lawnmowers have been replaced with boxes of china, pallets of Christmas ornaments, and rows of candlesticks. As we walked, she told us the story of Bob Page's life.
I was already familiar. Several years ago, I met Page when I coproduced a piece for National Public Radio's "Marketplace" about the most interesting places to work in the nation. Replacements frequently ranks on such lists, whether compiled by Fast Company or by the Advocate. Page is both a very rich man and an outspokenly out gay one, and he has chosen to combine his personal wealth with his politics and his business practices—he openly lobbied for the legalization of same-sex marriage in North Carolina. As an employer, Replacements is demonstrably gay friendly, as well as pet friendly and family friendly; employees decorate the walls with rainbow stickers and family photographs, and dogs roam inside of pet-gated cubicles. At sixty-nine, Page himself is unassuming, petite with chocolate-brown hair and eyes, and a gentle smile. He is also an avowed Southern materialist, and objects of the table mean much more to him than mere monetary values could convey. For him, the concept of "hope chests" needs no explanation; Page treats plates, silver, and crystal as though they have acquired—despite their composition of molded clay or pressed metal or heated sand—an otherworldly, almost heavenly dimension. As he tells it, he did not build Replacements because he saw money to be made in discontinued china patterns. He did it out of love.
When Page was growing up in rural North Carolina, he didn't know anyone who was openly gay. He endured the hardship of being different in a small town, and the pain stayed with him: after he was drafted into the Army, he considered suicide. By the time he became an auditor for the state in the late 1970s, he was miserable in his job. He spent weekends junking around flea markets and trolling for collectibles, and he found that he looked forward to this hobby far more than he enjoyed going to work. He said, "My love of flea markets and the fact that I hated my job were the two things that compelled me to start Replacements."
At first, Page went to the markets only for fun, but he soon began scouting for an increasingly wide network of friends—especially the kindly old ladies in his neighborhood who collected china. He created a cataloging system on index cards to keep track of which friends collected which patterns. That system eventually evolved into a china collectors' database, and then into the brick-and-mortar business. In its first year, Replacements grossed about $150,000. The next year, Page purchased ads in the two magazines he felt collectors were likely to subscribe to: Better Homes and Gardens and Southern Living, which were also his mother's favorite publications.
In 2015, Replacements grossed more than $80 million. Seventy percent of that profit came from Internet sales, many instigated by inheritors of incomplete sets of dishes who had finally found the "replacement" pieces they had been looking for. Other customers had found an easy spot to unload their collections in exchange for cash.
Historians of the South, and even some archaeologists, attribute the Southern tendency toward the valorization of old things to a regional culture that was built on a system of excessive class awareness. According to this worldview, European colonization, the Atlantic slave trade, and the disastrous process of Reconstruction set up an emotional landscape that allowed Southerners to become inordinately attached to their possessions. Take the scene in Absalom, Absalom! in which the tragic and racist protagonist Thomas Sutpen hunts down the French architect he imported to Jefferson, Mississippi, for the purpose of restoring his family's abandoned plantation. Faulkner describes the glow of lit pine knobs at night as shining in the same way that the slaves' skin appeared to be "glinting like glass or china."
Faulkner historian and University of North Carolina–Asheville provost Joseph R. Urgo writes that the author invokes glass and china deliberately in order to show how even "minor accoutrements of wealth and power" mean a great deal in the South when it comes to reinforcing hundreds of years of racial oppression. Urgo sees Southern culture as a "commodity-driven dream" in which things have become equivalent to actual lives.
Indeed, "the things" of the South have codified race and class for centuries, and china is a powerful expression of this. American Studies historian Marcie Cohen Ferris describes national understandings of Southern culture in a discussion of The Old South, the trailer for the 1939 hit movie Gone with the Wind that was devised by MGM executives to contextualize the mega-budget adaptation of Margaret Mitchell's classic novel. "Filled with images of a noble, grand South, the trailer re-created lavish scenes of plantation dining," Ferris writes. "What images better displayed the debauchery and wealth of elite white southerners than those of doting black servants, grand candelabra, domed silver food warmers, fine china, and starched linens?"
Likewise, in Whitewashing America: Material Culture and Race in the Antebellum Imagination, literature scholar Bridget T. Heneghan describes the way in which pre–Civil War Southern society marked "gradations in social status" by way of "specialization of tableware." She cites an etiquette guide for Southern housewives published in 1828 that prescribes segregating household china into three distinct sets: a dinner service of china for company, a dinner service for ordinary use, and a third service for the kitchen. Social classes began to use distinct plates and patterns, so that status was "communicated by the decorations, as more elaborate designs were found on the finer china." In other words, families used plates to tell a story about themselves.
China, like most cultural objects, is subject to trends and the effects of changing tastes over time. In the late 1700s, dishes were mostly plain but occasionally had molded decorations on their rims. Ornamentation increased from the turn of the century until the mid-nineteenth century—the high Victorian era—when consumers began favoring shell-edged vessels trimmed in blue or green. By the late 1800s, aesthetic trends pointed toward plates with decorative imagery like willows or Chinese landscapes.
Enter Fiestaware, the brightly colored plates emblazoned with a simple concentric-circle design—an antidote to those more ornate status-imbued dishes. "Fiesta" is among the most-collected brands of china in the world. It is the most-registered-for casual dinnerware pattern amongst affianced Americans and a powerful symbol of the American dinner table embraced by top chefs—for many years Bobby Flay used Fiestaware in his restaurants—and by home cooks (my grandmother used it).
The Homer Laughlin China Company was established in 1871 in East Liverpool, Ohio, on the banks of the Ohio River. In 1936, during the Great Depression, the company introduced Fiestaware as an alternative to the costly, imported, and fragile bone china from England that was popular among the American upper class. This bone china was becoming increasingly difficult to care for and maintain, especially given the decline in household servants and the rise of women in the workforce. Fiestaware was designed by Frederick Rhead, an English potter hired by the company to produce an affordable, American-made plate that looked expensive and English. Rhead departed from the all-white tradition of British plateware and imbued his mass-produced pieces with a homespun, handcrafted look so that they resemble nothing so much as a series of happy faces.
Over the years, canny Homer Laughlin executives developed a tremendous marketing gimmick that keeps Fiestaware front and center in china aisles within wedding departments and thrift shops alike. Although the line has always been known for its distinctive bright colors, in the mid-1980s, Homer Laughlin began retiring one color and adding a new one nearly every year, creating an economy of value—some collectors will buy the newly retired color, which represents a short-term investment strategy, while others will busily buy up the fresh addition in a long-term play. The year's hue is devised in complete secrecy by the company's ceramic engineer and president, and kept strictly under wraps until it is unveiled at the annual International Home & Housewares Show in March.
Today, Replacements sells a lot of plates that are more valuable than Fiestaware. We passed a "Great Wall of China" on our tour that included one of each of Replacements' five hundred best-selling china patterns of all time. No. 1 was "Christmas Tree" by Spode, an English company that has been in the business since 1770. It is a heavy, cream-colored earthenware plate decorated with an iconic Christmas tree and forest-green trim (a plate retails for about $26). No. 3 was "Kutani Crane" by Wedgwood, the storied brand of bone china founded in 1759 by Josiah Wedgwood, who learned ceramic techniques from noted potter Thomas Whieldon before establishing his luxurious brand. Kutani Crane is a delicate, thin, pure-white plate with a stylized crane in the center whose blue plumage is accented by bouquets of flowers and crosshatched latticework. Page told me that Kutani Crane is meant to "create a look that is reminiscent of Japanese 'floating world' art" (one plate retails for about $60). No. 10 was "Windsong" by Lenox, the only American-based bone china company, which has operated in Trenton, New Jersey, since 1889 and is thus the most "modern" of the "classic" china producers. The plate is translucent ivory with a wide rim of blue-gray flowers. It is trimmed in platinum, and thus not dishwasher safe (one plate retails for about $44).
Nationally, Fiesta outsells them all. This is a feat for everyday china. When my grandmother bought a Fiesta plate in 1939, it cost a nickel; today, one plate retails for about $19. From the beginning, Fiestaware was designed to be a cheap, cheerful-looking alternative to fine china—appealing enough to designate at least a moderate level of respectability. (Perhaps you could not afford servants, but you still aspired to host dinner parties.) Fiestaware likely took off because consumers bought into the idea that dinner served on brightly colored plates might be less sumptuous, even less elegant, than meals served on bone china—but the table would be cuter and most importantly more fun. Remember, in those days "fiesta" wasn't in regular rotation in the United States; it was foreign in every sense. In 1930s America, the word conveyed exoticism—especially to white American men working in boardrooms and naming plates to market to brides—and it signified a lively feeling of sociality, an image of conviviality and lightness and spunk, mixed with a certain kind of sex appeal.
In 1979, Andy Warhol created one of his famous prints for a German newspaper featuring a pig licking a yellow Fiesta plate. When Sotheby's sold Warhol's own three-hundred-piece collection at auction after his death in 1987, Dick Cavett and Paloma Picasso were in attendance, according to the New York Times. So was a physician from Oconomowoc, Wisconsin, named George Stenger, who flew to New York with his family in order to purchase two lots (seventy-four pieces total) for $5,500. In explanation for the purchase, he said, "My mother fed us on Fiestaware."
Decades after Warhol's print, the brand continues to show up in popular culture. It appears in Jonathan Franzen's novel Freedom as an example of the kind of suburban concerns his St. Paul–based protagonist Patty has steeped herself in: "Was it true that the glaze of old Fiestaware contained dangerous amounts of lead?" her neighbors buzz. (Incidentally, gamma-ray emissions from the uranium-based glaze on the line's red plates produced before 1943 are indeed radioactive. The company discontinued the color, which has since been reintroduced with a uranium-free glaze. The original red plates have only gotten more dangerous, since decaying radium also emits radon. For some collectors, this is actually attractive.) Fiestaware is glancingly mentioned in Lauren Groff's superb novel Fates and Furies, in which the protagonist Lotto dreams of having sex with his wife for the first time in his friend's beach house, "a house of tartan and Liberty print and Fiestaware, thick with dust."
As our tour came to its conclusion and Nicole Hall gamely steered our group past the site of the upcoming employee table-tennis tournament, she explained that Replacements employees have a lot of good stories about the materials in the warehouse, like the time the featured feline in a Fancy Feast cat food commercial broke the Waterford sherbet dish from which it was eating in a Los Angeles studio. "They emailed us a picture and we were able to identify the pattern, and then we overnighted the piece to them so they could film again the next day," she explained as we walked by another display case filled with glass sherbet dishes.
We moved along, and she warned that Fiestaware lovers should start preparing themselves.
"Now, one woman fainted when she saw this, and another fell to her knees—I saw it happen," she said as we approached at least fifty feet of shelving containing standing rows of Fiesta plates, all arranged in color-coordinated order. "Fiestaware can do that to people."
It was astonishing, rounding the corner in a drab warehouse full of boxes where everything is brown and beige, only to discover a spectrum of colors that has been arranged in such a pleasing way as to produce the overwhelming emotion of coming home and of being cared for by someone who knows how. It felt like stepping out of a hardware store and into the first color sequence of The Wizard of Oz.
There are 7,206 pieces of Fiestaware currently for sale on eBay, but there are more than 75,000 in the inventory at Replacements, possibly the only place on earth where one can see all those saturated colors at once, including the discontinued lines that Homer Laughlin does not display (and why should they, since they no longer sell them?). It reminded me of seeing the Hall of Presidents attraction at Disney World, where you get to remember the good things about your old favorites. Here was "medium green" (long retired, the color of a John Deere tractor, much coveted among collectors—the Abe Lincoln of the lot, if you will) and the newest hue of "sage" (dull like Army green and not so valuable because it is currently in wide circulation). The colors were spread out and sorted by piece (pitchers, salt shakers, cereal bowls) and year of discontinuation.
My grandmother bought her Fiesta plates in the lobby of a movie theater in the Bronx when she was a late teen. She didn't think too much of it; her pride was her Noritake china, a Japanese pattern with gold and burgundy accents. She lived through the Great Depression, and I think Fiestaware reminded her of those tough times. And yet, the dishes remind me of her. I find the plates wildly satisfying to look at. Soothing.
To fetishize a plate like I do is to see something otherworldly and transportive about the object.
Bob Page was clearly on to something when he sensed that plates are more than just something to hold our dinner. From the time he scoured flea markets to help friends complete their collections, he knew that dishes are also extremely sexy. And by "sexy" I mean latent with longing, suffused with desire. To understand why Fiestaware is sexy, it is useful to understand how value is construed in the first place—how an object becomes coveted to such an extent that a person would be willing to spend $35,000 on a couple of mixing-bowl lids, as one collector recently did.
The heart-racing feeling happens when one gazes upon what the legendary Spanish-Mexican surrealist filmmaker Luis Buñuel called "that obscure object of desire." In Buñuel's film of the same name, his final one, an aging Frenchman pursues a much younger Spanish flamenco dancer who promises sex but then never delivers. Yet, she is unwilling to let him go, and she chases him every time he leaves her. It is a story of contestations, deep longing, and the frustration of not being able to possess what one wants most of all. It may seem obnoxious or even nuts to compare such lust to dinner plates, but if you collect Fiestaware and you find yourself standing before rows of it at Replacements, gazing at the disks of tangerine—and the golden sunshine glow of yellow and the calm sea of turquoise and the deep dark of cobalt and the earthy minerality of plum—you feel a peculiar combination of longing and frustration. I wanted to stare at the plates forever while holding them at the same time.
A display of Kutani Crane plates probably inspires strong feelings in a few people, perhaps those who have memories associated with the pattern. But since many more people grew up with Fiesta—because it is so historically cheap—and because the colors themselves produce an emotional effect, the feeling is that much stronger. In this way Replacements may seem to the uninitiated like a place to buy plates or to get your silver polished, but to an antiquarian like me it is a temple, a place where fetish charges the air with yearning.
Here is where psychoanalytic theory meets a soup bowl. For Freud, a fetish is an object that stands in for something else, something we cannot or should not acquire (no surprise here—it's usually a phallus). Even if you reject this idea, you might see the way in which objects—like dinner plates in certain patterns—become sites of collective dreams and fantasies. When we fetishize objects, we imbue them with properties they don't really have. (Like those of us who have come to accept the notion that Fiestaware plates contain the magic within to turn dinner on a busy weeknight into a party.) As Marx wrote in 1867 in the opening chapter of Capital, "A commodity appears, at first sight, a very trivial thing, and easily understood. Its analysis shows that it is, in reality, a very queer thing, abounding in metaphysical subtleties and theological niceties." And a commodity is valuable only so long as it satisfies a human want. If we did not want to have cheap and cheerful dinner plates, no one would pass out or swoon at the sight of a wall of them.
It helps that Fiestaware is good at doing its job—we can all agree on how inconvenient it would be to rest a piece of lasagna on our laps. And yet if we were to eat on the highly breakable Kutani Crane every night, we would find ourselves out sixty bucks whenever we tried to saw into a tough chicken breast. Fiestaware strikes an ideal balance between attractiveness and functionality: it is heavy, hard to break, and dishwasher safe. Although one of the attractions at the Fiestaware outlet in Newell, West Virginia, located just across the Ohio River from the Homer Laughlin headquarters, is the enormous pile of broken plates and bowls in the driveway, the line's aficionados routinely brag about plates that survive long falls off kitchen counters onto marble floors.
Fred Mutchler, a St. Louis Park schoolteacher, is an especially devoted fan; he built an eight-hundred-square-foot addition to his home in order to display his collection of more than 5,700 pieces. (Fred happens to be one of the folks who collect the old uranium-red.) Mutchler also cofounded the Homer Laughlin China Collectors Association, a nonprofit group of Fiestaware collectors and historians who publish a quarterly magazine, the Dish, and hold an annual summer conference. Frequent Dish contributor Kathy Holley told the Minneapolis Star-Tribune that, for her, Fiestaware is "everyday art." When she opens her cupboard, "there are happy colors" looking back at her.
In a region where plates have long conveyed status, it feels meaningful that anyone can have access to dishes that are such attractive and accessible objects. I stood before the wall of Fiestaware for so many minutes after the group moved on—blood pressure dropping, dopamine surging—that Nicole Hall had to return twice and finally say, "Come on, now, punkin."
As so many tours do, ours ended in a giant gift shop. At Replacements, this is a two-room affair. There are more display cases in the front room, where one might buy Christmas ornaments, kitschy cheese graters, or crystal paperweights engraved with university logos. (I picked up a University of Florida paperweight for my son's teacher, who collects Gator memorabilia.) In the backroom, called "Bob's Corner," there are discounted vintage teacup sets, slightly chipped platters, and odd silver serving pieces that somehow detached from their sets. The walls are decorated with pictures of Bob Page with his partner, Dale Frederiksen, and their kids, posing with the Obamas at the White House, next to framed certificates testifying to Page's work as a fund-raiser for Democratic politics at both state and national levels.
There were two couples on my tour: a brawny, grizzled white-haired man in a NAVY t-shirt with a large anchor tattoo on his forearm holding hands with his wife, who was clad head-to-toe in denim and had clearly dragged him along; and two pudgy young men in soft fleece hoodies, both sporting stubbly beards and balding crowns, also holding hands. As we walked by another stack of plates, the woman in denim mused to no one in particular, "Is that Pfaltzgraff's Acadia?"
"Oh no, honey," answered one of the men in hoodies. "It's the Amelia pattern."
I knew nothing about these people, not least of all whether their outward demeanors or appearances matched their ideology. But I do know that I witnessed a seemingly unlikely pair bonding over a pattern of everyday dinnerware.
Humanity united, over plates.
---
Enjoy this story? Subscribe to the Oxford American.