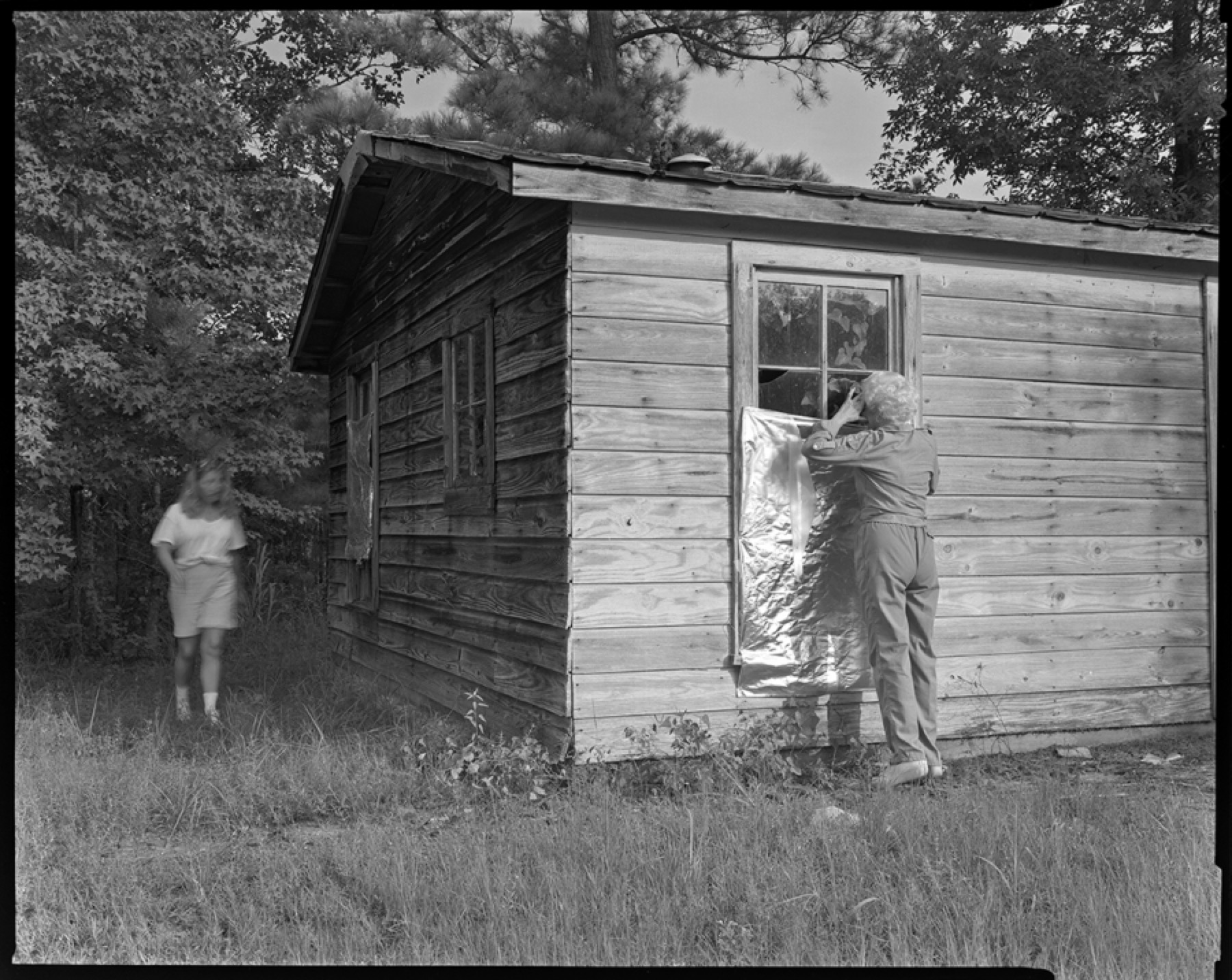 What Do You Think's in the Shed?
By C. D. Wright
The carpets, the paneling, the overstuffed recliner. Chainsaw carving
on the TV, kerosene lantern for thunderstorms, girl
lying on the carpet in her shorts, Converses, ankle socks. TV remote
within reach. Stained glass figures in the panes.
A coaster, an ashtray. Tailgates, their trucks, their people, everybody
in short shorts, corrugated buildings, old A/C units,
window fans, toolboxes, decoys, ball caps. Taxidermic squirrel. Rusty wire
fences, chain-link fences. TV cabinet in the dump.
People on their cedar decks, people on their knotted-pine decks. Broken
hunks of concrete. Makeshift sheds. Xmas tree
decorated with dollar bills, Xmas tree decorated with Coke cans, and
a little lizard in a kiddie pool. Antlers. What else.
No one ever reads. Small, necessary, man-made body of water.
Stocked with bass. Large-mouthed. Near Homer.
Local news: the Iliad. What else.
Not a damn thing to be done about it. Tow truck float of teens: skinny
kids, black kids, white kids,
big kids mugging for the camera. Long-tail cars trawling like gators.
Pay phones, cigarette machines, gas pumps,
inner tubes. Ketchup. Food is for wolfing. Young girl by an oil drum
swaddled in a towel. Lord have mercy


it's hot. Sugar shaker. What else. White people are slow dancing.
White-haired woman washes her husband's white hair
in kitchen sink. Killer II seated next to a deacon. For a sense of change
furniture gets moved around the room. Churchy men.
Downpour in a parking lot.
Walnut tree in the background. Some can still sew. A tongue sticking out.
In profile: head of a pretty woman rhymed with
head of her dachshund. Pretty round-eyed woman facing her husband
taking her picture driving around
in lessening light. Corrugated fields.
There was a house fire. Terrible. Was there not. There was a burning
house. Everything lost. The photographer
and his family. Lost all of it. He picked up his other ax, his trusty
twelve-string and drove to TN. A man shall we say
of aliases. Starts playing for Blue Note. Interposition and nullification;
integration when the nullifiers aren't in town.
Friendly zombie stumbling toward us
with quarters in his sockets. Balloons, the smell of balloons. Boy with a
guitar, boy with a dumbbell. Hand puppet,
paper doll, tire swing. What else. Cousins. Firebird stenciled on his hood.
Spillway. Bridge pylons. House parties, drinks in red
plastic cups, beer bottle cozies and dips, sound check in a diminutive gym.
Big hair and funky fur jackets. There was vegetation
was there not. There was
johnson grass. Strong scent of dusty tomatoes off the vine. A furry
moon. What time is it. Does anyone care. Playing
for Blue Note. A pair of barstools, Her highchair. Jesus is coming. Jesus
is knocking on the door. Jesus is the lamb in the room.
Homecoming mum fat as a cabbage. Someone inspects another's
splinter. Cousins. Here, have some sugar.
Four-stoplight intersection, not a long-tail car parked or stirring.
Surveying her plants. All the country-fried downtowns.
Velvet. Wicker. Faux suede. Polyester.
Nearly enough alcohol for every man, woman, and child. Teetotalers too.
Every Friday and Saturday night. We hear
bullfrogs. Guns and flags. Flags and guns. More flags. More guns. Bonfires.
Mutts. What the hell else. Pass the ketchup. Swaths of bunting


and reams of tablecloths and a line of folding tables. Folding chairs.
PET-milk ballerinas.
There was a house fire. Was there not.
All the sins of the world. Went right up. Barely enough love to go around.
So long as the sun kept blazing and a massive
moon rose in its hallowed path, they couldn't, they just couldn't, they
couldn't not enjoy themselves.