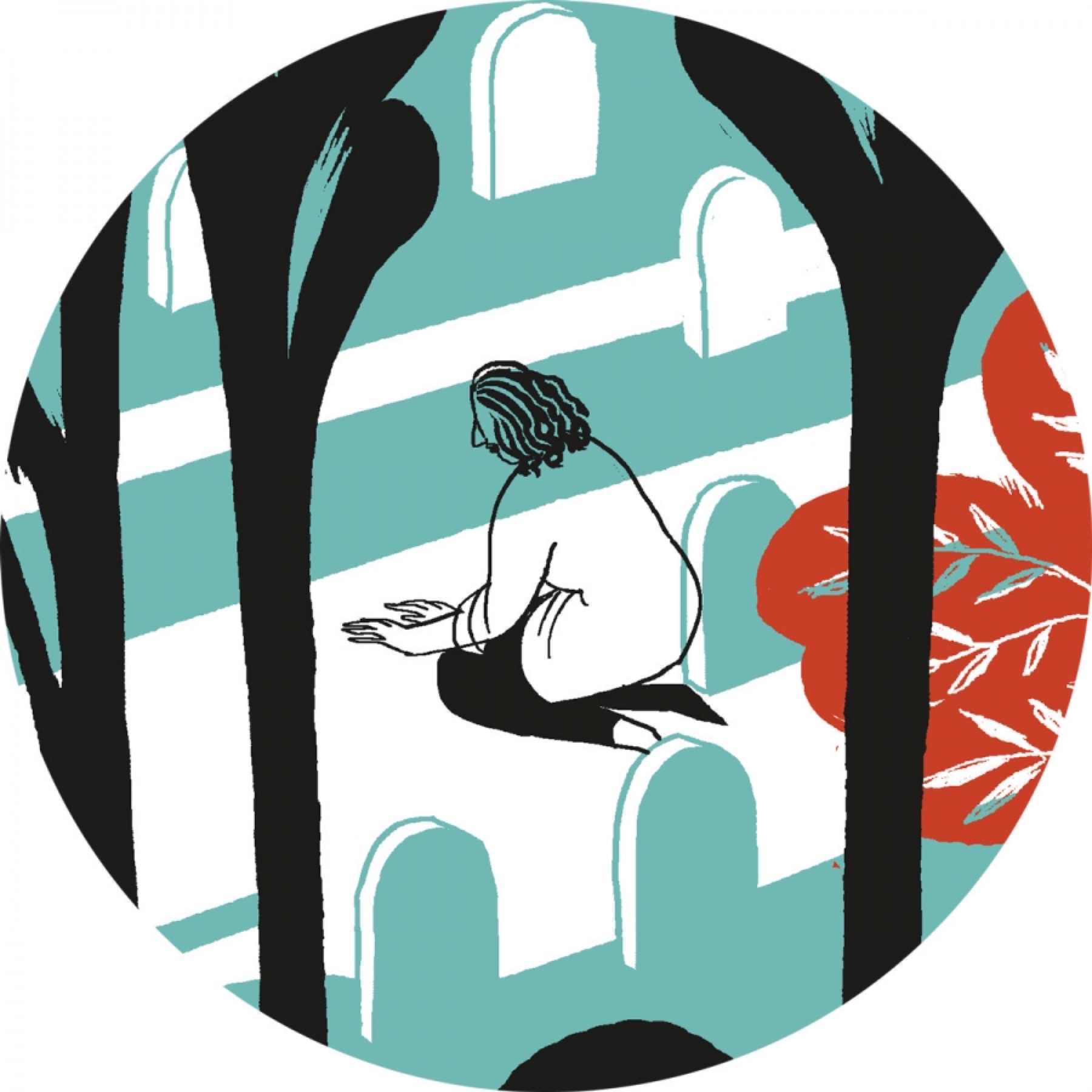 Illustration by Eleanor Davis
Read My World
By Jamey Hatley
It was Mississippi poet, writer, and scholar Margaret Walker Alexander, author of the fine novel Jubilee and the first African American to win the Yale Younger Poets prize, who initially spoke Zora Neale Hurston's name to Alice Walker (no relation) in 1970. At the time, Alice was auditing one of Margaret's classes in Jackson, Mississippi. Zora Neale Hurston's work wasn't studied in that class; only her name and accomplishments were casually mentioned. I like to think about that name taking root in Alice Walker like morning glory, "that running and blooming vine," as Walker writes in "Looking for Zora," her essay about searching for Hurston's grave. Hurston was a writer and scholar of immense (and now unquestionable) talent and extravagant personality, but Walker had to go looking for her grave because she had died in a welfare home in Florida. The community took up funds to bury her, but a stone was never purchased. "Although by that time I considered her a native American genius, there was nothing grand or historic in my mind," writes Walker of her quest to find Hurston's unmarked grave in a segregated cemetery. "It was, rather, a duty I accepted as naturally mine—as a black person, a woman, and a writer—because Zora was dead and I, for the time being, was alive." It's this sense of kinship and duty, the activism of Black Female Friendship and the literature it paves the way for, which has most shaped my own art and activism. I return to this story again and again. 
When Walker (along with white Hurston scholar Charlotte Hunt) arrived in Eatonville, Hurston's hometown, she felt as though she knew the place already from Hurston's writing. In "Looking for Zora," Walker writes, "Because I don't wish to inspire foot-dragging in people who might know something about Zora they're not sure they should tell, I have decided on a simple, but I feel profoundly useful, lie." She told the clerk at the Eatonville City Hall that she was Miss Hurston's niece. Just like that she passed the first gatekeeper. The morning-glory vine of Hurston's name had blossomed into a full relationship, a kinship. When they got to the cemetery, which was overrun with knee-high weeds and lurking creatures, Walker called out to Hurston for help in locating her grave. After a couple of cries of Zor-a, Walker found what she thought was the grave. Her lie had been fruitful. When she feared she might get caught, Walker watered down her story and told Hurston's former doctor that she was an illegitimate niece. He rebuked this idea and told her, "All of us are God's children! Don't you even think such a thing!" How grateful am I for the bold lie that helped to return this black Southern genius to us? No matter our blood, so many black women writers have claimed Zora Neale Hurston, and I think she has claimed our morning-glory souls back. 
I keep a photograph on my desk that I printed from the internet. It is a candid snapshot, taken at the end of a gathering of black women. It must be fall because most of them are wearing coats. It looks as if someone insisted at the last minute that they take a photo to capture the evening. In the background, a portrait of Bessie Smith, the blues singer, hangs on the wall. This is a common enough premise for a photograph. I am sure that I have many in my own archives. The difference is that this is a photograph of members of "The Sisterhood," from June Jordan's papers at Harvard University. The title reads: June Jordan, on far right, with Toni Morrison, Alice Walker, Nana Maynard, Ntozake Shange, Vertamae Grosvenor and others. I first thought the picture must be some sort of Photoshop trickery. How could such black literary luminaries all be in one space? As the old folk say, "Just keep on living." As I have grown into my own literary community, I think: How could they not all be in one space? Wouldn't you try to be in a room full of excellent peers if you had the chance? 
As an opening exercise in each class that I have taught, I've always made my students draw a literary family tree. At the very top are their upper gods and goddesses. At my very top would be some of the women in that photograph. Toni Morrison is the constant, my Chief Upper Goddess of Literature. Seeing her in that photo, dated 1977, two years after Alice Walker published "Looking for Zora" in Ms. Magazine, made me consider that my Chief Upper Goddess was also a black woman who once craved company and someone true to read her work. I was just a reader when Morrison was winning the Pulitzer Prize and the Nobel. It would be years before I would consider myself a writer. But in that photograph was a hint at my Chief Upper Goddess's humanity. She was a woman like me. 
In an interview in the New Yorker in 2003, Morrison discussed with Hilton Als her friendship with Toni Cade Bambara and the particular community they had cultivated in New York. "Single women with children," she said. "If you had to finish writing something, they'd take your kids, or you'd sit with theirs. This was a network of women. They lived in Queens, in Harlem and Brooklyn, and you could rely on one another. If I made a little extra money on something—writing freelance—I'd send a check to Toni Cade with a note that said, 'You have won the so-and-so grant,' and so on. I remember Toni Cade coming to my house with groceries and cooking dinner. I hadn't asked her." 
Groceries. Dinner. Scraping up a little "jingle," as my Daddy calls small change, if you have it for a friend. That the writers of Sula and The Salt Eaters had made a way just like my friends and I were trying to, let me dream. This kind of everyday care may not have charted as an epic hero's journey, but it has made space for my work and for my friends' work. This is how our art gets made. We steal time from our employers. We cook for each other and make drinks. We charge up credit cards when we have them. We stand up for each other at funerals. We use our library privileges at institutions to get each other the books we need. Make photocopies on our day jobs. Write dazzling letters of support. We read drafts. Take children to camp. We cuss and cry over whatever insult the world brings. It is the guiding light of these friendships, the razor sharpness of this love that cuts through the muck of a world that tells us our stories are not important, are not worthy, are not enough. 
I once said that I didn't have enough of an imagination to write fiction. This lie was useful to me, but it worked in the opposite way of Alice Walker's useful deception about being Zora Neale Hurston's niece. Each time Walker told that lie in service of locating Zora's grave, it took her closer and closer to what she wanted. Her lie was brave, and it paved her way to victory. The lie that I was unsuitable for writing fiction kept me safe from the embarrassment of never living up to my upper gods and goddesses. I convinced myself that I was an excellent reader instead. But I would go to book talks by mostly black women writers and listen hungrily for a way that I might make a life as an artist. I would purposely stand at the back of the line to get my book signed. Being at the end of the line gave me enough time to figure out one thing to say to the Big Important Writer that would not embarrass me. 
At one such gathering I met Tayari Jones. She was an Atlanta native on tour for her debut, Leaving Atlanta, a novel about the Atlanta Child Murders. Just a couple of years my senior, she was way beyond me careerwise. She had been excellently trained at Spelman College, where Toni Cade Bambara and Alice Walker spent time. She had extraordinary mentors like playwright and author Pearl Cleage. She was the city mouse to my country mouse. Standing in that line in 2002, I saw a woman close enough to me in age, in geography, in temperament that the morning-glory vine of my ambition unfurled. There is a photograph of us from that first meeting. We are both shining and eager. Through our friendship I have seen the real mentorship that she extends to black women writers. She has been a model for me of honesty and integrity and rigorous support. The bright light of her example stripped away my backward lie that I had no imagination. 
The tragedy of the 9/11 terrorist attacks shook me firmly out of the lie about my ambitions for writing fiction. I watched the events on the news for weeks, stunned and shocked. My stories seemed somehow more urgent then. My panic made clear to me the life that I wanted to live. In envisioning that life, I thought back to my childhood and remembered the women who had charted my path. 
I grew up in a time when our public library marked the books on African-American topics with a red-black-and-green sticker along the spine. I can still remember the thrill of hooking my finger into the covers of books with those stickers and pulling them off the shelf until I had an unwieldy pile in danger of toppling out of my arms. I was ravenous and indiscriminate in my reading, seeking out nonfiction of all types, mystery novels, science fiction, and romances. I was always delighted to discover in that postage-stamp-sized author portrait a woman who could have been my kin. Like Hurston did for Walker, these women became a kind of fictive kin for me. 
The black women librarians in my public libraries made sure that the shelves were populated with varied depictions of the black experience from all over the world. I worked in a public library before deciding to get an MFA, and it was only then that I started to understand what an intentional act of love and care this was. I was shocked to see that the variety of materials at larger, better-funded branches paled in comparison to those at the tiny community libraries of my childhood. Black lady librarians gave me Terry McMillan, Sonia Sanchez, and Ntozake Shange. Gloria Naylor, Octavia Butler, Lucille Clifton, and Gayl Jones. They gave me Jamaica Kincaid and Maryse Condé and Michelle Cliff. They ordered books with interviews with these women, so that I could learn more about them (before the age of the internet). They filled the shelves with debut writers, too. They gave those books a chance. Those librarians' steadfast see also notations in the card catalogue formed the map that would lead me to my own life as a writer. 
This early reading primed me to love complex black women characters: characters who some might call difficult or strange, but who were all fascinating. It made me want to write my own strange, complicated black women. This is perhaps why my work is littered with informal librarians or archivists—a woman who collects generational trauma through magical cut silhouettes, another who saves indelible stains like pressed flowers, a character who sometimes buries herself in a collection of newspapers from the anniversary of the death of a loved one. My work is a calling-back to story-keeper women from this generation and beyond, the ones who made sure our stories survived so that we would know how to create lives as full, rich, bewitching, and fascinating as the stories we write. 
---
More Writing on Writing from the 100th issue.
---
Enjoy this story? Subscribe to the Oxford American.