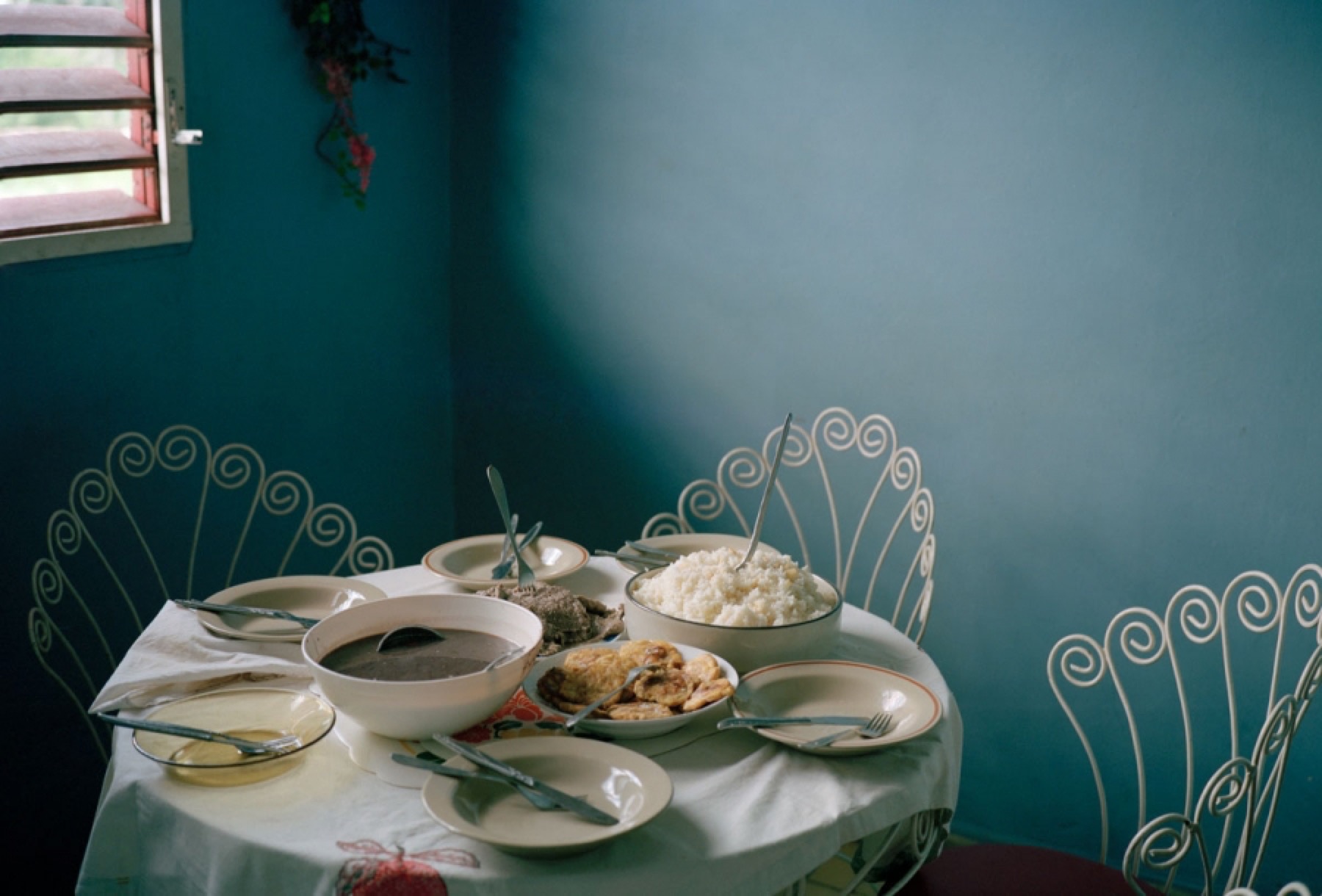 Photo by Tria Giovan. Published in the book The Cuba Archive (Damiani)
Mother Tongue
By Lucas Loredo
Sifting my fractured family's past in our Cuban homeland
---
My family is no longer speaking because of a disagreement over a heap of jewelry, which my grandmother left behind when she died four years ago. My two aunts were given the jewels—in my mind's eye, the great glittering gold cache guarded by the dragon Smaug in The Hobbit—as stipulated in my grandmother's will. The will said everything should be split among the five children evenly, save these extra jewels, which the sisters could divide as they saw fit. That didn't go over well; my dad and his two brothers said it wasn't fair, that it wasn't in the spirit of our family to parse Tata's heirlooms so cynically. My two aunts had a will signed by my grandmother telling them exactly what she wanted done—how could they do any different? By now it's all hazy, calcified by the ensuing silence. I only have my dad's account to go on; my aunts, certainly, would have another take. But the result remains: my dad and his siblings can no longer be in the same room, not easily, and we the grandchildren and great-grandchildren have not gotten together with all our aunts and uncles for four years.
Tata would be ashamed of us if she knew our family had clammed up over some shiny objects, considering all we've been through. My father, his four brothers and sisters, and their parents fled the small coastal town of Nicaro, Cuba, during the revolution. The war had come literally to their door, guerrilla fighters braced against the porch columns firing up at President Batista's single-prop planes, and Dad remembers the driveway heavy with spent bullet casings the next morning. Neighbors who spoke out against the government had been spirited away in the night; boys as young as twelve were being conscripted into the army. Out of fear, the Loredos escaped in the summer of 1960 on the second-to-last ferry from Havana to Key West before Fidel Castro choked the border permanently.
In the United States, my grandfather, the assistant director of the hospital in Nicaro, wasn't allowed to practice medicine until he passed the American board exams. He worked as a mortician's assistant in Miami, studying every night for a test riddled with English jargon until he passed. Then he completed a residency meant for new graduates—not assistant directors of hospitals—and earned the right to practice medicine in the States.
Nicaro to Havana to Key West to Miami, motel vacancy signs reading NO PETS, FAMILIES, OR CUBANS. Meridian, Mississippi. Then Texas: El Paso, Waco, Hallettsville, San Antonio, my grandfather chasing work, the family following. Dad threw newspapers to help support the family and has not stopped working—save the year after my mother died unexpectedly in 2002—for all fifty-eight years since he immigrated. Dad got into fistfights: once after he let a black boy go ahead of him in line at a bakery in Mississippi, which the white kids outside didn't like; other times to protect his younger sisters from boys who attempted sexual assault. As a teenager, girls wouldn't date him because he was Cuban—too dark. His principal told him he'd be lucky to get Cs in college. In graduate school, a professor in the University of Texas psychology department refused to approve his dissertation for increasingly absurd reasons (including the criticism that the paper had too many instances of the word "the"); Dad eventually had to threaten the man with legal action and a story in the Statesman before the professor begrudgingly stamped his approval.
My grandfather came to be a respected physician in Texas and worked until his dying day in 1994. He saw the birth of half a dozen grandchildren, and after he passed, Tata became our family's sole steward. Under her watch, our numbers grew past thirty. Aunts and uncles, cousins, children, all of us a dash of salt across the map of Texas: Austin and Houston, San Antonio and Victoria, Sealy, Hallettsville, Plano. And the key feature of our family, for half a century, has been the ubiquitous Loredo Family Reunions: the annual Gulf Coast beach trip and Christmas and Thanksgiving, Easter and Tata's birthday, baby showers and first communions and beauty contests and middle-school graduations. Baseball games, even, can merit a two-hour drive and a glass bowl of pink ambrosia.
Of the original siblings, Dad's the oldest and remembers the most of Cuba. The second-oldest, my aunt, speaks Spanish and is the resident Cuban black beans expert. But the other three barely remember Cuba at all. One mustachioed uncle studied to be a nurse but now repairs power lines, hunts deer on the weekends, and bequeaths mountains of sausage unto us. All—including my dad—have deep Texan drawls.
Picture, in our heyday: a whole Thanksgiving bird, injected with spices via a five-inch syringe, sizzling in a deep fryer; the Cowboys on the tube; Spanish wafting over the scent of black beans and lechón asado; gleaming belt buckles and Stetsons; and stories of Nicaro traded across the table. The one time Dad's horse snapped its lead and chased him into the ocean. The other time one of his cousins, just a toddler, released the emergency brake on the Chevy, which began rolling down the hill, and Tata, in the middle of getting dressed, sprinted half-naked into the yard and dove through the open car window. The royal palms, the one-room church on the hilltop Papa paid to have constructed. The pothos on the children's table my Dad hid nasty foods beneath—and how ferociously that plant grew, Tata not learning why until decades later. In this way, Nicaro had been kept alive; our family had been kept whole through the power of memory and communion. 
Know that this is what has been lost with our family's cleaving. The reunions, yes, but all of it—the memory of our family's epic saga at the bottom of a deep well. The family is divided in neat camps: the aunts and their children on one side with Tata's will and a stack of jewels; my dad and his brothers on the other side with their own children and their bitterness. The revolution forgotten, the ferry forgotten, the landing, the assimilation. The family.
Compared to my father's childhood in Nicaro, I felt my own upbringing lacked wonder. He'd tell me about Cuba, and I'd imagine hunting rose-throated parrots in pine forests with a BB gun, or haunting Las Palmas—the club attended by the local American nickel factory workers—until they let me into their fabled chlorinated pool. When I began to write as a teenager, my stories were populated with the broad palms of plantain leaves and the mischief of tobiano colts, and over the years I accumulated a healthy body of work set in Revolution-era Cuba. In 2015, I began writing a novel that would tell two stories: the story of a boy's childhood in 1950s Cuba—the magic of it, the violence—and the story of him as an adult in Texas in 2002, trying to find a relationship with his son after the death of the mother.
I'd often thought of going to Cuba, but in the summer of 2017 I was nearing the end of the first draft of the novel, and it became clear I needed to visit the island for research, to see Nicaro for myself. And, though I told no one, I began to dream of the events that might lead to my family's reconciliation, a fantasy in which I was the hero. Lucas returns to Cuba, the first in his family to do so in six decades. He collects interviews, memories, sucks the marrow of the place. Upon return, he convinces his aunts and uncles to tolerate each other for one hour to view photos and videos of Nicaro. And in his stories of home they remember the importance of family, they arrange the next Christmas reunion, they fall into a sobbing heap of apologies and forgiveness.
And so, four years after Tata's death, four years after our family stopped speaking, I decided to go to Cuba. The stated goal: to research my novel. The unstated hope: The Great Loredo Salvage Mission.
In May, I called Dad to tell him what I was up to. For so long, Cubans like us could only stare ninety miles across a spit of water wondering why ours was one of only two countries on planet Earth that we could not visit. But in the years since President Obama had relaxed travel restrictions to Cuba in 2011, making possible the prospect of traveling there legally, I'd asked Dad whether or not he was interested in returning to his homeland. He'd always said no, that he'd heard from others who'd made the pilgrimage back home that the country's extreme disrepair did nothing to mend their own hearts; instead, the country they remembered had retreated farther into the murky waters of the long-ago. 
So it was much to my surprise that Dad, instead of wishing me safe travels, invited me to a café. Interesting, I thought. 
He brought with him his yellow legal pad and took notes in immaculate cursive. He sipped espresso and wiped coffee from his white beard. Dad never takes off his black Ray-Bans, which he's worn since the seventies—since his early days as a psychologist when he braided his hair and would arrive at the courthouse on his Harley, to give testimony as an expert witness—and his expression is often inscrutable.
"I'll come with you," he said. "It'll be a father-son adventure."
Double interesting.
On my tablet I pulled up a satellite image of Nicaro. Tata told me their town had once been known as Lengua del Pájaro—Bird's Tongue—for the way the sharp peninsula probed north into the Atlantic.
"What? This is it?" He jammed a meaty finger into the screen. "Wow," he said, and kept saying it, until a wet film spilled from the bottom of his shades.
Soon, I'd recruited my brother, who was also uncharacteristically enthusiastic about the idea. He's fourteen years older than me and the fairest person I know, and as a marketing executive at a fast-food joint you've definitely heard of, he quickly applied his logistical mind to questions of planes, cars, food, lodging. Hell, we'd invite his wife, my partner, Dad's wife, her son, and his girlfriend. We'd go in December and spend Christmas in Nicaro. 
Our cadre grew excited in the ensuing weeks, weighing vans versus a bus, Airbnbs versus hotels, and then: June 16, 2017, when President Trump gave a speech in Miami debuting his new policy for United States–Cuba relations and declared that we would return to the old rules, which more or less said, unless you're a diplomat or a missionary, you can get stuffed. If we wanted to go, we'd have to do it immediately. Instantly, my brother was out—the burger industry needed him—and I have never heard him so obviously downtrodden as when he gave his blessing on the phone for us to go without him. Soon, we cut everyone else from the excursion. It was most important that Dad got to go, so he and I booked a ten-day trip to and from Havana in August; we'd take a bus from the capital to Nicaro. 
In the lead-up to our flight, I spent a lot of time not practicing my Spanish, despite the offers of my girlfriend, who had learned the language at cooking school in Peru. Like my uncles, I resisted working toward fluency; I was dimly aware that approaching the language now would start a process I did not want to begin in the States. Instead, I talked to Dad on the phone almost every day, and he recounted all the memories that were returning to him as he spent the evenings poking around Google Earth.
And then, thirty days before the trip, my stepmom emailed me to say that since Dad left Cuba before 1971, he'd need a special HE-11 visa to get into the country. Otherwise, they'd consider him a long-lost Cuban citizen returned home, and they might keep him there forever. We were advised the visa process would take two months or more; there wasn't enough time. 
I left four voice messages with the Cuban consulate in Washington, D.C., calling on different days and at varying times to ensure maximum coverage. My father left two messages in Spanish. I emailed three times, in English and Spanish, and wrote an impassioned letter, complete with a scan of the HE-11 form, a facsimile of Dad's passport, and a plea for urgency in the header on each page.
We received not a call, not an email, not a written reply. For all I know, their mail slot went straight to an incinerator. Without the special visa, Dad couldn't come. He had been thwarted, the last domino felled, his mood on the phone despondent.
"I'd just gotten my hopes up so big," he said. Dad had thought he'd closed the door on Cuba forever. Now I'd opened it just enough to slam it on his fingers.
After all that, I'd go alone. The Great Loredo Salvage Mission, indeed.
The plane descended upon Havana, and fear descended upon me. Me, my family's lone emissary. I'd traveled alone plenty, but in the weeks leading up to the trip I had, as I often do, piled on the stakes. Not just a chance to deepen my novel, its make-or-break moment. Not just a chance to collect photos for my family—but a shot at becoming whole. A rising pressure of my own design. 
Humidity down the jet stairs. Thickets of plantain trees pressing in on the tarmac. Inside the hangar, the marble-mouthed Cuban Spanish I'd heard around dinner tables since childhood now alive in every throat, the sensation of distant cousins all around, that if I'd shouted Loredo a dozen heads would have turned, expectant. 
The taxi driver was the ghost of my father at twenty years old. Dark hair, crisp shirt, chewing gum, aviator sunglasses, ready to pilot a puddle jumper. Instead, he commanded, yes, a fifties-vintage ride with tailfins, and asked me where I was from.
The piping of my Spanish plumbing was rusted. I gave the answer that would become my catch-all over the next ten days: "I'm from the United States, but my family is from Cuba, a very small town far from here, called Nicaro. No one has been here in fifty-seven years. I am the first one." 
I could have printed business cards.
He dropped me off at my Airbnb in one of the city's nicest neighborhoods, Vedado, whose grids of patinated mansions speak to its history of sugar-trade money. I would spend a week in the capital, then take a twelve-hour bus to Nicaro and stay three days before returning to Havana to catch my flight home. I wanted a sense of the city, the country's crown jewel, before venturing into the countryside, where the infrastructure would be more challenging. And three days inhabiting my family's shadow felt like plenty.
The Airbnb was owned by two Cubans who were, somehow, visiting family in Miami. I was met at the house's gate by three dogs, a cat, a middle-aged woman, and a teenage girl. I got the distinct feeling that my arrival was the day's excitement. Neither Ileana nor her daughter Melodí spoke a lick of English, but the mother's Spanish was generous—I could understand less than half, but she was happy to prattle on and let my ear wrap slowly around her speech. "Your flight was good? You're hungry? Here's some avocado. Here's mango juice—fresh."
I set my bag in the apartment above the garage, which held an ancient but functional Ford, and sat with my hosts on the outdoor patio under an ivy-strewn roof of corrugated plastic. I had arrived.
For the next seven days I walked—Vedado, Old Havana, the rigid Soviet architectures. I spent hours scoping the sea wall that guarded the entire coast of the city—El Malecón—drinking cold Presidentes and watching teenage boys handle fishing lines with the pads of their fingers. Mostly aimless, mostly quiet. I had once traveled to Marrakech, where in the souks I stuck out like a neon dollar sign, but here, if I didn't open my idiot mouth, I blended right in. There were absolutely no advertisements—no FOR SALE signs, commercials, or touts—a welcome casualty of the Communist government. Instead, billboards of Che Guevara and José Martí. A mural of Castro surrounded by fawning children, the caption underneath painted by hand with a fine brush: LA HISTORIA ME ABSOLVERÁ.
On a stroll through downtown I happened upon La Universidad de La Habana, where my grandfather earned his doctorate in medicine and was a peer of, unbelievably, El Comandante himself, whom my grandfather deemed "charismatic but strange." A small square across the street corralled a pasture of cell phone users. I'd heard of this—pockets of wifi, digital nomads hunched over at the watering hole. I forked over a dollar to a young man for the password and emailed Dad to tell him I was safe. Lineage of my grandfather, come all this way to bum a signal from the same place he earned his doctorate.
Over time, I learned about waiting. I learned about la cola—the queue. Cuba proliferates with queues. One afternoon in the bank waiting to exchange currency, I deduced the rules. When approaching la cola, shout "el último?"—who's last?—and be persistent until someone raises a hand. Lines are not orderly. They are not strictly lines, in any geometric sense. They are a social bond. That person is first, this person is after that person, that person is after this person, and all I know is I will attach myself by the hip to el último and follow into any darkness this world may hold.
Half my time in Cuba was trying to figure out what any given cola was for, and half my time in any given cola was discussing who was next in the cola. Rations, bottled water, ten-cent ice cream. Get in line. Wait awhile.
Many days, after my walks, there was nothing to do except sit outside with Ileana on the oxidized patio furniture, attempting conversation or not. I became fond of the yard's menagerie. There was a shivering white Chihuahua called Dolly and a small brown torpedo-looking dog named Lambo. A young cat, Bambina, had just birthed five kittens, who stayed in a plastic, blanket-laden box in the outdoor laundry room. Best of all was Yero, an ancient boxer who had, without a doubt, the ugliest face I have ever seen. He managed only three teeth, all on the bottom row, which jutted from his underbite at impossible angles. His eyes were clouded and cried mucus. His nose—oh, poor Yero—his nose was a craterous crash-landing site on the moon. "Guasaguasa, viejo feo," Ileana would say to him, affectionately. You dopey, ugly old thing.
Often, overhead, thunderheads three times black. Rain patter on the corrugated roof. Drops plucking at shallow puddles. The animals would gather near. Then the rain would pass, and I would imitate Melodí's ubiquitous dance practice with a buffoon's ballet, tracing my toe in a semicircle across the wet cement to the tune of laughter.
Every night, we played dominos. It was then that I trod and retrod the landscape of my Spanish. It must be said: Cuba is not the place to learn the language. Cubans tend to give up on each word halfway through, as though the mush-mouthed dialect has just woken up from a nap. At first, I understood only the half they didn't throw away. But, slowly, I too learned to give up on words, to suggest their beginning and let my hands tell about the rest.
One night, Ileana told me about the photos she wanted to have done for Melo's quinceanera. She shuffled into the hallway and rummaged around the kitchen. When she returned, she placed some crumpled pages in my hand. I held what, to me, looked like the airbrushed, bubblegum photos one gets at kiosks at the mall. In the photo, a fifteen-year-old girl wore a teal dress with dated ruffles. "Melodí wants the Snow White dress," she said. Melo blushed. Ileana told me every girl in Cuba had to have a quince photo, or else. I asked, Or else what, and she gave me a dark look. She told me she had been saving up money for two years. They cost two hundred CUC, plus another hundred for the Snow White dress.
You can't talk Cuba without talking money. First, there are two currencies on the island: CUC and CUP ("kook" and "koop," respectively). CUC is the foreigner's currency and equates to the U.S. dollar. CUP, on the other hand, is the local currency—moneda nacional—and is worth one twenty-fifth as much, about four cents on the dollar. Here's some perspective: I knew by then that Ileana made twenty CUC per month, or twenty American dollars. That's it, and it's pretty standard. I paid thirty dollars per night for my room—a very reasonable price for an American; more than a month's salary for a Cuban. Or think about this: it will take Ileana more than one year of saving—assuming she spends no money on food, clothes, transportation, gifts, anything—to pay for photos that would take the average American less than three days to afford. Further: if America's prices were adjusted to reflect Cuba's, based on the median American wage of about fourteen dollars per hour, quinceanera photos in the States would cost thirty-six thousand dollars. Tata's jewelry would be worth many millions in Cuban spending power. Enough for a hundred thousand quinceanera photos.
On the seventh day, the day I was to leave for Nicaro, Ileana told me that every Cuban has the dream of travel. Of course, visiting other countries is strictly forbidden by the Castro government. I asked her where she'd go, if she were allowed, and she said the state television network had produced a series of documentaries about cities around the world. Rome, Paris, São Paulo. Almost like being there. 
I pressed: But where would you choose?
Her face warmed. "I would go to the Italian countryside. It is so beautiful there. The wine, the fields, the air."
I didn't know whether or not to tell her I had been to Rome, to the south of France, to Morocco. I felt a shame bloom. I asked her if she thought the rules would relax, if she'd be allowed to leave the country in her lifetime.
"Nos ahogan." 
"I don't know the meaning," I said.
Ileana was standing against one of the corroded walls of the house. Suddenly, she took both her hands and began to strangle herself. She stuck out her tongue. She pressed herself against the wall. I sat up and gripped the metal arms of the patio chair. Yero barked, wheezing and rasping like an old man. Abruptly, she stopped.
"Nos ahogan," she repeated. They choke us.
That night, I boarded the Vía Azul bus bound for Holguín—eleven hours away—where I would meet a taxi to take me the last hour to Nicaro. The back window had a sticker that read NEED FOR SPEED. More stickers of, improbably, bullet holes, riddled the cabin door. On each seat, in the blue fabric decorated with smiling cartoon suns, were written the phrases, "Have a good Trip!" "Good road!" and "Best vehicle!" Ileana had given me four bread rolls for the bus ride, and I quickly ate Number One.
Soon, night came. Condensation on the windows against the peroxide fizz of streetlamps.
The rolling countryside, moon-dusted tobacco fields.
We stopped at a way station. I got out to pee. The bathroom cost one CUC. I counted ninety cents from my pocket, dropped two coins, muttered "fuck," and got back on the bus.
We passed midnight. I ate Bread Roll Number Two. The man in front of me reclined his seat into my lap, so far I could have given him a face massage. I angled my long legs sideways and fell into fitful sleep. 
I awoke at 2:45 in the morning for Bread Roll Number Three. 
A pothole jostled me awake again at the witching hour. 
By the time the sun crept over the windshield in the day's early hours, we had arrived in Holguín. 
The station was small and loud, colas everywhere seemingly to no purpose. I had no idea what the driver the Airbnb had sent looked like, only that his name was Tony. I was milling around, making conversation with a backpacker from Australia, scanning the crowd for a likely suspect, when a balding man with glasses tapped me on the shoulder. "To Nicaro?" he asked. "I'm Tony. I heard you speaking English." Tony led me to his car, a beautifully cared-for boxy red sedan, and we drove the final hour toward Nicaro. We passed through Cueto and Mayarí, the same route made famous by the Buena Vista Social Club lyric. Donkey carts and bicycles. The sun rose over a sign that read, BIENVENIDOS A NICARO.
Tony drove me through town, pointing out the hospital, the church. I took a video. All I thought was, Remember all this, remember that horse, that boy, that hill, but I was overwhelmed and processed little. The lack of sleep, the magnitude of the occasion. 
We made it to the Airbnb, and I staggered to my room, barely greeting my hosts. I showered, drank a Presidente, and ate Bread Roll Number Four looking out the door that led from my bedroom to the back courtyard, which held two avocado trees, a metal swinging bench, and a view of the bay. I passed out and woke much later with sweat pooled in the hollow of my throat.
The whole reason my family ended up in Nicaro was because my grandfather, as a young man, took a job as the assistant director of the town's hospital. Papa did everything from suturing wounds to setting bones to delivering babies. Tata cared for their children, a strict and fiery mother. At that time, the town was hopping; its economic blood pumped from the American nickel factory, where white workers processed the mineral from a nearby mine by day and attempted salsa at Las Palmas by night. The factory was shuttered permanently in 2012, but in the 1950s business was good, and after the revolution Che Guevara, who harbored a passion for the industry, renamed Nicaro's nickel plant after Comandante René Ramos Latour. He even visited in 1961, though my family was long gone by then. 
Before I'd left for Cuba, Dad had printed a satellite image of Nicaro and circled key locations. The Church. The American Club—Las Palmas. The house. The hospital. The nickel factory. The place Pinto chased Dad into the ocean. I'd studied it. The map told its stories: Dad eating guayaba until he got sick. He and Papa entering the jungle with flashlights to hunt parrots. His brothers and sisters playing in the yard among the rotting avocados (too many to eat). The maids told the children to take care while carrying the trash down the darkened driveway; the night devil was fond of flame trees and spying on children, a red hand grabbing branches. Dad's shitty childish handwriting that, after a teacher shamed him about it in class, he spent days and weeks correcting by moonlight in secret, until, on the next test, he looped his now-famous cursive in his composition book. The teacher accused him of cheating, and when Tata heard she dragged Dad to the teacher's office, chewed her out, then demanded her son write something in cursive for his teacher. With a shit-eating grin, Dad wrote, Me llamo Carlos Miguel Loredo Martínez, y yo escribo con el cursivo del Rey. That same King's cursive was now scrawled across the map I'd folded and unfolded obsessively since I arrived in Havana, Dad's memories from decades ago now anchored to coordinates, and me on the verge of crossing the threshold between fable and reality. 
My first proper day in Nicaro, I was greeted in the morning by my hosts, Xiomara and Omar—Tony's parents—who looked after the guest spaces while the owner was away. I told Xiomara I was the grandson of Doctor Loredo, and did she know him? She'd heard of the family. She told me she'd make some calls and settled into the seat near the telephone and began working the rotor.
Tatico, the cook, gave me breakfast. When I said who I was, he shouted, "Doctor Loredo!" His skin puckered with goosebumps. "He delivered my neighbor's baby. You are a ghost come back from the past."
Tatico served me a thermos of espresso and a saucer of warmed milk. The sugar in Cuba is unrefined and fluffy, as though it has been pumped with air. Next, a coterie of hubcap-sized dishes. A full plate of six scrambled eggs, hard cheese, soft cheese, and a cubic creature called jamón rápido—fast ham—which I regarded with suspicion. Another plate held half a watermelon. Another, four rolls and four pieces of toast. Another plate held a sweet, fried plantain—plátanos maduros. For dessert, an entire tin of canned peaches. I produced my dad's printout of Nicaro landmarks and asked Tatico if he knew where I could find these places. He took my map in hand. 
"We will go for a walk," he said.
The door to the church lay open. In the entryway growled two dogs whom Tatico melted with a series of platitudes. I imagined my grandfather, more than half a century ago, overseeing construction between patients, in a crisp guayabera, a stethoscope around his neck. I found his taste austere but elegant. The pews were hardwood. The ceiling high enough to stand on a friend's shoulders. The generous open windows invited the church's most notable feature: the sound of the ocean, warming the rafters. A house for nothing but God and breaking waves.
We took a shortcut through banana trees to the hospital. Tatico's voice was soft, his words buzzing with friendship. He had dark skin and a shaved head and a leathery stoutness. He lamented the loss of the town's gardens. I told him banana trees were plenty green, but to him, they were pests, evidence of laziness. Anyone with two thumbs could grow a banana tree. What worried him most were the snatches of plastic bags, bottles, and other refuse we passed along the way. 
"I wish you could have seen Nicaro when I was a boy," he said. Tatico was the same age as my dad—sixty-eight. I asked, but Tatico had moved here from another small town right after the revolution. He'd never met my family, but he was adamant that everyone had known their thumbprint.
We reached the hospital. A small two-story structure, sky-blue accents, hives of small windowpanes. Water stains darkened the façade. How many tales had I heard of this place? 
Nearby, the site where my family's house once stood. From every doorway I half expected a young couple and their children to emerge, the father bespectacled and egg-headed, the mother elegant and angular, their five kids teasing each other. How close my family felt in these moments, shadows on the other side of the thinnest scrim of time. 
Tatico explained that the row of homes off the midsection of the hospital had been torn down and rebuilt after the war. "They used to be very beautiful," he said, as we passed seven houses that looked tacked together with spit.
We reached a small overlook. A hill lined with royal palms stretched a long way down and down, until it reached the bay far below. This was the view I had seen in one of the few photographs my grandmother had managed to smuggle from the island, fronds silhouetted against glimmering ocean. Tatico pointed to the other side of the bay. "I get such nostalgia thinking of the way it used to look. Heartbreaking. Nostalgia will be our death."
I didn't understand at first, but then I noticed his finger tracing a black strip of land between the blue water and the peninsula's green grasses. A fire? No, explained Tatico—the nickel factory. They had dumped all the slag into the ocean, and now the water was fifty feet lower, the exposed land steeped in unused ore. He said they called it la tierra negra—the black earth. The shoreline was a decayed gum revealing the root of a rotten tooth.
A handful of dirt roads led us down to sea level, where we found Las Palmas. It lay empty. The roof—whose thatch my dad had described in the most adoring of terms—was now rusted metal. A small ballroom with some chairs laid out. On the back patio stood an outdoor bar. The space felt forgotten; it was impossible to imagine music puncturing the quiet. Tatico greeted the bartender, who polished glasses for no one. The patio abutted shallow ocean. Calm swells lapped at a few ragged piers. Dad had told me he used to fish here, when it was still a dock. Tatico was at my elbow. I asked him why no one had rebuilt it.
"There was an animated cartoon called The Rockeaters," he said. "When they ran out of food and got hungry, instead of going out and finding a new way to eat, they would fill their bellies with rocks. That is the Cuban way. What use is it to fix the dock if it will only break again? Instead, we learn to enjoy sitting on the shore."
Tatico took me down to the old baseball field Dad used to play on. Four heifers munched the outfield. He told me that his mother was a big supporter of the revolution. After the war, Che—the Che Guevara—toured the entire country and stopped even in lowly Nicaro. His mother took a photo with Che, the two side by side. "Their arms like this," Tatico said, placing his akimbo proudly. He said the photo was in the town museum, but she'd been cropped out. Only the triangle of her elbow remained.
For dinner, Tatico made me cangrejo—crab. I remembered the word by associating it with Congress, imagining a legislative body of suited-and-tied crustaceans writing bills restricting travel. He served me an entire hubcap of rice. Canned peaches again for dessert. I asked Tatico if he ever got time to relax. He said he'd like to go to Cayo Saetía, an island thirty minutes away by car with one of the most beautiful beaches in all of Cuba. I asked why he couldn't go if it was so close, and he said the entry fee was ten CUC—half a month's salary. Conversions again: imagine twelve hundred dollars to swim at Coney Island. The grand irony, that Cubans live in one of the world's most beautiful countries, and they can't afford to see it.
Later, from the backyard patio, under the hand of a large avocado tree, he pointed across the water to the island—it was so close you could skip a rock there without it sinking.
I spent the next day walking alone. I stopped by the natural pool—an area of shallow seawater hemmed in by stacked rubble—and wrote in my journal. I attempted notes for the novel, but it felt far away. More important were the days I'd spent speaking nothing but Spanish, thinking, even, in Spanish. The fire trees felt closer. Pinto the Magic Horse felt closer. More important than a stack of pages written in English a thousand miles away was the sense of becoming something new, and as I lay with my back against the sand I realized the moment I had feared before leaving had come to fruition, and I could name it: I was meeting my second self, my Cuban self. Across the water, another shadow of my father, shirtless in swim trunks, sharing a jug of guayaba juice with a friend. Behind them, spray painted on the façade of a shack, the red capital A of anarchy. I moved to the water, which was filled with families and children, and lay on my back, allowing the water to hold me up. I imagined myself as my father, half a century ago, floating in this same water. I imagined this as home.
Dad often tells the story of the last moment he saw Cuba. Imagine your country on the brink of revolution, led by a man who was "charismatic but strange." Your neighbor grabbing a rifle and heading into the woods with a rucksack stuffed with resolve. A friend plucked from the night, the only possible explanation that he was a talker. Classmates being conscripted into the army, or being twice-baked in revolutionary fervor, hiking off into the mountains to meet El Comandante. My father was ten—too young for war in normal circumstances, but what is too young when philosophy is at stake?
On the day the battle came to Nicaro, my family covered the windows with mattresses. Dad fled hand-in-hand with his siblings to the hospital. A helicopter hovered overhead, a machine gunner in the open flank of the aircraft's belly, the broad hands of palm fronds pushing down under the rotors. My grandfather and the hospital's men dressed the roof in an enormous fabric embroidered with a red cross to protect it from bombs. Inside, a man with his wife and daughter held a gun, saying if the Batistans came to take them, he would shoot first the daughter, then the wife, then himself.
After the battle, my grandfather rode into the forest behind Nicaro on my aunt's horse, Relámpago—Lightning—and tended the wounded rebel soldiers.
Soon, my family was at a wharf in Havana, boarding the second-to-last ferry to leave the island before Castro's chokehold. Nos ahogan. Tata pressing cash deep into a Vaseline jar. Sewing bills into a diaper. The bathroom so slick with seasickness—halfway up the walls, Dad says—that when the ship rocked, my father went skating. Nervous energies, halfway hewn hearts.
We will return was my grandparents' promise, not yet knowing it would be only me.
And then Cuba was only eyeliner on the horizon. 
To hear Dad tell it, he knew he would not see Cuba again. He was ten years old and vowed to himself that he would erase all memory of Cuba, and then he turned away.
My third and last day in Nicaro, Xiomara announced that her phone calls had yielded fruit; the next-door neighbor had known my grandparents when they were first dating. She had already arranged my meeting with her; in fact, I was already late.
Her name was Nilsa. Tatico walked me over. He shouted her name from the front porch, she responded, and then he made a quick getaway. Weird, I thought. I sat on a metal chair. Across from me sat another outdoor chair whose fabric seat had long ago ripped, in its place a mountain of yellowed newspapers. Vines creeped up the house and, it appeared, entered in through the open windows. Plantain trees in the yard, a coral honeysuckle. 
Nilsa emerged from the screen door, leaning on a walker, her left knee wrapped in an ACE bandage, her shoulders so stooped her neck ran parallel to the cement porch. But as soon as she sat in her chair, a regal formality entered her. Her shoulders unstooped. Her eyes cleared. I introduced myself. "You knew my grandparents when they were first dating," I said.
"Le voy a decir," Nilsa said, using the formal pronoun, which gave the whole conversation an air of state business. I shall tell you. 
She had known my grandfather as the one who took over as assistant director of the hospital, the one who had the church built—facts I already knew. She said my grandparents seemed very much in love. Soon, though, her knowledge of the Loredos dried up, which was a disappointment. Instead, I asked about Nicaro, about her family. Nilsa's husband worked as a factory hand for the nickel plant but died after fourteen years of marriage. "We gave each other respect," she said. "He did not drink. He did not smoke. Never a bad word, an evil touch. Are you married? Are you Catholic?"
It was, perhaps, the hundred-and-first time I'd been asked of my marital status—by Nilsa, Tatico, and Xiomara; by Ileana and Melo; but also by the coat check worker at the national museum (who later propositioned me) and a random guy who'd asked me for the time. Cubans love being their own personal census bureau.
"I have a girlfriend."
"Do you live together?"
When I hesitated, she raised a hand. "I do not judge. Judging others is not generous. To be generous is to be happy; to be ungenerous is to be unhappy."
"Okay, we do," I said. "In sin!"
Nilsa told me she exchanged letters with a nephew in the United States. She had a brother who lived in Holguín. Her mother had taken ill and lived with her here until her passing. Her nephew had come to help for a time, and she sold everything she owned so her mother could eat.
"Now I have nothing," she said. "No material possessions." Her eyes wobbled, but she refused tears. She straightened her back. "But my mother was able to eat, so I am happy. Nothing is more important, do you understand?"
Later, I explained in mangled Spanish the situation with my family, that my aunts were on one side, my father and uncles on the other, and that they would not speak to each other.
"Here is what I will do," she offered. "Come back after dinner. I will write down my memories of Nicaro. Perhaps then they can remember again what is important."
At dinner, I recounted for Tatico all of what Nilsa had told me. Tatico said Nilsa talked too much. 
"But Tatico, she's super friendly."
"She's not working with a full coconut." He whistled and pointed to his forehead. He said she accused her nephew of stealing all her furniture. That's why he never came to visit anymore. I told him she sold her furniture to feed her mother. Tatico shook his head. Her mother never lived with her, either. It was only after she died that Nilsa starting selling everything.
I was spooked by the discrepancies, but Nilsa was in her nineties, and I figured she'd earned whatever stories she liked to tell herself. Her house was empty, and in her mind she had emptied it out of generosity. To be generous is to be happy. To be ungenerous is to be unhappy. 
When I came back, it was dark, but I found Nilsa sitting on her porch under a buzzing halogen lamp reading a newspaper. "Ay, Lucas!" she exclaimed, and told me to come inside. I opened the screen door and followed. She moved into a back room. There was not a rocking chair. Not a dining-room table. Not a rug or wall fixture or ceiling fan. The sink drowned in pots. There was only a box fan in the window and a single folding poker table supporting a photograph of a young Nilsa and a man who I assumed was her husband, his thumbs hooked into his belt loops. 
Nilsa returned and handed me a folded piece of paper. "Memories of Nicaro," she said.
I unfolded the paper and read under a yellow lamp.
Nicaro, 17 August 2017

Many years have passed, but in my mind have remained, still fresh, many memories filled with respect and love for humanity.

Of the families who left a numerous and beautiful legacy are those of the hospital: Guillermo Dumois and his collective, including Dr. Loredo; his brother, Dr. Hipólito Dumois; Dr. Hortensia, stomatology, niece of Guillermo; Dr. Ortega; also including Hernestina, responsible for the laboratory, and
There was nothing else; the letter ended. I looked up. 
Nilsa slapped her knee. "Can you believe it? I ran out of ink!"
In the morning, Tony drove me back to Holguín, where I picked up the Vía Azul for Havana. The bus ride took fifteen hours because we stopped every twenty minutes. Passengers. Lunch. The driver buying Dora the Explorer DVDs at a roadside stand. At one rest stop, I spied an elementary-school-aged boy out the window whose shirt read, simply, FUCK.
Night turned up, and we started letting people off the bus fifteen miles from the capital, seemingly at random, on the hips of plantain fields. Ileana and Melo weren't at the Airbnb in Havana when I arrived—it was an unceremonious exit, with only Yero and the rest of the menagerie to bid me goodbye. 
I called Dad right when I arrived back in Austin and greeted him in Spanish, wanting to impress him, but we only exchanged a few sentences before he switched to English and told me about recent back pain. I was dying to tell him about my trip, but when I brought it up, he didn't seem interested in talking about it. When I called a few days later, he admitted that imagining me in Nicaro while he sat at home in Austin had made him depressed. 
I skirted talk of Cuba for the next week or so until finally my stepmom invited me over for dinner. We shared one of the quieter meals we'd ever eaten together. After we washed the dishes, I sheepishly asked if he was ready to see pictures. "If it's too much, I'll stop," I said. "We can always look later."
"We'll see."
I brought the album up on a computer and ran it through the television. And there it all was: Ileana and Melodí, the patio in storm, a sunny day at the Malecón. A video of fifties Fords puttering down the highway. Dad remained noncommittal, mostly unimpressed. But when I brought up the video I'd taken in the taxi, arriving for the first time in Nicaro, Dad sat up. He started plying me with questions, asking if that was really the nickel plant now, if that was really the hospital, the American Club. He was indignant at the black earth that seeped from the hills, shaken by the absence of his family's home, saddened by the disrepair, the rust, the decay. But in all that there was something else, too. After watching a video of the ruined pier where he had once whiled away the hours fishing with his sister, he said, "It's probably good I didn't go. Nothing's the same."
And then I realized: it was relief. Nothing was as he remembered, to such an extent that, for him, it was not even the same place. Not the Nicaro he knew. Not Nicaro at all. And his memories were safe, preserved in the amber of forever ago. 
For months afterward, I waited for my family to express interest in our home country, but no one did. Only at the brothers' Thanksgiving (our uncles and aunts hold separate gatherings now) did one uncle ask offhandedly how my trip was, and when I started to speak, he traveled far away, his hand holding a Lone Star against his sternum, letting my words enter the can instead of what was behind it.
In my fantasies, my family would come to me on the mountain. I'd imagined them suffering a thirst they'd never been aware of until I gave them their first sip of the water of our country. Then they would gorge themselves and with full bellies become docile, wonder where those four years had gone, maybe even dig up some choice morsels of Spanish in their reconciliation. But after a handful of false starts—me hedging into a story or two of my time in Cuba, my relatives unsure how or what to ask me about—there settled a deep sense of futility; I was afraid that if I tried harder to talk about it, I would gather more evidence of my family's disinterest. I began to wonder if the whole enterprise had been a waste of time. 
Writers, however, cannot stay quiet forever, and springs will seep even from the most compact earth. Six months after I returned from Cuba, my frustration bubbled into this piece, and I sent my brother the first draft. 
"I thought you didn't want to talk about it," he said. "You never mentioned it, so I thought it was a shitty trip." He suggested I email the whole family the pictures I'd taken during my time in Cuba. A great idea; if my stories of Nicaro made the family want to off themselves, at least I wouldn't have to watch them resist the urge. So I went through all the photos and videos I'd taken of Havana and Nicaro and created a slideshow with all the details and anecdotes I could remember. I attached it to a new email, apologizing for not having written about the trip sooner, and addressed it to every person in the family. The first time my entire family got together since Tata's funeral was in the recipient line of an email. I hit send.
The responses trickled in. Grateful responses, expressions of disbelief at Nicaro's deterioration, minor keys of sadness. My youngest aunt and uncle—fraternal twins—reminded me they came to the States when they were four and remembered nothing of the island. The older aunt said she was brought to tears; the older uncle that it brought back memories on which he did not elaborate.
And then— 
Nothing changed.
I realized the homeland wasn't bad medicine. It just wasn't the medicine they needed.
In talking to my dad about writing this essay, I've tried to gain clarity. Was it really the jewelry? Only that? When he saw the first draft, he said I'd gotten it wrong. "It wasn't the jewels. I don't care about that. It was the betrayal." In his version of events, Tata had always wanted everything—everything—split five ways. But then in the last vulnerable years of life, when the levees around her mind had started to crumble due to chemotherapy, there'd been a meeting with Tata and her lawyer that only one of the siblings, my aunt, could attend. Then Tata died. Then the will was read, and it wasn't everything five ways, period—it was everything five ways, save the jewels.
"After all that?" Dad says, over and over again. "After I got my ass beat in Mississippi for them? Held their hands running from that helicopter in Nicaro? Really? Really?" For him, it's an irreparable betrayal; no amount of talking can fix it. Once my dad is crossed, he's crossed forever.
I know, too, how my aunts feel: that their brothers have accused them of manipulating their own mother in her final years. Another wound not easily healed.
The last time I went to Dad's house, I asked if he could scrounge up a Xeroxed note he claimed Tata wrote in her last couple years saying everything should be split five ways. He didn't find it. Instead, he found a handwritten letter about her will from years earlier, 1996, only two years after my grandfather had died, when the question of death and its resulting mess of logistics must have felt fresh and urgent. I'd never seen it before. It's a short note—all of six sentences—addressed to "Dearest Carlos Miguel" and signed "All my love, Mami." I hesitate to make too much out of it; she lived another fifteen years in good health. But one line stands out, the final words underlined so hard the emphasis could gather dirt: What I really wish is that the five of you get together and make all the decisions together.
It's all fallible. I don't know if the Xerox exists, or if Dad's confusing it for this note, which any lawyer would toss out the window. Dad's memory is porous. So are my aunts' and uncles', and mine. The whole exercise of making an ironclad account of my family's disintegration has felt like sculpting with smoke. It doesn't matter; the result's the same. Dad has settled into his permanent groove—Really? Really?—and so have my aunts and uncles.
"Idiotas," Tata might have said. "Greedy, jealous, inconsiderate. Ruining everything over some gold bracelets and a piece of paper." 
It's not the story I wanted to tell. But today, I feel like Nilsa; my pen has run out of ink. I wanted to return from Cuba with the One Ingredient to fix our family's amnesia, but it's not a question of recipe; it's a question of our mother tongue. Lengua del Pájaro. The truth is, my family does not speak the same language anymore. Half of it has been thrown away.
---
Enjoy this Southern Journey?  Subscribe to the Oxford American.