The Gospel of Jodeci
By Lauren Du Graf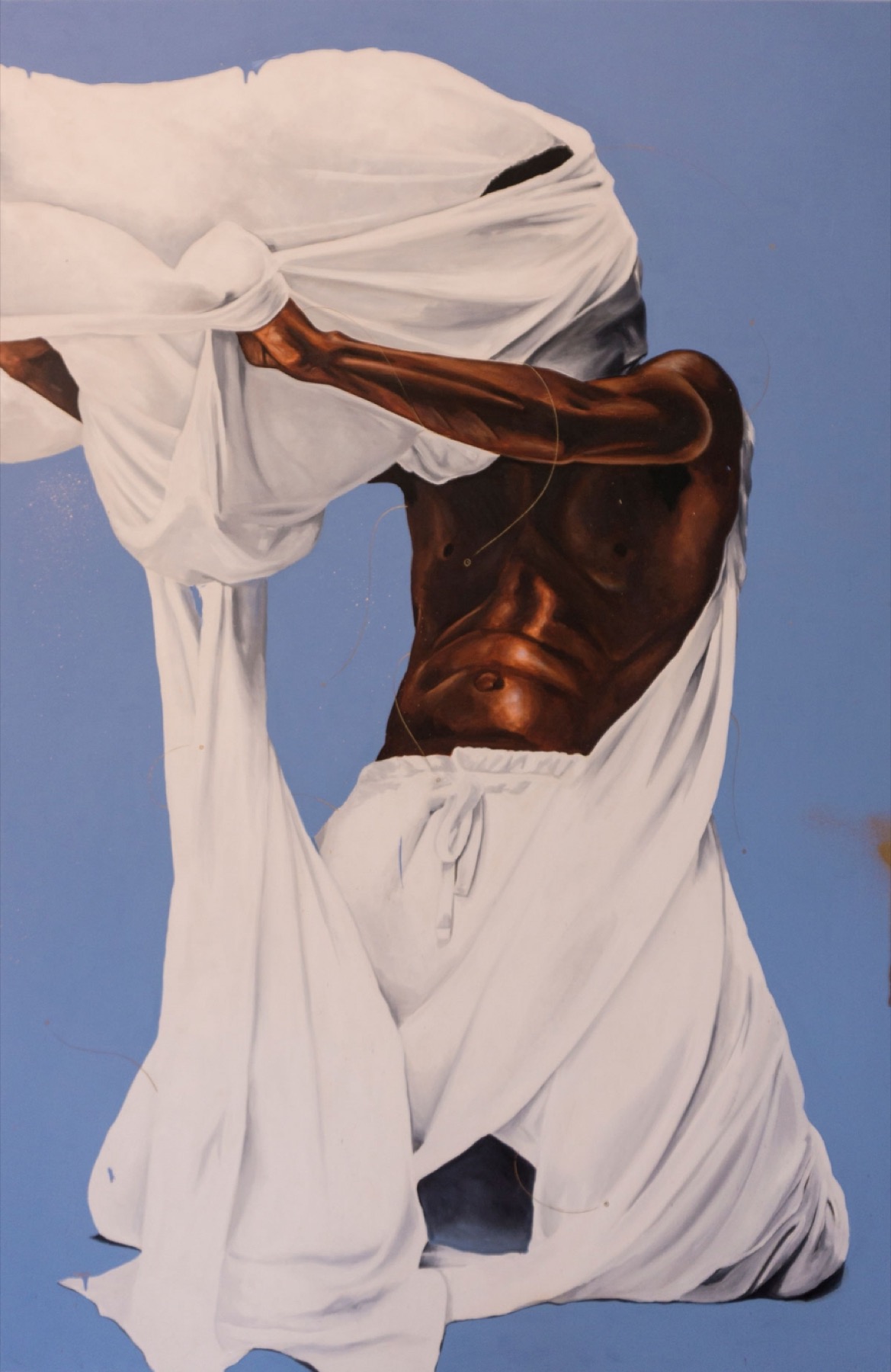 "Off White" (2018), by Fahamu Pecou. Courtesy of the artist
Sex, money, God, and slow jams
---
My perverse interest all my life has been the moment an artist crosses that line from obscurity to celebrity," said Lyor Cohen, global head of music at YouTube, on The Breakfast Club radio show in August. "And I've seen it go so haywire so many times that I like to be there to help them understand what's important," added Cohen, who was former head of Def Jam Recordings and 300 Entertainment, the label that launched Young Thug, Migos, and Fetty Wap. "You understand there are a lot of evil forces out here for young kids who have just got on." 
The particular perversion of music executives like Cohen is, of course, inextricable from capitalism. The desire to counsel the industry-naïve as the dizzying cataclysm of fame hits is, even when cast in benevolent terms, good business. Newly minted celebrity musicians must also reckon with the hubris of their own perverse interest—namely their desire to be a salable commodity. Musicians are accomplices, and often architects, of their own objectification. 
For gospel artists who make it as secular musicians, the ordinary perversities of capitalism and celebrity tangle with the wounds of religious betrayal and abandonment. To one's church family, the shift from sacred to secular may be interpreted as vain ambition, the prostitution of God's gift to the devil, blasphemy. In African-American church families with roots stretching back to plantations, the choice to leave religious music behind may reanimate the historical traumas of slavery, said Rev. Thomas Rhyant Jr., a veteran gospel singer with the Fantastic Violinaires, a quartet once led by Wilson Pickett before he crossed over to secular. "The church brought a certain amount of control on the black folks, because the Bible told the slaves to love their masters. When musicians begin to think on their own, they're saying, 'I don't need a master,'" said Rhyant over the phone in September from Europe, where he was touring in a revue of the music of Sam Cooke, who encountered backlash after he went from performing songs like "Jesus Gave Me Water" to "She Was Only Sixteen." 
Among the stars of American popular music, some of the brightest have been burnished in this crossover—Cooke, Pickett, Aretha Franklin, Otis Redding, Donny Hathaway, the Staple Singers, Ashford & Simpson, Whitney Houston. But none crossed over—from relative obscurity to celebrity and from gospel to secular—so boldly, indeed, so perversely as the hip-hop–driven soul band Jodeci, who released one platinum and two multiplatinum albums in just a four-year span from 1991 to 1995. 
Jodeci comprised two sets of brothers raised in and around Charlotte, North Carolina: Don Jr. "DeVante Swing" (the musical mastermind of the group) and his younger brother Dalvin "Mr. Dalvin" DeGrate, and vocal powerhouses Cedric "K-Ci" and Joel "JoJo" Hailey, the band's moniker a syllabic mélange of their names. (In the late nineties, Cedric and Joel began releasing music on their own as the adult-contemporary duo K-Ci and JoJo.) The DeGrate and the Hailey brothers were raised in Pentecostal and Holiness churches in which sacred music served as a primary vehicle for theology; both of their families were nationally prominent on the gospel scene and were featured on the Billboard charts. 
But as Jodeci, the DeGrate and the Hailey brothers fashioned themselves anew, epitomizing the sound and personae of the horny, slow-jammed nineties. When the band appeared on The Arsenio Hall Show in 1992, the first thing the host said was, "Somebody explain how your parents are affected by what you are doing." On Martin Lawrence's show the following year, the comedian parodically accompanied the band while blabbering and gyrating in a sleeveless undershirt to quasi-orgasmic denouement, an unfastened belt slackened from his sagging pants. By 1995, the band had fully cashed in on their image as insatiable freaks; their third full-length album, The Show, The After-Party, The Hotel (a "groupie opera," wrote the Washington Post), featured tracks such as "DJ Don Jeremy." They appeared on the cover of VIBE magazine that year; the article tagline: LIFESTYLES OF THE RICH AND SHAMELESS. 
The internet abounds with documentation of the personal and professional turmoil that has followed members of the group from the beginning—imprudent business decisions, abusive behavior, convictions on gun charges and for sexual contact, erratic live performances, shot vocal cords, onstage collapses, and gravely debilitating health and substance addiction issues, chronicled in K-Ci and JoJo's 2010 reality show Come Clean. But for a time in the nineties, they seemed invincible, their youthful insouciance only bolstering their sex symbol status. Wrote Touré in the New York Times: "Perhaps no other group has been linked to as many famously sexy women as Jodeci." At the time, DeVante was dating Madonna, Dalvin was linked with T-Boz of TLC, and K-Ci was seeing Mary J. Blige. Blige would later describe the relationship to a BBC reporter as "Ike and Tina of the nineties on the low" and a "private hell." (After an eighteen-year recording hiatus, Jodeci came back, repentently, in 2014 with the anti-domestic-violence track "Nobody Wins.") 
When asked, members of the band say they never broke up. But it's hard to say that they are together anymore. DeVante rarely appears in public. K-Ci and JoJo aren't following each other on Instagram. "Knowing what I know now, I don't think I would have been in Jodeci," JoJo told Sister 2 Sister magazine. The friction between band members plays out in passive-aggressive social media posts. K-Ci, JoJo, and Dalvin assiduously market themselves as solo artists. "Don't know what's up with Jodeci right now. Still my brothers though," K-Ci told his Instagram live audience on August 15. On August 17 in San Jose, Jodeci took the stage with only two of four members, JoJo and Dalvin. K-Ci was supposed to appear, but canceled. "It's about business at the end of the day," he explained. "The promoter did not have my money. Y'all can understand that." He added, "There's an Oko Yono in every Beatle. Read between that." The following month Dalvin posted a magazine spread of himself mounted on a motorcycle with the caption, "u don't always need 4 wheels on your vehicle to reach your destination sometimes 2 works just fine!!!!" 
The band may be in a protracted state of decay, but their music is experiencing something of a renaissance. Among hip-hop tastemakers, Jodeci references are trending. Migos and Fetty Wap nod to Jodeci in their lyrics. Drake, the band's most aggressive contemporary interlocutor, self-consciously situates himself within the same musical tradition; he builds songs on their samples ("How About Now"), weaves in intertextual allusions ("I think I'd die for you / Jodeci 'Cry for You'"), and, on the song "Jodeci Freestyle" even included a snippet of a phone call with his father, Dennis Graham, whose words are evidence of Drake's longstanding devotion: "I remember you loved Jodeci. I mean like studied, you even made me a CD . . . " 
Jodeci wasn't the first group to adapt the classical tropes of soul music—lust, yearning, and begging—to hip-hop; such a project was already well underway, pioneered by New Jack Swing acts such as Bell Biv Devoe and Guy. But Jodeci's gospel ingredients took the recipe to the next level, juxtaposing churchy chords and riffs against freaky-deaky lyrics, drawing out the tension between the illicit and the sublime. 
The eroticism of their songs took a disturbing charge from a proximity to violence and madness. The video for "Feenin'," a narcotically metaphored ode to erotic obsession from their sophomore album, Diary of a Mad Band, features band members as patients in an insane asylum, donning straitjackets and convulsing from electroshock therapy as the band sings, "I can't leave you alone." Then–Death Row CEO Suge Knight, who once gave K-Ci and JoJo's mom a $37,000 ring for Mother's Day, has a cameo in the video as an orderly bringing in a tray of food. (It was Knight who introduced Jodeci to Tupac, resulting in some of the finest collaborative work of the rapper's career. "How Do U Want It" features vocals by K-Ci and JoJo and production by Dalvin. DeVante made the beat on "No More Pain.") 
The climax, if you will, of their aesthetic comes in their masterpiece, "Freek'n You," a song that (along with Silk's Keith Sweat– penned "Freak Me") helped transform the word freak into a verb. It begins in the dark. There's the sound of a thunderclap, the angelic arpeggiation of a glockenspiel, chanting, and a first line that sounds like the beginning of a bedtime prayer: 
Every time I close my eyes 
I wake up feeling so horny 
I can't get you outta my mind 
Sexin' you be all I see 
Ginuwine, then an affiliate of the DeVante-helmed Swing Mob music collective along with Timbaland and Magoo, Missy Elliott, Tweet, and Static Major, was around during the composition of "Freek'n You." "[DeVante] locked himself up in his studio for about a week. And when I say locked up, I mean he was sort of like in jail. He wouldn't come out the room," Ginuwine told YouKnowIGotSoul in 2016. "He'd come out of the room to go to the bathroom I guess and come back in," said Ginuwine, whose monster hit "Pony" was first written and recorded in DeVante's studio in Rochester. 
The effect lands somewhere between heaven and the bordello, sacred and infernal, the dark complexity of DeVante's production a potent counterpoint to K-Ci's sanctified vibrato. One is hard-pressed to recall a more emphatic musical utterance of the word horny, the line's final foot unabashedly punctuated by a heavy spondee. 
Perverse? Yes. Blasphemous? Maybe. But not irreconcilable. To contemplate the meaning of Jodeci is to grasp at the intersection of religion and excess, of devotion and abandon, of agape and eros—a space where holiness and hedonism coincide. Sacred and erotic poetry, after all, are not dichotomous, but rather the most intimate and ancient of bedfellows, from Sufi mysticism to Ovidian elegy. The meme may be "If the Love Doesn't Feel Like '90s R&B I Don't Want It," but literary history knows that Jodeci's ars amatoria continues a millennia-old poetic program that welds the object of affection to something of the divine, a slippage between the beloved and the god, which the poet-scholar L. Lamar Wilson describes as "sacrilegion," a never-ending hunger for the unattainable object of erotic perfection. 
My obsession with Jodeci began in middle school; at the time, the lyrics to "Freek'n You" were an intoxicating abstraction. In high school, my friend had a cassette single of their rendition of Stevie Wonder's "Lately"; we wore it out on off-campus drives to lunch. I returned to the band's music as an adult, drawn in by nostalgia, seduced and repulsed by the fantasy of complete erotic possession. Jodeci's vision of romance was sublime, but suffocating. "Stay," the first song on their first album, opens with the line "Don't talk, just listen." It's a line that has always bothered me. But I held my nose, beckoned by the music; for years, their first two albums stayed in heavy rotation in my car's five-disc changer. 
My interest in the band deepened in the summer of 2012, when I met Robert Joines at an unassuming bar in Washington, D.C.'s U Street corridor called, as chance would have it, JoJo. I'd gone with some friends to hear live music, and Joines was helming a grown-folks cover band called Just Us that played songs by Kool and the Gang, Rick James, and a fifteen-minute James Brown medley. In between sets, Joines shared that he was from the Charlotte area and an uncle of K-Ci and JoJo. The Haileys, I knew, were kin to American Idol winner Fantasia Barrino, who grew up an hour and a half north of Charlotte on I-85 in High Point. I never spoke with him or heard his band again, but the evening raised the possibility in my mind of understanding Jodeci as more than a distant artifact of their era, but as people with families I could meet in places that I could touch. 
Jodeci's origin story has often pivoted around their Cinderella moment, when DeVante, Dalvin, K-Ci, and JoJo arrived in New York City in the DeGrate family Ford Escort after a twelve-hour drive from North Carolina with three hundred dollars and nowhere to stay. The band memorialized the trip in their 1993 song "Success": 
Way back in 1989, I believe it was
We packed up DeVante's car and headed up north
A little money in our pockets, but that didn't stop us
We had to leave
Leaving a family behind back home
It was so sad that we said "Mama, we're gone"
We were leaving in a rush—mama, don't fuss
We just wanna succeed
...
We rolled around the Big Apple all night long
Every time listening to our demo song
Not a place to sleep, nothing was cheap
But we still drove on
They found the address for Uptown Records in the phone book and showed up without an appointment. They were signed by Andre Harrell that day. Harrell put the band up in his old apartment in the Bronx; Al B. Sure finessed their songwriting and production; and Puff Daddy massaged their unsophisticated country edges into a marketably rugged aesthetic, putting them in combat boots and slipping the beat from EPMD's "You're a Customer" behind the crush-serenade "Come and Talk to Me." 
But starting the story in New York had put too much emphasis on Uptown. It was in North Carolina that the band had written and recorded a demo of nearly thirty songs, a number of which ended up on their first album. 
What was Jodeci like before they signed to a label, before they crossed that line from obscurity to celebrity, before they became a commodity, before they succumbed to the excesses of fame? 
I wondered what their families were like. I wanted to visit their churches. 
Charlotte, North Carolina, sits at the intersection of money and God, and is therefore a quintessentially American city. It's the site of the nation's first gold rush, home to megachurches and big businesses, Bank of America and Billy Graham, and Lowe's Hardware. For a time, Charlotte was home to televangelists Jim and Tammy Faye Bakker's The PTL Club; the acronym was intended to signify "Praise The Lord" but would be derisively recast as "Pay The Lady." 
Jodeci is inextricable from this terroir. DeVante and Dalvin's father, the Reverend Donald DeGrate, was himself a televangelist; after working as a talent coordinator for The 700 Club, he hosted his own show on CBN called Right On, which ran for a few years in the 1970s and was aimed at a black audience. When Dalvin and DeVante performed with JoJo Hailey for the first time, they were part of a Christian band playing backup for Tammy Sue Bakker, Jim and Tammy Faye's daughter. The Bakkers were good friends with the Reverend and Mrs. DeGrate. At the time, DeVante was dating Tammy Sue. 
In late June, I visited Christ Tabernacle Pentecostal Church (formerly known as Christ Gospel), the church Rev. DeGrate founded in 1974. 
"We pray with the lights off," the usher advised, showing me to a pew near the back for Sunday morning service. 
The dark sharpened my ears. I tuned in to a layered, omnidirectional sea of wailing and prayer. Bodies knelt in the shadows, prostrated over pews. A young girl with a questioning gaze found my eyes, peeking over the back of a pew. 
Back in the day, the likes of Puff Daddy, Missy Elliott, and Aaron Hall passed through the church's doors. Robert Duvall even visited the church as he prepared to make The Apostle, a film about an eccentric Southern preacher. But the church has gone through some changes and things aren't the same as they were, I've been told. The lights came on to reveal evidence of absence. Drum sets with no drummers. No band, no choir. Twenty parishioners in a church designed to accommodate many more. 
Choir or no choir, the show must go on. And Rev. DeGrate produced a seamless show in June. He's the pastor, the lead vocalist, and the DJ. He cued up backing tracks on a MacBook, opening with a soaring ode to the unrecognized virtue in traumatic wear and tear. 
Scars are a sign of healing 
Like the rainbow that follows the rain 
Wounds that are open, feel the most pain 
But the scars are a sign of healing 
Behind the pulpit, the Reverend exposed his scars. He talked about the shame of losing his wife's family home, being without a place of their own to cook Thanksgiving dinner. He lost his way, he said. He preached about repentance and self-loathing, beginning with a reading from the Book of Job, "Wherefore I abhor myself, and repent in dust and ashes." 
When the sermon felt irretrievably bleak, he sprinkled in a dash of comic levity. "Don't be bringing that r&b in the house, unless it's Jodeci!" he joked. 
The women in the church were all wearing white and had removed their shoes. One of these was Mrs. Mary DeGrate, DeVante and Dalvin's mother, who played the tambourine with the joyful authority of a church mama. Noticing my presence, she ran up in tube socks and greeted me with the warm smile of a long-lost friend. She whispered to her husband, who called upon me mid-service to introduce myself to the congregation. 
After the service, Mrs. DeGrate approached me again to ask what brought me to the church. I explained that I was a writer, and she and the Reverend invited me into his office to talk. DeVante used to keep something like fifteen to twenty keyboards to the right of the altar, Mrs. DeGrate told me. Those drums? Those were Dalvin's. The young girl staring at me during the service, I was later told, is DeVante's granddaughter. 
The Reverend had the chance to cross over to pop music like his sons. But in his twenties, he made the choice to stay in gospel, he explained. He had a spot lined up for him at a Motown revue at the Cow Palace in San Francisco. He made it all the way from Texas to California, but once he arrived, a voice spoke to him, offering a bit of holy scripture he had never before read: "For what profits a man if he gains the whole world but loses his own soul." 
The Reverend and his wife were living in Virginia when he met the conservative Christian televangelist Pat Robertson for the first time. Their church choir appeared on Robertson's television show, and as the choir prepared to sing, the voice of the Lord told Rev. DeGrate that somebody was going to offer him something. "We were broke," he said with a chuckle. After the performance, he and his wife lingered until they were the only ones left in the studio. That evening, Robertson offered him a job as a salesman on radio and TV. According to his son Derek, Rev. DeGrate was the first black person Robertson hired. (Like his father, Derek made the choice to stay in gospel music. For years, he was hounded by questions about why he didn't join his brothers' band. But he's not bitter about it. "That's how God had it worked out.") 
As Rev. DeGrate's career at CBN took off, so did his recording career. He moved to Charlotte and, recording as the Don DeGrate Delegation, landed a hit in 1979 with the bouncy dance track "I Wanna Be Ready." Produced by Nashville disco mainstays Moses Dillard and Jesse Boyce, who had spent more than thirty years playing bass for Little Richard, the track went on to achieve national acclaim. He later signed a deal with WORD Records out of Nashville, an accomplishment that he in part attributes to bringing tapes from recording sessions into his prayer closet, which is exactly what it sounds like—a closet with "no clothes, no shoes, just prayer." "Everybody in the church has one," he said. 
Don DeGrate's gospel albums stood out for their time for their stylistic innovation and production quality, said recording engineer Mark Williams, who worked on a handful of albums with DeGrate at Charlotte's now-defunct Reflection Sound Studios. "He made the quartet sound less bouncy and country and more uptown," said Williams, who estimates he has worked on more than five hundred gospel records since he started at Reflection in 1980. At the time, most gospel albums made at Reflection were recorded and mixed in a single day, he said, but Don Degrate preferred to take his time in the studio. Williams remembers DeVante, too, as the "kid with the big feet and big hands messing around on the saxophone on his dad's album," adding that "he was a bit odd to deal with, and kind of into his own trip." 
Rev. DeGrate's ambition, rigor, and fusion aesthetic left a mark on his sons, especially DeVante, who wrote and produced nearly every Jodeci song. "People kind of forget about the stuff [my dad] was doing way before Jodeci," said Derek. "But it was the same thing—they were taking the gospel vocals and just putting them over r&b-type melodies." 
The Reverend's sons played in their father's band from their early high school years. That is, until DeVante and Dalvin went to New York. 
"Well, you know that story," interjected Mrs. DeGrate, smiling. 
"They drove my car. We didn't know they were gone," added the Reverend. 
I asked them what they think of Jodeci. 
"We're not r&b people," said Rev. DeGrate. "I don't listen to it as a rule. But DeVante did change the sound of r&b music." 
Mrs. DeGrate pointed to DeVante's mentorship of Missy Elliott, Ginuwine, Timbaland (whose nickname was given to him by DeVante), Static Major, and other members of the Swing Mob collective as one aspect of their son's legacy that has not been adequately acknowledged. "He didn't get any credit for it," she says. "Timbaland is what he is because of DeVante. He took care of Ginuwine. DeVante helped those kids." 
(Timbaland would describe living under DeVante's roof differently. In a chapter of his memoir titled "Diary of a Mad Mentor," he recounted an environment of systematic abuse in which musicians were expected to produce under a constant threat of violence, and, although they received free studio time, were given little to no money and fed a meager diet—sometimes nothing at all.) 
Mrs. DeGrate is a proud mother, taking care to find the best recent picture of Dalvin to show me. She took a picture of me to send to him, too. She gestured to a framed photo in the Reverend's office of her sons with James Brown ("You know who that is, don't you?") and told me about the time Michael Jackson called her to tell her how talented DeVante was. "I don't like to think about that conversation because I didn't get the chance to mention Jesus." 
Like his father, DeVante found inspiration in the dark. 
Earl Vernon remembers the first time he met DeVante well. Back then, Vernon was performing with Little Cedric and the Hailey Singers, the Hailey family gospel band. They were working out of Charlotte's Tryon Mall, where the band's manager had put together a studio for them to prepare their fourth album. Some members of the band, including Cedric and Joel, lived in the mall, in a makeshift apartment adjacent to the studio. Vernon, who auditioned DeVante for the band in 1987, recalled him as a precocious virtuoso. "I'm listening to him, like everything he says, I'm not believing it," Vernon, now a minister of music at a church in Gaffney, South Carolina, recalled in a phone conversation in September. "He was just a little kid walking around just talking about music. He said, 'My name is Don, you can call me Lil Don, but when I make it big, my name is going to be DeVante." 
When he came back to the Haileys' studio for an official audition, DeVante brought about eight keyboards with him, a momentous step in bringing his musical laboratory beyond the confines of his father's church. "He said, 'Cut the lights off,'" Vernon recounted. "I said, 'Cut the lights off?' He was like, 'Yeah, man, I like to cut the lights off, I like to play in the dark. I like to get a good feel for what I'm doing.' 
"The music was out of this world; I've never heard nothing like this. I cut the lights on and his hands were going everywhere, I mean just flying and he all of a sudden stopped. He said, 'Hey man, why you cut the lights back on?' I said, 'Man, I had to see this to believe it.' He was like, 'Man, I was just getting ready to get into a groove.' I said, 'What?' He said, 'I really want to impress you because I really want to play for y'all.' I said, 'Bro, you're hired.'" 
Little Cedric and the Hailey Singers had been formed in Baltimore, but the Haileys had returned to their hometown of Monroe, North Carolina, a rural town twenty-five miles south of Charlotte, when the boys were in high school. During Cedric and Joel Hailey's early years in Monroe, "gospel music was really the only type of entertainment that was going in town," said Walter Gibson, who for thirty-two years has been proprietor of Jampac Records on Main Street. Back then, the tight vocal harmonizing of gospel quartets was still in high demand, and the Charlotte area, an early gospel recording hub, was famous for its local groups. The gospel quartet style, according to UNC Chapel Hill folklorist Glenn Hinson, "incorporated the close harmonies of workers singing in the fields, the falsetto of the hollers, the bass phrasings of the rhythmic worksongs, and the syncopated beat of congregational handclapping into a unique musical sound that is still the basis of modern gospel music." Elvis Presley hired quartets as his backup singers, and singers like Pickett, Cooke, Johnnie Taylor, and Lou Rawls got their start in quartets like the Violinaires, the Soul Stirrers, and the Holy Wonders. For a time, Charlotte was home to the most famous of them all, the Golden Gate Quartet, a group that, at Eleanor's behest, performed at FDR's 1941 inauguration. 
The Hailey family band performed quartet-style arrangements to enormous success; Little Cedric and the Hailey Singers' 1983 album Jesus Saves hit number four on the Billboard Top Gospel Albums chart. The band was built around young Cedric's prodigious vocals; he was called the Michael Jackson of gospel, and if you listen to recordings of the band, you'll hear why. In a review of Little Cedric and the Hailey Singers in February 1985, the New York Times wrote of future K-Ci, then aged fifteen: "Young Mr. Hailey delivered songs with conviction; his voice rose over the band's vamps in rasps, shouts, and long cries. He also delivered the gospel message with stylized, preacherly declamation—although, as with many child performers, the mannerisms seemed self-conscious." (K-Ci recently returned to gospel, contributing vocals to two tracks on Snoop Dogg's gospel album, Bible of Love.) Little Cedric and the Hailey Singers could often be heard on WQCC, then Charlotte's biggest gospel station, and one of the only music stations allowed in the DeGrate household. 
Not long after DeVante's audition, Vernon recalled, the group abandoned gospel and began working toward Jodeci. Over the phone, Vernon sang some of the original versions of the songs that he worked on with the group. The origins of the song "Stay," he told me, can be traced to a gospel song he wrote called "The Time Is Now," which was originally intended to be on Little Cedric's fourth album. Vernon said he appeared on anywhere between five and eight songs on the demo that would help land the band at Uptown Records. For a time, the band was called Jodek-ci, Vernon told me. "Jo was for JoJo, D was for DeVante, E was for me. K-Ci was for K-Ci. But they took the 'K' off." 
He sang me an early iteration of the song that would become "Forever My Lady," which he described as the band's theme song. (The lyrics to the chorus: "When you think of love, you think of Jodeci. Together forever. And this is one thing.") "Now, you got to hear how much we sound alike," he said, laughing. Indeed, Vernon's voice would have merged beautifully. 
Nearly thirty years later, it still stings. ("They're my friends. I love them, and when they see me, we ain't missed a beat and everything. But it would not be Jodeci if it wasn't for me.") When the band made that fateful trip to New York, Vernon stayed behind in Charlotte with his pregnant ex-girlfriend. JoJo promised to keep him in the loop, and after they got signed, Vernon was told he'd be able to stay in the fold. But Uptown Records, seeing the marketability of two sets of brothers, didn't care, Vernon suggested. It was too late. The band never came back for Earl Vernon. 
In 1996, Tupac died in a drive-by shooting in Las Vegas. Tupac had asked K-Ci to go to Vegas with him on that trip; the day before, K-Ci and JoJo had been with the rapper, shooting the music video for "Toss It Up." 
Jodeci's unofficial hiatus began around then. K-Ci and JoJo started releasing music as their own entity separate from the DeGrate brothers, trading horny gangsterism for adult contemporary. The Hailey brothers, who just a few years earlier had provided vocals for a "groupie opera," now vowed, as K-Ci and JoJo, to "never fall in love with a stranger" on "All My Life," which spent three weeks in the number-one spot on the Billboard charts in 1998. K-Ci and JoJo was a band that their mother, Anita Hailey, could finally listen to, JoJo told the New York Daily News in 2000. "With Jodeci, she wasn't at a lot of our shows. Now, she's there whenever she can be." 
To understand the lineage of the Hailey family vocalists, one must hear Anita. I found her on YouTube, a shaky phone video taken of her singing in church at her granddaughter's graduation. Her voice was piercing and doleful, its tone like Jimi Hendrix's guitar. She sounded like her son K-Ci, but deeper—broken but resilient. She had one of the most beautiful voices I had ever heard in my life. 
Beyond a few articles noting her wish that her sons would return to gospel music, I found little written about her. I had heard she had recorded music in Baltimore, but turned up no evidence of these recordings. For weeks, I had reached out to members of the Hailey family and was ignored or flatly rejected. She briefly appeared in K-Ci and JoJo's reality television show, Come Clean. In late July, I went to Charlotte's Mission Church of the Lord Jesus Christ, one of the churches that was featured in the TV show, intending to absorb what I could. 
Aaron Raley, the preacher, is a cousin of the family. He told stories of miracles, of things beyond one's control, of how the hand of God will show up. He railed against gossip ("You know how people talk," he said a few times that day) and was an energetic fundraiser. A sign at the front of the church announced how much had been raised for a building project. He tallied up the high price of each renovation: each door, he told the congregation, costs three thousand dollars to replace. Over the course of the day, he changed outfits three times— a shiny blue suit in the morning, a leisure outfit during lunch, and another suit for the afternoon service. The funds for his finery, he assured the congregation, didn't come from church coffers. "What belongs to God stays with God," he said. 
My visit coincided with the church's forty-first anniversary, a day full of sermoning and singing from morning until evening. The church already had four or five choirs on its own, but additional visiting choirs and pastors were on hand for the day of celebration. My attention waned until Anita grabbed the mic and brought down the house. 
Afterward, no fewer than ten members of the congregation approached me with messages of welcome. They hugged me, kissed me, sweated on me, and made me feel seen. They asked me where I came from and what brought me there. I traveled from D.C., I said, because of the music; I told them that I had seen a video of Anita singing on YouTube. I tried to be discreet, but it was no use. They rushed to introduce me to Anita and tell her who I was and why I came. She held my hand and said that it was a blessing to meet me, inviting me to lunch. 
I waited for the right moment to introduce myself fully, but I was uncovered before I could find an in. The first to notice me was Tiffany Hailey, K-Ci and JoJo's baby sister. "Are you the writer who has been trying to get in touch with my daughter?" asked Tiffany. "How did you find us?" 
As I waited in line in the buffet, whispers of my arrival were carried up the chain. I sat and ate with a few longtime parishioners, wondering what would happen next. As I prepared to leave, Anita gestured toward me. "Sit down, I have something to say to you." 
"Tell me what you're really here for," she said, smiling over a plate of food. To her right was Tiffany, and another cousin. They waited for my next move, as if we were playing a game of chess. 
I explained that I am a writer, working on a story about Jodeci. I told them that I came to observe the service and hear the music. I said that I hadn't been able to get a hold of anyone in the family for an interview, but that I still wanted to see the family's church. 
"That's right, because you wouldn't have been able to get to them if it wasn't through me," she replied. "You see, you kind of misled me." 
Tiffany asked if I had tried to get a hold of Dustin, K-Ci's manager, about interviewing him or other members of the band. I explained that I had, and that he referred me to an attorney in New York. 
"Now you're speaking my language," said Anita. "You see, it has to be done the right way. You did right by reaching out to the manager. You tell the people that sent you here that you have to do this the right way. You're welcome to stay here and experience the culture all day long. But you're not getting an interview. It all stops with me. You have to understand, I have to protect my family. But if you do it the right way, I might even let you write my book." 
The lawyer never returned my call. Later that evening, I heard from Tiny, JoJo's wife, who asked what I was doing in church. As I talked, I heard Tiny talking to JoJo, who eventually got on the line. He is the only member of Jodeci I would get a chance to speak with during the course of reporting this article. 
JoJo liked the idea of doing an interview for a story about the band's gospel roots. But his mother had been upset by my visit, he explained. 
"But I'm going to make it real easy for you," JoJo said. "I really want to do this interview." 
He said he'd talk to Dalvin and get back to me. 
The following morning, I got an email from Tiny: 
"Good morning, the gentlemen are choosing to decline the interview." 
I returned to Charlotte in August. There was one more church I wanted to visit. 
I learned from their reality show that as boys, Cedric and Joel Hailey attended Tiny Grove Holiness Church in Pageland, South Carolina, a sundrenched farm town about an hour south of Charlotte. 
Pageland is known for its watermelon and hosts a yearly festival in its honor. Before the service, I stopped to buy one on the side of the road. The cashier told me the farmers are having a hard time; the weather has been unreliable, and government subsidies are a necessity. 
Tiny Grove is located just past a tractor dealership, fields of feed corn, and a Walmart distribution center. The nearest McDonald's is twenty-four miles away. The church itself is modestly sized and humbly appointed with wood paneling, popcorn ceilings, threadbare upholstery, and fraying carpet. It used to be heated by a wood stove and was smaller before the remodel, I was told. Fittingly, the sermon that day was full of agricultural references, of learning to endure in between rains, of learning to be patient in the dry place, of learning to withstand a financial drought by believing in God. The service was backed by a smartly dressed trio of teenagers; children of no more than four or five years played with tambourines in the pews. 
After the service, I was warmly greeted by members of the congregation. It seemed everybody there, including the preacher, either grew up with the Haileys or was a cousin or an aunt. The seemingly interminable number of Hailey cousins I met made more sense after I learned that Anita is the daughter of one of three sisters, all ministers, who married three brothers. Rebecca Raley Seegars, their cousin, remembered that Cedric was about four years old when he began singing in one of the church's choirs. That experience must have made him bold to sing out later, she imagines. 
Our conversations were engaging. But brief. Shortly after the service ended, several of the family members retired to a back room for a meeting. I made plans to talk later with a few of them. 
That evening I got an ominous phone call from a cousin of the Hailey family whom I met in church. "K-Ci and JoJo's mom says you need to call her." 
"Listen to me," said Anita when she picked up, her voice unrecognizably angry. "I'm speaking to you from the bottom of my heart. You will not go into my church, asking questions about my family." She'll tell everyone about me, she warned. She called me a "sneaky little thing." She screamed. She told me never to call her again and said that she was blocking my number. And she hung up. 
Her cousin later told me that the word is out that I've been snooping around and that I'm a nuisance. Others who said they were willing to talk suddenly wouldn't return phone calls. Someone else in town, unconnected to the church, told me that the best thing for me to do would be to pack up and leave. 
I was frustrated, but I understood. Over the phone, I felt the same unmediated ache that made me want to cry when I heard her sing, the same bottomless grief that gave her voice its agonized transcendence. 
In the end, what else was there to know? 
We live in a time when we must all account for our complicity in a culture that ennobles the unbridled sexual desires of men. Over the course of writing this essay, this thought occurred to me repeatedly. (On the day I finished it, Christine Blasey Ford recounted the details of a sexual assault she endured in high school in her testimony in front of the Senate Judiciary Committee.) How could I devote so much attention to a band whose music and biography exalted the uncontrollable libido at a time like this? 
I felt I should reckon with the band's misogyny. Yet reading Jodeci through the flat lens of sexism felt lazy and dishonest. Such an approach would only offer easy truths, both about the band, and about myself. 
As postcritical scholar Rita Felski has written, "We can be taken hold of, possessed, invaded by a text in a way that we cannot fully control or explain and in a manner that fails to jibe with public postures of ironic dispassion or disciplinary detachment." Pouncing on Jodeci's contradictions would distort how I tended toward them, how I wanted to succumb to them. I assented to the sound of voices joined in harmony promising to worship me like a sexual goddess and give me whatever I wanted like a Disney princess. I bathed in the materialism of "Feenin'," when K-Ci says "take my money, my house, and my car." I relished the erotic appeal of "Freek'n You," the song's elegiac begging charged with the holy spirit, the sacred braided into the profane. As Teju Cole wrote, "I can oppose white supremacy and still rejoice in Gothic architecture." 
The promises of nineties r&b, I know, are as flimsy as any narrative in resolving the anguish of one's existential condition of isolation. (Prayer alone will not prevent eviction. Nor will music permanently mend a restive heart.) Yet such fictions fill us with a temporary plenitude, a respite from reason, an occasion to surrender to absorption. I think of Simone de Beauvoir, who went to the cinema up to three times a day during the Vichy occupation of France. While traveling alone in New York, she wandered in and out of cinemas, looking for a sense of comfort and belonging. "I go into another movie house," wrote Beauvoir in America Day by Day. "The black-and-white screen is like morphine, and the actors' American accent moves me. The film is entertaining—Lady in the Lake. But when I leave, I'm disappointed again." 
By visiting Jodeci's churches and families, I imagined, I might scale these myths into a relatable dimension, drawing closer to their roots so as to make my affinity for their music an integrated part of my being. But I found no holistic cure among the faithful. Yet in writing, I flout the edict of Jodeci's first line, "Don't talk, just listen." My voice hovers as a descant over a music contingent on my silence. 
---
Enjoy this story? Subscribe to the Oxford American.