"Paradise"
By Liam Baranauskas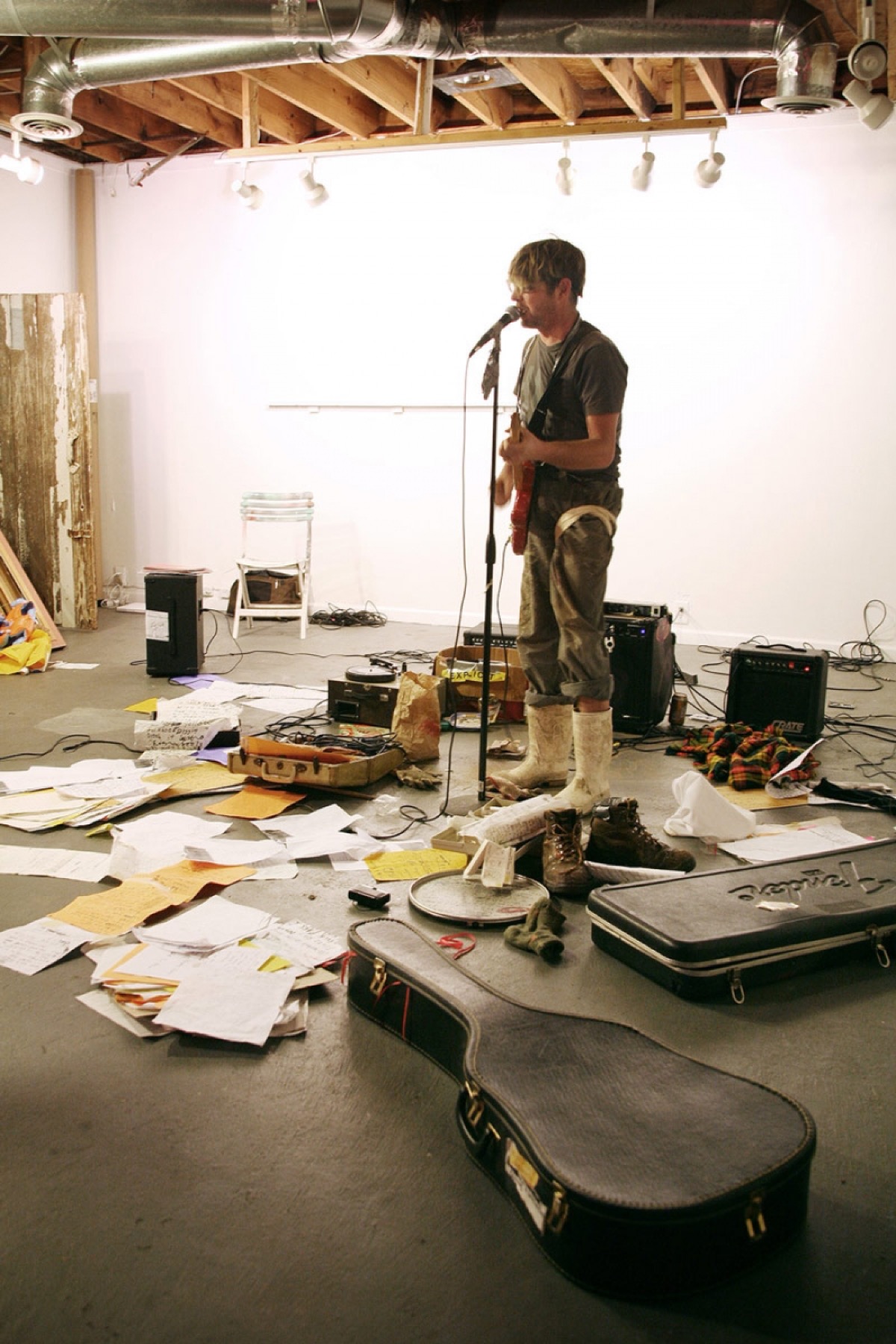 Photo by Steve Pomberg, stevepombergphotography.com
2019 Southern Music Issue Sampler featuring South Carolina
Track 9 – "Paradise" by Charlie McAlister
---
I once read that alchemists considered their discipline to be the opposite of philosophy—while philosophers tried to clarify the obscure mechanisms of human consciousness, alchemy was about taking simple ideas and making them so complex that they took years of study to understand. This isn't elitism (at least not wholly), but generosity. We've all got something holy inside of us, say the alchemists, but you've got to do some work to see it. That lead ain't gonna change itself into gold.
Keep this in mind if you're hearing Charlie McAlister for the first time. It might sound like kitchen-sink music at first, seemingly made with whatever junk was lying around and played by whoever happened to be there. It might seem off, even uncomfortably so. But listen closer. The warble of stretched tape, the loose tuning, the home-recorded hiss. It's all a disguise. At heart, lots of his catalog is strange, charmed pop music, wry without being goofy, ineffably simple, personal and universal at the same time.
Not that he made it easy for audiences to hear that, any more on stage than on tape. McAlister, who attended the Art Institute of Chicago for a year (he lost his scholarship when he painted over another student's work), specialized in a knowing, Dadaist antagonism—cooking clams during a performance, for example, or setting up tins of sardines in front of electric fans to blow the smell into the audience. Once, he played a set of abstract musique concrete at a frat party, setting up his tape loops and a Moog synthesizer behind a bedsheet with projections of medical slides on it (the show ended with someone throwing a half-gallon of bourbon through the makeshift screen). He released a CD on which he intentionally silkscreened the art on the wrong side of the disc, rendering it unplayable.
McAlister lived most of his life in Mount Pleasant, a small beach town in suburban Charleston, and, outside of a small circle of like-minded friends, he wasn't ever in step with the larger culture there. He found his audience instead in a sprawling pre-internet community of musicians and labels located in bedrooms and dormitories, people who shared an enthusiasm for all things Xeroxed, high-speed-dubbed, and otherwise self-marginalizing. McAlister released scores of tapes on almost as many labels, through what would come to be known as the Cassette Underground (as well as several issues of a bizarre collaged publication called Sardine Magozine), even scoring a (very) minor hit with his 1997 album Mississippi Luau, which charted on college radio. When he toured for that release, he played the set dressed as Colonel Sanders beside a "time-traveling teepee" made of aluminum foil. Rob Carmichael, who put out the album on his Catsup Plate label, told me he saw McAlister tear apart a fish at a Swarthmore College show "because there was a fortune inside," whittling an audience of around a hundred down to single digits. ("The people that were into really out-there theater were just, like, blown away by it," Carmichael said.)
Remember, this was all alienation by design, McAlister deliberately complicating simple sentiments, like the refrain on "Paradise," which goes, "This is paradise, and we are never going to leave." It's sung without a sneer to telegraph easy irony, but it doesn't seem like the line's meant to be taken completely at face value either. It guts me because it sounds so hopeful and hopeless at the same time.
His brother Jamie said that Charlie felt frustrated living in Mount Pleasant but that "he never really complained about it." Then he told me Charlie always kept in touch with friends he'd made from "his tape-trading days," writing them letters and sending them new music. Carmichael said the same thing. Though Charlie may have only met most of them no more than a handful of times in person, they were able to help him make a place for himself, one not on any map but somewhere in the liminal gaps of the telephone and the U.S. Postal Service, far from the supposed paradise where he lived.
I first heard of Charlie McAlister a few days after his death in 2018 at age forty-eight, when a friend posted a song as a memorial. My wife and I were about to have our first child, and I was learning how the combination of joy and fear can make you feel very alone, even when you're surrounded by people you love. And like alchemy, part of the magic of hearing Charlie McAlister's music hinged on its being hidden. I was listening to it on YouTube, but the song sounded like a cassette tape with a handwritten insert. It sounded like I'd been friends with him all my life. It was a small miracle made from the stuff of the everyday, an aluminum foil teepee that actually could transcend space and time.
---
Order the 21st Southern Music Issue & CD featuring South Carolina.