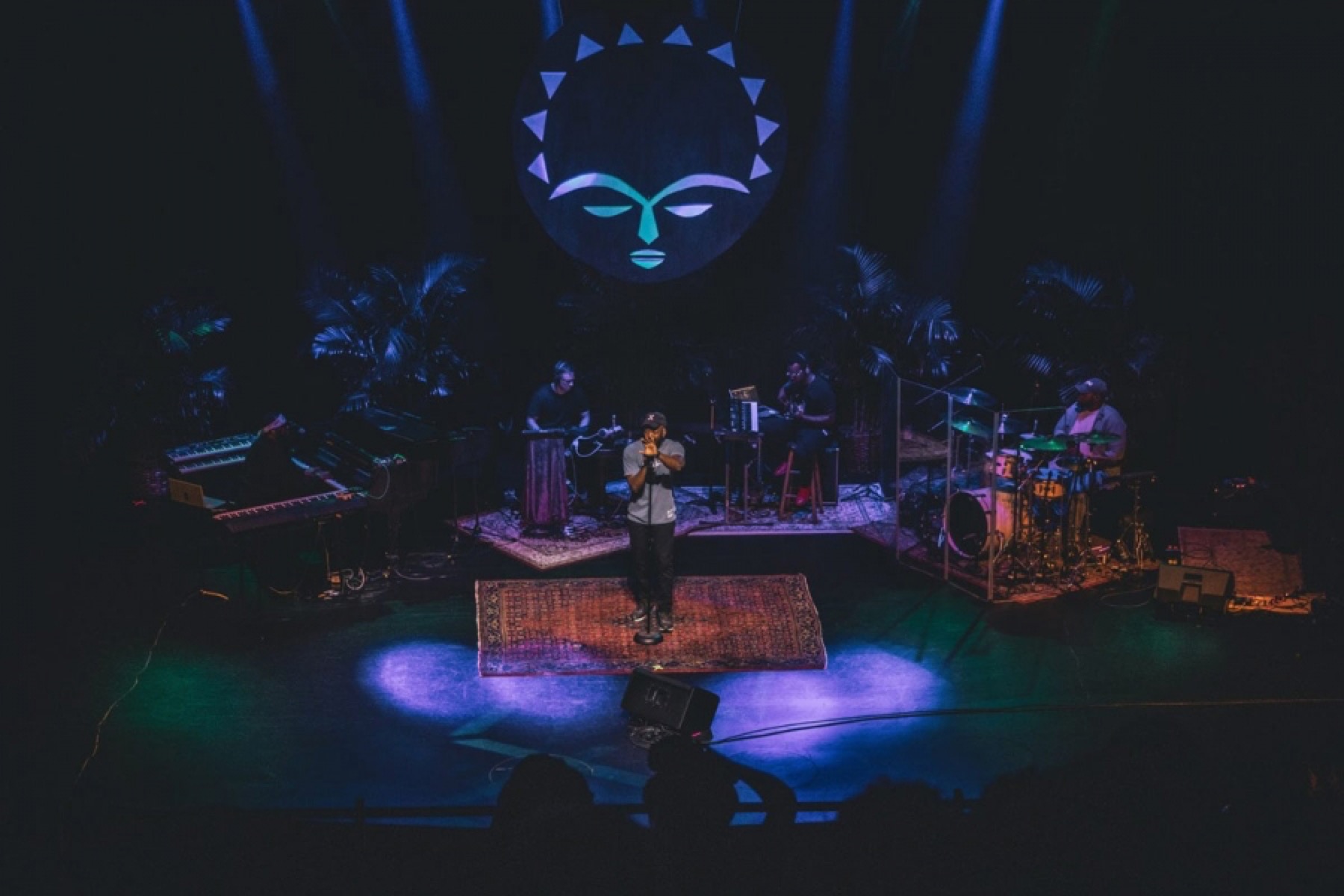 Benny Starr recording A Water Album live in Charleston, 2018. From bennystarrsc.com
"Resurrection" (Live)
By Benny Starr
2019 Southern Music Issue Sampler featuring South Carolina
Track 23 – "Resurrection" (Live) by Benny Starr feat. the FOUR20s
---
In 2017, on the heels of an intense breakup and feeling stuck in a protracted stint as an associate with a communications company, I had a crisis. As I approached the age of thirty, I was living and working in upstate South Carolina, where I had assumed the role of upwardly mobile adult preordained for me by a tradition steeped heavily in the Southern, Black Episcopalian faith in which I was raised. There, I stood firmly in an identity where I was simply my mother's son, Fitzgerald Wiggins. Black men are conditioned from a young age to prioritize survival, providing for ourselves and our families, over self-discovery. Rejecting the ingrained instinct that moving back home signaled failure, I decided to leave the Upstate and return to the South Carolina Lowcountry where I grew up.
I hail from a rural area roughly an hour north of Charleston, in Berkeley County, between Lake Marion and Lake Moultrie. Surnames there can serve as literal descriptors, perhaps not surprising in a town called Pineville. They tell you who folks are and where they come from. In fact, many dirt roads, lanes, streets, and boulevards throughout Pineville are littered with the names of "kinfolk." There's Freddie Lue Drive, McCray Lane, Tanaya Lane, and Wiggins Wood Lane (home to my distant cousins). There's even a road named for my granddaddy. There, Black folks have signposts instead of family crests, their legacies never to be lost to the passage of time. The main thoroughfare in Pineville is Highway 45, which merges gently with Old Highway 6. On that very road, I remember as a young boy seeing Black men who appeared to be cowboys on horseback assisting a local conservation group with the controlled burning of dense woodland areas near my home. That same old highway tells a complicated story of two communities: the burial site of Revolutionary War hero Francis Marion is on one end and the ruins of the Maude Callen clinic, named for the famed African-American nurse and midwife, are on the other.
When I moved home, it was on one condition: the only way forward for me would require a full divestiture from capitalistic clock punching. I knew if I wanted to create something meaningful from the broken bits of my not-so-distant past I'd have to practice patience. I'd have to become comfortable with rummaging around difficult memories and hold myself to account for the missteps I'd willfully taken. I needed to sit with my experiences, to allow myself the gift of quiet reflection that can be elusive for men such as myself. Black men.
Years prior, I'd made a foray into hip-hop, recording my first album, The Experience, but I'd abandoned music when I found it near impossible to make ends meet. Though I was unaware at the time, I can see clearly today that this response was reflexive; from my days as a young acolyte in the church, I was taught to place order before desire. When I returned home in my time of crisis, I reached for the thing that has continuously served as a sort of catharsis throughout my life—penning rhymes.
Little did I know, something deeply personal to me would speak to many others and communicate themes and feelings that lay deep beneath the surface—hidden, even from me. What began as an act of self-healing evolved into an experience that has connected with hearts and minds so unlike my own. That body of work, that experience, is A Water Album.
Much like water, an unobstructed idea can move in any number of directions, and I've grown accustomed to the wily nature of my creative process. Oftentimes, what I set out to construct will suddenly morph into something wondrously unrecognizable by project's end. I never sat down to write "my next album." It was on my journey home where I began to wade through scores of soul music classics. The universe presented me with moments of stillness—or at least, that's what I experienced. I had to work my way back home, back to music. Unexpectedly, I found myself helping a friend complete a hand-painted mural in Texas near the Mexican border. The job allowed me to immerse myself in music while I completed my tasks. Beautiful songs from legends like Anita Baker, John Coltrane, Sam Cooke, Stevie Wonder, and Luther Vandross pushed me to create. Each day I would don a pair of noise-canceling headphones and enter a flow state of inspired conceptual thinking. Themes and lyrics began to emerge. My Texas detour gave me an opportunity to nurture my imagination. I began to think outside the bounds I had created for myself. The idea of constructing a brotherhood of bandmates lingered in my mind, so I committed to the notion. Back in Charleston, I sought out producer Khari Lucas (also known by his stage name Contour) and musical director Rodrick Cliche, chasing a specific sound. I knew that whatever I'd end up with, wherever I'd end up, it would look and feel more like home.
"Resurrection," the first song on A Water Album, facilitates a kind of reconciliation between the Fitzgerald Wiggins of my youth and the man I aim to be. Seeing others come in contact with this music has been a staggeringly beautiful experience, with a profound, if unintended, result: apparently, I've empowered members of my community to chart their own pathways to redemption. My story serves as a reminder that we must boldly summon the will to grow. We're living, breathing amalgamations of our former selves searching for safe harbor. We need only look inward.
---
Order the 21st Southern Music Issue & CD featuring South Carolina.