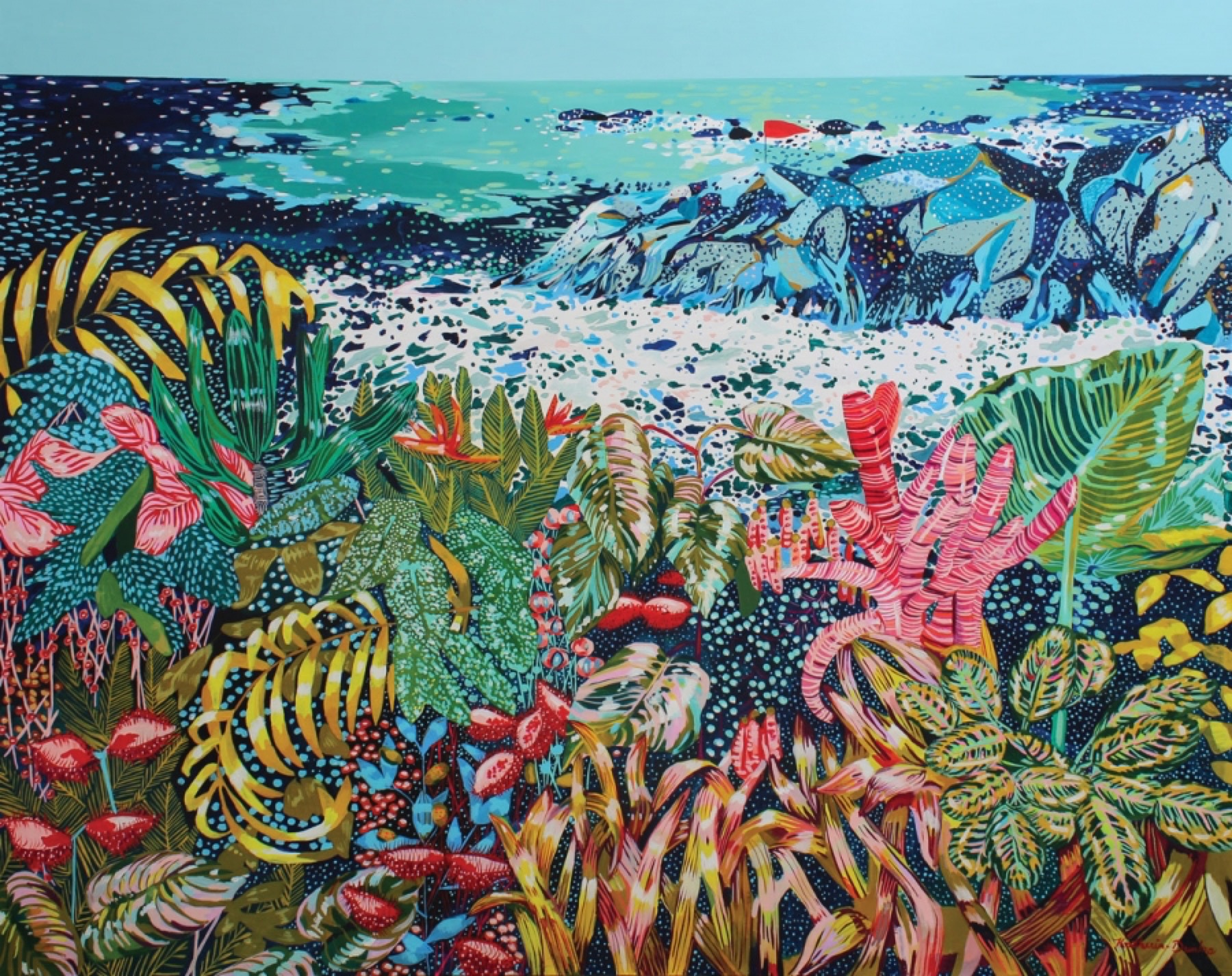 "We Made It," by Katherine Dunlap. Instagram: @kat.lap
The Music of South Carolina
By Oxford American
Notes on the songs from our 21st Southern Music Issue Sampler featuring South Carolina
Order the South Carolina Music Issue & Sampler
---
At Hitsville U.S.A. recording sessions, when Motown Records producers would give James Jamerson, the studio's in-house bassist, the charts for new songs, they provided him only the chord changes with no actual bass lines. No one could tell Jamerson how to play. No one could hear what he heard beneath a chord progression and melody. "They'd let me go on and ad lib. I created, man," he told journalist Nelson George. "I picked things up from listening to people speak. From the intonation of their voices. I could capture a line. I look at people walking and get a beat from their movement. I'm telling you all my secrets now." Jamerson died at just forty-five in 1983, and because Motown didn't attribute the players on its sessions for years, his influence went largely unappreciated in his lifetime; the list of songs to which he contributed—as the anchor for the house band, known as the Funk Brothers, from 1959 until 1973—is staggering. More No. 1 hits, the label notes, than by Elvis, the Beatles, the Beach Boys, and the Rolling Stones combined.
Jamerson arrived in Detroit in high school from his native Edisto Island in South Carolina's Lowcountry, the state's southeastern coastal region distinct for its geography and culture, of which Charleston is the main city. Here is a land rich in musical innovators. Listen to Alice Wine at home in Johns Island, who first shared the lyrics "Keep Your Eyes on the Prize," an update of the hymn "Hold On" that became the famous civil rights anthem (track 21). Or Charlie McAlister, a singer-songwriter who created homemade ditties such as "Paradise" (track 9), with its wholly original sound. Or rapper and activist Benny Starr, whose song "Resurrection" (track 23) opens with a reflection on the landscape: "Where I grew up . . . water had such a profound impact on our traditions and the culture—what we ate, how we lived. Water is a life force, is rebirth and renewal. It's real spiritual." Like all of the country's major Atlantic ports, Charleston County is American cultural bedrock.
It is fitting that this Southern Music Issue (the Oxford American's twenty-first) devoted to South Carolina should come in 2019, as the nation moves to better recognize the tragic anniversary of the first sale of enslaved Africans on American soil, in August of 1619. About forty percent of the enslaved people brought to America came through Charleston; today most African Americans have roots in the city (some estimates go as high as eighty percent). Or to put a finer point on it, as Joshunda Sanders writes in this issue, "No Black person has a family tree that has not been pruned by slavery." Acknowledging, parsing, and reckoning with this history is the prominent theme of this South Carolina music issue—as is celebrating the immense wealth of cultural heritage that has sprung from this small, proud place. Sanders's very next line is equally as telling: "But just because some of my history is unknowable didn't keep me from trying to do the spiritual work of reclamation."
Other writers dig similar ground, mining South Carolina music history for fresh insight. John Jeremiah Sullivan tracks the Stono Rebellion of 1739 and the consequence of the colony's subsequent banning of drums. Zandria F. Robinson listens to Ranky Tanky, whose music is "a crash course in Southern lessons and logic, wrapped well in sound." Mark Powell revisits modern Spartanburg and its homegrown icons the Marshall Tucker Band. Sarah Bryan offers a memoir of old Myrtle Beach. The incomparable poet Nikky Finney memorializes the love shared between blueswomen Clara Smith, "Queen of the Moaners," and her mentee and partner Josephine Baker. And Jon Kirby chronicles the other life of our cover star, Lake City–native Dr. Ronald McNair, a famous astronaut who was also a devoted and accomplished saxophonist.
One of the joys of the state-themed format of our Southern Music Issue series is having the opportunity to elevate lesser known artists alongside local luminaries. What an honor to hear among these many voices of South Carolina those like Charleston's Bill Wilson, who released his first album at age seventy-six last year (track 22) and Columbia's Aaron Graves, lead singer of Those Lavender Whales (track 11), who tragically died of brain cancer this year, at thirty-three.
Today, James Jamerson is considered an unparalleled bassist and pop composer (in its "100 Greatest" special issue, Bass Player magazine ranks him No. 1), a legacy he didn't live to see recognized. It is in the spirit of Jamerson and his secrets that we present here a small cross-section of the ingenuity and influence South Carolina musicians are due. It begins with a contemporary band hailing from the Lowcountry, Ranky Tanky—named for a Gullah expression meaning something like "get funky"—a reclamation-reimagination project of the highest order, whose music is the perfect tone-setter for this issue. Cue track 1, "Freedom."
—Maxwell George
---
1 "FREEDOM"
Ranky Tanky
The Charleston band Ranky Tanky has described itself as "four Gullah descendants and one disciple." It was the disciple, guitarist Clay Ross, who approached his longtime musician friends Quentin Baxter (drums), Kevin Hamilton (bass), and Charlton Singleton (trumpet) about forming a Gullah-inspired band with lead singer Quiana Parler in 2016. "When Clay approached us about Ranky Tanky, honestly the first thing I said was 'Why would we go out and do Gullah?'" remembered Singleton in a recent interview with Garden & Gun. "I can go to church right now and hear folks singing those songs. . . . What I learned is that everybody can relate to it somehow." Ranky Tanky released a self-titled debut album in 2017 and it quickly rose to the top of Billboard's Jazz charts with their contemporary interpretations of Gullah music, drawing from spiritual and gospel tunes, kids' games and poems, and the "heartbeat rhythm" of the Gullah culture that still exists in the Charleston area, as Singleton has put it. In "Sing Across the Ocean", Zandria F. Robinson writes of "the spiritual funk Ranky Tanky's Gullah name commands—enjoinment to move, to work, to get funky; to shake it; to turn up; to get crunk," describing a music "where you dance joy and wail sorrow and clap to it all." The band's second album, Good Time, dropped in July and features the group's first original songs, including "Freedom," which adds "Gullah-inspired voices and sound signatures to the slate of Black Lives Matter–era anthems," Robinson writes.
Ranky Tanky released "Freedom" as a single in March. "The idea of 'Freedom' is at the heart of the American identity, and particularly for the Gullah people who are descendants of enslaved African-Americans," wrote the band in an artist's statement. "Freedom is a universal anthem. This song holds a universal truth, yet undoubtedly represents something different to every individual that hears it. We believe everyone in the world deserves the Freedom to live in equality and prosperity."
—Eliza Borné
In the magazine: Zandria Robinson on Ranky Tanky
---
2 "HYPER THAN DOPE"
Genius Productions feat. Suede
In 1989 in Charleston, a young man named Matt Jones, a tech whiz and DIY hip-hop producer who went by DJ Wizard, invited the neighborhood over to his mom's house on Kracke Street to make a record. Jones and company put together six songs for an EP he called The Musical Prophesy, which he self-released under the banner Genius Productions. Of the three hundred copies he had pressed, precious few survive, with many of them lost to Hurricane Hugo, which devastated Charleston that year. For "Lowcountry for Old Heads" (page 50), Dave Tompkins caught up with Jones, who still lives in the city and still has one or two copies of his old masterpiece, as well as the customized vintage machines he used to make it.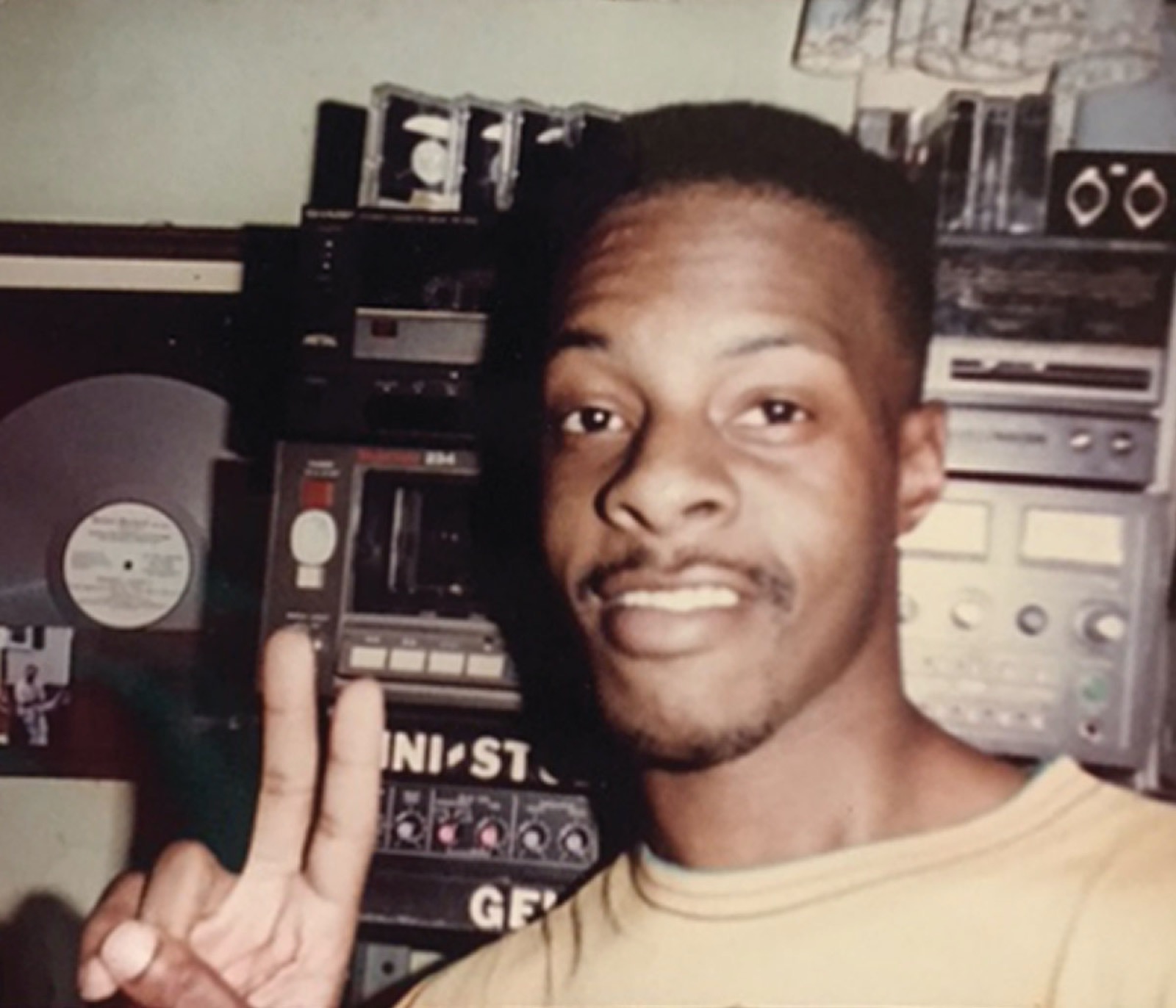 Photo courtesy of Matt Jones
"A lot of things weren't on purpose," Jones told Tompkins about his recording approach on The Musical Prophesy. The songs are complex, layered old-school hip-hop collages, intricately puzzled together out of random samples and snippets harvested from his mom's record collection, odd organic noises and scratches, original 808 and 909 beats and bass lines, and the cast of amateur rappers Jones's local celebrity had attracted—including Suede, the anonymous teenage pistol who owns the EP's final track, "Hyper than Dope." ("I'm the type of girl who lives by no man's rules / I don't care who you are or how good you look.") As a portrait of a place and time—the West Ashley neighborhood of Charleston, a few months shy of Hugo—this music is about as specific as you can get, and as with most documents so richly authentic, Jones's EP has become a sought-after underground classic. As he recalled to Tompkins, "Back then"—when the record came out—"I was like, 'I'll pay you if you take it!' Later, I would get emails from Japan, Germany, Paris. How did this happen?"
—Maxwell George
In the magazine: Dave Tompkins on Matt Jones of Genius Productions
---
3 "DOWN TO THE GRAVEYARD"
Moon Pie
The band started up. Within about thirty minutes I understood that Moon Pie, indeed, couldn't be categorized. Nowadays I can say that they might've been at the forefront of Americana, or of cowpunk. They came across as a mix of Willie Nelson and Elvis Costello, of Buddy Rich and Graham Parker.

In clubs and bars they played ninety-minute shows, at the least, filled with three- to four-minute narratives about living in a town and wanting to get out, being away from home and wanting to return, hating a job, being unemployed and willing to work for the worst boss ever. Unrequited love. Main Street drag racing. Bad, bad radio station formats. Moon Pie was a mix of Springsteen, the Modern Lovers, Hank Williams, and the Blasters. Some years later I saw Jason and the Scorchers—a band I love—and thought, Moon Pie, back in the day.
Read George Singleton's essay on this song.
---
4 "THIS MUST BE THE PLACE (NAIVE MELODY)"
Iron and Wine & Ben Bridwell
In 2014, singer-songwriters Sam Beam (better known by his folk nom de guerre Iron and Wine) and Ben Bridwell (leader of indie rock band Band of Horses) met up in Asheville to record an album of covers, calling it the jam session they never got to have back when they were growing up together in Columbia. "The process of picking the songs to cover was really reminiscent of more than fifteen years ago when we used to mail each other cassettes and CDs of music we were into," Beam said. "And the end of every recording day found us cutting up with friends the way we used to when we'd cross paths in South Carolina." Among their offerings is the beautiful "Ab's Song" by Spartanburg's rock & roll icons the Marshall Tucker Band, whose legacy Mark Powell unpacks in his essay "I Make of You What I Will" (page 60).
Beam and Bridwell named the album Sing Into My Mouth for the lyric in the Talking Heads classic "This Must Be the Place (Naive Melody)," which the pair transformed into a lush acoustic arrangement, illuminated by their close harmony. "I feel like if you respond to the material and don't try to do a send up of it you try to interpret it in its own personal way, it will feel new enough," Beam told the Wall Street Journal. Although David Byrne's song is beloved for its anti-narrative universality, it is impossible to listen to this version and not think of where these two old buddies come from. South Carolina must be the place. Home.
—Maxwell George
---
5 "BAD CASE OF THE BLUES"
Linda Martell
All we have is one sparkling album and a few artifacts of her career. There's a scrap of origin story: Raised on gospel music, she recorded her first singles as part of an r&b group while still a teenager, then switched her focus to country music when a rowdy crowd in Charleston demanded it. There are a few photos of her—pretty, slim, and glowing in the paisley prints and mini-dresses of the era. And there's a video clip of her performing "Bad Case of the Blues" on Hee Haw.
Read Katie Moulton's essay on this song.
---
6 "GUITAR SONG"
Marshall Chapman
The question songwriters get asked more than any other is, "Which comes first, the music or the words?" For me, the words and music usually come together, out of the blue. But "Guitar Song" was different. As I said, it started out as a poem—a love poem to my guitar. But when I read the poem out loud, the words had a rhythm to them. So I picked up my old Martin D-28 guitar and started playing the rhythm of the words. It was almost a waltz rhythm—but more of a Waylon waltz rhythm, which is 6/8 time, rather than 3/4. Like the rhythm Waylon played on "Dreaming My Dreams." So I was strumming along in the key of E, when the words just fell into that rhythm like something preordained.

Then it hit me. This was a song! So I wrote "Guitar Song" at the top of the page.
Read Marshall Chapman's essay on this song.
---
7 "MORE CONTROL"
The Heist & the Accomplice
"If you listen to those records, we are all at one hundred, trying to outdo the other one," Dylan Lee tells Lauren Du Graf about the Heist & the Accomplice, an early Columbia band fronted by Chaz Bear, now known as Toro y Moi. Lee, a guitarist in the Heist who currently plays in Washed Out, distills the band's ethos: "Crazy, youthful energy and everyone is playing a million notes." Although they formed while still in high school, Lee and his friends Cameron Gardner, Patrick Jeffords, and Bear (back when he was still Chaz Bundick, before the epic takeoff of Toro y Moi), scorched Columbia's music scene as an insanely talented indie rock band, musically wise beyond their years. It was said that the band could have been the next Hootie & the Blowfish, a logical connection to make being that Hootie was the only other, albeit more famous, rock band out of Columbia with a black front man.
Du Graf writes that she "could feel some of the electricity listening to Connections Work, the Heist's last album, in the car with Chris Wenner, who engineered the album." "More Control," with its quick and wailing guitar riffs and frenetic cymbal crashes, brims with this electricity and is awash with the "youthful energy" that Lee recalled. Wenner listened to the music for the first time in years while riding with Du Graf and "was visibly moved by how good it still sounded. He described feeling a certain sadness; the Heist ended right when it could have taken off."
—KaToya Ellis Fleming
In the magazine: Lauren Du Graf on Chaz Bear
---

8 "CAN WE RAP"
Carleen & the Groovers
"I was a James Brown man," said trumpeter and vocalist Clary Butler, reminiscing about growing up in Charleston in the 1950s and '60s. "Everybody did church—coming up you had to do church. Then you did your other thing. James was my man. I was listening to the voice, but later on when I started playing trumpet I got enthused by what his horns were doing." By 1972, the year Butler recorded "Can We Rap" with his older sister, Carleen Jean Butler, at a studio in West Columbia, the Soul Brother No. 1 had just released Hot Pants, and Clary was home in Charleston after touring the country with Etta James and Wilson Pickett. Carleen had learned drums while playing in marching band at Charleston's Barnes Wilson High, where she was the school's first female drummer. The siblings' band, Carleen & the Groovers, released only two 45s before Carleen decided to move to Germany—including "Can We Rap" b/w "Hot Pants," both Clary's compositions. Listen to the groove on "Can We Rap," and it's not hard to understand why the singles have been so prized within the collector community: the song is hypnotic and fresh from the jump, driven by Carleen's funky beat.
—Eliza Borné
---
9 "PARADISE"
Charlie McAlister
It might sound like kitchen-sink music at first, seemingly made with whatever junk was lying around and played by whoever happened to be there. It might seem off, even uncomfortably so. But listen closer. The warble of stretched tape, the loose tuning, the home-recorded hiss. It's all a disguise. At heart, lots of his catalog is strange, charmed pop music, wry without being goofy, ineffably simple, personal and universal at the same time.
Read Liam Baranauskas's essay on this song.

---
10 "CUT A RUG"
Danielle Howle & the Tantrums
"Hey, this music sucks," sings Danielle Howle, in the first line of "Cut a Rug," from her 2002 album Skorborealis, with her band the Tantrums. She's imagining the unusual pickup line as a prelude to a request to dance, continuing in the song, "'cause it worked fine for our parents back in their time, getting to love." Forging connections is Howle's forte, whether in song—"I like to devise meetings for shy people in my tunes," she says. "I do it all the time"—or in South Carolina's music community. She's the artist-in-residence at Awendaw Green, which includes a swampy plot of land with a solar-powered studio on the edge of the Francis Marion National Forest, an hour outside of Charleston. There, Howle collaborates with participants in songwriting workshops, recording sessions, and other activities, including yoga and kayaking, as well as more informal pursuits. "We encourage hammock sitting and tree climbing and whatnot," she says. Luminaries such as Mark Bryan of Hootie & the Blowfish and Cary Ann Hearst of Shovels & Rope have recorded in the studio that Howle says resembles the Swiss Family Robinson house for what she and Dr. Eddie White, an area dentist and Awendaw cofounder, call the Swamp Sessions. A veteran of the area music scene with a quarter-century recording history on such labels as Kill Rock Stars and Daemon Records, Howle is effusive about the power of the off-the-grid location, while modestly downplaying her own efforts at community building. "I just make the pizzas on Wednesdays," she says, for the year-round weekly outdoor Barn Jam, "and talk to everybody."
—Jay Jennings
---
11 "OPEN UP"
Those Lavender Whales
"Somebody described our last record as 'friendship folk,'" said front man Aaron Graves of Those Lavender Whales' first album, Tomahawk of Praise, released in 2012. "And I thought that was really great. What does that even mean, ya know?" Tomahawk was a collection of quirky and odd feel-good tracks, the stuff of kick-ass dorm room jam sessions, serendipitously caught on tape. Many of the album's songs flout the familiar strum and drum that signifies indie angst, opting instead for curious acoustic melodies and unusual DIY sound effects. Graves's sparse, unaffected vocals and his innocently eccentric lyrics advocating togetherness and compassion helped the album defy characterization. Theirs was a strangely appealing sound content to live in a land without genre, an extension of what friends describe as Graves's own incessant positivity and genuine kindness. The music of unadulterated joy. By the time the group's second and final album, My Bones Are Singing, was released in 2017, it was clear that something had changed.
The first time I heard "Open Up," I had just learned that Graves passed away in June from astrocytoma, a cancerous tumor in the brain. Being aware of this casts a somber shadow over the record—knowing that, despite the brave resolve he sings about in "Open Up," the sunset of his life is imminent. Graves's diagnosis in 2014 undeniably colored the tone and tenor of My Bones Are Singing, but not in the way one might expect. Yes, the album is darker than its predecessor—aided in large part by the highly synthesized sound introduced by the record's producer, Graves's friend Chaz Bear of Toro y Moi—but if anything, these songs are even more courageous and introspective than the group's previous offerings. The lyrics have the weighty feeling of poetry written by a person at an existential crossroads.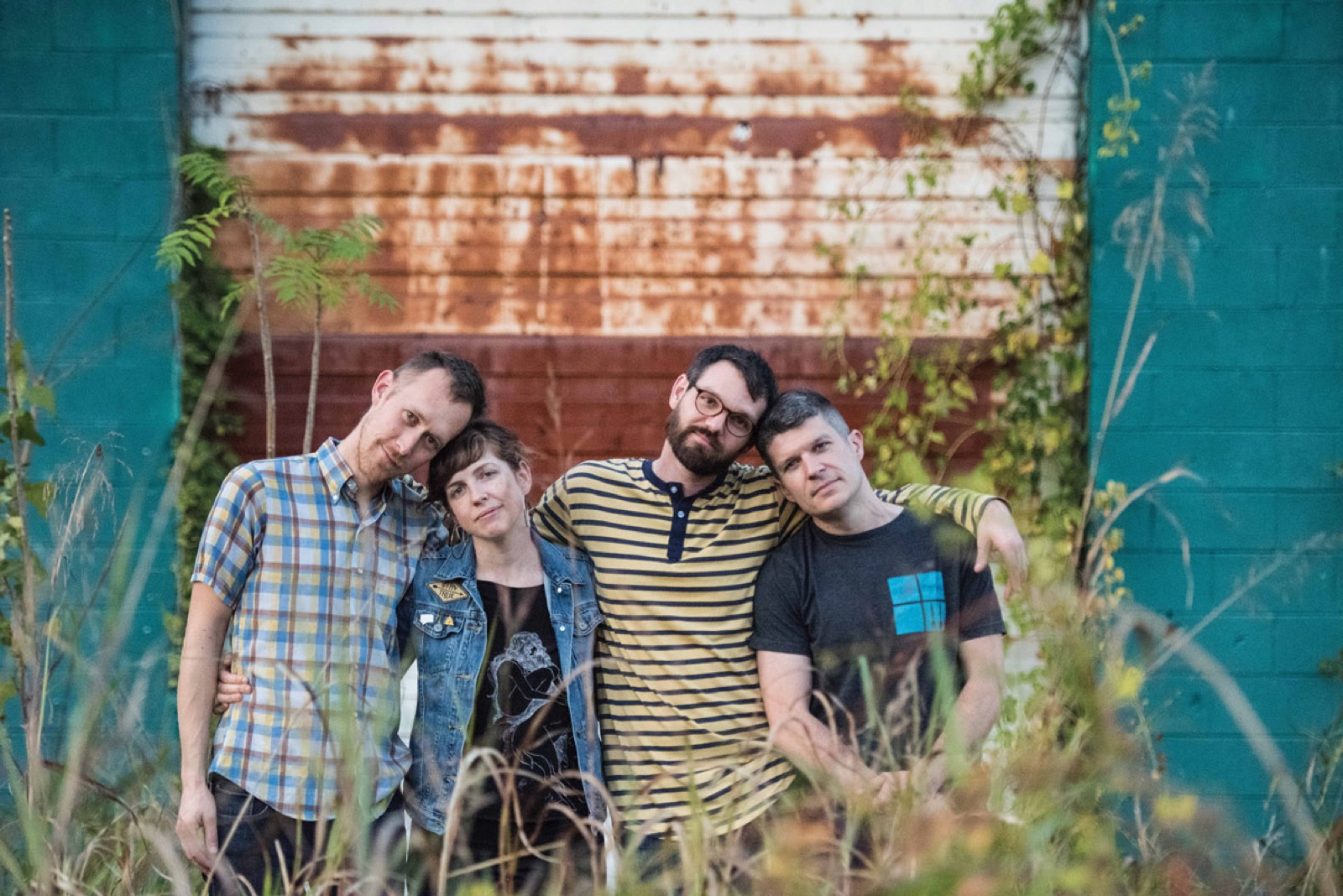 Photo by Sean Rayford. Courtesy of Chris Gardner and Fork & Spoon Records
While hope is the central theme of "Open Up," this is belied by its melancholy banjo plinks and the uncharacteristic gravity in Graves's voice as he sings: "I can't start to open up my skin and let my insides out and let the outside in. / My flesh is temporary. It wants to win my mind, but my soul is fighting for it and won't give in." The almost ghostly female voice that joins him on the refrain is that of his wife, Jessica Bornick. They sing in harmony—"I know I can't do this alone. / I know we can't just stay at home. / I know we can't do everything together"—before Graves's voice drops out completely, leaving her to repeat the words alone, her delivery like wearied breaths disappearing into the ether. A brutal and beautiful metaphor.
But perhaps the most interesting part of "Open Up" is the ending—a scratchy audio recording ripped from a 78-rpm 10-inch acetate disc of a speech that borrows the words of an essay called "The Luxury of Integrity" written by socialist economist Stuart Chase for Harper's magazine in 1930. The group's use of the clip, an admonishment of capitalism and the discourteous behavior of door-to-door canvassers, is at first baffling, until you learn that the voice on the recording is that of Graves's own grandfather, James Ward Horner, affectionately known as "Grandang." And then you make out the words: "Since time out of mind it has been the kindly human custom to welcome the stranger at the gate. The reaction is doubtless tied up with the dim fact that, some day, you too may be a-wandering and need rest and welcome." This song is not about the fear of death; it's about being a person who believes that, against all odds, goodness wins. It's about turning strangers into friends and showing the kind of compassion that outlives a person's time on earth. And having faith that in so doing, your spirit lingers on. Even in death, defiantly alive.
—KaToya Ellis Fleming
In the magazine: Lauren Du Graf on Chaz Bear and the Columbia music scene
---
12 "SIT AT HOME"
The Poplin Family
When Jack Tottle, a mandolin player stationed at Fort Jackson army base in Columbia, visited a TV station in January 1962, he happened to encounter China and Edna Poplin, two members of a musical family of eight children. Taken with their wonderful playing, Tottle arranged to meet up with the Poplins at their home in Sumter, in South Carolina's Sandhills region, where they sat around Edna's living room and played while he recorded on a Viking 76 tape deck. The Folkways label would release these recordings as The Poplin Family of Sumter, South Carolina in 1963, the peak of the folk revival. Though the Poplins released a second album in 1965 on Melodeon Records (Gwine Back to Sumter), it is the Folkways album that endures. Featuring both adapted standards and original compositions, the album's standout is the beautiful "Sit at Home," written by Edna, who plays guitar and duets with her daughter, Laura Elmore, with Poplin family friend David Jackson also on guitar.
The Poplins, whose musical style ranged from bluegrass to country-ragtime to midcentury pop, were hard to pin down; in 1968, Billboard called them a "square-dance family-troupe" and in 1973, writing in the Appalachian Journal, W. H. Ward tantalizingly described their music as "texturally located somewhere between Bill Monroe and Scott Joplin." Listening to the languid "Sit at Home" today, one imagines mother and daughter relaxed and singing in Edna's little white house, harmonizing in a blues perfectly suited for today's culture of ghosting ("Sit at home, the telephone, don't ring anymore . . . "). China died in 1979 and Edna died in 1997. Until the ends of their lives, they both continued to play in their community in Sumter.
—Eliza Borné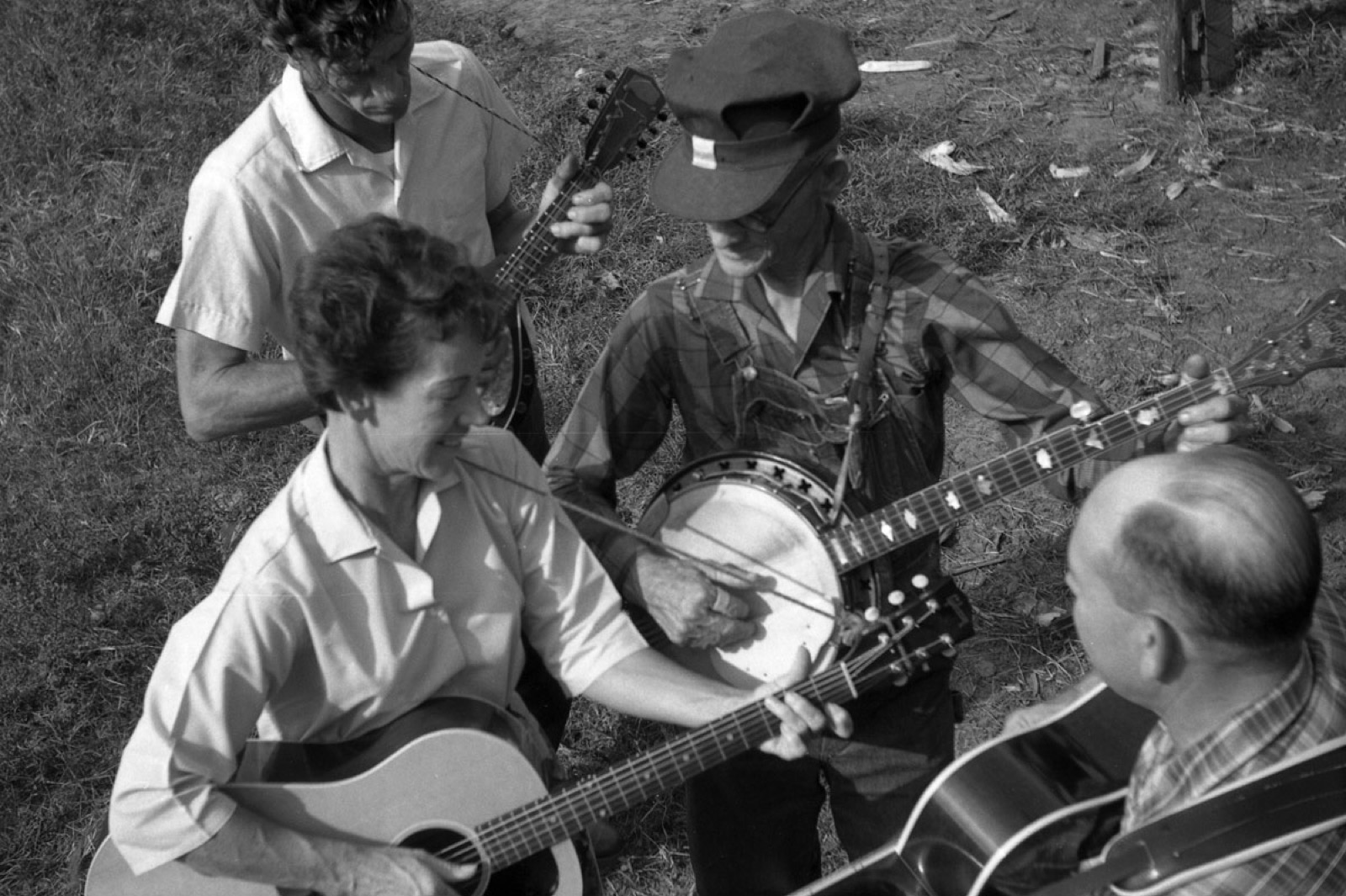 ---
13 "AS THE CROW FLIES"
Uncle Walt's Band
Before they hit the Austin scene, installing themselves at the legendary Waterloo Ice House, Champ Hood, Walter Hyatt, and David Ball were a group of friends swapping songs in South Carolina. The Spartanburg trio, steeped in string music and tight three-part harmonies, relocated to Texas in the 1970s. Their live performances influenced the generation of Austin musicians that cemented the city as "the live music capital of the world," including Jimmie Dale Gilmore, Marcia Ball, Toni Price, Jerry Jeff Walker, and Lyle Lovett, who first heard Uncle Walt's Band as an undergrad at Texas A&M and went on to hire Hood (and later his son Warren) as a sideman. Known mostly as a live band, Uncle Walt's was all but forgotten outside of Austin and Spartanburg by the early 2000s. Like Memphis's Big Star, UWB seemed to defy the odds by not hitting it big. Omnivore, the label that re-released Big Star's records, saw a similar opportunity to introduce new fans to the supergroup's overlooked music. Last year, it released "As the Crow Flies" as part of the first anthology of Uncle Walt's Band music, the title of which comes from Lovett's song "That's Right," in which he pays tribute to the band, singing "those boys from Carolina, they sure enough could sing." Though two of the three founding members are no longer living, Hyatt's wife Heidi, the Hood family, and David Ball have been keeping the songs alive by releasing and performing the band's music for over a decade. When Ball joined up with Warren Hood and Champ's nephew Marshall to play Uncle Walt's Band tunes, they called the project That Carolina Sound, performing at iconic Texas listening rooms Saxon Pub and McGonigel's Mucky Duck. "That's right you're not from Texas, but Texas wants you anyway."
—Sara A. Lewis
---
14 "YOU'RE LETTING ME DOWN"
Ann Sexton & the Masters of Soul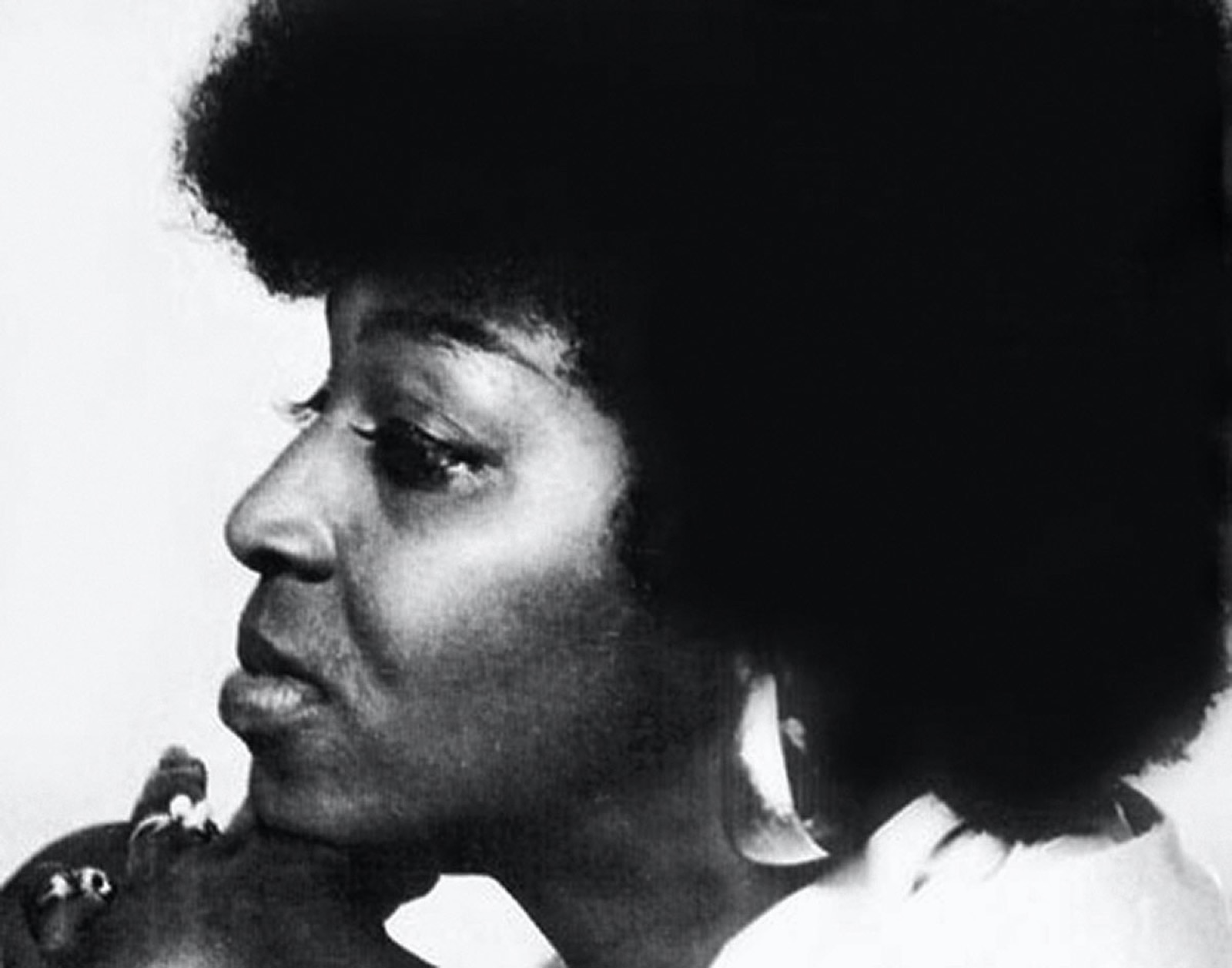 Born Mary Ann Sexton in Greenville, South Carolina, in 1950, the artist now known as Ann Sexton was twenty-one years old, and using her married name Mary Ann Burton, when she recorded the aching ballad "You're Letting Me Down" at Mark V Recording Studios, her hometown's busiest recording hub. It was not her first time in the studio—she had previously recorded an obscure single with her soon-to-be husband Melvin Burton's band Elijah and the Ebonies, featured as Mary Sexton. But beyond the musically fertile Carolina borderlands between Charlotte and Greenville, she remained relatively unknown under any alias until 1971, when, after her stirring performance at Washington Center in Shelby, North Carolina, local songwriter, producer, and entrepreneur David Lee handed her a demo tape of his song "You're Letting Me Down." "She was really gracious," he remembers. "She said, 'You want me to sing your song?'"
In Lee's estimation, his original version "sounded a whole lot more country, and when she got through it, it was a different thing . . . tremendous." Backed by Melvin's new band the Masters of Soul and blanketed with horns that, to Lee, sound as if "they're blowing themselves," the final studio recording, carried by Sexton's pleading gospel-infused vocal, chillingly distills the creeping doubt of a slowly dissolving romance. It has the steady throb of a deep new bruise and is as impossible to ignore.
Released on Lee's Impel label with B-side "You've Been Gone Too Long"—a cuckolding-Jody song that became a Northern Soul dance-floor hit decades later in Europe, resurrecting Sexton's career in the twenty-first century—the original edition of five hundred 45s sold out quickly, "burning up jukeboxes," as Lee puts it. It was the most popular record of David's career and Ann's first taste of success. A chance encounter between Lee and DJ John R. (South Carolina native John Richbourg) resulted in regular plays on Nashville's influential WLAC station, two reissues, and several additional Sexton releases on Richbourg's Seventy-Seven label. Sexton retired from music in the late 1970s, moving to New York and embarking on a career in education. In 2010, David and Ann were reunited, performing together for the first time ever onstage in Shelby. They wept over the memory of their friendship and this shared lament.
—Brendan Greaves
---
15 "DID MY DAUGHTER CALL HIM DADDY"
Charles Bradwell & the Congaree River Boys Prison Band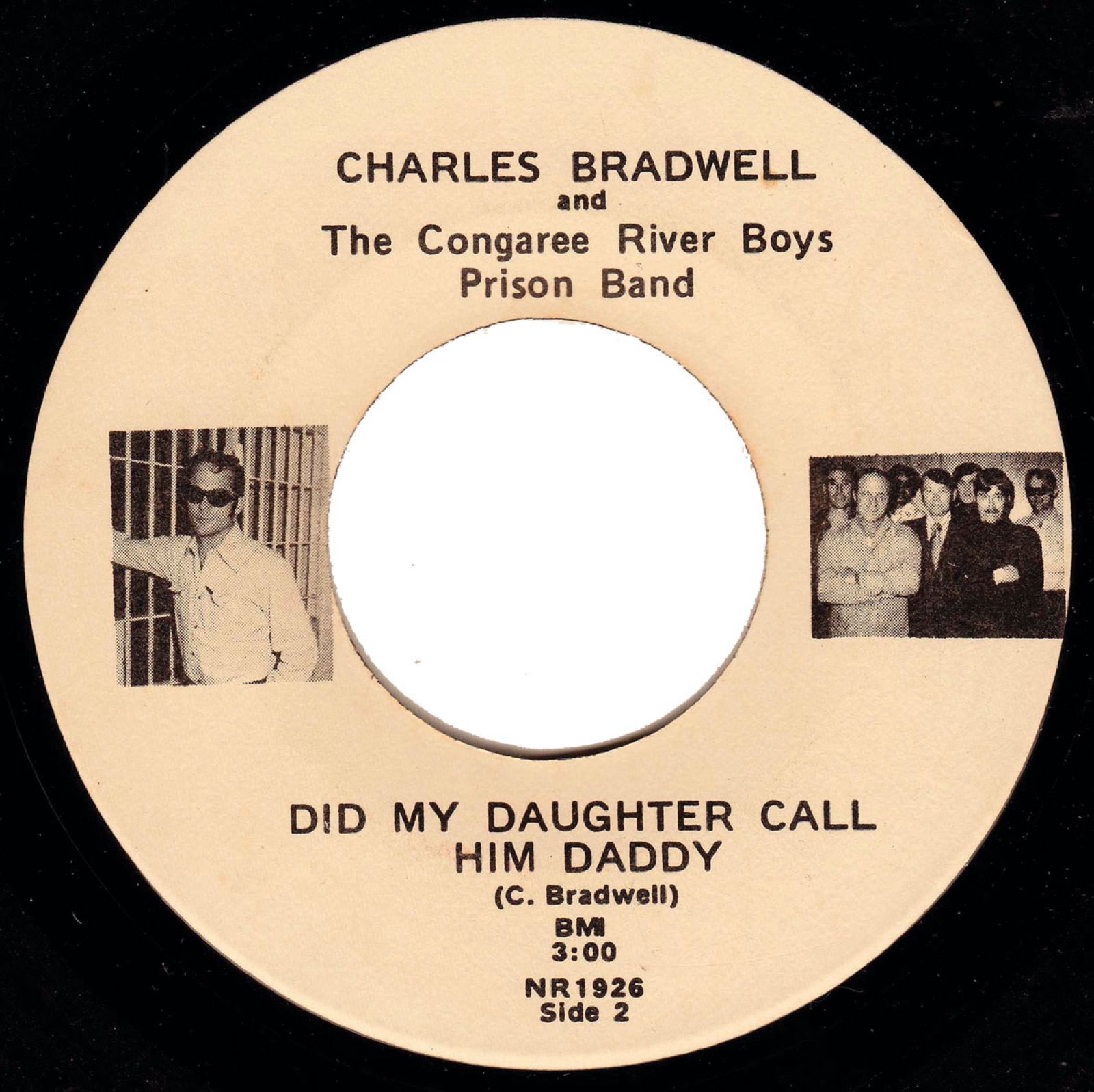 The Central Correction Institute, South Carolina's old state penitentiary, was located in the heart of the state capital, on the bank of the Columbia Canal opposite the Congaree River. Founded in 1867, by the time it was closed in 1994 after a federal court order for overcrowding, South Carolina had one of the highest incarceration rates in the country and CCI was among America's oldest operating prisons. From 1912 to 1986, it housed the state's executions by electrocution, including that of George Stinney Jr., a fourteen-year-old African-American child who was sentenced in a ten-minute Jim Crow sham trial in 1944, making him the youngest person executed in the modern era (Stinney was finally exonerated by the state in 2014). According to the New York Times, the notorious "castle-like" complex was known as the "prison from hell." When the Central Correction Institute closed, Columbia's daily newspaper, The State, gathered grisly stories from its former residents and employees. Fights and riots, escape attempts and elaborate prison breaks, murders—the prison had seen it all. One former inmate named Dallas Knotts, who spent four years there, said, "When you went to CCI, you went into a hole. The outside world forgot about you."
The hopeless condition of the men condemned to the confines of South Carolina's prison from hell can be heard in high fidelity on "Did My Daughter Call Him Daddy," Charles Bradwell's sorrowful behind-bars lament. We could find out little about this recording and the man who wrote it, and the state department of corrections could provide no information, but some helpful South Carolinians on Facebook offered a few (unconfirmed) details. The Congaree River Boys was a country group made up of inmates at CCI who performed at events around the state in the late sixties and early seventies, accompanied by armed guards, and sometimes appearing with Warden Jesse W. Strickland out front under the billing Singing Warden & the Congaree River Boys. Members of the band had to provide their own instruments, and its keyboardist, Bill Anderson, built a portable electric piano while in prison; other members included Teddy Patterson, Gilbert Brown, and Jimmy Wilson. The band apparently provided the soundtrack for a 1970 SC ETV documentary titled Corrections: Highway or Dead End? In February 1972, the Congaree River Boys recorded four sides at C. B. Herndon's recording studio, which would have been either in Varnville, South Carolina, or possibly in West Columbia, where Herndon moved that year and opened United Recording, the same studio where Carleen & the Groovers recorded "Can We Rap" (track 8). Sticking to a theme, the flip side of this record is a cover of Kris Kristofferson's "For the Good Times"; the other two sides recorded are unknown.
The song is an amateur masterpiece and a time capsule, carrying the resignation of a man (apparently an Elvis fan) condemned to a sentence of true heartbreak: "I'd rather die in prison / than to ever see you go." Bradwell does sing of his impending release on the song: "Did my daughter call him daddy / or does she really know / that her Daddy's here in prison / with a few more years to go." If these lyrics were autobiographical, it may have been a short-lived freedom; a man by the same name was convicted in an armed bank robbery plan thwarted by the Feds in Matthews, North Carolina, in 1976. If any readers in South Carolina (and beyond) have information about Charles Bradwell and "Did My Daughter Call Him Daddy," we welcome your letters.
—Maxwell George
---
16 "DANCING VIRGINIA" (LIVE)
Jump, Little Children
"I'd never heard anything quite like this music," Thomas Pierce writes of Jump, Little Children, in "Early Recordings." First encountering the band as a teenager at summer camp, Pierce describes what he heard on The Licorice Tea Demos as "what you'd get if you dropped traditional Irish music, blues, and gypsy jazz through the strainer of mid-nineties alternative rock." This version of "Dancing Virginia" was recorded at the band's tenth annual show at the Dock Street Theater in their home base of Charleston, in 2005. "It was our last performance before what became a decade-long hiatus," notes songwriter Jay Clifford.
It's a sound marked by contradictions. With lyrics that are more incantation, more prayer, than mere pop song, the opening verses play against a cheerful beat, a harmonica earnestly wheezing along. This juxtaposition, at least in part, must be why the music of Jump, Little Children conjures up nostalgia for adolescence, for that bizarre liminal period when the solution to every problem is to, as Pierce suggests, ride around aimlessly at dusk, listening to whatever music your friends have on rotation. Because surely, whatever is coming through the speakers will have the answer.
—Hannah Saulters
In the magazine: Thomas Pierce on Jump, Little Children
---
17 "MY FATHER IS A WITNESS, OH, BLESS GOD"
The Plantation Echoes
Produced and arranged by Wilson, who owned the Wadmalaw plantation on which at least some Plantation Echoes members worked and lived, the group's three-act show sought to represent a cross-section of Gullah life and culture in three scenes: a spiritual meeting, a twilight burial service, and a barn dance. The stage set evoked an Old South plantation, replete with logs, cotton stalks, an imitation cabbage patch, and "an old-time plantation bell" used to call in the enslaved laborers at the end of the day. Press coverage emphasized the Echoes' simplicity and lack of self-consciousness, as well as the group's fidelity to the traditions of their ancestors.

Read Blain Roberts & Ethan J. Kytle's essay on this song.
---
18 "GLORY HALLELUJAH"
The Apple Ensemble
The Apple Ensemble was formed in the 1970s in Lexington, South Carolina. The duo, Dan Harmon and Vollie McKenzie, recorded A Major Breakdown in 1979 in West Columbia. A mix of traditionals, originals, and covers—including a bluegrass adaptation of Beethoven—the range of the band's influences is clear in the album, which they performed in nightclubs, churches, and campgrounds. In an item about an upcoming performance, the Aiken Standard reminded Apple Ensemble concertgoers "to bring their own lawn chairs or blankets to sit upon." McKenzie writes in the album's liner notes that though his and Harmon's influences are vast, "certainly our rural Southern roots is a good place to start," describing the visual imagery of the Apple Ensemble's musical heritage: sharecroppers fighting off mosquitoes, taking turns around a single beat-up guitar to sing old-timey songs like "Down Yonder" or "Maple on the Hill." McKenzie also cites his and Harmon's "individual religious backgrounds" as shaping the music, which is clear in "Glory Halellujah," a song that is at once of its time (think Pure Prairie League) while harkening back to the traditional devotionals sung by those sharecroppers sitting out on the porch strumming a guitar with strings "so high off the frets it would take a blacksmith's hands to actually play the instrument."
—Sara A. Lewis
---
19 "CANDY MAN"
Reverend Gary Davis
Reverend Gary Davis, born in 1896 in Laurens, South Carolina, counted among his famous fans Bob Dylan, Peter, Paul & Mary, the Grateful Dead, and Dave Van Ronk, who occasionally went to Davis's home in New York to "sit there and watch his fingers." (After growing up in the Piedmont region, Davis had moved to Durham, where he taught Blind Boy Fuller, then made his way to New York City in the 1940s.) "He was sui generis, a unique man in so many ways," wrote Van Ronk in his memoir, The Mayor of MacDougal Street. "He was sly and sophisticated, he was naive and childlike, he was cheap, he was generous. He was a bundle of contradictions. And his guitar playing was the same way. He would play these incredibly complex, multipart ragtime compositions, and then turn around and do something like 'Candyman,' this little, repetitive song he had learned as a child in South Carolina." Davis had first heard "Candy Man" around 1905 from a carnival musician, and, in fact, his styling of the song is actually "fiendishly conceived," according to fingerstyle guitarist and guitar instructor Stefan Grossman. "Where the melody starts is where the first beat lands. This means that the first beat starts on the high base, rather than the low. This reverses the beat from almost any song that can be found in this guitar tradition." (Van Ronk recorded it in the "normal" way. After Davis's death in 1972, Van Ronk dreamt he could play it like the master.) This version appeared on Davis's third recorded album, Pure Religion and Bad Company, cut in 1957 and released by British label 77 Records. And indeed, Davis was actually a Baptist minister, and the album did feature largely religious songs—though not this one. The "candy man," in many interpretations, refers to a pimp.
—Eliza Borné
---
20 "MARY ANN & ONE EYED DAN"
Shovels & Rope
Partners on stage and in life, Charleston-based duo Cary Ann Hearst and Michael Trent of Shovels & Rope were musicians doing their own thing before, and even after, they got together. "At a certain point it seemed easier to reckon a life together if they played together, too," writes David Ramsey in "Like a Shovel and a Rope." Hearst summarizes the decision by saying, "'Fuck it. Band. Family. Let's give it a shot. . . . Handshake, spit on it. If it gets too nasty we'll cut and run.'"
So far it seems to be working out. Crisscrossing the country with two small children in tow, Shovels & Rope are currently touring their latest album, By Blood, while managing a few ancillary projects: a new concert documentary; running their annual music festival, High Water; and publishing a children's book.
In the world of Shovels & Rope, there's always room for one more. One more project or person or percussion. This maximalist approach is what makes a song like "Mary Ann & One Eyed Dan" so appealing. With all the band's hallmarks—a slightly wacky narrative, a catchy chorus, and layered harmonies—as Ramsey writes, the tune is "a ramshackle fable," reeling without rhyme and recounting the story of the two titular characters meeting, falling in love, and saying "so long to our former selves / to our selfish selves, so long."
—Hannah Saulters
In the magazine: David Ramsey on Shovels & Rope

---
21 "KEEP YOUR EYES ON THE PRIZE"
Alice Wine
Carawan was Highlander's music director. He spent the winters on Johns Island and often brought his guitar to class. On one occasion, he was playing "Hold On," a spiritual common to both black and white church singing, when Wine approached him. "I know a different echo to that," she said, and proceeded to sing a version of "Hold On," delivered without accompaniment, in hushed intonations, the refrain "keep your hand on the plow, hold on" replaced, after one verse, by words that are not found in any transcriptions of the song previously cataloged by folklorists: "keep your eyes on the prize, hold on."
Read Benjamin Hedin's essay on this song.
---
22 "TAKE ME TO THE SKY"
Bill Wilson
Bill Wilson was seventy-six when his debut album came out last year on his hometown label, Charleston's Coast Records. Stand Up! was recorded with a deep bench of local talent who turned out to support, and jam with, Wilson, a saxophonist, singer, and songwriter whom one colleague calls "a godfather for the community," referring to the importance of the New Moulin Rouge, the soul and jazz club Wilson ran for years. This dream was a lifetime in the making; for most of Wilson's career music was a side gig. In the late sixties, after an eight-year stint in the Air Force, Wilson landed in Moses Dillard and the Tex-Town Display, an outfit that today sounds like a South Carolina r&b all-star team, with Greenville natives Dillard on guitar and vocals and eventual Grammy winner Peabo Bryson singing backup. After the Tex-Town Display disbanded in the early seventies, he moved to New Orleans, where he worked as a respiratory therapist for two decades and mostly only played his horn in private. When he came back to Charleston in the mid-nineties, he returned to the stage, opening his nightclub and fronting the house band, the Secrets. "It had a great awakening for me, after all the things that I had done," Wilson told Charleston City Paper. "So, the Moulin Rouge came through and re-enlightened me to the world of music." It became the place for local musicians to cut their teeth.

Photo by Paul Chelmis. Courtesy of Coast Records
"Lots of musicians share my same story of meeting Bill Wilson," producer Brian Compton wrote. "I showed up to play a gig that he was also on, and within the first few seconds I knew I'd met one of God's special ones." A couple of years ago, while playing together in a local wedding band, Compton heard Wilson play an original song and was floored. "Afterwards, I promised Bill that we'd get into the studio to track his songs." Compton brought the idea to Matt Zutell at Coast Records and they arranged a two-day session to record a handful of Wilson's songs, recruiting a host of Charleston's finest players to back him up—including drummer JT Rollerson, who also performs on Benny Starr's "Resurrection" (track 23). They came out with eleven songs, many of them improvised on the spot, with Wilson pulling orphaned lyrics from his notebook on the fly. "Take Me to the Sky" is one such composition, a dreamy soul-jazz meditation that showcases the gratitude and exquisite taste Wilson has accrued over a lifetime. As he told the City Paper, "I've been a millionaire maybe two or three times over, but it ain't about the monetary—it's about what's in the heart, and I feel like I've got a million in love, a trillion in love, and even more so now that my music is spreading out for others to hear."
—Maxwell George
---
23 "RESURRECTION"
Benny Starr feat. the FOUR20s
When I moved home, it was on one condition: the only way forward for me would require a full divestiture from capitalistic clock punching. I knew if I wanted to create something meaningful from the broken bits of my not-so-distant past I'd have to practice patience. I'd have to become comfortable with rummaging around difficult memories and hold myself to account for the missteps I'd willfully taken. I needed to sit with my experiences, to allow myself the gift of quiet reflection that can be elusive for men such as myself. Black men.
Read Benny Starr's essay on this song.

---
24 "ON MY WAY UP"
Relations Gospel Singers
Certain recordings owe their particular magic as much to the place where they are captured as to the thing itself ostensibly captured. Each location imparts its own acoustic qualities—room tone, ambience, reverb—through the vibration of its air against its material or natural limits, its architecture and edges. Such is the case with "On My Way Up," written by Steve Allen, performed with his family band the Relations Gospel Singers, and recorded by David Lee on a portable four-track reel-to-reel tape recorder sometime between 1975 and 1980 at Mice Creek Baptist Church, near Gaffney, South Carolina. That is not to discount the composition or its performance, both of which are extraordinary, but the otherworldly, atmospheric rendering is almost supernaturally redolent of its space.
Since 1960, between shifts at North Lake Country Club in Shelby, North Carolina, David Lee had been moonlighting as a songwriter, producer, and record-label owner, collaborating with a variety of black and white musicians across genres and Carolinas communities, in what was, for the time and place, an unusually colorblind and racially integrated fashion. He launched three labels out of his Shelby record shop and audio-supply business Washington Sound, which he opened in 1967: Impel, the eponymous Washington Sound, and SCOP (an acronym for Soul, Country, Opera—aspirationally and somewhat misleadingly—and Pop). Although he installed PA systems in more than fifty area churches, Lee's session with the Relations at Mice Creek represents his only onsite field recording.
In just over two hushed minutes, supported only by piano and periodically percolating bass, "On My Way Up" achieves levitation, ascending toward heaven on the "road to glory." The spectral stereo-panned call-and-response exhortations between an ardent Allen and his choir gently lead listeners skyward like rungs on a celestial ladder. Issued with earnest B-side "I Love God," as Impel 105, the original recorded artifact is "a phantom," as Lee aptly describes it, nearly impossible to find and lacking its own catalog number (it's the second consecutive Impel 105 record in Lee's catalog).
These days Steve Allen lives down the road from Lee in Mooresboro, North Carolina, and continues to perform sacred music with his sons as Steve and the Boys.
—Brendan Greaves
---
WHY I DIDN'T GIVE MY MUSIC TO THE OXFORD AMERICAN
by Anjali of Diaspoura
I grew up in a motel my family ran on a highway in rural upstate South Carolina. I attended the only high school in my town, where I was one of three South Asian students, including my brother. I only realized I was queer and nonbinary after I left for college. Throughout my childhood, I was made to accept the fact that a story like mine would never be reflected in pop culture or even portrayed on the news. I wrote song lyrics and taught myself the guitar in high school with no intention of showing others. I did not think anyone would notice or desire my music. Naming myself Diaspoura was a matter-of-fact S.O.S. call for community. I learned the word from my first reading of a South Asian diasporic feminist, Chandra Talpade Mohanty, and started publishing demos under the name in hopes that I would someday reach others investigating their post-colonial upbringings.
Read Anjali's essay and the OA's response

---
Liner Notes Contributors
Liam Baranauskas is a writer living in New York City.
Eliza Borné is the editor of the Oxford American.
Marshall Chapman's songs have been recorded by everyone from Joe Cocker and Emmylou Harris to Irma Thomas and John Hiatt. She's written books, acted in movies, and released thirteen critically acclaimed albums of her own. Her former husband Chris swears she's a multi-hyphenated American treasure. Look for her fourteenth album, Songs I Can't Live Without, in spring 2020.
KaToya Ellis Fleming is the 2019–20 Oxford American Jeff Baskin Writers Fellow. She is at work on a debut book of narrative nonfiction.
Brendan Greaves is the cofounder and owner of the Chapel Hill record label
Paradise of Bachelors. He curates and writes about vernacular art and music in the American South and beyond.
Benjamin Hedin is the producer of the Grammy-nominated documentary Two Trains Runnin' and the author of In Search of the Movement: The Struggle for Civil Rights Then and Now. He last wrote for the magazine about John Coltrane.
Jay Jennings is the senior editor of the Oxford American. He is the author of Carry the Rock: Race, Football and the Soul of
an American City and the editor of Escape Velocity: A Charles Portis Miscellany.
Sara A. Lewis earned her PhD from the University of Southern Mississippi's Center for Writers. She is the associate editor of the Oxford American.
Katie Moulton is a writer and music critic from St. Louis. Her writing appears in No Depression, Tin House, Catapult, the Village Voice, and elsewhere. A 2019–20 Tulsa Artist Fellow, she's at work on a book of creative nonfiction.
Blain Roberts and Ethan J. Kytle are professors of history at California State University, Fresno. They are authors of Denmark Vesey's Garden: Slavery and Memory in the Cradle of the Confederacy, which was released in paperback by the New Press in 2019. Their writing has appeared in the New York Times, the Washington Post, the Atlantic, and elsewhere.
Hannah Saulters is the assistant web editor of the Oxford American.
George Singleton's You Want More: Selected Stories will be published in September 2020. It will include a story that originally appeared in the
Oxford American.
Benny Starr is more than a mere hip-hop artist. The Lowcountry's native son has transcended conventional descriptors to take his rightful place as messenger and torch bearer for his people. Artist. Intellectual. Activist
---
The Oxford American's 2019 Southern Music Issue – South Carolina sampler would not have been possible without the generosity of the creators and rights holders of these songs.
---