Why I Didn't Give My Music to the Oxford American
By Anjali of Diaspoura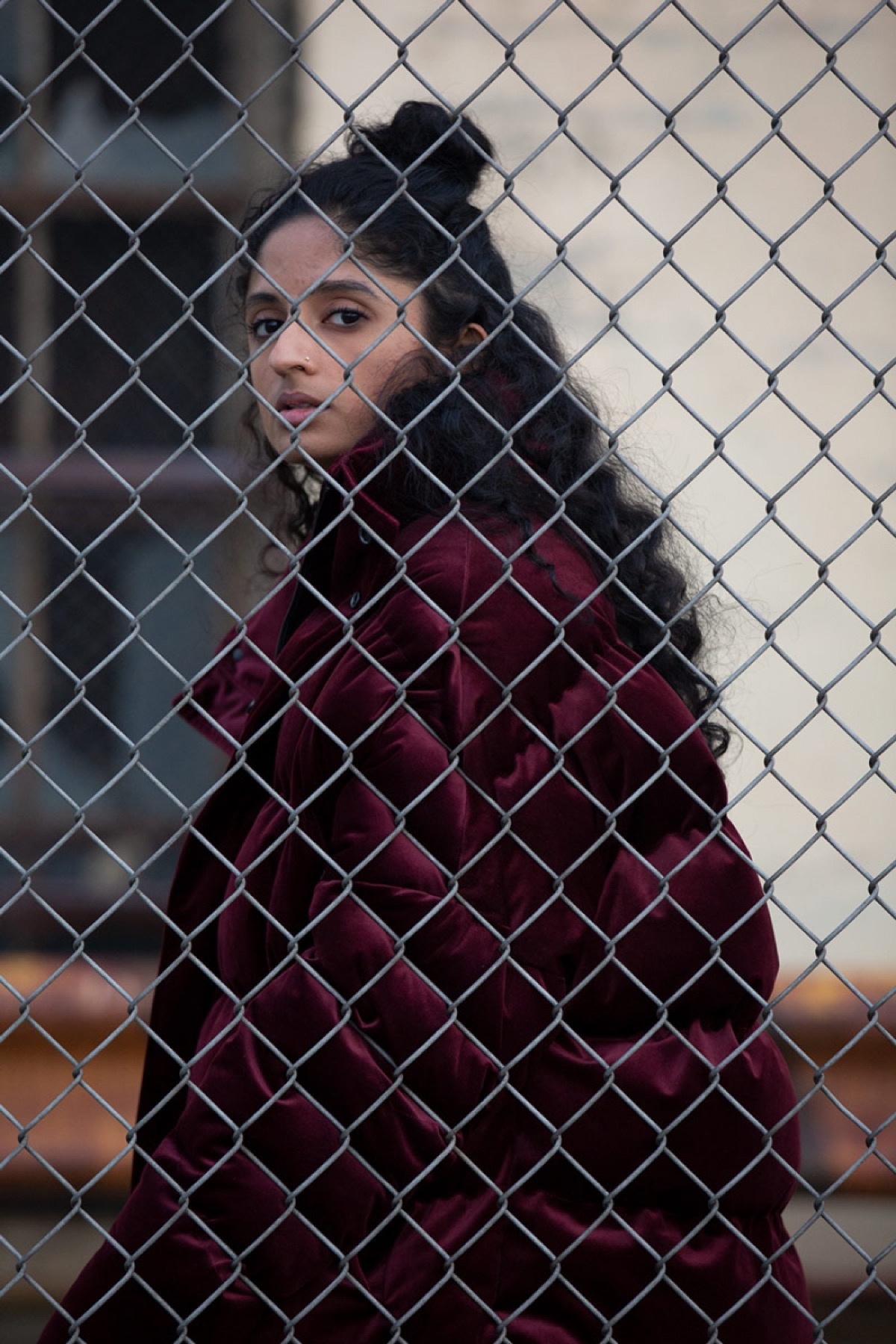 Diaspoura. Photo by Raheel Khan
2019 Southern Music Issue Sampler featuring South Carolina
---
It's 2019, and through the power of streaming services, you have access to all your favorite music. I'm happy for you. On the other hand, I am exhausted from making the deliveries for this music machine. When streaming services arose, what used to be most of a musician's income turned into pennies, and many young artists, who have never seen a profit from music sales, aren't aware it's happening. Sure, maybe I'm being streamed in Australia—but what good is that if I can't afford to take a day off from my income-based job to write new music?
I grew up in a motel my family ran on a highway in rural upstate South Carolina. I attended the only high school in my town, where I was one of three South Asian students, including my brother. I only realized I was queer and nonbinary after I left for college. Throughout my childhood, I was made to accept the fact that a story like mine would never be reflected in pop culture or even portrayed on the news. I wrote song lyrics and taught myself the guitar in high school with no intention of showing others. I did not think anyone would notice or desire my music. Naming myself Diaspoura was a matter-of-fact S.O.S. call for community. I learned the word from my first reading of a South Asian diasporic feminist, Chandra Talpade Mohanty, and started publishing demos under the name in hopes that I would someday reach others investigating their post-colonial upbringings.
When I wrote and published my first song as Diaspoura in 2014, "Nothing New," completely isolated in my family's transitionary log cabin housing, I couldn't have imagined I would reach as many listeners as I can now. The gratitude is real. My inner child is constantly beaming, whether I'm home reading affirmations from faraway listeners or getting to connect with fans after a show. I thank the satellites in the sky which trespass borders and enable me to share my art with a chosen community.
I was restricted access to centers of community and so much knowledge while buried in the rural South. That being said, I'm not going to continue by romanticizing the struggles of my poor Southern life. It's pretty clear why intersectional activism and storytelling have been important to me, and I am not indebted to privileged societies for redistributing access to resources via platform. Exposure is the tactic of many new establishments convincing underrepresented people to be grateful for the chance to help them generate content. There are people out to profit off my desire to be heard and to build a supportive community. In my latest track, "Automatic," I sing to the heads of labels, media, and streaming platforms:
Y'all'a sell it back to me then leave me dry
Y'all'a make me look good and take my rights
In August, an editor from the Oxford American contacted me about featuring "Automatic" on the sampler accompanying this issue on South Carolina music and asked me to donate my song with a gratis permission. I declined. In defense of independent music's survival, I've set hard limits to defend myself from all volunteer work "opportunities," including interviews, fund-raisers, benefit shows, educational inquiries, and, you know, writing more music so a streaming-service staff can generate six-digit salaries. I sent him a thorough response explaining this and linked to my current activism around marginalized artist labor, streaming, and platform abuse.
This summer, I organized a national rally series for artists to gather around the underreported Copyright Royalty Board battle, an update to federal law that would provide some basic structure for artist compensation on streaming platforms, which Spotify, Google, Pandora, and Amazon are lobbying against. It also brought speculation on the data-mining economy being generated off of streaming data, which is not overtly shared with users or artists participating. My latest EP, Traumaporn, discusses how exposure and data without compensation create a cycle of trauma in which artists stay struggling (but louder); sharing a photo of an open wound doesn't heal it! I started off my song "Glisten" addressing publishers who take advantage of the trauma expressed by marginalized artists:
Did you care about me when I went missing?
(Y'all don't see me till I show up glistening)
Y'all would write it down and try to make business
(And I'll go off like Lilly on Shut Up And Listen)
I asked the editor if all artists on the compilation could be paid a licensing fee in exchange for letting the Oxford American sell their music with the publication, which he then said wasn't possible. His response acknowledged my experience, music, and activism, but somehow not the irony of profiting from a song which is written about the glorified abuse of queer, poor, Southern, Black, and Brown artists.
We all know that Southern music needs to be heard and celebrated. However, visibility (exposure) cannot be pitted against our chance at a healthy life. The Oxford American's ask of under-resourced Southern musicians to donate their song licenses is exploitative, and must end. Unfortunately, many nonprofits are (1) built on purpose as gatekeeping industries which deflect from evolving their programming, avoiding decisions which could enact cultural and systemic change; and (2) dependent on the donations of artists for fund-raising to pay their staff, whether or not they are aware of it.
Let's not use this as an excuse: the Oxford American could budget to compensate all Southern artists, namely the musicians featured on this issue's accompanying compilation (who are being used to fund and promote the magazine as well). This would allow the artists to expand their own reach, pursue their own visions, and, overall, support themselves. The magazine currently chooses not to do so. In my experience, they are functioning as an artist abuser, not a supporter whatsoever.
My hope is that this essay can provide a foundation for the transformation of Oxford American's staff, board, and readership. As people of color and LGBTQ+ people know very well in the South, not all traditions deserve to stay. It is up to the community subscribing to and working for the Oxford American to push for systemic changes. If you would truly like to support the vitality and complexity of South Carolina artists, please listen to the needs of musicians as well as their music. And show receipts for support, because exposure is only the prologue to a liberated future for Southern music.
---
The Oxford American Responds
Not all readers are aware of how these annual compilations are put together, especially how the curation of the final track list is shaped by the legal constraints of the song licensing process. For twenty-one years we have relied on the generosity of record labels, music publishers, and artists to produce these anthologies, granting us a gratis permission to include their songs (this is why music from major labels is rarely included). And every year we are disappointed by licensing blocks. Among South Carolina's casualties was the fantastic song "Automatic" by electropop artist and activist Diaspoura; when she declined the gratis license, we invited her to contribute an essay. It is fair to say that Diaspoura's critique has led to a healthy amount of personal soul-searching. My perspective: Throughout this project's history, the OA has done a lot of good introducing music to our readers, rekindling interest in musicians' careers, and honoring musicians who deserve a more prominent place in the canon; I'm proud of this legacy. We've always done it on a shoestring—this project costs far more to make than it earns in revenue—and I am very grateful for the rightsholders who have made the music issue possible. Still, it is disingenuous for media organizations and small nonprofits like ours to claim that "exposure" is acceptable compensation. Empowering artists is central to the OA's mission, and we can do better. The economics of song licensing are complex, and the Oxford American will likely never be able to pay commercial licensing fees. However, I am committed to working with my colleagues and the OA's stakeholders to evaluate our gratis model for the compilation and find a way to implement a more equitable way forward. It is the right thing to do.
—Eliza Borné
---
Diaspoura's Traumaporn EP, featuring the songs "Automatic" and "Glisten," is available to stream on all major platforms and for purchase on Bandcamp. Learn more about how to support Diaspoura's music, art, and community organizing at Patreon.com/Diaspoura.

---
Order the 21st Southern Music Issue & CD featuring South Carolina.