First Casino on the Moon
By Ansel Elkins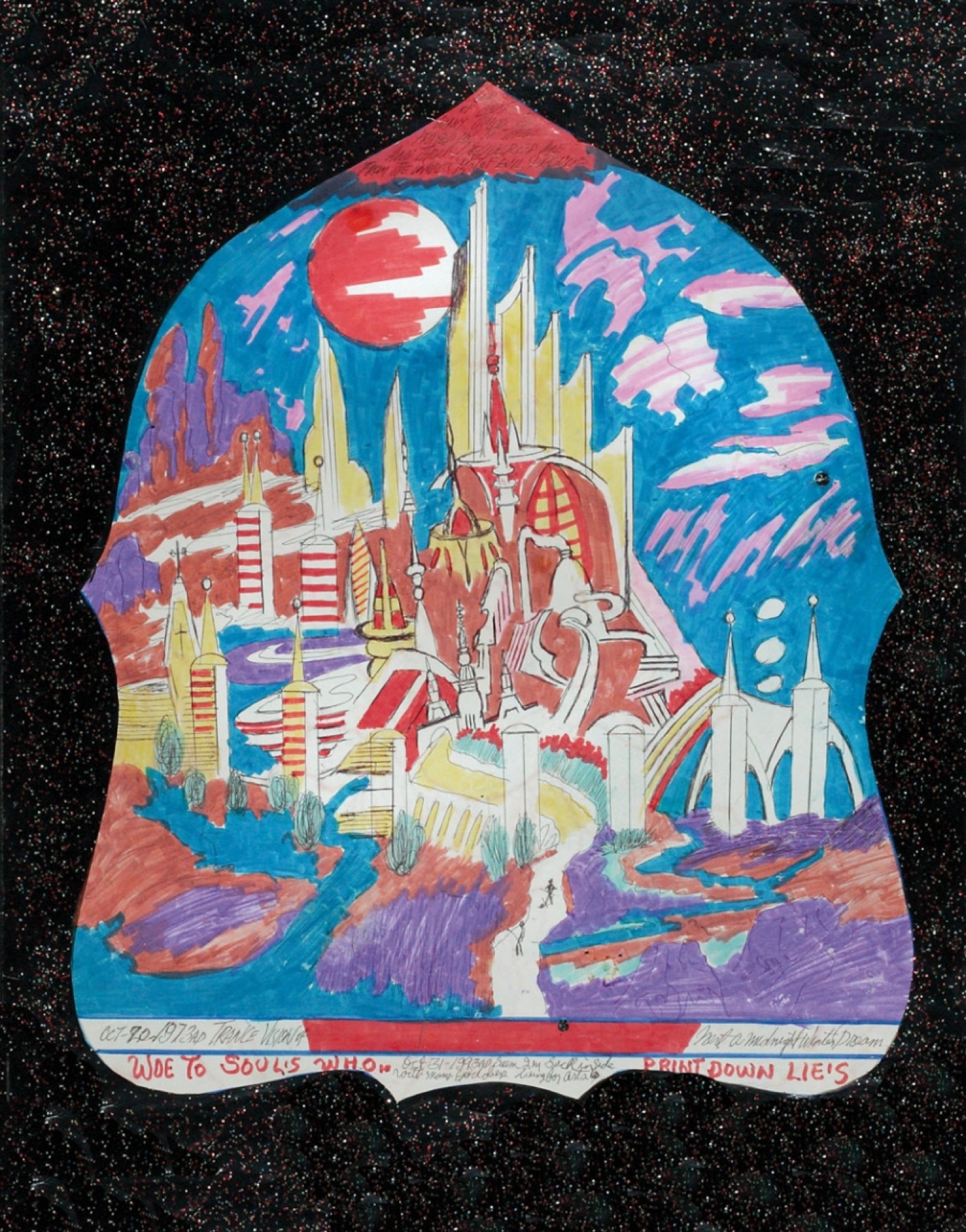 Untitled (1993) by Royal Robertson. Markers, ballpoint pen, gouache, and glitter paper. Courtesy christian berst art brut, Paris
It's happy hour at the tiki bar, and even the moon has lost 
its luster—the drinks, the strippers, the lunar gravity. 
In the casino at the Sea of Tranquility 
my sleepless nights seem labyrinthine; 
I roam the slot machines 
among tourists and newlyweds honeymooning,
just married at the neon blue 
crucifix of the Elvis Wedding Chapel. 
There's no clocks, no calendars here. 
I'm drinking alone 
among retirees in Hawaiian shirts. 
A man trying to sell me a time-share 
says real estate on the moon is on the rise— 
Location, location, location! 
Two hundred thousand miles away 
in this ashen desolate terrain 
you could almost forget our gun-smoked globe,
the wars raging like wildfire back home. 
The roulette wheel spins, 
surrounded by businessmen— 
red and black in their meteorite eyes. 
A bone-white, blue-haired prostitute 
named Amnesia 
visits me at the high-rise hotel; 
the glowing barcodes of her eyes 
change to disco balls 
as I pay for the hour: 
I request a Milky Way; 
I like the way 
her breasts bounce in one-sixth gravity. 
You can call me Bob, I say. 
Commerce on the moon was only a matter of time; 
already there's electric billboards 
saying CHEAP FLIGHTS; 
we can see them from Earth, looking up at the night sky. 
All of us have lost something here. 
A man died last week and a robot read him his last rites. 
It's quieter on the far side of the moon. 
I get stoned in my spacesuit 
and go out into the Descartes Highlands. 
Buoyant, blissful, lightfooted 
in the ghost-gray landscape 
I listen to space— 
silence threaded with vibration. A deep blue note 
I feel in my bones 
and I think suddenly of phoning my mother 
but she died years ago. 
I remember our nighttime drives 
down country roads back home 
when I watched the moon through my window; 
Mama, the moon follows me through the trees, I said. 
I felt less alone. 
At the floating poker table 
a gambler lays his two kings 
against my last, lonely ace. 
So this is the future. Here we are. 
I'm back on the barstool 
broke and drinking alone 
just like I was back home. 
On my third martini 
I feel the great gulf 
of space's infinite blackness 
when I see it 
there in the mirror— 
the bright Earth rising 
in the window behind me. 
---
Enjoy this story? Subscribe to the Oxford American.