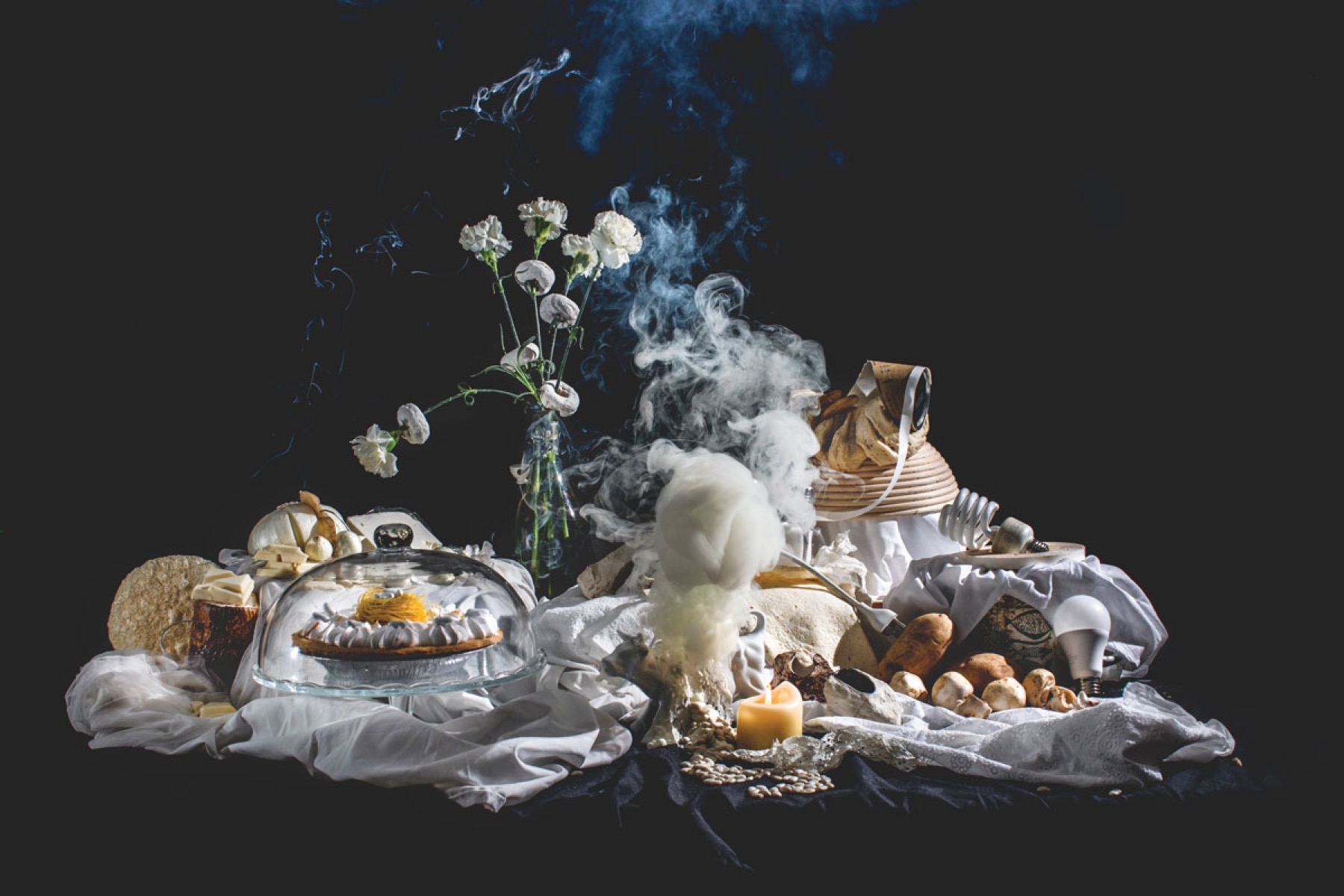 Art direction by Yasmin Reshamwala and photography by Sara Fox
Six Poems
By Tarfia Faizullah
WE KNOW WHAT A REUBEN IS
Oh, it's just a Tuesday night in a panoramic.
I'm on the phone with Jericho and we are
discussing the Reuben sandwich. "I never
remember what a Reuben is . . ." Jericho
muses. I leap into action—exciting to know
the answer for once! "Well, it's corned beef,
and . . ." "I know what a Reuben is, Tarfia!"
Jericho interrupts, laughing. "I just don't
know what it IS, as in, I don't remember what
it tastes like." "Hmmm," I consider. "I wish
we could transfer that kind of data faster."
A feeling washes over me. I think it is the
future. He orders the fish and chips. I feel a
little sad. "I'm a little sad," he says. He is
looking for the mask. It is stranger this is
not stranger, or a metaphor. How long will
we go on? The trees do not answer;
they are trees . . .
sauerkraut, thousand island
dressing, rye bread, swiss cheese.
FOR FRANCINE
My friend francine lives in Houston.
Sometimes, on a soft and charmed evening,
she FaceTimes while she's cooking. "Baby
bok choy," she croons. The screen pauses.
I consider again the inevitable onset of
twilight. Then, "Polenta, baby!" Her curls
prance or pirouette—it is difficult to do
them justice. She reminds me to cherish
preparation as a process. francine never
wants to talk anymore once it's time to
eat—
I respect that.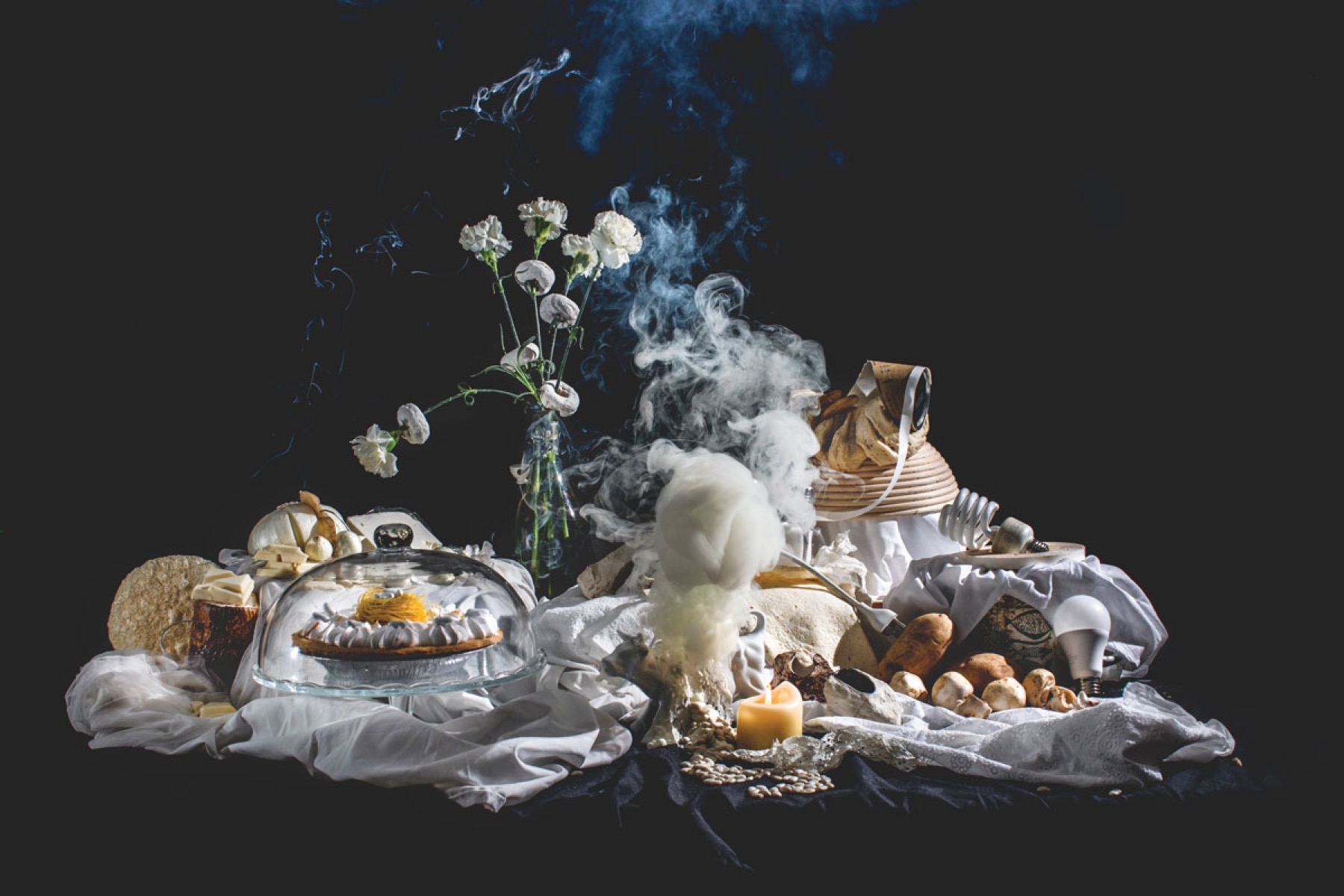 Art direction by Yasmin Reshamwala and photography by Sara Fox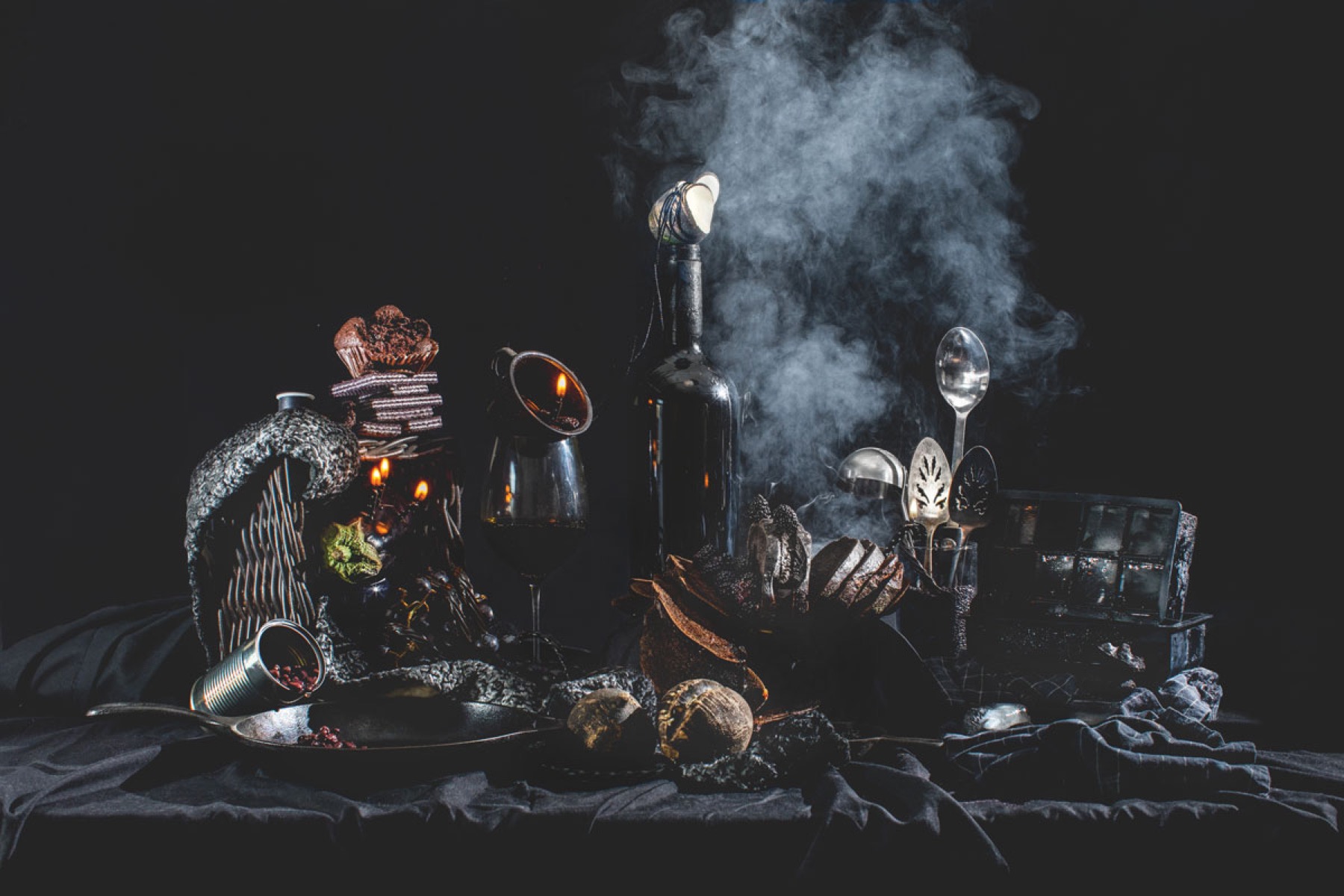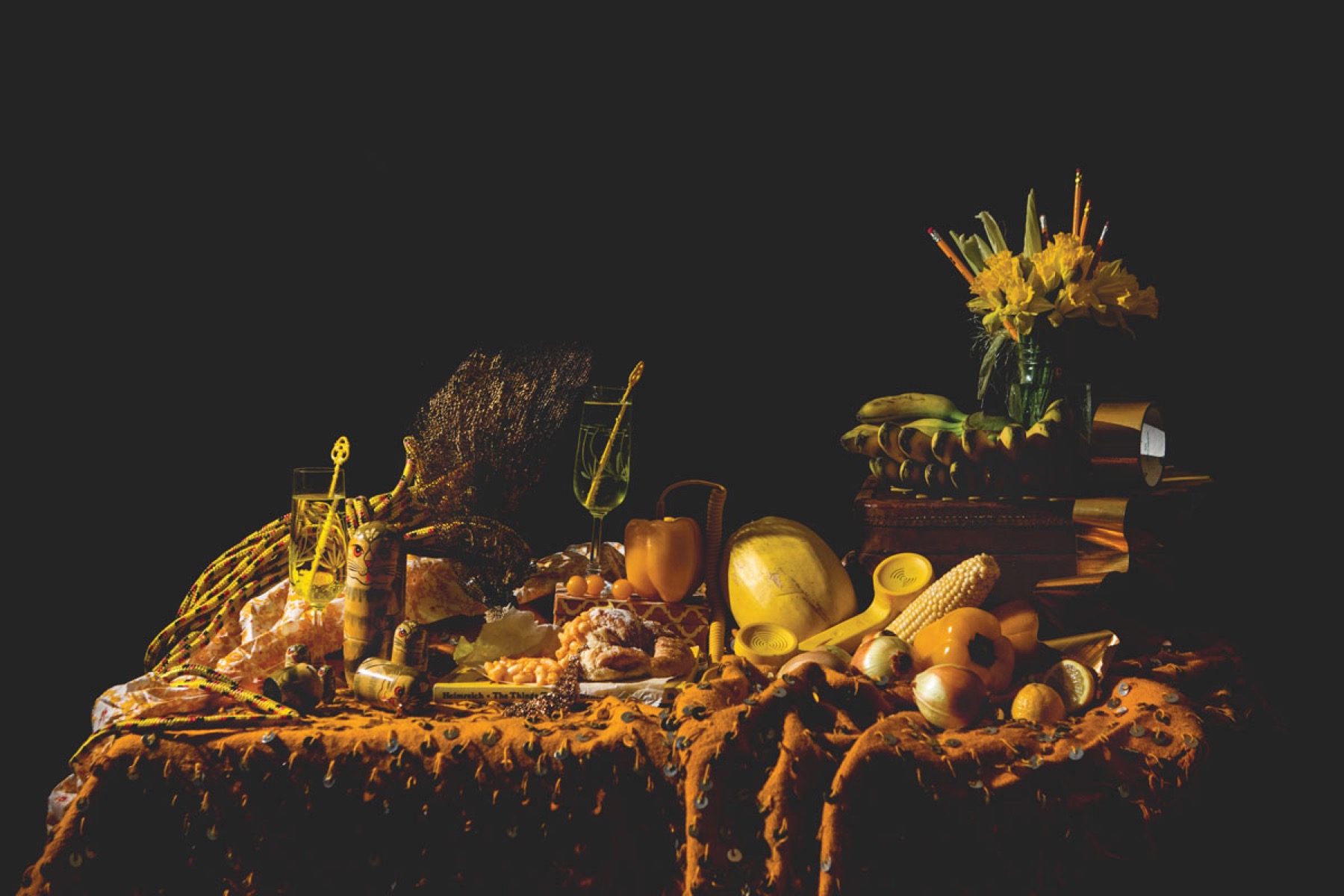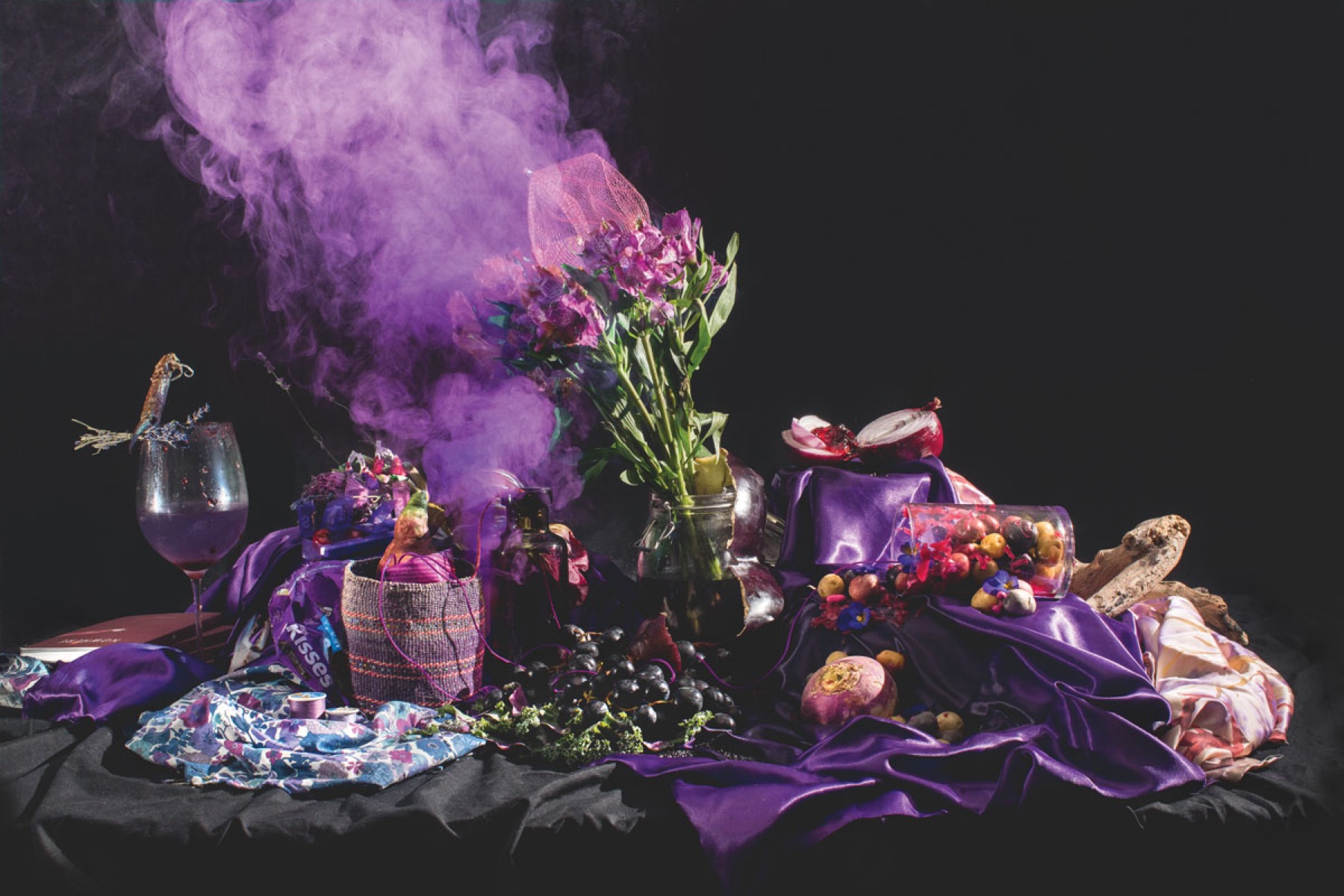 A LIST OF FOODS WE WOULD LIKE TO EAT IN THE FUTURE
1. fried catfish
2. cheesecake
3. sticky toffee pudding
4. lasagna
5. peach cobbler with ice cream
6. bbq chicken
7. coke float
8. dr. pepper float
9. chicken tenders
10. mac-n-cheese
11. mashed potatoes
12. loaded baked potatoes
13. french fries
14. cheese fries with bacon
15. bacon
16. cheese sticks
17. doritos
18. sour cream-n-onion potato chips (ruffles, or lay's stacks)
19. rice krispies treats with chocolate chips
20. oreo cookies
21. fudge-striped cookies
22. snap'd
23. cookies-n-cream ice cream
24. black walnut ice cream
25. fried jalapenos
26. fried green tomatoes (with calamari on the same plate)
27. calamari
28. wheat thins?
29. cheese puffs
30. spaghetti with meat sauce
31. grilled cheese sandwich (with bacon and/or pickles)
32. chicken-fried steak
33. cinnamon toast crunch (the only one)
34. ro-tel dip
35. fried and stuffed shrimp
36. BLT
37. funnel cake
38. corn dogs
39. chicago mix popcorn
40. pizza (pepperoni)
41. pork chops (delicious haram)
42. chocolate chip cookies (with pecans)
43. ice cream sandwiches
44. potato salad
45. pecan pie
46. key lime pie
47. biscuits
48. rolls
49. chicken pot pie
50. baked beans
51. crispy chicken sandwich
52. cornbread
53. tuna fish/chicken salad
54. crab cakes
55. cinnamon rolls
56. honeybuns
57. krispy kreme donuts
58. breakfast sausage
59. french toast
60. chilaquiles
61. hash browns
62. waffles (pecan)
63. short rib short rib short rib
64. bread pudding with raisins
65. scrambled eggs with cheese
66. harvest grain nut pancake
67. quiche
68. hush puppies
69. kulfi (brown people ice cream)
"THAT SOUL FOOD'S ON MY MIND"
My grandmother had a saying which translates to, "Since I'll die, should I do nothing? If I survive, what will I eat?"
This reminds me of a lyric in "Soul Food," a song by Mississippi hip-hop artist Big K.R.I.T. "Out here in this world, just tryna make it / Everything I see, sometimes I can't take it / But damn I really miss those times / that soul food's on my mind." Dadu was widowed young; she raised my father and his siblings alone in a small fishing village in Bangladesh. Imagine burying your partner, only to build the walls of your own house with bamboo stalks to shelter your two sons and daughter.
All evening, I badger my parents to help me translate. "The idea of death may suppress your drive / Think what is ahead in case you survive," my father rewrites in verse. "In other words, you have to work to eat," summarizes my mother. I watch her neatly cube chicken into a steel bowl while my father pours milk.
Maybe my parents are kind to themselves when they miss their mothers. I'd like to think so. I'd like to invite my grandmothers and Big K.R.I.T. over for a long and leisurely supper. I'd like to set us a sumptuous seasonal table. I'd like to seat us beneath a chandelier of fireflies and Texas sky.
DEAR JOE BIDEN AND KAMALA HARRIS,
For a spell, I lived sheerly on instincts, talent,
and a few smokes to get me by. Lately,
I've been asking for more. I'd enjoy
taking y'all to the Patel Bros in Irving, i.e.
They have "magic" masala Ruffles! There's
a chaat house next door, where they serve
a nice cha and hot dosa to go. If you're looking
for pigeons, you'll find plenty. That's not why
I'm writing, though. Listen, I have a big problem:
I cannot figure out how to write "aha"—
not the expression of triumph or satisfaction
after a win or a revelation, but how my mother
says it—aha, musical and pained
with understanding. I.e., after a death. Ah-ha.
after a regret. Augh-ha. Agh-ha. Aaha?
Why can't I get it right? Will you help? Will you
help build monuments large enough to revere
our nation's most tender sounds?
ODE TO AL MARKAZ
-with a line by Rabindranath Tagore
to be exactly where you want to be—here
in the parking lot where the light dents
storefront windows and a sister in hijab +
baseball hat leans toward a brother . . .
ginger and garlic
mixed pickle
chai chai
say the signs a family strolls
past the past on a simple enough afternoon
the father cradles a phone to light a bidi
the good daughter waits for the mother
to catch up while the good son
expertly maneuvers a cart off the curb . . .
Tea India
free estimates
tax preparation
we regard each other or don't
a bit of scripture dangles off of a rearview
two sets of friends tailgate laughing
open trunks face each other . . .
national
national
glamour hair designs
money transfer
and an auntie whose eyebrows remind you
of another auntie you haven't seen in eons
smiles—we live in the same village
and that is our one piece of joy—
taste happiness
inspiring new traditions
I respect that.