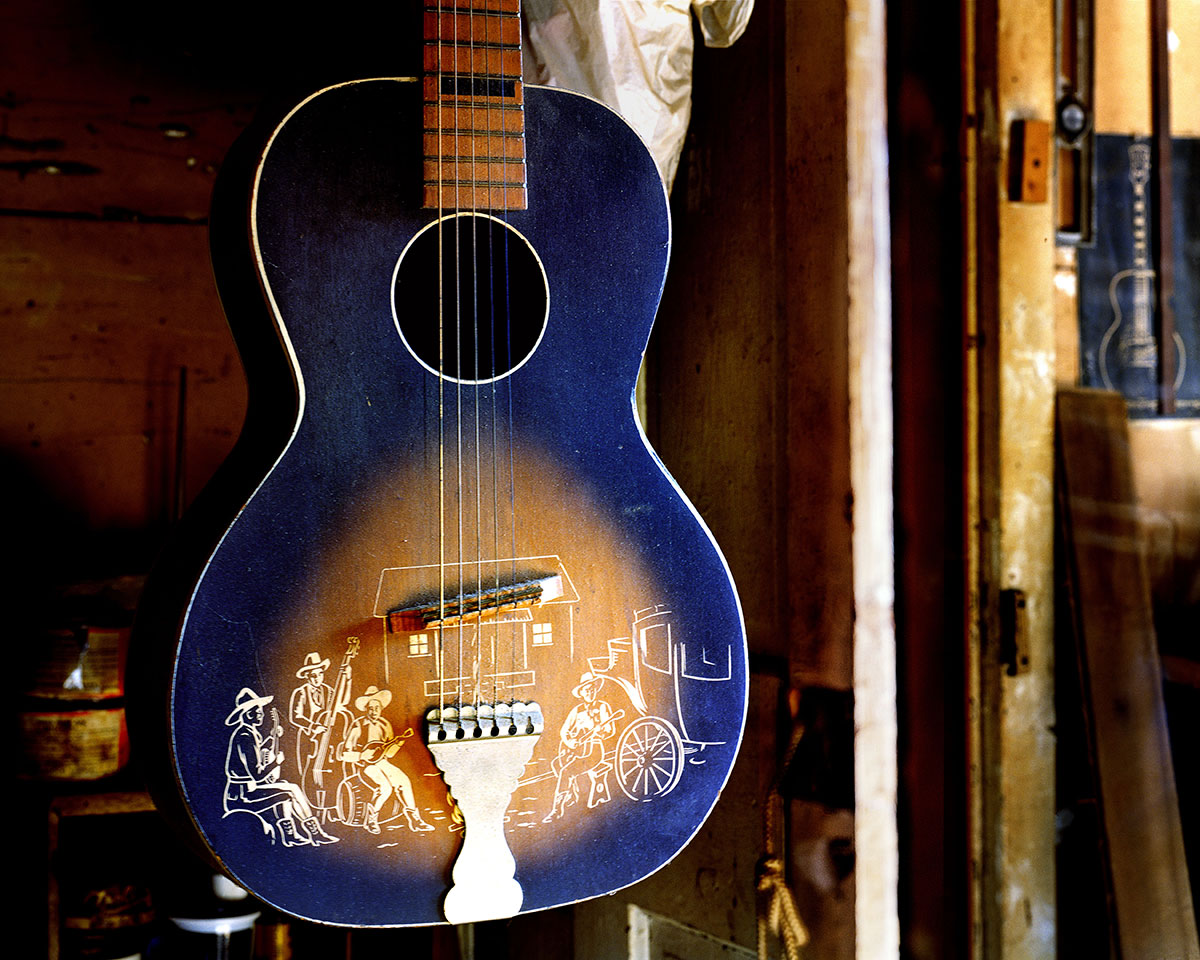 "Mike's Guitar," a photograph by Rachel Boillot from her monograph Moon Shine: Photographs of the Cumberland Plateau (Daylight, 2019) © The artist
Fifty-Seven Dollars
An excerpt from Maybe We'll Make It: A Memoir
By Margo Price
I counted seventeen red-tailed hawks perched in the trees along the interstate as I stared out the window of the car, and I took it as a good omen.
The date was May 29, 2003, and we had packed up my belongings in my daddy's pickup truck and rolled into Nashville looking like the Beverly Hillbillies. We had some old furniture tied down in a flatbed trailer, including a twin bed, a rolltop desk that had been my grandmother's, and two bright-orange, ratty couches I had inherited from my parents. My folks had planned to trash them, but I loved that every time I sat on them, I felt like I was transported back to 1977. Everything I had was worn, but I valued the sentimental.
Besides, my cousin Star had plenty of nice belongings for our new place. She and I moved into an apartment with vaulted ceilings in Antioch, Tennessee, just twenty minutes outside of Nashville. Star wasn't the best influence, but she had a colorful personality and there was never a dull moment with her around. She was just two years my senior but much more experienced at living on her own. We had grown up together, and she could talk me into trying just about anything. Star had been arrested for cocaine possession when she was only seventeen and had a felony on her record. I shouldn't have been surprised when she offered me some during my first week in town, while we were out dancing with her friends at a club called Envy.
"You want a bump?" She flashed her kohl-rimmed eyes down at the bag of white powder in her hand. Uppers weren't really my thing, but I agreed anyway. We went into the bathroom with a few other girls, and she pulled out a tiny silver spoon with a snake head on the handle. I took a whiff and immediately regretted it. The left side of my face felt like it was burning.
"What is this?" I asked, panicking.
Star and her friends started laughing. "It's meth! Ha ha ha, you just did meth!" Star was beside herself.
"Jesus Christ, why didn't you tell me?" I was scared and angry. I stormed out of the bathroom, went outside, and paced in the street. She could be so two-faced sometimes, it terrified me. That night was not the last time she tricked me into taking a drug I thought was something else.
Nashville and city life were all so new to me, I felt like I was going one hundred miles per hour when I first arrived. I didn't have much money to burn at the bar or at fancy restaurants, but anytime I found myself out and about, someone usually offered to buy me drinks.
Although I still had a fake ID, I only drank occasionally back in those days. I was still distancing myself from alcohol because of the incident at Northern Illinois. Nonetheless, I liked to spend my evenings taking in the nightlife. I found myself spending lots of time at random little coffee shops, dive bars, and clubs. I enjoyed spectating and occasionally performing at writers' nights, poetry readings, and karaoke bars. The people I met were almost always friendly. The Southern charm and warm hospitality were intoxicating, and I was really leaning in to my new life.
I had only been in Nashville a couple of months when I totaled my second car. Star and I had been out dancing all night during the summer solstice, and I drove myself home around five a.m. I looked down for one second to follow directions on a comedically large paper map of the city when the box truck in front of me stopped abruptly at a yellow light. I slammed on my brakes, but it was no use. I ran into the back of the truck and crushed the front of my car.
So there I was. I had no car and no real friends in town yet. I had fifty-seven dollars left to my name and hadn't found a job, although I'd tried. I didn't want to ask my parents for money, so I knew I needed to find employment soon.
Star had run off to spend a couple of weeks in Hilton Head, South Carolina, with an older man named Giovanni. Giovanni wore Gucci tracksuits and thick gold chains. He let everyone know he was loaded—I mean filthy rich—and involved with the Mafia. Star asked if I wanted to come, but I was intimidated by him and the crew of yes-men he kept close by. More than that, I knew I needed to get my life together. There was barely any food in the fridge, and I was living off of hummus, stale bread, cereal, and soy milk. I spent two weeks alone playing records, writing songs, and reading books on astral travel.
I had been given a copy of The Essential Bob Dylan and became obsessed with "Maggie's Farm." I sat around smoking tiny crumbs of weed from a metal one-hitter and listening to the song on repeat. I was completely obsessed with Dylan's lyrics, delivery, and attitude. He was mystical. How he channeled the words and the sound that he did was a secret I yearned to unlock. The way he sang wasn't perfect, but it was honest.
Listening to Bob led me to artists like The Band, Skip James, Victoria Spivey, Leonard Cohen, Karen Dalton, John Prine, and Kris Kristofferson. Joni Mitchell turned my world upside down. Her playing, her voice, and especially her lyrical prowess were unique and incredibly refined. This is how you write a song, I thought as I listened to Blue on repeat. "A Case of You" had to be one of the most perfect songs ever written. She didn't revisit the same old clichés; she dug deep and mined some of the best compositions I had ever heard.
I was enjoying the time and the space to myself, and despite being broke, I found the solitude glorious. I penned several songs that week. None of them were great, but I was learning. It beat going to a lecture hall to listen to uninspired professors, that was for sure.
A couple of weeks later, Star returned from her trip and my privacy was gone. With my parents' help and an insurance payout, I got a new-to-me used car. I landed a job selling cheap clothes at Wet Seal in the Antioch Mall. The pay was minimum wage, and I wasn't good at budgeting, so money was always tight.
Star was a Gemini with multitudes of personalities. When Star was five years old the doctors had discovered a hole in her heart. She had to have open-heart surgery, which left a jagged scar that ran down the middle of her rib cage. The incident had convinced her that she was the reincarnation of Cleopatra. She always said, "If you pretend you are somebody, people will think you are somebody."
I followed her lead and began to dress more outlandishly when we went out to dance clubs and wild parties. She had a lot of eccentric friends who were different from most of the people I had met in the Midwest; she knew mystics and tarot readers, drug dealers and Reiki healers, drag queens, rappers, producers, and engineers. One evening she took me backstage at a Wailers concert, and we smoked a couple of spliffs with the band. It was the first time I'd been put on a guest list, and I had never experienced such an open atmosphere. It didn't hurt that she was casually dating the drummer, Zebulon.
I wasn't great at holding a job, and after a few short months of working retail at the Antioch Mall, I was over it. I pulled a no call, no show one morning and they canned me. Luckily, Star got me a job making continental breakfast at the Hotel Preston she managed out on Briley Parkway. It was terrible for my night-owl schedule. I had to get there at four in the morning to make biscuits and gravy, waffles, and powdered eggs. Many mornings I arrived irritable and sleep deprived. I wasn't much of a cook and had never worked in the service industry before. The job was also minimum wage, and there were no tips. I didn't last more than a couple of months before my irresponsibility got me fired again.
Star was understandably frustrated with me but had one more connection for a job. She swore she would disown me if I screwed it up. It was at a Men's Wearhouse in the Cool Springs Galleria, selling cheap suits. I hated it more than any other job I'd had thus far. It required that I dress in business casual, and the other employees were cold to me. I never sold a single suit. I walked out one afternoon on my lunch break, before I could even collect my first paycheck.
Weeks passed and I remained unemployed. I tried busking down on Broadway with my guitar, a tip jug, and a handful of wildflowers for adornment. Busking seemed like a rite of passage for anyone who aspired to be a songwriter, and I loved watching the tourists pass by. I studied the other street performers to see what did and didn't make money. Well-known songs that were recognizable to the folks passing by were more likely to work, but I didn't know many covers that seemed to impress the straw-cowboy-hat-and-fannypack-wearing crowds who walked the strip, drunk on light beer. Still, I remember feeling accomplished when I counted the money I had made. Forty-five bucks for about five hours of work. I shoved the crinkled paper money into the pocket of my blue jeans, packed up my guitar, and went home feeling proud of my little hustle.
I picked up a copy of the pocket-sized local paper called All the Rage and began looking for open mics to play. I began frequenting a little hotel bar called Hall of Fame Lounge inside the Best Western off Music Row. It was easy to get on the list to play there. It felt cozy. There was wood paneling on the walls and tacky Cracker Barrel–like decorations—antique signs, photos of no-name old-timers, bad taxidermy. I was told Townes Van Zandt used to play there before he died, and that was enough to pull me in. I made friends with a couple of the middle-aged writers who hung out there. Most of the folks at the Hall of Fame were older, but that was fine with me. I almost preferred the company of old folks to that of my peers.
I didn't have many original songs but quickly found that the ones I did have didn't really cut it. I studied the writers who got strong reactions from the crowd. What made their songs good? Stories? Melody? Themes? Humor? Sadness? All of it. I knew I had a lot to learn. I came back week after week and signed my name on the clipboard, waited for my turn to sit on the stool and sing my songs.
My mom was convinced that I already should have made it and that my songs were already good. She believed in me even when I did not and arranged for me to go over to my uncle Bobby Fischer's house and play him some of my tunes. He was well connected in the business, knew a lot of the right people, and had lived in Nashville for over thirty years. Many notable musicians cut his songs, from George Jones to Charley Pride, Tanya Tucker to Reba McEntire. My mom was sure Bob could help me get my career on the right path.
I visited his house in Green Hills one afternoon to get his opinion and see if he could plug me in to the music industry pipeline. He was in his late sixties at the time and had a kind soul. His wife, my great-aunt Helen, gave me a warm hug and poured me a cup of coffee. It was good to see family. I followed Uncle Bobby to his den and we sat in chairs across from each other.
"Well, let's hear what you got."
"Um . . . okay. Let me think what I should play you." Even though he was family, I was nervous as I tuned my guitar.
I don't remember what I played for him, but I only had a handful of songs in my catalog at the time. When I finished my whispery folk number, he sat there in silence. I shifted uncomfortably in my chair and waited for some feedback. He looked me dead in the eye and said, "Here's what you need to do. You need to go home and throw away your television, get rid of your computer and your phone and your radio. Just sit there and write and keep writing for a long time. Focus on it. Don't do anything else with your free time, just learn to write."
I was heartbroken, but deep down I knew he was right. I nodded and tried not to cry. I knew I was still learning, but I'd thought there would be some kind of compliment sandwiched with the criticism—like "You've got a great voice, kid!" or "That one metaphor was pretty clever." Nothing. Just brutal honesty and the cold, hard truth. I was not ready yet.
I left with my head hanging down and returned to my apartment. What am I doing here anyway? I thought. Who do I think I am? I'm not special. I'm not a poet. I can't write songs. The icing on the cake was that I still needed to find paid work.
I dreamed of one day being able to get a proper gig at one of the real venues in town. I made a vow to myself that I would work to go from playing dive bars to the holy grail of stages, the Ryman Auditorium. I made a list of all the places I wanted to play in between: Winners, Losers, Springwater, Mercy Lounge, Exit/In. I accepted that I was on the bottom of the food chain, but the only way to go was up.

Excerpted from Maybe We'll Make It: A Memoir
Copyright © 2022 by Margo Price
All rights reserved.
With permission from the University of Texas Press