Black at the Roots
A lesson on country music's lineage
By Rissi Palmer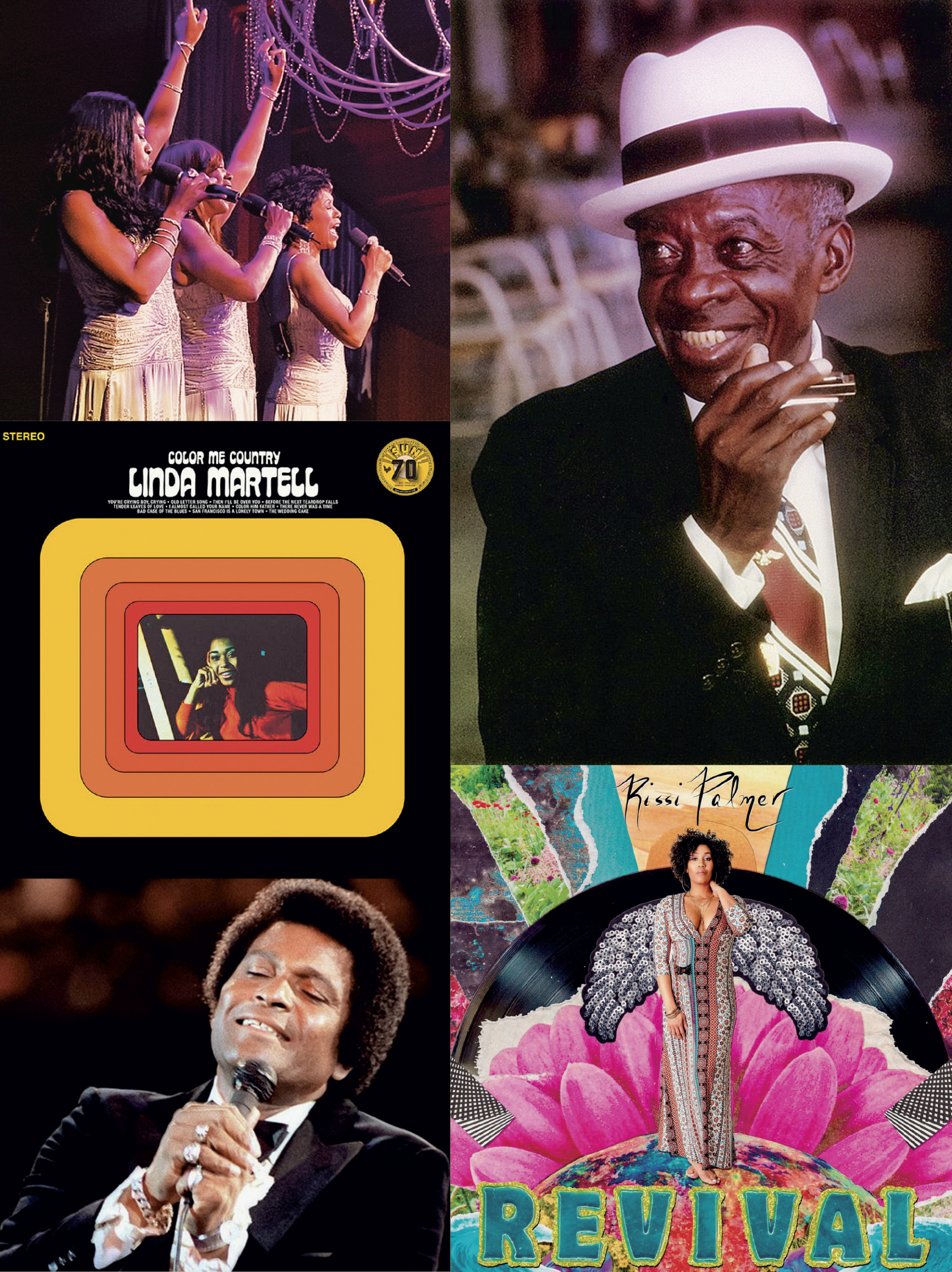 The Pointer Sisters photo by Rick Kramer, courtesy wikicommons; DeFord Bailey and his harmonica photo by David C. Morton, courtesy wikicommons; Revival released in 2019 by Baldilocks; Charley Pride photo by Greg Mathison, courtesy wikicommons; Color Me Country released in 1970 by Plantation Records
My story begins like so many others. I had a dream to sing on big stages and hear my music played on the radio. To see my name in lights. Country music was a big part of the soundtrack of my life. We listened to Patsy Cline and Aretha Franklin with equal fervor. I had my first publishing deal in Nashville at nineteen. I sang at Tootsies until the wee hours of the morning and played writers' rounds at the Bluebird Café. I endured LOTS of rejection, which made me appreciate the big yes moments even more. All the work paid off in 2007, when I fulfilled a lifelong dream of playing the Grand Ole Opry and became the first Black woman in twenty years to chart on the Billboard country charts.
When my show, Color Me Country Radio w/ Rissi Palmer, debuted in 2020, it was my goal and mission to shine a light on the often-hidden history of Black people in country music. You see, I grew tired of reading article after article, listing only five or six Black artists in the genre and perpetuating the accepted narrative that our contributions were limited to these particular artists in modern times. I knew it wasn't true because I too am a square in the complicated and colorful quilt of this music.
It was important to me that I had the knowledge it would take to speak with confidence and authority. For a year, I read and watched everything I could get my hands on. Documentaries like Waiting in the Wings: African Americans in Country Music and Ken Burns's Country Music got me well on my way, but books like Country Soul: Making Music and Making Race in the American South by Charles L. Hughes, Hidden in the Mix: The African American Presence in Country Music by Diane Pecknold, Black Country Music: Listening for Revolutions by Francesca Royster, and Finding Her Voice: The Saga of Women in Country Music by Mary A. Bufwack and Robert K. Oermann provided me with a wealth of knowledge. I read interviews from Rhiannon Giddens and Justin Robinson from the Carolina Chocolate Drops and spoke with Dr. Jada Watson and Amanda Martinez. The podcast Cocaine and Rhinestones by Tyler Mahan Coe added much color to my research. This collective treasure trove of information changed the way I look at my own music, as well as the genre itself.
I now know that the Black influence on country music starts at its roots with the instruments that are at the core of the "country sound": the banjo and the fiddle. I also know about Lesley Riddle who picked and taught the Carter Family many of the songs they turned into country music canon and influenced Maybelle Carter's "bottleneck style" of guitar picking. I know about Rufus "Tee Tot" Payne, mentor to Hank Williams and Gus Cannon, and who taught a young Johnny Cash and Arnold Shultz. These artists have yet to become the household names they deserve to be.
I learned about Louis and Lil Armstrong's groundbreaking collaboration with the "Father of Country Music" Jimmie Rodgers on "Blue Yodel #9" from my mentor and dear friend Alice Randall, the only Black woman in country music to write a number-one song, "XXX's & OOO's." Every time I step onto the Grand Ole Opry stage, I can't help but think of seminal harmonica player and original Grand Ole Opry pioneer DeFord Bailey, whose performances are as iconic and well known as the Opry itself.
I was delighted to find Henry Glover, one of the most influential and successful Black music executives of the 1940s and '50s. During his tenure at King Records, he produced and wrote for the label's roster of country artists, including the Delmore Brothers, Hawkshaw Hawkins, Cowboy Copas, Moon Mullican, Grandpa Jones, and the York Brothers.
There is a direct line from Ray Charles's 1962 genre-defining masterpiece, Modern Sounds in Country and Western Music, to Charley Pride's Hall of Fame–worthy career. From these artists, we get O. B. McClinton, Stoney Edwards, Cleve Francis, Darius Rucker, Jimmie Allen, and Kane Brown. Linda Martell and La Melle Prince, two of the earliest Black women signed to Nashville labels, both in 1969, led the way for Lenora Ross, Virginia Kirby, Barbara Cooper, Ruby Falls, the Pointer Sisters, and Dona Mason, all the way to Mickey Guyton and me.
I am so sad when I think of how misinformed I was when I embarked on my career in 2000. I was concerned with my survival as an artist, as well as proving I knew the accepted history of country music in order to pass the "authenticity" tests I was often given. Knowing then what I know now would have armed me with not only a sense of pride for my people's collective accomplishments, but the feeling of not walking this path alone. I cherish the information that I've learned, and I had no idea of the many footsteps I was following and the many barriers and hardships that were knocked down so I could stand on the Opry stage and climb the charts…and trust me, it wasn't easy.
Through the show, I have been able to meet and be in conversation with so many pioneers and heroes. I take pride in being a part of preserving this history for future generations so that they will never have to second-guess their love for this music like so many of us have. I know that by saying and acknowledging these names, these forefathers and foremothers of modern country music, we make the unbroken circle that Lesley Riddle taught the Carters to sing about bigger and more inclusive.
My playlist includes many of the names I mentioned above, as well as a few others who have influenced and innovated the art form.