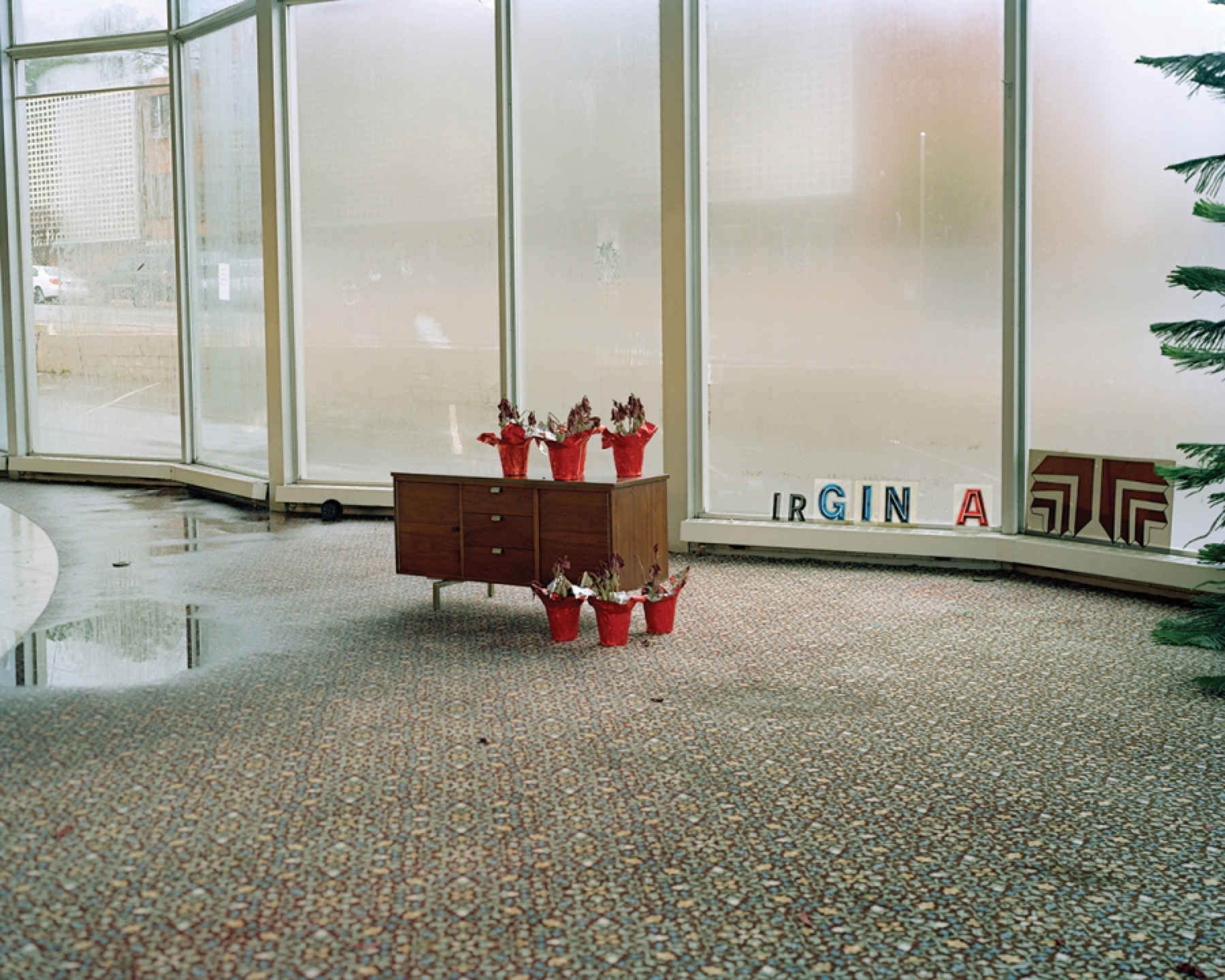 "Inns of Virginia" (2010) by Susan Worsham
Rendezvous at the Trist Building
By Anne Gisleson
The panties disappeared in mid-February, much to my disappointment. For almost a year, I'd been renting an inexpensive office on the second floor of an old 1950s commercial building outside of town, and I entered next to the storefront of a defunct lingerie shop. The owners were trying to sell the whole business, so the stock remained on display, untouched, frozen in time behind the big plate glass windows like an aquarium full of colorful, exotic fish—or a terrarium with static, tropical flowerings of bras and bustiers, ribbon-tendrils of garters layering the tiered racks, and bright, petal-smooth thongs arrayed on the round table near the always-locked door.
The presence of the lingerie store felt almost symbolic, evoking an illicit quality—intimacy meeting exhibitionism—that I often associate with writing. The yellow brick building itself does that as well. For decades it was known as the Trist Building, the perfect name for a place where you go to have some kind of affair, to do something that's akin to cheating on your real life. With original terrazzo floors and stylized mid-century ironwork on the staircase, the Trist Building is the kind of place, a friend remarked, where you could open a private detective agency. Even better, it's down in the hurricane-scarred landscape of Arabi in St. Bernard Parish, which is trying hard and imperfectly to revive itself after being nearly wiped out by Katrina, an area that most New Orleanians think of merely as a storm-surge barrier between the city and the Gulf of Mexico.
When I first answered the ad for a cheap studio space there, I saw that the old metal letters spelling out TRIST BUILDING had been taken down, replaced by ARABI PLAZA in white plastic, though the building sits right next to the roadway, with no plaza in sight, unless you count the weedy stretch of concrete separating it from the Dollar General, sister to the thousands of slabs Katrina exposed when it damaged or destroyed most of the parish's structures. Almost eight years later, most of those slabs, former foundations, floors, driveways, and patios have been smashed, dug up, and hauled away for reuse, piled up into chunky mounds along Paris Road over on the edge of Bayou Bienvenue, across from the marinas and Mr. Binky's Adult Superstore.
I had truly loved lingering for a minute or two at the store's window, with the intimates and the sweet dangly chandeliers, before heading upstairs with my laptop, and I was sad to see it all go. Days passed and I spied a little construction in the empty store, some standard Home Depot cabinetry going in, a sink where there was none before. And then one day the windows were blocked from the inside with some sort of adhesive sheeting that bubbled up and made shiny air pockets along the glass. I thought it was temporary, as shops tend to cover up during renovations before their unveiling, until one day a simple business card appeared on the door:
                      N.O.B.L.E.
Amoureux de Servage et de Cuir
When I got home, I looked it up online. N.O.B.L.E. turned out to stand for "New Orleans Bondage and Leather Enthusiasts," the French translated as lovers of bondage and leather. My first thought was that the building was actually not even in New Orleans but in Arabi and that a more accurate acronym would be A.B.L.E. Their website described the organization as a not-for-profit "BDSM pansexual support, play and social group . . . dedicated to promoting the lifestyle through education and social activities." Some of their past educational programming included Peer Rope Workshops, Saline Infusing, Cell Popping, and Wax Play. The site listed programs called "Zap! Violet Wand-Humiliation, Degradation, and Objectification," and "The Unity of Opposites: How to Build a Scene in Unity and Intensity." There were also board game nights.
I didn't know what to do with this new turn at the Trist Building. Having hung so much significance on the lingerie shop, where the brightly sensual was always on open though inaccessible display, I was suddenly confronted by darkness, mystery, and a complex promise of pain. These were no Fifty Shades dabblers; they were committed. The superstitious, irrational part of me wondered if on some level the presence of N.O.B.L.E. and its activities would affect my writing. What kind of black, crackling though maybe not unpleasurable energy would be transmitted through the building's wiring?


Upstairs, just past my office, there is a yoga center with a mission to "rebuild the individual." Since 2005, in this region the word "rebuild" has become overused; first a rallying cry, rebuilding is now merely a part of our branding narrative. The center's vision is "to offer, with the deepest and purest intention, the practice of yoga and other uplifting activities," and it aims to help "guide us through our journey of creating, nurturing and spreading of yoga." It doesn't seem to get a lot of traffic. Occasionally I see ponytails and tight stretchy pants getting in and out of cars parked out front, but not very often. I've never really tried yoga, never had the time or the inclination, though many people I know hang their sanity and their health on it.
Though I use the Arabi office to try to cultivate some mental space, now that I was confronted by BDSM upon entering the building and by yoga upstairs at my door, I was suddenly distracted by the body. I felt caught between these two physical poles. Both espouse holistic benefits, with a certain fetishization of discipline, and both have specific gear and vocabulary. Though one is fairly mainstream and the other is more of a fringe activity, both yoga and BDSM attract people who are willing to go the extra mile (a few exit signs past mere pleasure) in exploring the self through the body, with varying motivations, from attaining a firmer ass and a "still center" to transcending identity en route to self-knowledge and a more intense orgasm.
The mind-body problem notwithstanding, I tried to find useful parallels to writing. There's plenty of inherent bondage there, both external and internal: deadlines, editors, language itself, professional expectations and personal ones. On the other end, though rare for me, it is possible at times, in writing, to reach a fleeting equilibrium between the inside and the outside, something that almost feels like healthy and whole communication. But both these disciplinary poles made me miss the lingerie-store ethos of art: frivolous and impractical, pandering to some preconceived notion of what's aesthetically desirable, but fun nonetheless. Handwashed delicates trotted out on special occasions.
Even after I reconciled myself with the idea that the universe wasn't sending me any signals through this change of storefront tenants, that I was just needling my environment for meaning and direction, one day I indulged in one of those made-up dilemmas we sometimes assign ourselves as a personal exercise, usually out of boredom or to gauge some ethical situation. If I were forced to choose between an hour of yoga and an hour of BDSM, which would it be? I answered myself with surprising alacrity. Meditation has never managed to tame my monkey-mind, but maybe it could be strapped down and taught some safe words, do some role playing and free me up for elevated inner focus. Since I was raised Catholic, with stories of self-flagellation and hair shirts barbing more than one saint's path to canonization, it seemed right that my spiritual enlightenment might involve bodily mortification. Perhaps my redemption would be a variation on a line from O'Connor's "A Good Man Is Hard to Find," after The Misfit murders that obnoxious grandmother, who possibly experiences her life's one true spiritual revelation right before that final brutal act. "She would of been a good woman," he says, "if it had been somebody there to shoot her every minute of her life." Maybe I could be a good woman if somebody were there to spank me every minute of mine.
---
Enjoy this story? Subscribe to the Oxford American.