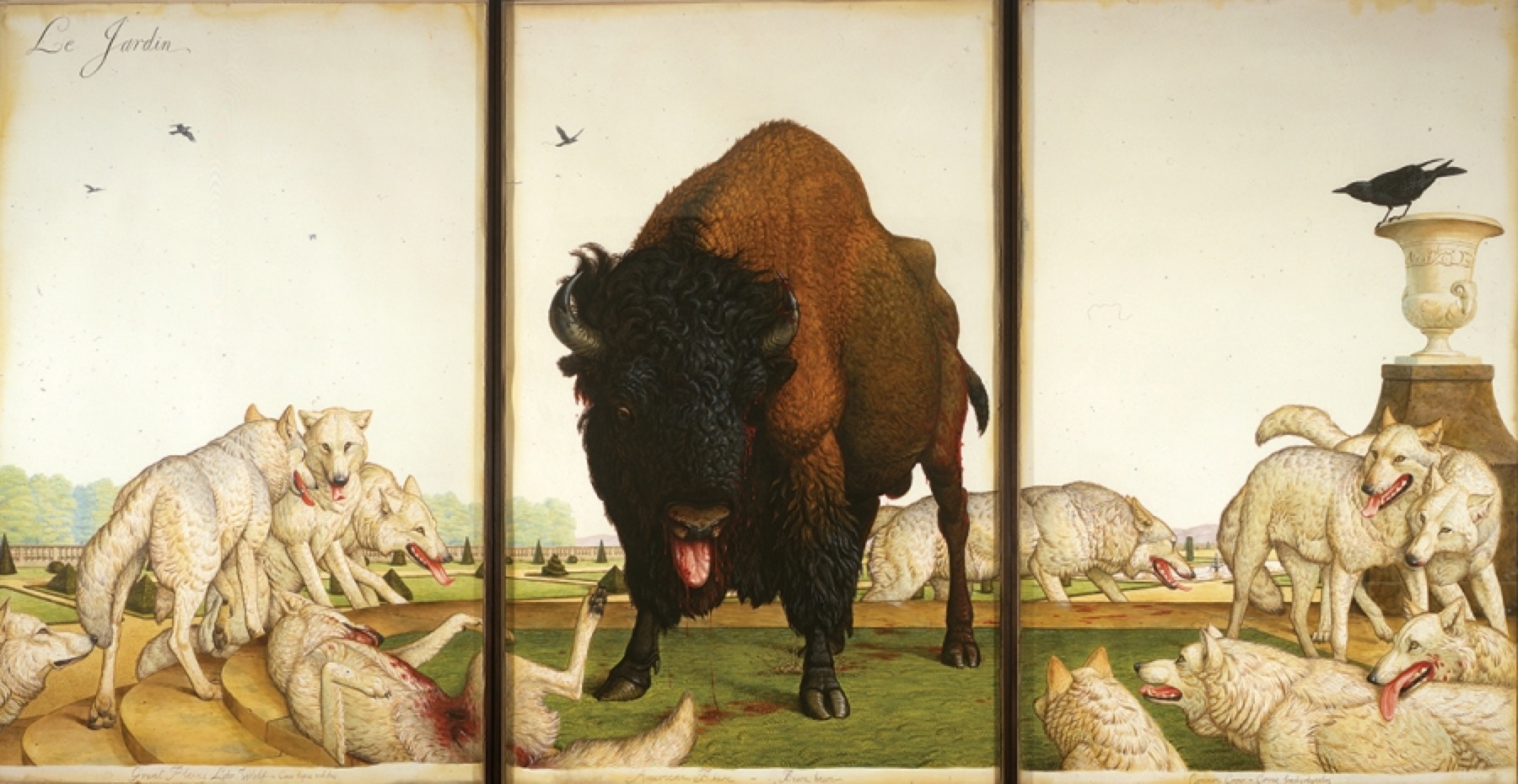 "Le Jardin" (2005) by Walton Ford. Courtesy of the artist and Paul Kasmin Gallery
The Wolves of Angola
By Brian Boyles
"I think they take a little more courting than a regular dog," says Colonel John Norwood, an officer at the Louisiana State Penitentiary at Angola. "I don't know if they're less sociable, or if it's just something that's bred into the wolves."
We're sitting in Norwood's squat cinderblock office at the prison's C.C. Dixon K-9 Training Center, nestled in the Tunica Hills that form Angola's eastern border. The room is long and narrowed by a half-dozen mounted deer heads gazing at one another from white walls. Norwood sits at his desk amid file cabinets and assorted equipment; he has the compact build of a high school wrestler. An inmate named Daryl Aucoin sits next to Gary Young, Angola's public relations director. Outside, the morning's low dark clouds give way to late May heat that, we all agree, is here to stay.
"Last time we bred the wolf, we bred it five times back to back," Aucoin tells me. "That's the only time we've bred the dog since I been here." Aucoin's bold nose, robust belly, and bushy mustache remind me of a Central European burgomaster, and he speaks with the French Cajun lilt of his native Lafayette. Launched in 2002 by Warden Burl Cain, the hybrid program originally sought to crossbreed wolves with malamutes, Belgian malinois, and German shepherds to create a bigger, more vicious chase dog that would help capture escapees. The wolf genes complicated things.
"We've got some that are about half and half, some that's about thirty percent, but they still show that timidness that's typical of the wolf," Norwood says, lamenting the hybrid's resistance to chase. "They want to get away from people instead of go toward 'em."        
Bloodhounds are Angola's specialty. Outside Norwood's office, dozens of the redbones and black-and-tans yodel and whine as we walk past fenced pens lined with beds of petunias. Wet mouths gleam in the sun, tails switch at high gear. Prisoners and corrections officers have raised dogs at Angola for decades, using them to track the occasional escapee, or farming them out to police departments for narcotics work. In recent years, Angola-trained dogs collected honors at competitions like the Arkansas Southern States Manhunt Field Trials and the Louisiana Department of Corrections Narcotics Statewide K-9 Competition. Along one fence, small white crosses bear nameplates marking the graves of bygone hounds Josie and Buster.
Farther up a gravel road, we encounter a different cacophony, sharper if no less agitated than the chorus of hounds. Two rows of kennel cages hold dogs who greet us on hind legs, their front paws pressed against locked gates. They have long snouts, prodigious ears, and keen, close-set eyes. These are the hybrid wolves. Unlike the hounds, the hybrids are enclosed on all sides by cyclone fence, with roughly six square feet to pace, a cement basin for food and water, and a cinderblock hut for escaping the elements. They appear happy to see us, with one exception: Shanka, the occupant of a double-sized pen in the second row. This creature makes no move for the gate, nor does she emit a sound. The coldness in her visage causes my heart to skip. Though Young later assures me that Shanka, too, is a hybrid, I sense the difference immediately. Unkempt grey fur, vacant yellow eyes—the timber wolf genes must keep the domestic dog genes cowered in the corner of her DNA. As we pass her door, Shanka stalks into her hut and glares back at us from the shade.
Moving from cage to cage, Aucoin recites the lineage of various hybrids, most of whom descend from either Shanka or a full-blooded female wolf who escaped, never to be seen again, in 2008 during Hurricane Gustav. A Belgian malinois named Rocky was Shanka's most recent partner, but the physical variety of the group speaks to the unpredictability of breeding. There's the imposing, long-legged Coon; a dark, smallish Jewl; coyote-like Jeanie; and several others with distinctly Labrador features. In each face, hints of wolfish malice mix with domesticated eagerness.
Three doors down from Shanka sits Chief, tallest occupant of the camp and perhaps its most famous. The ivory-colored hybrid lived with a family in Pointe Coupee Parish until last spring, when a judge sentenced him to be euthanized after repeated escapes brought complaints that he was terrorizing the town of New Roads. After hearing news reports of Chief's plight, Warden Cain offered a life sentence at Angola. Today Aucoin opens the gate, leashes Chief, and commands him to sit and speak. The giant spins around, seems to grin, then complies and receives a biscuit into his ample jaws. Next Aucoin introduces me to a part-malamute named, somewhat misleadingly, Wolf. Black and wide-bodied, Wolf emerges amiably to take two separate leaks on the same tree, then pokes his snout into my leg. "He's a good dog," Aucoin says. "Can't judge if he would bite you or not, but just looking at him, he can intimidate."
Under Angola's unique disciplinary system, Aucoin is a "trustee," rewarded for his good behavior with a post at the relatively unsupervised K-9 center. Angola holds more than six thousand inmates, with the facilities divided into six camps, or living units. Aucoin and thirteen others reside full-time at the K-9 center, and Young explains the rigor of the trustee-placement process as "more background checks than you'd need to enter the Governor's Mansion." Serving a life sentence for second degree murder, Aucoin will remain in his plum spot so long as he maintains good behavior and work habits.
Every evening, Aucoin and other inmates load twelve to fifteen dogs, both German shepherds and hybrids, into crates mounted in the bed of a pickup. Officers, inmates, and dogs then descend the hillside to make stops at camps around the prison. At each stop, the officers deposit dogs who spend the night walking between parallel perimeter fences. The routine usually begins at 6:30 P.M. and ends by 7:15. At daybreak, the process is reversed.
"We go in the morning, pick 'em up out of the fence, check 'em out, feed 'em," Aucoin says. "They eat when they get back and that way they can relax. Ready to go to work, ready to come back up." After several years of trying in vain to instill tracking skills in the hybrids, prison officials decided to adjust their sights. Hybrids Chief, Coon, and Rock now pull regular ten-hour shifts pacing between fences as an extra layer of security.
"I have used Wolf in the fences, but he's a dog that they call a 'soft paw,'" says Aucoin. "A lot of this gravel in these fences is clamshell gravel. Some dogs deal with it worse than others. The clam shells tear up the feet on some dogs."
"Funny how that is," Norwood adds. "We've had bloodhounds like that, too."
The tour concludes and I thank Aucoin for his time, then climb into a truck with Young and Norwood to visit a camp. At the bottom of the driveway, we pass the gravesite of Duke, a beloved bloodhound who gained fame as the star of the video for country-singer Blake Shelton's "Ol' Red." In the song, Shelton is an inmate on a prison farm in Georgia who "made the warden my friend/And so he sentenced me to a life of ease/taking care of Ol' Red." The chorus is a challenge issued by the warden to his charges:
Why don't you run?
Ol' Red's itchin' to have a little fun
Get my lantern/Get my gun
Red'll have you treed before the mornin'
comes.
Determined to escape, the wily Shelton escorts the "four-legged tracking machine" to late-night rendezvous with a female blue tick hound, "pretty as she can be." When Shelton runs north, Ol' Red leads the search party south, expecting another evening of romance.
We pass a group of prisoners clustered at the edge of a field. Situated at a curve in the Mississippi River, the 18,000 acres of Angola are prime Delta farmland, and inmate laborers harvest between four and five million pounds of vegetables each year. The men on the roadside carry hoes. Dressed in navy dungarees and white shirts, some wear cloth wrapped around their heads; they appear to be on break. A life sentence is a burden too heavy to contemplate, I think, but at least Daryl Aucoin has ample shade up at Dixon.
Two guards sit atop horses, rifles strapped to their shoulders. Though both horses are brown and gleaming, one towers over the other. This is another hybrid, a cross between a Percheron and a quarter horse, with the former breed providing the extra size and a gentle tendency, the latter a necessary agility. Police departments across the country employ these muscular crossbreeds; Angola uses them for "field security."

Y
oung takes a left off the main road and stops at Camp J. Along the camp's perimeter run two parallel cyclone fences, both topped with loops of barbed wire. Attached to the outer fence like hellish Slinkys are four vertical rows of coiled razor wire, all charged with electricity. On the other side, maybe twenty-five yards away, a prisoner in an orange jumpsuit, his back toward us, occupies a rectangular chain-link cell.
"These are probably some of the most high-management inmates you have in corrections," Young says. "J is reserved for disciplinary offenses such as aggravated fights. In our world, an aggravated fight's a fight with a weapon, or more than one inmate fighting one inmate, or contraband issues—drugs, cellphones—those types of charges will get you into J. These are very high-security inmates. Probably right up there with death row, I would say."
Norwood points out the gate where officers unleash two dogs, one into the channel to the left, one to the right. The process is repeated at a gate on the other side of the camp, so that four canines walk the perimeter of Camp J in twelve-hour shifts. Occasionally they receive visitors.
"We done had alligators in there hung up in the razor wire," Norwood marvels. "The other morning, it was a possum and a cat up on top of the fence, the dog had 'em treed." During daytime off-hours, inmates train the watchdogs to resist the urge to run after the intruders and into the razor wire.
Both men believe the presence of hybrid wolves has deterred nighttime escape attempts at Camp J. "If I was thinking about getting out of my cell to do an escape," Young says, "and I went and got that far—which would be odd to get that far—I'd say 'Well, this is crazy.'"
During a recent escape, an inmate successfully scaled both treacherous fences, somehow reaching the main road. How far did he get?
"About 300 yards," says Norwood. "But it was during the daytime. The dogs weren't in."
---
Enjoy this story? Subscribe to the Oxford American.