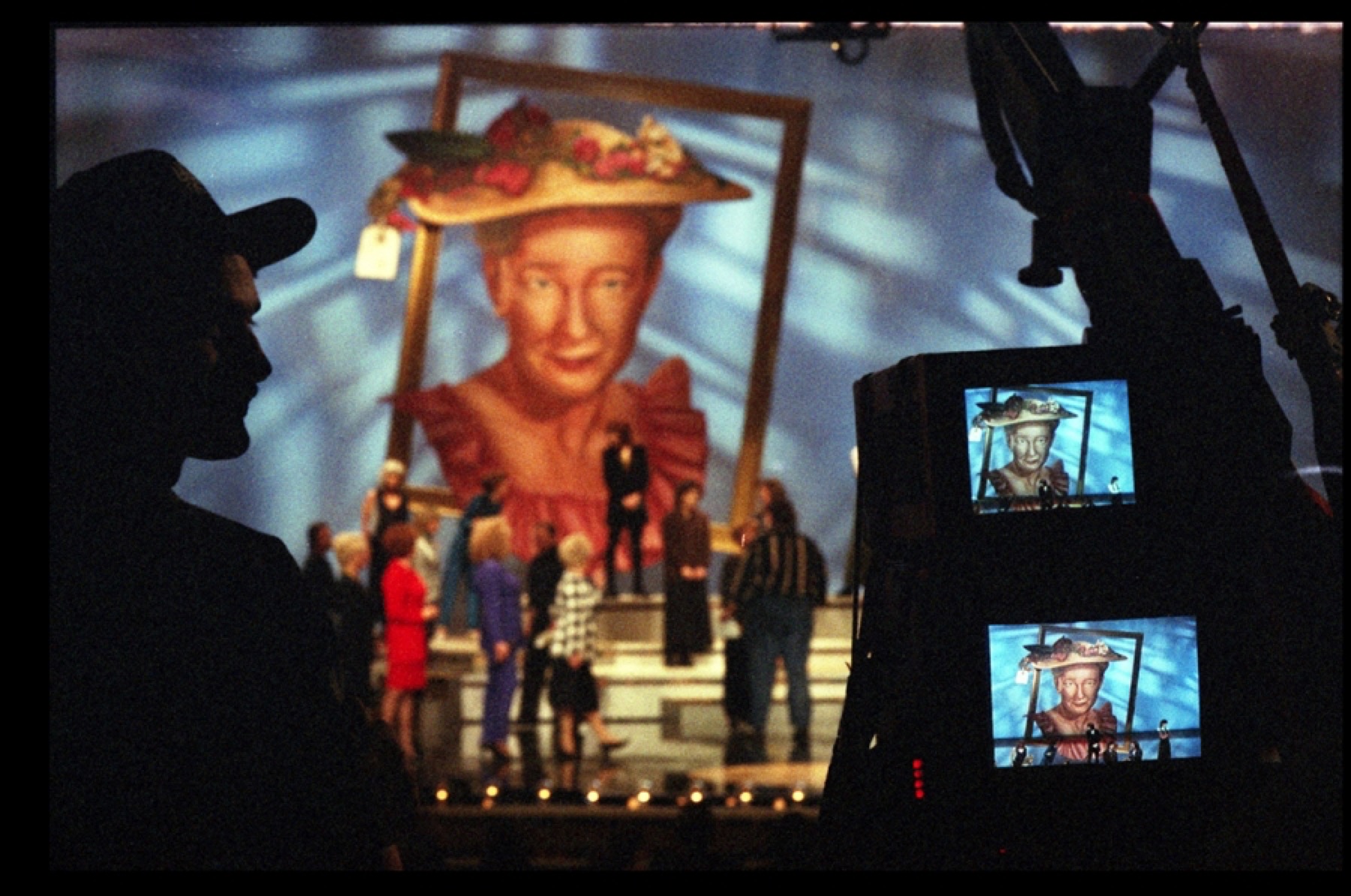 Photograph by Bill Steber
The Grand Ladies of the Opry
By Laura Cantrell
This fall, during the 2013 Americana Music Festival in Nashville, I had the pleasure of sitting down at the Opryland complex with the "Grand Ladies" of the Grand Ole Opry: Jean Shepard, Jan Howard, Jeanne Pruett, and Jeannie Seely. My interest in the group of friends extends beyond their music to their collective history. I've played the Grand Ole Opry myself, but I wanted to know how each of these iconic ladies felt when they were blazing trails for other women country artists. 
Three of the four ladies still perform at the Opry and on stages across the country. Jean Shepard, the one Country Music Hall of Fame member in the group, joined the Opry in 1955, and is its longest continuous member. Her 1953 hit with Ferlin Husky, "A Dear John Letter," sold more than a million copies. Jan Howard first guested on the Opry in 1959, and was made a member in 1971. A two-time Grammy nominee for Best Female Country Vocal Performance, she was discovered by her husband, songwriter Harland Howard, when he heard her singing at the kitchen sink. Jeannie Seely became a member in 1967, after scoring a hit with her husband Hank Cochran's "Don't Touch Me," a sultry ballad that earned her a Grammy Award in 1966. Pruett, who had written hits for artists like Marty Robbins, joined in 1973 after her record "Satin Sheets" became a number-one country single. 
---
How did it feel the first time you appeared on the Opry?
Pruett: The first time I ever walked on that stage—it was in the Ryman Auditorium—I was so scared and so intimidated that you could see my clothing jumping on my body! But I got over it because people were nice to me, and a lot of the girls were kind and gentle and helpful and professional. After I was inducted as a member, I felt like, "I've paid my dues; this is my spot and I deserve it. I'm not giving it up to anybody."
Seely: When I first came to the Opry, I went from being petrified to being thrilled beyond belief and tearful and just giddy enough to laugh—everything all at once. Like Jeanne, I felt like, "I want to be here, and I may have to prove that I have a right to be here, but I'm determined. I will do whatever it takes."
Shepard: I was too dumb to be intimidated. I didn't know what that word meant. Of course I was dueting with Ferlin Husky on "A Dear John Letter." I was just proud, mostly for my family, because they backed me every step of the way. 
Did it feel like things were changing for women at the Opry in the mid-1950s? 
Shepard: Not really, but it was such a pleasure to be asked to join the Grand Ole Opry. Back then you had to have everybody's approval. It was nice to walk up and be greeted with "It's good to have you."
Howard: I didn't have that welcoming committee. In fact, I got some anonymous phone calls: "Go back where you came from, the Grand Ole Opry doesn't need you." Patsy Cline was one of the members I made friends with. She told me that when she came to Nashville she got the same calls. As far as performing on the Opry, I was thrilled. Ray Price introduced me the first time. That will intimidate you! But he was supportive—he just sort of pushed me onstage. People ask what I remember of it and I say, "Absolutely nothing." I was terrified. 
Seely: Loretta Lynn scared me to death. She motioned with her hand for me to sit down, and you know how curt she can be. I thought, "Oh Lord, I'm going to get cussed out for something!" Then she said, "Now tell me something about yourself. Where are you from?" So I started telling her, and finally she said, "Well, I like you. You're going to do alright. You just stay like you are! I'm glad to see you here."
Pruett: The night I joined, Dolly was the one who brought me onstage. Porter Wagoner said, "Will you come out and sing 'Satin Sheets'?" The only thing I remember about singing it is that I said, "Well, I might as well; I'm going right by there," which is something my dad used to say all the time. After the show, Dolly came over and hugged my neck and said, "Girl, you just stay country. Don't you change. You're going to go a long way in this business." I'd just been to California and had my nails done the way they glue them on and file them and make them so pretty. She had never seen that before, and she said, "I'm going to go out to L.A. tomorrow and get me some of those nails." And she did. She got a ticket and flew to California and she's been wearing those nails ever since.  
You all started at the Opry before the new Opry House was built, back when the show was downtown at the Ryman Auditorium. Did the lack of facilities for women at the Ryman present a challenge?
Pruett: We all changed clothes in a little toilet about as big as a cubby, and it had a little window with an old wooden ledge. You'd put your compact makeup mirror on the ledge and do what you needed to do to get ready. That dressing room was as good as I'd had it at that time, so I was thrilled. When we came out here to the new Opry House in 1974, we thought we were in heaven. We couldn't believe this place.
Seely: I had one frightening moment in that little dressing room. I was standing back there one night, and Shepard turned around and handed me her hairbrush and said, "Here, Seely, you aren't doing anything—fix my hair." I was so in awe of her, and I was thinking, "I don't know how to fix my own hair, let alone hers." I just took her hairbrush and fixed the back of her hair the best I could. She seemed okay with it, and I thought, "Well there's two down—first Loretta, and now Shepard didn't kill me for messing up her hair!"
Shepard: I first met you in Pennsylvania. You were about thirteen years old and I was twenty-one. You couldn't say a thing. You just held out a picture, and finally I said, "Would you like me to sign that?"
Seely: I know! You told me before that you can tell when a young fan wants to be a singer. There's that intensity.  
Shepard: Yes, you've been intense all this time!  
You all had duet partners and significant professional relationships with other singers. What was that like?
Howard: You're just friends, but you're singing these love songs. It got boring sometimes, singing the same song over and over and over again. Bill Anderson and I did several duets, working and recording together in the 1960s. We were in Ontario when "For Loving You" was number one, doing two shows with two sets. The band would go on, and then I would go on and do 30–45 minutes, then change clothes, come back, and do the duets. After my set I went back down to the dressing room and there was a Mad Magazine laying on the coffee table, with a big brown eye on the cover.
Pruett: I remember that cover!
Howard: Well, I had some eyelash scissors, and I cut that eye out and took some eyelash glue and glued it right here in the middle of my forehead. I just pulled my bangs over it and I went back onstage. Bill and I didn't look at each other during the song until Bill started the recitation. When he turned to me, I just pulled my bangs back to reveal that eye pasted on my forehead. Bill sings, "For loving you . . . my, my, MY GOD THAT'S AN EYE!" 
Shepard: Ferlin Husky and I didn't have any love songs. I was too young to leave California, and my parents had to sign my guardianship over to Husky so that I could travel. Can you imagine Simon Crum [Husky's humorous hillbilly alter ego] as your guardian?
Pruett: The only duet I ever did was with Marty Robbins. Then Columbia Records decided that Marty shouldn't have a duet partner, so they put a cease and desist on our single. Marty and I had actually started an album of duets that was cut short by his death. I've often wondered over the years what it would have been like to finish that album.
When something tragic happens in your life, how do you manage to face the public and sing your heart out?
Shepard: You put it all in the song. 
Pruett: Well, I'm the last one in my family left standing. I've lost nine brothers and sisters and my mother and daddy. My brothers' and sisters' spouses—I buried them all. One year I lost three sisters in three weeks. If it hadn't been for the women in this room . . . well, it was really, really hard. But you bring that hurt and that flavor right onto the stage and right into your performance. You bring every experience to the music in some way or another.  
Howard: When you go onstage, you're doing a show. The audience didn't come to sympathize with you; they came to be entertained. When I first went back to work after my son was killed in Vietnam, Bill Anderson and I were doing the show and the jokes and the whole thing. Afterward, a woman approached us at the autograph table and said, "Didn't your son just get killed in Vietnam?" I said yes and went right on ahead and kept on signing. She said, "Well, you certainly don't act like it." I just said to her, "You came here to see my blood, and you don't have the right to see my blood, but my son just died so you could have the right to say what you just said." Most people respect your privacy, but some people just don't care.
Seely: Whenever I've been in that situation—singing at a memorial or a funeral—I have to set some guidelines. I have to put things in my mind that are safe to think. Hal Durham was the manager when I was asked to sing a tribute to Dottie West on the Opry on the night of her funeral. I told him I couldn't do it, and he said, "You must. It will be the best thing to do." So I tried to picture Dottie laughing at me.
Whom do you miss?
Shepard: I miss our characters, Grandpa Jones and Bill Carlisle.
Pruett: Yes, and Johnny Russell, Skeeter Davis, Kitty Wells, Minnie Pearl, Dottie West . . .
Seely: It was always something to me that Minnie Pearl was way funnier backstage, contemporary and current and smart. I always thought the audience would love that side of her, but onstage she had to be Minnie Pearl.
Pruett: I'll tell you some advice she gave me: "Don't ever walk when you can ride" and "Don't ever get there too early, because they'll find something for you to do."
Howard: One of my most cherished memories is with Minnie, just after her first breast surgery. She'd had surgery on Monday and she called me on Friday.  She said, "What are you doing on Monday?" I said, "I don't know, what are we doing?" She said, "Well, the doctor says I can't drive but I can eat, so why don't you pick me up and we'll go to lunch at the club?" So I get to her house at 11 A.M., and for some reason that day she wanted to show me certain things about her house. She walked me through, telling me stories about everything. It was the greatest three hours that I've ever spent with someone who wasn't family, but it was not with Minnie Pearl, it was with Sarah Ophelia Cannon.
Shepard: I learned something from her every time I worked with her.  
Pruett: We all did.
Okay ladies, a very important question. You were of the generation that didn't have to wear the gingham or western wear of early Opry performers like Kitty Wells. What were some of your favorite outfits?
Seely: I opened a big can of worms by wearing the first miniskirt on the Opry. I had just moved to Tennessee from Los Angeles, and everyone was wearing them out there, so I didn't know it hadn't been done here yet.
Pruett: Well, you just kept on wearing them. 
Seely: I did, and they got even shorter!
Pruett: She brought a lot of style to Nashville and made it mainstream. 
Shepard: My husband had given me a pair of hot pants with a chiffon skirt over them. I wore them onstage and my fans were irate! I got threatening letters saying, "What do you think you're doing?!" I was working with Pee Wee King and Redd Stewart, and even they were mad. They were good musicians and good friends, but they were mad! 
Howard: I got kicked out of a racetrack in Miami because I had hot pants on. So I went and got a skirt out of the car and put it on over them.  
Shepard: I want to mention that I'm wearing this ring that Jan Howard gave me that means so much to me, and I'm wearing this one that Jean Shepard gave me that means so much to me. I want to note here that Jeanne Pruett has never cared enough for me to give me anything!  
Pruett: I owe you a spice rack! I've gotten something from each of these girls. Jan came to my wedding, and Jean gave me a purple afghan, and Jeannie gave me a birdhouse made out of logs that was just perfect, and she made me a stepping stone with the inscription I'm so glad you crossed my path.

---
Enjoy this story? Subscribe to the Oxford American.