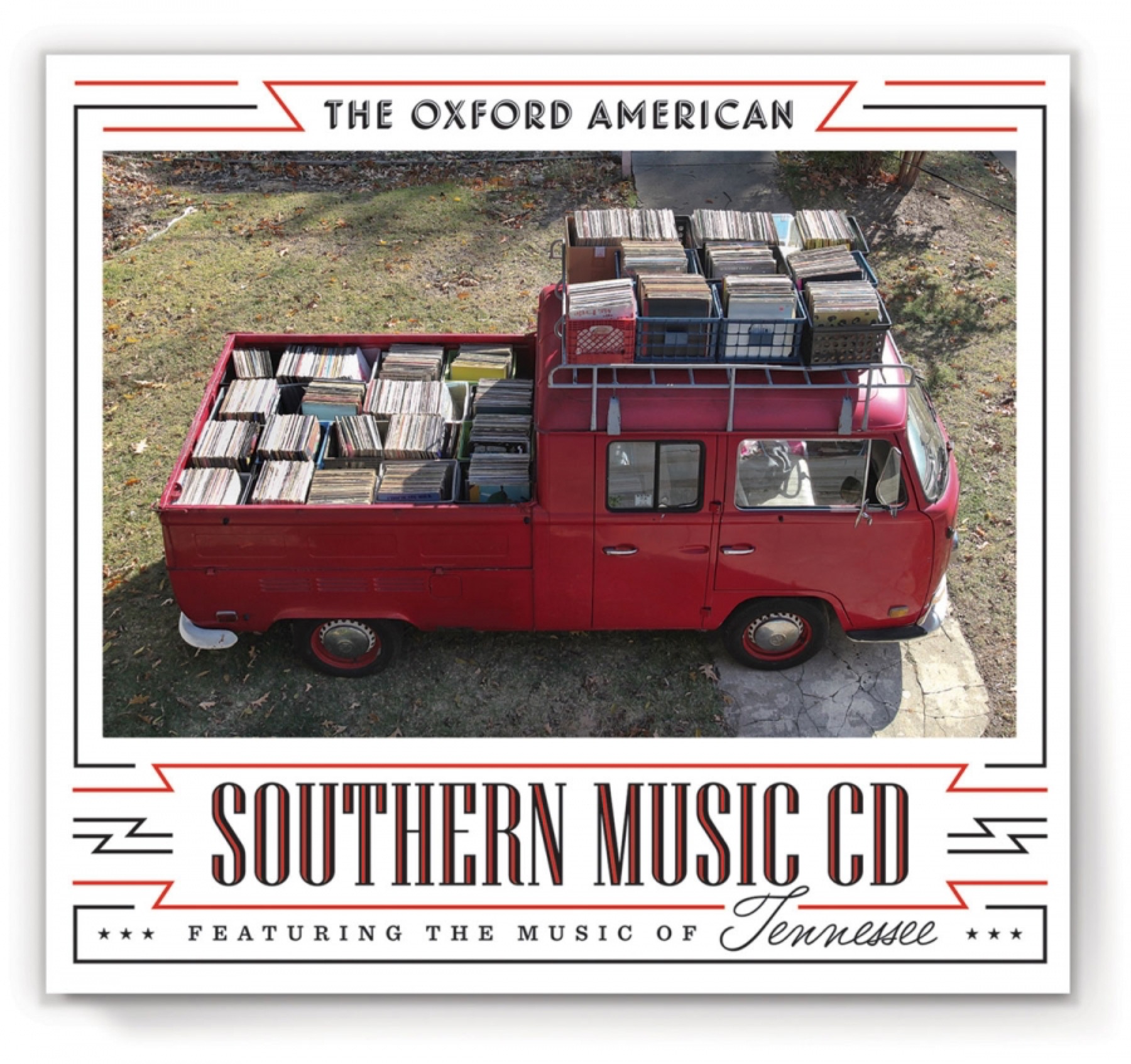 The Music of Tennessee
By Rick Clark
Every state in the South has contributed to the grand narrative of American music, but few can match Tennessee's deep roots in the blues and jazz, gospel, soul and r&b, rockabilly, rock & roll, and country—or its tremendous concentration of historic record labels and music industry visionaries.
Shortly after Sam Phillips died in 2003, Jim Dickinson spoke to me about that great producer's belief in the sacred creativity of individual expression. Sam, he said,  "changed millions of lives on this planet, simply by recording music." The same could be said for so many men and women in Memphis, Nashville, and elsewhere who have devoted their lives to capturing the sounds of human pain and human joy, in celebration and lamentation, and to sharing those recordings with the world.
Whether they hail from Arkansas or Mississippi, California or New York, England or Japan, musicians from all over the world have made the pilgrimage to Tennessee. Something about the air, the water, the spirit—something about the musical communities that have taken root in this state has made all the difference. What follows is necessarily a very personal selection, one that can only hint at the treasures to be found in the music of Tennessee.
---
DISC 1
1. "That's How I got to Memphis"
Sid Selvidge 
I always thought of Solomon Burke's recording of Tom T. Hall's classic "That's How I Got to Memphis" as the definitive version, until I heard this haunting interpretation from Sid Selvidge's final album, I Should Be Blue. The longing in this performance is so palpable; it's as if Selvidge needs the air of Memphis to live. Although his albums, which were few and far between, received tremendous praise, Selvidge, who died this year, was one of Memphis's best kept secrets. If you like what you hear in this song, I Should Be Blue will more than satisfy, but the album to seek out is Selvidge's 1976 Delta folk masterpiece The Cold of the Morning.
2. "Memphis Blues"
Phineas Newborn Jr. 
Phineas Newborn Jr. was one of the great jazz pianists, though largely ignored except by a group of hard-core piano aficionados. Newborn had the technical chops of Art Tatum or Oscar Peterson, but there was an intangible quality in the way he played that made it clear he came from the Delta.
The last time I saw Phineas was at a birthday party at a house in Midtown Memphis. He wandered around the crowd of people talking to himself. Every now and then he would sit down at the piano, tentatively touch the keys, and then throw out a musical line of communication that would get everyone in the party to stop talking and listen to what he had to say next.
This version of W. C. Handy's classic "Memphis Blues" may not be the most dazzling showcase of Newborn's technique, but it is a wonderful interpretation, playful and embracing of the melody. For those interested in experiencing Newborn's impressive abilities, I would suggest any of his albums on the Contemporary/Original Jazz Classics labels or earlier work like Here Is Phineas or Piano Artistry of Phineas Newborn Jr.
3. "The Judgement"
James Luther Dickinson
When Jim Dickinson's 1972 album Dixie Fried first arrived on the shelves of Pop Tunes, the Memphis record store where I worked, I was impressed by the cover photo of this guy standing on top of a tombstone bearing his name, looking off into the sky with a slight smirk that said to the universe, "What you going to do about it?" At the time, this seemed to make perfect Memphis sense to me, not unlike witnessing Don Nix show up in recording studios wearing Civil War soldier outfits or Isaac Hayes wearing furs and tooling around town in his gold car.
Listening to Dixie Fried, I was struck by how willfully rooted the music was in the region. I latched onto "The Judgement," a woozy sounding song that turned out to be about Nixon and Watergate. For some reason it always reminded me of how it felt to experience music in the top-floor ballroom of the now long-gone King Cotton Hotel.
4. "Can You Blame the Colored Man"
Gus Cannon
Jim Dickinson turned me on to this song many years ago. (The only other time I remember Jim having such childlike enthusiasm in a music discussion was when he came to my house to show me his Tex Ritter records.) "Can You Blame the Colored Man" is about Booker T. Washington's infamous visit to the White House to have dinner with President Theodore Roosevelt. I love the banjo parts that punctuate the melody lines Gus Cannon sings. There are little animated flourishes and parts that answer vocal lines, while Cannon playfully tells the story of what was really happening the night Booker T. had dinner with TR.
5. "Life Has Its Little Ups & Downs"
Charlie Rich
Sometime in the mid-1970s, Charlie Rich moved in down the block from one of my relatives in East Memphis; a bona fide superstar had arrived in the neighborhood. He had a tall iron fence around the yard and it was the first house that I remember having trees that were lit up at night. Unlike Elvis, who seemed to pop up regularly in the papers, you never really heard about Charlie Rich. The man was an island. I always felt Rich's voice provided a window into the life of a very private, possibly awkward man who would be hard to truly know in person.
6. "Beware"
Ann Peebles
On this song Ann Peebles's voice fearlessly takes flight, but there is no lightness to her delivery. There is a sense that she's earned every note. "Beware" was the first song that came to his mind when I asked Boo Mitchell (son of Hi Records' Willie Mitchell) to pick his favorite lost song by Ann Peebles. He was so right! That unshakable thumping groove by the drummer Howard Grimes, those wonderfully muted-sounding Hi Rhythm Section horns, and Teenie Hodges's insistent rhythm parts propel the track along as Peebles intones "Beware! Beware." This is a woman who's capable of tearing your playhouse down. Beware indeed!
7. "If I Had Wings"
Matraca Berg
Matraca Berg, one of Nashville's best known songwriters, has a knack for illuminating the inner dialogue of the characters she addresses, such as the protagonist in the longing "If I Had Wings." The woman in this song may feel trapped, but I don't see her as a victim. She's arrived at the "if" moment, which is often the first stage of finding a way out.
8. "Up on the Hill Where They Do the Boogie"
John Hartford
John Hartford had already written the hugely successful "Gentle on My Mind" and burned out on the fast-paced Los Angeles scene when he moved back to Nashville in 1971. In short order, he assembled a hotshot group of stellar bluegrass and country players called the Aereoplane Band (Dobrolic Plectral Society). When their album, Aereo-Plain, hit the record stores, it felt like a seismic shift had taken place in the world of roots music. It's one of those records, like Big Star's Radio City, that never really entered any mass cultural awareness, but has had an effect on musicians and songwriters that is impossible to gauge. Hartford's unconventional lyrics, droll singing, and the band's playful arrangements introduced audiences to the idea that roots music didn't have to feel like straitlaced museum pieces.
9. "Take That Ride"
Emmylou Harris
"Take That Ride," from Emmylou Harris's quietly meditative 2008 album All I Intended to Be, was inspired by the death of a friend's dog, Partner. There is something dignified and thoughtful about the kind of acceptance and grace she conveys in this meditation on loss, death, and what awaits on the other side.
10. "Known Only to Him"
Elvis Presley
I've always thought that if you wanted to get a glimpse of the vulnerable man behind the superstar persona, Elvis's gospel recordings were the place to go. There you will find a level of intimacy, reverence, and humility not revealed anywhere else in his music. On this performance, Elvis pays homage to the influential gospel group the Statesmen Quartet by singing their version of this song, which was arranged by Jake Hess. Years later, Hess sang this song at Elvis's funeral.
11. "Nashville Sun"
John Buck Wilkin
During the late 1960s, Nashville had a handful of artists who happily colored outside the industry box of Music Row. John "Bucky" Wilkin, the son of songwriter Marijohn Wilkin (whose credits include "Long Black Veil," "Ramblin' Rose," and "Cut Across Shorty"), was one of the best of Nashville's free spirits. Wilkin had already defied expectations when his band Ronny & the Daytonas (he was Ronny) hit it big in 1964 with their Beach Boys-style hit "G.T.O." But by the time Wilkin recorded his 1970 debut solo album, In Search of Food Clothing Shelter and Sex, no one seemed to notice. It's a shame, because it's a jewel of an album, filled with idiosyncratically reflective Wilkin originals. "Nashville Sun" opens with a shout-out to session mates Norbert Putnam and Jerry Kerrigan and then slowly unfolds into an expansive love letter to Music City.
12. "Sunny"
Bobby Hebb
One of Memphis's more popular bands during the mid-1960s was the DeVilles. They were big at local Battle of the Band contests and had even released some small local radio hits. When the DeVilles (later known as the Box Tops) lost their lead singer, they decided to go in a more r&b flavored direction and began looking for a replacement. They found him at the 1966 Central High School talent show when a teenage Alex Chilton got onstage and sang a current hit he loved that had been written and performed by a black artist from Nashville. It was "Sunny," by Bobby Hebb, who at one time played spoons behind Roy Acuff in venues like the Grand Ole Opry.
13. "One Monkey Don't Stop No Show"
Big Maybelle
Mabel Smith developed her gutsy singing style as a child performing gospel music in Jackson, Tennessee. She won a Memphis talent show at the age of eight and soon became a member of the International Sweethearts of Rhythm. By the time she signed with Okeh Records, Smith had evolved into Big Maybelle, one of r&b's sassiest and raunchiest female artists. "One Monkey Don't Stop No Show" and "Candy" were signature songs, but her growing success was undercut by a drug addiction that eventually claimed her life at the age of 47. The Complete Okeh Sessions 1952–1955 on Sony is a great place to discover Maybelle. Then look for Savoy Blues Legends: Candy! to complete the picture.
14. "I Threw It All Away"
Bob Dylan
When Bob Dylan came to Nashville in 1969 to make Nashville Skyline, most people probably didn't realize that he had already recorded one of his finest albums there, Blonde On Blonde. Nashville Skyline marked a dramatic turn for Dylan as he adopted a more natural vocal style and a mellower musical direction. It's worth noting that while the Nitty Gritty Dirt Band chose to spark a conversation between the younger generation and older country musicians by embracing roots music in a way that didn't upset the traditionalists, Dylan came to Nashville on his own terms. These Dylan recordings (along with the Byrds' landmark 1968 album Sweetheart of the Rodeo) did much to broaden the perception of the Nashville recording scene to one that embraces all genres of music.
15. "25 Years Ago"
Tommy Womack
Middle Tennessee is home to loads of people who come to Nashville to make it as musicians and songwriters. Those dreams don't always come true, and Tommy Womack tells their story with sympathy and deadpan wit. 
16. "Where Would I Go"
William Lee Ellis
I met Bill Ellis when he became the music editor for the Memphis Commercial Appeal. Ellis was a musician and songwriter first, but he also happened to articulate his passion for music very well in print. The guitar-playing son of banjo composer Tony Ellis and godson of bluegrass patriarch Bill Monroe (whom he was named after), Bill Ellis's music is a personal, cultural, and musical mix of Appalachia and the Delta—both East and West Tennessee. He is also a master of slack key guitar playing. 
"Where Would I Go" was inspired by an experience he had while traveling on a Vienna-bound train in 1993, at the height of the Bosnian War. Bill witnessed soldiers threatening to throw a teenage Bosnian boy, a war orphan, off the train. The blues may have come from the American South, but the pain at its core knows no boundaries. Tony Ellis plays fiddle on this track, which was produced by Larry Nager, another former music editor of the Commercial Appeal.
17. "These Are the Days"
Human Radio
Human Radio was an amalgam of talented musicians in Memphis who, after releasing their critically praised and commercially ignored debut album, moved to Nashville to try to make another go of it. Nothing happened, and they eventually broke up to pursue individual careers. Ross Rice, the primary singer-songwriter for the band, wrote "These Are the Days" after one of the regular visits he received from the Jehovah's Witnesses.
18. "Need a Little Sugar in My Bowl"
Bessie Smith 
Chattanooga's greatest claim to musical fame is Bessie Smith, the Empress of the Blues. On the hot and bothered "Need a Little Sugar in My Bowl," released in 1931, Smith is a woman who knows what she wants. It's not hard to imagine the reaction by the more straitlaced folks of the time. All of her recordings have been given excellent restorations and are available on the Sony label, some with liner notes by Chris Albertson, author of Bessie, the definitive account of Smith's life.
19. "Ain't Nobody's Business but My Own"
Tennessee Ernie Ford (with Kay Starr)
Even though much of Tennessee Ernie Ford's career and musical output originated in Los Angeles, his name made it clear that he was a Tennessee boy (from Bristol, Tennessee, to be exact) at heart. Songs like "Tennessee Border," "Smokey Mountain Boogie," "Rock City Boogie," and other odes to his home state further underscored this. Ford performed many gospels and even recorded a collection of Civil War songs. His biggest hit was "Sixteen Tons," but it was his hopped-up country swing that always resonated with me. If you like this duet with Kay Starr, another great track worth seeking out is Ford's duet with Betty Hutton "This Must Be the Place."
20. "Ain't No Grave Can Hold My Body Down"
The Fisk University Jubilee Singers
The Fisk Jubilee Singers are a revered Nashville choral group with a history that goes back to 1871, when they were formed to raise money and awareness for Fisk University. This performance was recorded on November 12, 2003, at Johnny Cash's memorial service in Nashville. Cash had recorded a version of the song in the final months of his life.
21. "If You Come This Way Again"
Tupper Saussy
I'd love to see what an excellent screenwriter could do with Tupper Saussy's life story. In this issue, Andy Zax shines a light on the artist's fearless life. Saussy tried anything that touched his muse and took on anyone or any power he felt was oppressive. There are many great stories about artists who've lived unusual lives, but it's rare that you hear such a wild life adventure and discover artistry as excellent as the stories."If You Come This Way Again" sounds like a missing gem from the Great American Songbook by the likes of Richard Rodgers, Cole Porter, Jerome Kern, Harold Arlen, or Johnny Mercer. This performance is taken from one of Saussy's last recording sessions, before he passed away at age seventy. In the song, the protagonist is offering a welcoming refuge to the listener, but it is palpably evident that time may not be a friend and, when Saussy's fragile voice determinedly hangs on to the line "It's enough just to hear the sound of you breathing," it's a truly heartbreaking moment.
22. "Haunted Heart"
Connie Smith 
How this sweeping 1967 Countrypolitan recording remained unreleased in the United States for all these years is a mystery to me. Connie Smith is one of country music's greatest singers. She can deliver a hymn like "How Great Thou Art" with the kind of wonder and conviction that would make almost any skeptic feel touched by something beyond logic. In "Haunted Heart," Smith conveys a sense of restraint and strength that makes the message of heartbreak even more poignant.
23. "Monteagle Mountain"
Johnny Cash
The country music tradition of trucker songs is rich with travails on the open road by artists like Red Sovine, C. W. McCall, Kay Adams, Dave Dudley, Dick Curless, and many others. One of my favorites is Johnny Cash's "Monteagle Mountain," a cautionary ode to a treacherous stretch of I-24 along the edge of the Cumberland Plateau between Nashville and Chattanooga.
24. "Lawyer Clark Blues"
Sleepy John Estes
This 1941 Sleepy John Estes recording is a tribute to one Brownsville, Tennessee, attorney who had a reputation for being equally fair with everyone, regardless of race or economic status. Evidently, Sleepy John had first-hand experience with Clark keeping him out of trouble and regarded the lawyer as a real friend. If he can just stay out of the graveyard, Sleepy John sings, Lawyer Clark will keep him out of prison.
25. "Just Walkin' in the Rain"
The Prisonaires 
The Prisonaires were a group of inmates who were serving time at the Tennessee State Penitentiary outside of Nashville. A radio performance from the prison began a series of events that eventually got them signed to Sun Records, where in 1953 they recorded lead singer Johnny Bragg's composition "Just Walkin' in the Rain." Bragg's heavy-hearted performance backed by the group's somber background vocals and simple strumming guitar make this one of Sun's most magical recordings.
26. "Something Within"
Buddy & Julie Miller and the McCrary Sisters
Lucie Campbell was the composer of more than one hundred gospel songs, many of which are standards, and she is regarded by many as the "mother of gospel music." Her songs have been recorded by greats like Mahalia Jackson, Sam Cooke, Clara Ward, and many others. We asked our friends Buddy & Julie Miller and the McCrary Sisters if they'd be interested in recording Campbell's very first song, "Something Within," which was written in 1919. They enthusiastically agreed and we're thrilled to include this new recording in our celebration of the music of Tennessee.
---
DISC 2
1. "The Long Way Home"
Rosanne Cash 
So much of Rosanne Cash's excellent new album The River & the Thread addresses making peace with Tennessee, a place she once felt stifled her efforts to find her own voice. Sometimes, getting away allows a fresh perspective. The Nashville music industry she knew more than twenty years ago has evolved into a very open and accepting community. When she performed her new album in its entirety at the 2013 Americana Music festival, she found an audience that was not clinging to her old hits, but eager to hear what she has to say now. This is some of the best music of her career.
2. "Travelin' Prayer"
Dolly Parton
Dolly Parton can do just about anything. Like Willie Nelson and Waylon Jennings, Parton is happy to throw herself into rock and pop material that shares nothing with country. Her confidence and artistic chops make those songs her own and she delivers the goods! Billy Joel's "Travelin' Prayer" is the first track on his album Piano Man, and Parton and her world-class band give the song a spirited lift that the original version never had.
3. "Crazy Women"
Brandy Clark
Brandy Clark doesn't sing about weak females and she doesn't imbue her female protagonists with the kind of jingoistic bravado that makes so much mainstream country feel shallow and formulaic. The women in Clark's songwriting universe display realistic resolve through their daily challenges, addictions, and dysfunctional relationships. "Crazy Women" has a clever chorus hook that turns the "crazy" female stereotype upside down. With Kacey Musgraves, who sings behind her on this track, Clark is moving the commercial country genre into a new age.
4. "Tennessee"
Carl Perkins
Grammy Hall of Fame artist Carl Perkins may be best known for his rockabilly classic "Blue Suede Shoes," or his songs that were recorded by Jimi Hendrix, Elvis Presley, and the Beatles. But out of his impressive catalog, I rarely hear anyone mention "Tennessee."  I'm not sure what inspired Perkins's lyrical left turn at the end of the song, but what can you say about a song called "Tennessee" that starts off praising the state's music and artists and then wraps up with a final verse about the first atomic bomb being made there, too?
5. "Grand Ole Opry Song"
The Nitty Gritty Dirt Band
When the Nitty Gritty Dirt Band made a pilgrimage to Nashville in 1971 and recorded the ambitious three-record set of traditional acoustic countryWill the Circle Be Unbroken, it had a groundbreaking effect that attracted a whole new generation of young listeners. Throughout "Grand Ole Opry Song," Jimmy Martin name-checks country music pioneers Red Foley, Hank Williams, Roy Acuff, Minnie Pearl, Little Jimmy Dickens, Bill Monroe, Ernest Tubb, and many others, while the recording captures the Nitty Gritty Dirt Band and gang playing with an almost rock & roll intensity.
6. "Tramp"
Otis Redding and Carla Thomas
Sometimes you can place exactly where you were when you first heard a song. I was staring out my bedroom window in 1967, looking at my neighbor's house and noticing all the cigarette butts that littered the yard around their front porch, when the opening drum groove of "Tramp" popped out of my AM radio. I enjoy this track for Otis and Carla's easy-going chemistry. It sounds like they had a grand time performing it. 
7. "Chinatown, My Chinatown"
Chet Atkins
Choosing the perfect Chet Atkins song can be a challenge. There are many I like, but "Chinatown, My Chinatown" beautifully displays Atkins's effortless technique and musicality. Like Les Paul, Atkins was a master at manipulating reverbs and tape delays to create memorable ambient sounds that still sound fresh after all this time.
8. "Shoobie Oobie"
Rosco Gordon
It is amazing to me how many great artists walked through the front door of Sam Phillips's Sun Studio and came out with recordings loaded with tons of attitude and feeling. Rosco Gordon may not have been a major star in the United States, but as John Jeremiah Sullivan explains in this issue, Gordon's hard-swinging approach to rhythm had a huge impact elsewhere. "Shoobie Oobie" is one of Gordon's standout Sun recordings. Besides Gordon's pounding piano and verbal improvisations, Pat Hare's hard-hitting repetitive guitar figures are a real treat.
9. "Suddenly You"
Motel Mirrors
John Paul Keith, a Knoxville native, and Amy LaVere, who spent much of the 1990s playing Nashville's Lower Broadway scene before moving to her current home in Memphis, have been regional favorites for years. Some of LaVere's best recordings were produced by Jim Dickinson, and Keith has released several fine roots rock albums, most notably The Man That Time Forgot. "Suddenly You" exudes a charming blend of upbeat Buddy Holly pop and Buck Owens country.
10. "Deuce and a Quarter"
The Bo-Keys
When Scott Bomar isn't scoring films like Craig Brewer's Hustle & Flow and Black Snake Moan, he's immersed in the world of Memphis r&b and soul. His band the Bo-Keys captures the sounds of the great Stax and Hi Records recordings, and that's probably because it's composed of seasoned soul vets who played with Isaac Hayes, Rufus Thomas, David Porter, and the Bar-Kays. The band currently records at Bomar's Electraphonic Recording, which is practically a temple to old-school recording.
11. "Last Man Alive"
The Grifters
For a while during the 1990s there were a handful of Memphis bands and interchangeable ensembles who immersed themselves in creating a body of creative lo-fi recordings that would impress any die-hard garage rock purist. Although the Oblivians, Compulsive Gamblers, and Car Crash also come to mind, it was the Grifters who mastered great lo-fi with an album called One Sock Missing. Their later releases were more professionally produced, but they didn't lose the urgency and inventiveness that made their music so appealing. "Last Man Alive" is from their 1996 Sub Pop album Ain't My Lookout. Part of this track's appeal concerns how the melody dances around the band's rock solid groove, while an electric guitar lays down chordal stabs like a horn section.
12. "Chemical Fire"
Van Duren
Van Duren has been a fixture in Memphis's rock scene since the mid-1970s. In 1977, he released his debut Are You Serious?, which featured "Chemical Fire." The album barely made a splash and disappeared from sight, which I've always thought was a shame, because it was one of the best albums to come out of Memphis during that decade. Duren later enjoyed regional success with his band Good Question and recorded two albums with Tommy Hoehn.
13. "He Who'd Ask"
George Cartwright
Back in the early 1990s, when I lived in Midtown Memphis, I became acquainted with George Cartwright, who lived in the neighborhood and had a reputation for his fiery saxophone work. A few years after I moved to Nashville, George sent me a CD called The Memphis Years. If the spirits of combo jazz tangled with garage rock, you'd probably have a lot of what can be found on this CD. Maybe it's garage jazz. Some of the best players in Memphis grace these tracks, and on "He Who'd Ask" they play with an inspiring looseness, while Cartwright blows out a sax break capable of stripping paint off the walls.
14. "September Gurls"
Big Star
Ever since Big Star's #1 Record arrived at the record store where I worked, I've never traveled far without a little Big Star, to lift a line from Paul Westerberg's ode to Alex Chilton. I loved #1 Record, but I'll never forget the first time I played their second album, Radio City, on a friend's seriously nice hi-fi stereo system. I could hear the essence of what I'd been feeling on many of my favorite records by the Who, the Kinks, the Byrds, and mid-period Beatles. With its hard bright chiming guitar sound and unique immediacy, Radio City remains one of the most singular rock records I've ever experienced.
15. "Flyin' Saucers Rock 'n' Roll"
Billy Lee Riley
One of Sun Records' finest rockabilly recordings, this Billy Lee Riley track explodes with energy in large part due to Roland Janes, one of early rock & roll's great pioneering lead guitarists. Roland, who passed away in October, never seemed to care about the spotlight, and he was one of the sweetest-spirited and most generous people in the Memphis music community. He engineered a number of sessions at Phillips Recording, where I played bass, and I always enjoyed his incredibly dry sense of humor. Something tells me that as long as Phillips is standing, Roland's presence will be clearly felt.
16. "He's My Son (Just the Same)"
O. V. Wright 
So many of O. V. Wright's songs convey heartbreak and bad luck in a way that cuts to the bone. "He's My Son (Just the Same)" tells the story of a man who returns home from five years in prison to discover that his sweetheart has a three-year-old son. I can feel the raw conflict in his heart and mind. It's an incredible song and performance.
17. "Mercy Now"
Mike Farris
Sometimes you hear a song that sounds like it's always existed. Otis Redding's "Dock of the Bay," Bill Withers's "Ain't No Sunshine," and Sam Cooke's "A Change Is Gonna Come" are songs that come to mind. I also felt that way the first time I heard Mike Farris's unreleased version of Mary Gauthier's song "Mercy Now." I was especially blown away when I learned Farris's vocal was a scratch track, and that he was singing into a hand-held mic. This is a real performance. No auto-tuning here.
18. "Walk on By"
Isaac Hayes
Next to Elvis, Isaac Hayes was one of Memphis's biggest presences during the '70s. I caught Hayes playing a hugely promoted fundraiser with the Memphis Symphony during September 1971, shortly after Shaft had rocketed Hayes to superstardom. Governor Winfield Dunn and his mother walked in and sat front row center, right in front of me. After the symphony delivered one of Hayes's classic lengthy intro sections, Hayes walked out wearing a long cloak; when the ladies by his side took it off, there he stood in fur boots, translucent tights, and a vest made of golden chains. The governor and his mother immediately headed for the exit. The Black Moses had arrived. In "Walk on By," Hayes delivers Burt Bacharach and Hal David's tale of a man trying to handle his heartbreak stoically and with conviction.
19. "B.B. Blues"
B.B. King
I have a soft spot for B.B. King's early recordings, especially the absolute shambolic chaos of "B.B. Blues." It has this late-night club vibe when the players are starting to feel a little too good and the band is less than half a set away from a crash and burn. Everyone is playing all over one another, and the drummer sounds like he's trying to figure out where each measure begins, but B.B. sounds committed and no one is having a bad time.
20. "Blue Fright"
Tommy Hoehn
Tommy Hoehn was smack dab in the center of the insular little Anglophile Memphis power pop community that produced Big Star. He wrote songs with Alex Chilton and Chris Bell, did sessions with both of them, and recorded a string of demos and masters at various Memphis studios between 1972 and his passing in 2010. He released one solo album, Losing You to Sleep, on London Records in 1978, as well as several other locally distributed albums. "Blue Fright" was written in 1973. It went through a couple of different permutations before finally being recorded at Ardent Studios with Jim Dickinson, John Hampton, Emory Smith, Jim Spake, Hoehn, and myself. This is the result of that session.
21. "Rock in a Weary Land"
Ashley Cleveland
Ashley Cleveland has had a long career as a solo artist, songwriter, and session singer. Her husband, Kenny Greenberg, is one of Nashville's A-list rock guitarists. Together, they put the grit and sweat back into this old gospel standard. "Rock in a Weary Land" is from Cleveland's Grammy-nominated album God Don't Ever Change.
22. "Face of Jesus"
Mark Marchetti
Mark Marchetti's journey as a songwriter has taken him from being a writer for Stax Records and Chips Moman to Nashville, where he writes songs, makes music, and drives a tractor on his farm. "Face of Jesus" is about all the folks who chase cosmic signs while seeming clueless to the needs of the world all around them.
23. "Have You Been Making Out O.K."
Al Green
I was driving through rural Mississippi when this Al Green song came on one of my favorite r&b stations, WMPR-AM. At about the same time I came upon a prison crew working by the side of the road. Both made a big impression on me, and I've always thought this song could've been a huge hit for Green if it had been released as a single for radio during his wildly successful stretch of 1970s Top 10 hits.
24. "(Please Don't Tell Me) How the Story Ends"
Kris Kristofferson
This publishing demo captured a memorable performance of a great song by one of the finest songwriters ever to grace Music Row. It's also the perfect song to wrap up the Oxford American's tribute to the music of Tennessee.
---