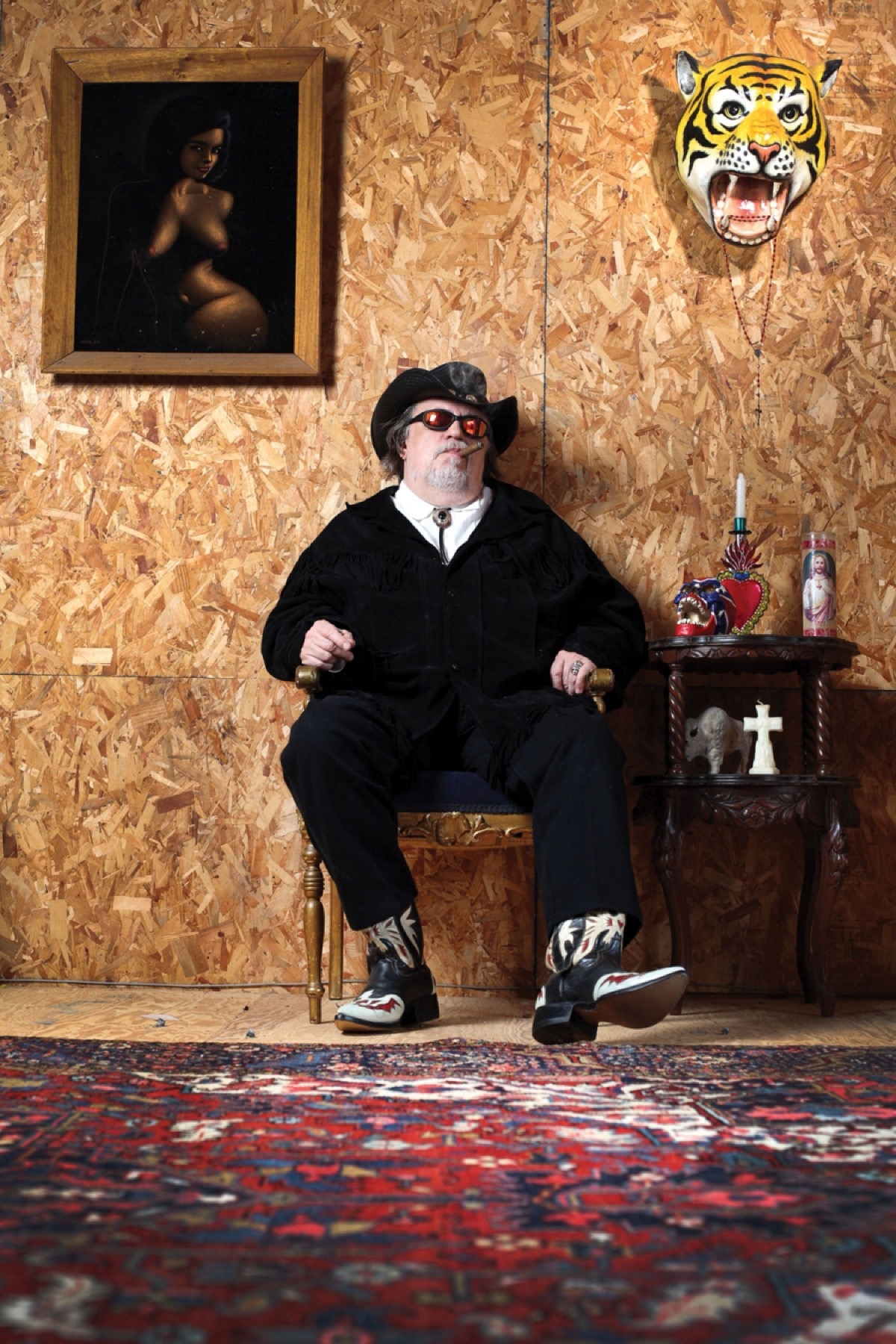 Photograph by Bob Bayne
World Boogie is Coming
By Joe Nick Patoski
Jim Dickinson isn't gone; he's just dead
---
You can argue endlessly about whether it's Elvis, W. C. Handy, Al Green, Jerry Lee Lewis, Rufus Thomas, Sam Phillips, Dewey Phillips, or Justin Timberlake who best defines Memphis music. I'm going with Jim Dickinson. Compared to the aforementioned artists, James Luther Dickinson may appear to be a minor musical figure, but when you look under the rug—which one is required to do in order to fully appreciate anything about Memphis and its music—Jim becomes tremendously significant. He wasn't just a great Memphis pianist, guitarist, singer, sideman, bandleader, frontman, producer, and record entrepreneur. He was the great Memphis music articulator. 
Jim understood the power of music, how it could move people and impact their lives, and how music was more than a confection, amusement, and entertainment. And he could interpret that power from all the various perspectives of music making. Dickinson not only performed and recorded, he pondered, mulled, and took notes. He also utilized sleight-of-hand, deception, even sprinkled goofer dust and waved a mojo hand or a black cat's bone over everything whenever necessary. Music for Jim was not a production, like making cheese or building a house. There was no manual. Music was magical, ethereal, and difficult to pin down, a point that Dickinson would go out of his way to assert at every opportunity. Artists in the studio were his "victims." Blues was a "complaint." Memphians were the only people who truly understood rhythm. There was once a world without rock & roll, "but it's hard to get that across to groups that I work with." Dewey Phillips made Elvis, he asserted, instead of the other way around. Dr. Nick kept Elvis alive, he would say over and over after Elvis's death; the good doctor didn't kill him. 
JIM LIKED TO DECK HIMSELF
OUT IN
confrontational couture that was neither hip nor with-it, and he carried himself like a conjurer, the High Priest at the Top of the Delta, which often made his "victims" wonder about him, if not fear him outright. But that voodoo façade simply masked the soul of a family man deeply rooted in the soil of his upriver hometown. Music to Jim was also a rite of passage, transmitted and passed down from others to him, and then from him to his sons, Luther and Cody, who have taken his
music saves souls
message all around the world.
Dickinson fully grasped the social significance of music's critical role in bridging black and white cultures in the southern United States, how it fit so well into the fabric of Memphis, and how the local African-American community has been able to express itself through music in a way that just didn't happen on such a scale anywhere else. Jazz may have traveled up the Mississippi from New Orleans, but rhythm & blues, rock & roll, and all that has been sparked since came from Memphis. His place was the source point, and Dickinson knew it.
JIM WASN'T MUCH OF A ROMANTIC
when music wasn't involved. Everything else about modern life pretty much sucked as far as he was concerned, which begins to explain Jim's reputation as a curmudgeon, and how he viewed contemporary Memphis. Until his final days, Jim mourned the destruction of Beale Street, which left behind what he called a "four-block theme park devoid of soul." This act of urban renewal overkill dovetailed neatly with the eventual demise of the magical multicultural music scene attached to Stax Records, and the eventual shift of the national spotlight away from Memphis. But even after Elvis died and long before Justin Timberlake blew up (Jim was the first hepcat I knew to endorse Timberlake), he continued to represent for Memphis.  
Recording studios were natural environments for Jim, but so were sleazy joints, shotgun shacks, and low-ceilinged venues, especially when inhabited by sloppy drunks. He knew you couldn't have the sacred without the profane, and that the profane was usually more fun. But he was also fully aware that if you didn't know your way around the sacred (the recording studio), you were pretty much screwed. Performance counted, but if no one heard your music, it really didn't matter.
According to author and filmmaker Robert Gordon, Jim's sometimes band, Mud Boy & the Neutrons—whose members included at one time or another Sid Selvidge, Jimmy Crosthwait, Lee Baker, Doug Garrison, Ed Hollis, Jim Lancaster, Jerome Miller, Carl Narvell, Jerry Phillips, and Richard Rosebrough—was "the missing link between Furry Lewis and the Rolling Stones." The studio band he headed up in Miami during the late '60s and early '70s, the Dixie Flyers, was the producer Jerry Wexler's dream ensemble of recording musicians. The Dixie Flyers functioned as a lost Muscle Shoals ensemble—white boys creating soul music—and played behind Sam & Dave, Aretha Franklin, and Carmen McRae, among others, with Aretha's "Spirit in the Dark" as one shining example. Jim played piano on the Rolling Stones' "Wild Horses," not coincidentally recorded in Muscle Shoals. He spent years recording and touring with Ry Cooder, the guitarist and musical archeologist, and recorded and toured with Bob Dylan. He produced albums for Albert King, Bettye LaVette, Carmen McRae, Eddie Hinton, Toots Hibbert, Screaming Jay Hawkins, Panther Burns, Willy DeVille, the Replacements, the True Believers, Green on Red, Chris Stamey, Jason and the Scorchers, and the Texas Tornados. Perhaps his most acclaimed production was Big Star's 3rd. For a Sleepy John Estes recording with Ry Cooder, Jim placed the bass drum in the hearth of a fireplace and ran the microphone down from the top of the chimney. The reverberating sound effect was a stroke of genius.
For all those shiny accomplishments, and in spite of his long association with John Fry and Ardent Studios in Memphis, Jim never forgot the importance of authenticity, which was what attracted other stellar music people to him in the first place. I was fortunate to watch him pass his knowledge and his spirit on to his sons, Luther and Cody—about music, the music business, and the musician's life, just as his elders had mentored him. The teaching was indirect at first, mainly because he wanted to gauge whether or not the boys were made for a life in music. Over the years, once he realized it was in their genes, he became more involved, working with them as part of a band, showing them the studio ropes, and eventually letting them take the reigns. The end result was the North Mississippi Allstars, the band that saved and revitalized Southern rock. 
As parents, Jim and I shared experiences about our offspring taking too much LSD and getting popped for marijuana at school. "What should I tell him?" I remember asking Jim after my older son was suspended from junior high for possessing weed in his locker. He didn't hesitate a beat, letting the advice roll out in a gruff, blunt voice: "Never carry more than you can swallow."
The man cast a long shadow: over Memphis, over music, and over people like me who crossed his path. Every time I saw Jim in Texas, he was miserable. He'd always be talking about how he couldn't wait to get back home. He needed Memphis more than Memphis needed him. Jim liked to pontificate about ham and eggs, and how in the breakfast proposition, the chicken was involved, but the pig was committed. Jim was the Memphis ham. 
So pay attention. This is the word from the music master of the high and low, aged in the muddy river and steeped in the thick air. The sounds he created still float through the humid night. Dickinson knew. World boogie is coming!

---
For more, read The Search for Blind Lemon by Jim Dickinson, also from the Tennessee Music Issue. Subscribe to the Oxford American.