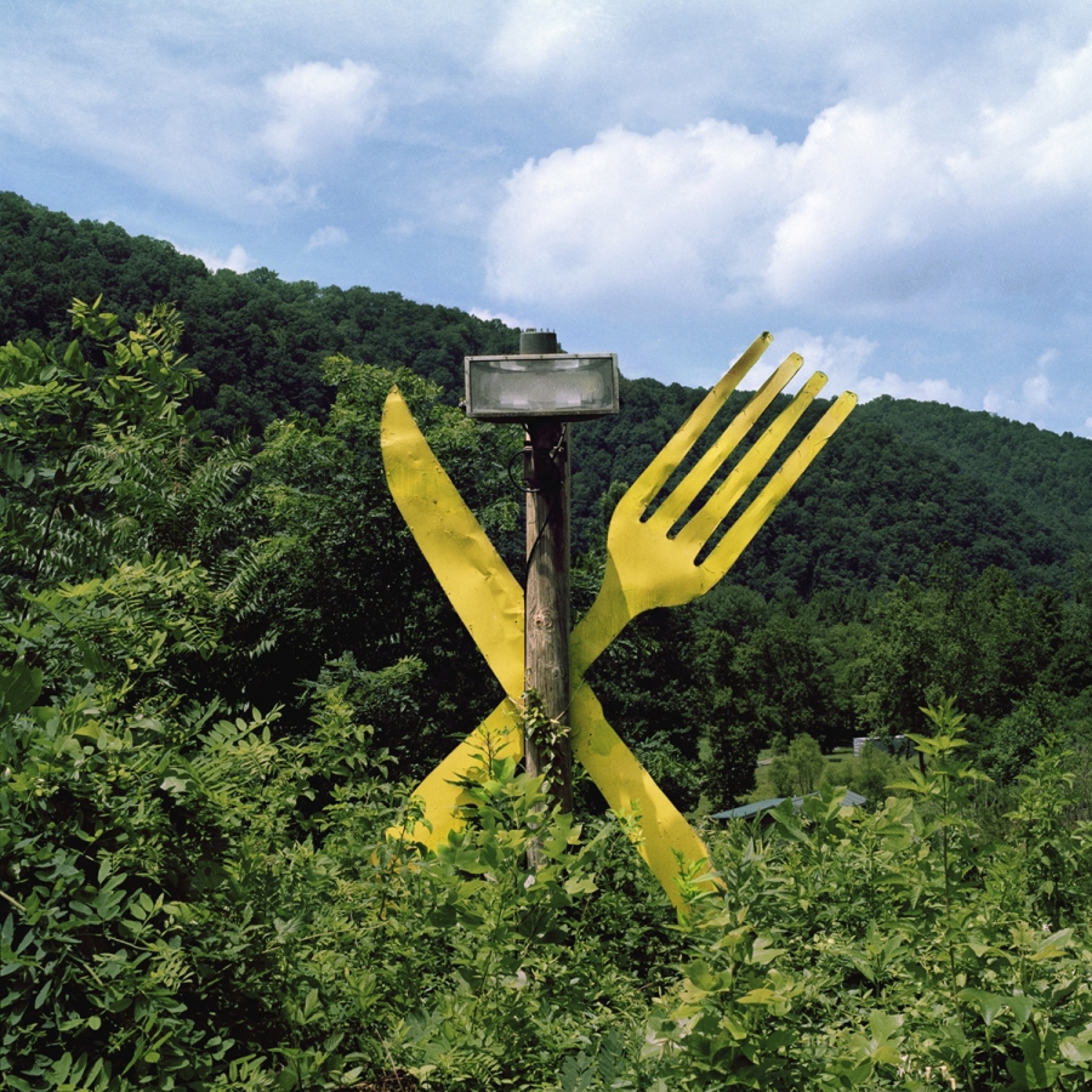 "Knife and Fork" (2008) by Meryl Truett
Deep South Vadouvan
By John T. Edge
"Is that pakora?" I asked the clerk at the counter, trying to affect a deep knowledge of Indian cookery, in which fritters of eggplants, potatoes, and seemingly every other vegetable under the subcontinental sun are known by that name. "No, those are chicken nuggets," the turban-wearing man said as he pivoted from the hot box to the cash register to sell a long haul driver a one-hitter bottle of 5-hour Energy.
I stop often at Taste of India, a Punjabi-owned truck stop off I-40 at exit 93, just east of Jackson, Tennessee. At the booths in the back, near the selection of Indian hair products, around the corner from the soda machine, in reach of the Christian religious tracts, I eat thali lunches of stewed goat, steamed rice, and cumin-scented dal, tucked in foam clamshells. From the gas bays out front, I pump unleaded into my Fiat, while eighteen-wheel reefers full of vegetables from California idle in the lot alongside, taking on diesel while their drivers take on samosas smeared with Indian pickles, and chicken nuggets smeared with ketchup.
After I moved to Mississippi in 1995, I began to explore the whole-hog barbecue belt that runs the belly of southwestern Tennessee, from around Jackson eastward to around Parsons. I was fascinated by the culinary ecology of the region, determined to make sense of why whole-animal cookery has endured there, but faded elsewhere. (One of the answers, I learned, was ready access to hickory, salvaged from drumstick and ax-handle manufacturers.)
The South has diversified over the last twenty years. And so has my palate. Today, when I drive those back roads, bound for Nashville, I'm as likely to pull into a taqueria in search of a Saturday bowl of posole as I am to drive to a biscuit hut for a tenderloin-stuffed cathead. And when I travel the interstate that runs parallel, jockeying for position between double-clutchers, jabbering hands-free via Bluetooth on my cell, I rarely detour for a whole-hog sandwich capped with vinegar slaw at Scott's-Parker's in Lexington. Instead, I downshift off the interstate into Taste of India, where the shelves are stocked with sesame chaat, and the tables are set with plastic tubs that once contained Hillshire Farms turkey breast slices, and now brim with sweet mango pickles and sour lemon pickles.
I'm no expert in Indian cuisine. Much of what I know I learned at buffeterias, where I piled my lunch plate with red-dye chicken vindaloo, saag paneer, potato pakora, and onion naan, and washed it all down with a tumbler of Coke. Sure, when I lived in Atlanta after college, I made pilgrimages to suburban Indian restaurants, where I cultivated a taste for stuffed parathas and bhel puri, a snack of puffed rice, onions, chilies, and cilantro. And, not long after I moved to Mississippi, I fell hard for Restaurant Raji, an hour up the road in Memphis, Tennessee, where the late Raji Jallepalli, a native of Hyderabad, India, earned a national rep serving black lip mussels steamed in white wine, with tomatoes, cilantro, and cumin. But it took a trip to Devi, Suvir Saran's temple of Indian cookery in New York City, to clue me to the honest connectivity between India and the American South.
Seated within sight of a backlit Vishnu rendering, with a jeweled pillow tucked at my lumbar, I first tasted karari bhindi. Made with diminutive pods of okra, wok-fried until they were feathery husks, tossed with slivers of red onion, mixed with lobes of tomato, they proved as addictive as potato chips. A study in textures, a salty paean to the possibilities of the pod, they bested any fried okra I had eaten in the South (and, yes, I'm including my mother's—and your mother's—in that mix). On the same menu at that lantern-lit and sari-swagged lair were sweet potatoes stewed in a tomato sauce, spiked with cardamom and cinnamon. Both dishes tasted Southern. And they tasted other. And they got me thinking about the transnational identities now being forged in this newest of New Souths.
Today, I look harder at my region. I'm less interested in affirmations. Instead, I search for tastes that complicate my understandings. Some of this is a willful act of self-creation, an attempt to redefine the region in an inclusive and progressive way. (If that strikes you as somehow dishonest, consider the contemporary flipside, defined by heritage-not-hate flag wavers and mythmakers who wrap the South in moonlight-and-magnolias gauze and spread the fable that the Civil War was fought over states' rights.) My son, Jess, age thirteen, sees through my fabrications. In March of this year, when I took him to a Korean barbecue restaurant in the suburbs of Montgomery, Alabama—for banchan of steamed eggs, seaweed salad, and roasted peppers, followed by a grill-your-own kalbi feast—he looked up, in search of approval, and said, "This is the kind of place we can take people who say the South isn't diverse and doesn't welcome everyone."
A few months back, Anthony Bourdain came to Mississippi to film his CNN show, Parts Unknown. He traveled the state for an intense week. A brilliant and intellectually curious guy, Bourdain has the prickly habit of asking smart questions that beg smart answers. He came, ostensibly, to explore culture by way of food. But he also wanted to talk race and class and gender. To that end, he forced the sorts of conversational gambits that demand Southerners explain our institutions and collective political positions, from support of seg academies to the legislated rejection of universal healthcare.
I failed miserably at straddling the divide between defender and declaimer. Faced with what Bourdain read before he came, and with what he glimpsed once on the ground, I tried to rationalize our sordid history. Much of the problem, I now realize, was of my own creation. Instead of coaxing him across the state line to Taste of India for a platter of goat curry and a conversation about how new immigrants are transforming the region's foodways, I joined him at a Cleveland, Mississippi, soul food restaurant, where we ate fried okra and talked of old wounds that have yet to scab. Instead of offering him a taste of the jarred catfish pickle that Asha Gomez, a native of the Indian state of Kerala, makes for her two Atlanta restaurants, I booked him a table at Lusco's in Greenwood, Mississippi, where we talked of the long-ago murder of a black waiter who served the white gentry there, and of how his words of defiance, captured in a 1966 television program on race relations, still resonate today. I didn't complicate anyone's idea of anything. Instead, when the cameras turned my way, I reflexively dug into our troubled past and served Bourdain warmed-over neckbones and rice, instead of focusing some of the attention on a bright and curried future.
Talking about the cultural linkages between the American South and India is not much of a stretch. At the very least it's agriculturally defensible. Both were once colonial economies built, in part, on cotton farming. That enterprise expanded rapidly in India during the Civil War, when the Confederate States of America attempted a trade embargo. The C.S.A. believed that Great Britain, dependent on Southern cotton for textile manufacturing, would—when faced with a restricted flow of raw cotton imports—knuckle under economic pressure and support their war effort. The ploy didn't work. Instead, Great Britain began importing more cotton from India. Decades would pass before country club Southerners began wearing madras fabrics, imported from the Bay of Bengal port city of that name.
Also analogous is a devotion to okra. (Cotton and okra, by the way, come from the same plant family.) Now that I have found my footing in Indian restaurants, I order okra fried, roasted, and stewed, and when I eat it I'm as likely to think of my small-town Georgia upbringing as I am to conjure the last Bollywood extravaganza I saw on the flat screens at Taste of India. Though I've never had the pleasure of eating okra there, I often snack on a variation of the theme at Snackbar, the Oxford brasserie presided over by Vishwesh Bhatt, a native of Gujarat, India, who just earned a James Beard Award finalist nod on the strength of his abilities to marry Southern and Indian cuisine. Vish's okra chaat, tossed with fried pods and roasted peanuts, mixed with tomato, shallots, and cilantro, then spritzed with lime juice and dusted with masala spices, tastes like a street vendor's answer to Suvir Saran's elegant bhindi. In other words, it's delicious. 
And it's not the only dish that connects these former British colonies. A few years back, after I gave a talk at a conference in Key West, I fell into cocktail party conversation with an elegantly attired Indian woman named Madhur Jaffrey. If you're a devotee of Indian cooking you know her name. If not, you should know that Craig Claiborne of the New York Times once called her book An Invitation to Indian Cooking "perhaps the best Indian cookbook available in English." Three minutes in, we had exhausted our okra stories and moved onto other tastes and other dishes. Punjabis, Jaffrey told me, like to eat mustard greens, which they stew down into a low gravy, and eat with small disks of cornbread, which are comparable to hoecakes.
I had not yet discovered Taste of India. Or I would have shared my budding theory that the Indian yen for goat—which Sarbjit Singh and his crew of Jackson cooks serve as a stew—offers passport to the goat roasts that were, in the days before pigs crowded other animals out of the pits, signal parts of the barbecue traditions of southwestern Tennessee.
Instead, I made comparisons between the Indian pickles known collectively as achar and chow chow, which some Southerners use to enliven long-stewed mustard, turnip, and collard greens. Upon that mention, Jaffrey smiled slightly, excusing herself before I had the chance to bring up black-eyed peas, which—in case you're wondering—Indians in the south-central province of Karnataka cook as a curry with coconut and coriander and call alasande huli.
There are moments when I recognize that I might be taking this Indian-Southern connectivity thing too far. That's why I backed off rationalizations that connect the cinnamon-perfumed rice puddings of my mother's Georgia kitchen with the cardamom- and saffron-scented puddings that Indians in the north call kheer. Then again, I did just receive an invitation to an Indian-themed meat-and-three dinner, staged by the folks who run the Biscuit Love food truck in Nashville, featuring fried chicken tikka masala over stoneground grits, roasted winter vegetables with vadouvan, and mango mint sweet tea.
---
Enjoy this story? Subscribe to the Oxford American.