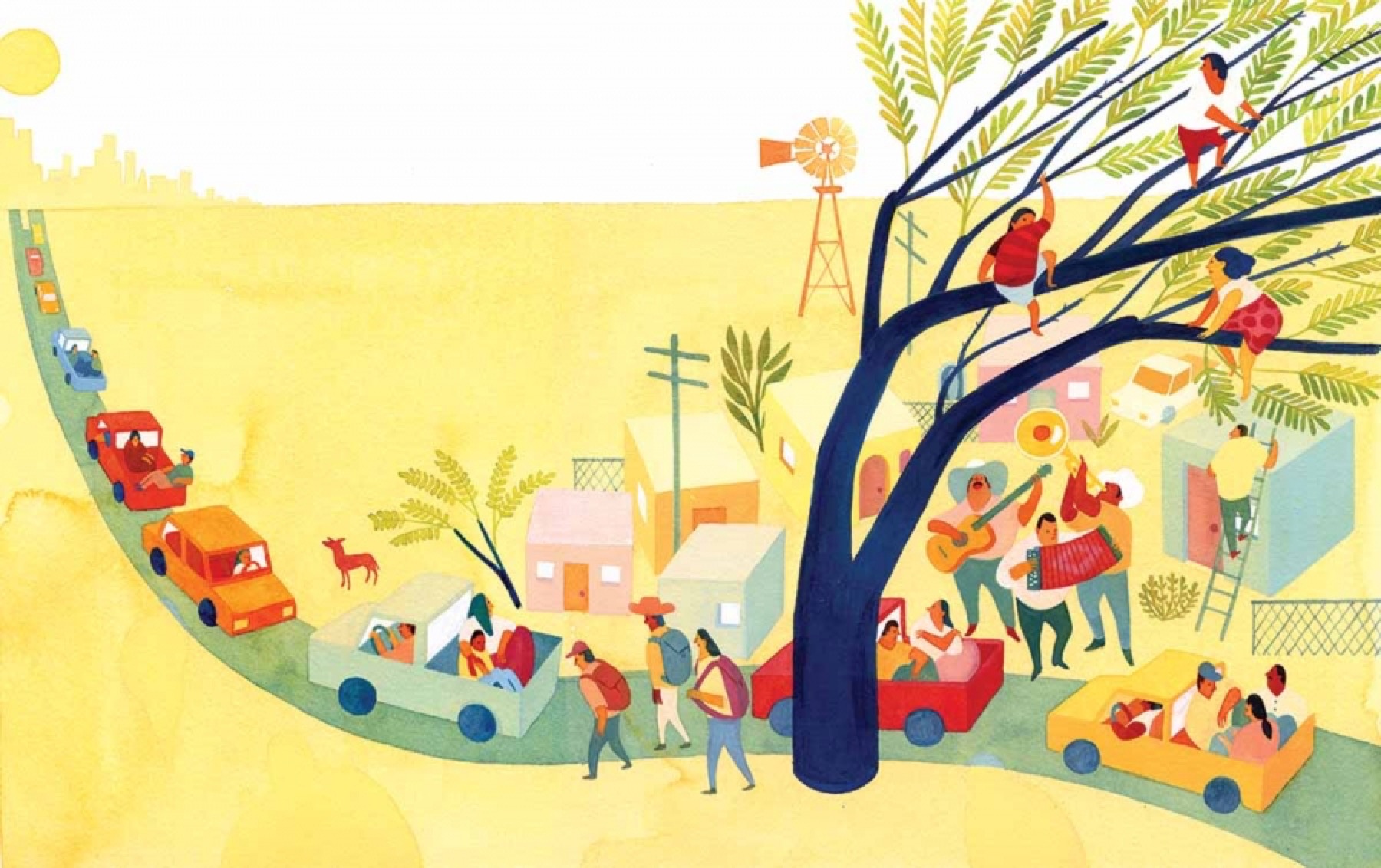 Illustration by Eleanor Davis
Searching for La Perdida
By Michelle García
We travel slowly off the ranch and out of the brush country through twilight. My father works the gears of a pickup truck that once belonged to his father. No heat, no air-conditioning, no power anything. We reach the smooth county road by dark and set off toward home, guided by our tiny headlights and the brightening stars. My brother sleeps slumped against the door. I lay my head on father's thick lap and listen to the country wind and sluggish engine until he begins to fill the tired silence with song. My father's song, a deep haunting melody, rises from a place past exhaustion and worry. His music belongs to simpler days, and it speaks of lost love and longing, and good days ahead. The words, in Spanish, I vaguely understand, but even in my child's mind I know that his songs, like the day's troubles, arise from love—for us and our South Texas land.
My love for our land took root early on. From high up on the windmill I gazed over the mesquite, to the north, where I knew my future lay. It was peaceful up there, but not quiet. Time was marked by the creak of the windmill, a rifle shot in the middle distance puncturing the harmony of the bellowing cows, a dove's cry, and the rustling brush. Rows of clouds stretched for miles toward the horizon, vast and empty. My family calls the ranch La Perdida, the lost place. At La Perdida, clinging to that windmill, I came to what some people search for in church or in the Bible: I came to know the infinite.
In time I followed the mesquites, oaks, and cactus north. I returned for holidays and twice, unexpectedly, to bury my parents, three years apart, in the family cemetery, in a spot I selected under a young mesquite. Elderly veterans cracked their rifles in a final salute and, before the sound of the gunshots faded, the music began. My father had made me promise that a conjunto, a small band, would send him off into the next life, but they played for us. They offered us the ballads known to the generations who have grieved before us, our endless cry carried in the singer's long wail.
Eventually the music slipped away, and I fell into silence. Then I drifted, like the clouds over La Perdida, first to Central America and then to Mexico, burning with an empty fury.
In the summer of 2014, nearly a decade after I buried my ties to home, and discontent with my restlessness, I set out to make a life in Austin. I carried with me one simple question: was Texas still home to my heart or just the site of dead memories? My answer began to reveal itself through the music of Texas, beginning one night in June in a small club on the south side of town, where Little Joe y La Familia were making a special appearance.
Anyone who grew up in Texas, especially in South Texas, has heard Little Joe y La Familia playing somewhere—at home, at a party, or on the radio. Little Joe, the big band leader known for wearing bermuda shorts onstage and for his show's rollicking party atmosphere, regaled the audience with family stories, like the time his son Ady, just a toddler, tapped a bass line while his old man puzzled out a song. The set moved from "Wasted Days and Wasted Nights" to the classic norteno song "Ella Me Dijo Que No." Norteno is a traditional musical style of northern Mexico, heavy on the accordion. La Familia played it with a horn section, giving it a mariachi flavor, before moving into an orchestral rendition of Earl King's "Those Lonely Lonely Nights." The band pivoted to their original "Redneck Meskin Boy," a song in which country-music electric guitar meets big band melody.
Joe croaked out happy birthday to his daughter, La Familia's band manager, and his niece, the band's trumpet player. His son, Ady, leaned into the microphone and told the audience, "You're family, that's why you're here." And, though they were strangers, in the voices of the people crowded around the tables, I recognized the Spanish lilt in the Texas drawls I once heard back home.
Then the trumpets blared that mariachi-inflected sound that every kid from my part of Texas can recognize in the first few bars. The crowd cheered, just as they have for four decades when Little Joe first began belting out the opening lines: "Orale, raza! Here's my brown soul!"
"Las Nubes," an eruption of a song set to a bolero tempo, with a jazz feel, begins with a declaration of personal rendition. It is over for me now, we sang with a mix of anguish and relief, if there is no end to suffering, better that I die now. Laughter and tears mingled.
The roaring horns dissolved into a smooth orchestral bridge punctuated by a single shrill electric guitar lick. Like the clouds of the song's title, the music shifts, morphing between a special Texas blend of polka and ranchera to jazz and rock & roll, a unique composite of homegrown Texas music genres. Even so, "Las Nubes" is generally consigned to the blanket label of Tejano. Highly produced and heavy on the synthesizer with an occasional infusion of accordion, Tejano gained commercial popularity in the 1980s, eventually launching such stars as the singer known simply as Selena.
But Tejano as a genre of commercial pop is a youngster within the extended family of Texas-Mexican music or música Tejana, a music comprising a range of styles and genres from earthy accordion conjunto music, with its working class roots, to the big band sound of the orquesta. The various permutations of Tejano music contain the birthmarks of this land we call Texas, with its stories of upheaval and dislocation, the intermingling and scalding contact of cultures and language.
The distinction and link between Texan and Tejano has challenged the minds of many in the state, upsetting their sense of order, for over a century. After all, música Tejana is Texas music created by people raised on its songs of love and valor, who defy firmly etched boxes of Spanish and English, Anglo and Mexican. Music created by those of us whose tastes and dreams, like the mighty Rio Bravo (or Rio Grande if you prefer), abide by no straight lines and whose family histories transcend borders. I'm talking about people who outfit their children in frilly dresses and cowboy boots, people whose lives and bloodlines wind through the chaparral where Texas ranching was born, whose uncles and fathers fought wars for the United States and whose mothers whispered their secrets and sorrows in Spanish.
Midway through the song, Little Joe switched to a version of "Las Nubes" I had never heard before, an English version that told a different story: the city surrounds him closely and the crowd seems to pass him by because his heart is still back in Texas beneath its beloved sky.
A lonely man's woes, but they were mine too. I had drifted through years of living in New York City and, like the character in song, I also had returned "a broken sigh" as "hollow as the skies" that once seemed limitless. I held back my tears, moved not by sorrow but by relief, because I was beginning to find my way home.
The show wrapped up with Joe telling the audience that Austin's musical showcase, South by Southwest, had yet to accept La Familia on the main stage. La Familia and their music have been reserved for the "Tejano showcase." "Hey vatos! We are south by south by southwest," he said to cheers and hollers. "We are tequila and we are chingones [badasses]. We were born and raised here, in the south by southwest."
His words brought reminders of the afternoons long ago, standing on the windmill and already knowing my potential depended on putting on many miles between me and Texas. In all these years, it seemed, not nearly enough has changed. Texas and Tejano, for some people, are worlds apart and are best kept that way.
What some folks may not know is that the Texas story, and the Texas myth, is intrinsically and at times painfully linked to the Tejano. The area surrounding my hometown of Alice, midway between San Antonio and the borderlands of the Rio Grande Valley, was once smack in the middle of the contested Nueces Strip that set off the U.S.-Mexico War. To this day, crossing the Nueces River feels like entering a gateway into a place apart, and it's in this region that música Tejana was born.
Later, when I tracked down Joe, part of me wanted to confirm that there was no place or much future for me here in Texas. The other part was stuck on "Las Nubes," the song that told my story. Secretly, I really wanted to know why he described the audience as family.
"Don't you feel familia no matter where you go?" he asked with a laugh. We were at La Familia museum, in his hometown of Temple, just north of Austin. Photos of Little Joe, otherwise known as Jose Maria De Leon Hernandez, posing with Jesse Jackson and his frequent collaborator Willie Nelson, hang alongside certificates from causes big and small, expressing gratitude for La Familia's support, including one that extended thanks for their "participation in the struggle for the liberation of the poor." It bears the signature of civil rights hero and United Farm Worker founder Cesar Chavez, who adopted Little Joe's version of "Las Nubes" as the UFW anthem.
Family and music are bound together, he told me. Each musician brings a unique style and interpretation to Mexican classics by Jose Alfredo Jimenez and Los Alegres de Teran, among others, along with Texas-based composers in English and Spanish. The essence of the songs, however, remains, linking the listeners to the older generations. "There's a tie-in there when you hear an old song that your great-grandparents loved, 'En Mi Ranchito' for example," he said, referring to the polka made famous by the band leader and saxophonist Beto Villa.
My father often spoke fondly of Villa, who lived out his days in Falfurrias, just a few miles south of Alice. "Beto Villa was such a trailblazer and trendsetter," said Joe, who came of age with the civil rights movement. "We wanted to emulate Beto Villa, we wanted to play his polkas. He was there long before I was and opened doors for guys like me to come in." Villa is considered the father of the Tejano orchestra and the arrangement of Joe's country song "Redneck Meskin Boy" is set to one of Villa's melodies, complete with a saxophone solo.
"To the younger generation it's new; to the older folks, it's a thread that connects and binds us all together," he said. "In the long run, I think, we all feel we are family. You just start talking to people y sale la familia [and out comes the family]. There's always a connection."
Joe paused, took a good look at me and added: "Music is very spiritual. It can lift the spirit and it can heal, but you have to allow it."
I had tried once before to listen to the two audio recordings I made of my father telling his stories, but it felt too strange to hear that voice in the middle of New York City, as if I had yanked him from his proper place. Nearly a decade after I made the recordings, I retrieved two tiny discs from my archives and adjusted my headphones, hoping and fearing that the recording had survived time. But I was back in Texas now, maybe for good, and there's no making home by ignoring the past. I pushed play and my father's voice filled my ears so clear and so close, erasing time and distance. He was talking about his favorite song, which he said recounts the tale of a tragic accident in nearby Falfurrias. Then I heard a familiar melody:
el dia en que te fuiste mis tristes empezo
el amor que me diste para mi ya termino
y a pesar de todo esto volveras otra vez
cuando menos lo piensas donde siquiera que estes

the day you left my sadness began
the love you gave me is now gone
and despite everything I will return again
when you least expect it, where ever you may be
For the first time I understood the words to his music, and life has taught me the meaning behind them, but I still don't know the song's name or who the singer might be. Later I played the recording of my father to some of the old timers around Alice. They recognized the music, but no one could name the song or the artist. My father went on to talk about Beto Villa and I could hear the joy in his voice when he began reminiscing about the days before he shipped off to Europe to fight the Nazis. "Just before I went to the Army, Beto and some other friends of mine got a keg of beer and we went out to a country road. Beto and his brother were playing and, we crazy guys, were dancing with one another. It was nothing but good, clean fun."
He then took the microphone to say good-bye, informing whoever might listen someday how much he loves his children, and then the disc stopped turning.
When my father first went off to war, Beto Villa was just another musician, a saxophone player with aspirations of becoming a big band leader like Benny Goodman. By the end of the war, according to my father and music historians, Beto Villa had become "the king of kings." How Beto Villa went from being just another small-town sax player to being the inspiration for the likes of Little Joe is the story of how música Tejana emerged after World War II as a major cultural force.
And that story unfolds in another tape that I found beneath a stack of reels and cassettes from my public radio days. It's labeled "Carmen Marroquín Ideal Records." Ideal Records was the first Tejano-owned record label and a big reason why Alice, Texas, population 19,000, is known as the birthplace of Tejano music.
I was a little girl when I first met Carmen Marroquín at a poker party. Carmen and my grandmother shared a passion for poker, and for decades nearly a dozen women around Alice took turns hosting the parties that lasted well past midnight. In 2001, I visited Carmen at La Villita, her pink painted dance hall in south Alice and a long-cherished venue for both famous and emerging Tejano acts. I found her holding court and giving orders to the much younger, very macho employees.
In the recording I remind Carmen about those poker parties and I can hear her trying to place me, trying to figure out whom I resemble. Lineage is etched in our faces and at last she decides that I have the look of my father's sister.
The war changed everything, she tells me. Government rationing made shellac scarce, so the big labels like RCA and Victor pulled out of the Rio Grande Valley and San Antonio where they had scouted local talent. Her husband, Armando, needed music to fill the dozens of jukeboxes he owned and installed inside restaurants and cantinas. The American labels weren't recording local bands, and importing music from Mexico was difficult and expensive, so Armando bought a small recording apparatus and began making recordings of Carmen singing in their kitchen. Her first collaborator was Reynaldo Barrera, a blind man from the nearby town of Bishop, who she says played a good guitar with a Western band. Barrera stayed with them while his family worked the fields up north.
"So he and I started singing while he stayed at the house and my husband made a recording of us and he put them in the jukeboxes," she said. "When people heard us, all the people on the jukebox routes, they came to us. They wanted records too."
Carmen, who passed away in 2010, is best remembered today for the songs she recorded with her sister Laura. "We had a hit because we sang songs that had to deal with the men leaving for the war," she told me. "Se Fue Mi Amor" [My Love Has Left] and "Dos Palomas a Volar" [Two Doves Flying], by Carmen y Laura, both play on local radio stations to this day.
After first working with a California-based label called Four Star Records, the Marroquíns went into business with Paco Betancourt, who owned Rio Grande Music in nearby San Benito. They called the new record company Ideal. The Marroquíns began recording acts from Nuevo Laredo, the Mexican border town to the west, across the Rio Grande Valley, and from San Antonio in the north. They recorded Lydia Mendoza, the "Lark of the Border," as well as Beto Villa and Narciso Martínez. Their recordings opened doors, so the Marroquíns soon began "making the roads out west."
"We had to have exposure some way, so we started in Del Rio. Since there were no halls, no dance promoters, no anything we had to approach social clubs or school clubs or whatever to sponsor us. So we made a jira (a tour)," she said. "We were a family touring like later on Selena did with her brother and father. When you tell it like that it's very, very nice. It's family." In 1957, Carmen and her sister gathered before the microphone for what may be the first recording of "Las Nubes," The Clouds. Their voices resemble the soft cry of doves, cooing the sad words and accompanied by a simple conjunto, a Mexican bajo sexto, and the herky-jerk of the piano accordion.
In their restrained cadence and polite delivery, I hear the sound of an old social order, one that would erupt a few years later when the GIs returned home, and the Sixties swept through the nation.
I wanted to know more about what makes our music from South Texas distinctive, so I consulted with my cousin, Homero Vera, a historian and curator of the Kenedy Ranch Museum of South Texas. Homero sent me to meet his compadre Ramiro Sanchez, in Beto Villa's hometown of Falfurrias. Sanchez, eighty years old, had the dapper look of a man who has lived his life in public and the smooth voice of a professional singer. Ramiro played accordion in Villa's orchestra but his musical roots are in the working-class cousin of the orquesta, sometimes derided as cantina music, conjunto.
Ramiro told me that his musical life, like that of so many other musicians of música Tejana, began in the fields, with days of stooped labor, picking cotton and singing. Ramiro's family followed the western road to the Arizona fields, joining the Huertas, the Garcias, some tios, and other families. Workers' quarters were modest apartments built around a dirt square. "On the weekends they would have dances outside en la tierra (the dirt)," he said. "If there were two or three ranches, they would all get together and pass the word around." With a friend who played guitar, Ramiro traveled to nearby ranches, playing for the families and to their tastes, and listeners wanted polkas. "The music was so good—that's what I thought—and they danced."
Conjunto was born from the marriage of musical cultures. Tejanos, encountering the music of German immigrants, added accordion and polkas to their repertoire of music from northern Mexico. Then in the early 1930s, Narciso Martínez, "El Huracán del Valle," regarded as the father of conjunto music, paired the button accordion with the Mexican bajo sexto, the twelve-string bass guitar. By allowing the bajo sexto to fill in the bass, Martínez concentrated on the melody, working the treble buttons on the right side of the accordion, to create an original conjunto sound and a new style of Texas music. The second major conjunto innovation came during the postwar years, when Valerio Longoria, who grew up in Kenedy, just south of San Antonio, added singing to the instrumental sound, along with a drum section. He even altered the reeds of the accordion, giving it a uniquely Tejano sound. Música Tejana ranged from Mexican rancheras to the folksy waltz known as a vals, along with the always popular polkas, redowas, and schottisches, traditional European forms interpreted with a Tejano style.
For Tejanos, the creation of Texas brought the imposition of a new social and economic order that upended the South Texas ranching society. By the early twentieth century, speculators and prospectors, often colluding with law enforcement and the political class, had set out to convert the vast ranches into farmland. Newspaper ads lured northerners with the promise of earning riches through agriculture. Vast tracts of Tejano-owned South Texas ranchland passed into the hands of Anglos—in cash sales but also through swindling, strong-arming, and the unscrupulous use of taxation.
Early South Texas corridos, narrative ballads set to a simple guitar melody, such as "Corrido Pensilvanio," speak of the migration north for work; others, such as the legendary "Corrido de Gregorio Cortez," sing of the brutality of the Texas Rangers. Known as a bandit to Texas Anglos, but a folk hero to Texas Mexicans, the song honors the bravery and wit of Cortez during the manhunt that followed his 1901 shootout with the sheriff of Karnes County.
As a result of the upheavals and dispossessions of that era, thousands of Texas Mexicans became peasant workers on the lands they once ranched and farmed. Many took to the road, seeking to escape discrimination and brutal treatment, joining the immigrants fleeing the Mexican Revolution. By the 1930s, 66,000 Texas Mexicans were leaving the state annually in search of work and better wages. As a result, the conjunto music recorded by Ideal Records became a precious link to the land and the life they left behind. The Marroquíns paired Narciso Martínez's conjunto music, with its working-class roots, with Beto Villa's more upscale orchestra. Their best known tunes include the Texas classic, "San Antonio Rose," and "Rosita Vals," which sold an estimated 60,000 copies.
These musical innovations, however, were occurring off the main stage of official Texas culture. "Gringos didn't give a damn about it—gringos had very little to do with Mexicans and there was terrible discrimination," says Chris Strachwitz, founder of Arhoolie Records, who purchased the Ideal masters in 1990, thus saving them from oblivion. "They accepted the people as workers but they were not interested in their culture."
Even so, the music flourished in dance halls and plazas—and of course in cantinas, where musicians studied one another's techniques. "I used to go up there on the kiosko and listen to them, watching the fingers on the bajo sexto so I could learn more," Ramiro told me. "I would sit right next to the great Paulino Bernal and watch him play polka, learning, until I made my own conjunto." Then, in a rite of passage, he recorded his own 45 with Ideal.
Ramiro offered to help me track down Iris Armendariz, Beto Villa's daughter. When I reached her on the telephone, she immediately wanted to know who I was—not what I do for a living, or who I write for. She wasn't interested in my credentials. She wanted to know where I belonged, where I came from, who my family was. I answered by telling her that I am from Alice and that I am the daughter of Zaragoza and Aurora García.
"Did your parents used to host poker parties in a house right on the highway?" she asked. Those were my grandparents, I told her. "My parents played at those poker parties," she recalled. "Carmen Marroquín was there too. We kids had to wait out on the porch until they were done," she added, laughing. Iris invited me to her daughter's house in the Rio Grande Valley with the promise of showing me her family's archives.
"I can't remember a time when there was no music in my life," she began, her face lighting up. "I would sit under the recorder they used to cut the record with a needle. All the little—I called it little hairs—would fall down from the table." Her face still showed faint signs of the freckles that inspired her father to name a song after her: "Mi Picosita," my freckle-face.
By the 1950s, Iris said, she was traveling the country with her father in the back of a station wagon, perched on a makeshift bed above the instruments. Their early tours featured the singing of Carmen Marroquín. Iris's mother later booked extended tours that lasted a month or longer. As she reminisced, Iris handed me magazine and newspaper clippings. At one Chicago show, in 1952, nearly ten thousand Latinos paid seven dollars each to listen to Beto Villa and his orchestra.
My father was also among those working far from home. He returned to his hometown of Ben Bolt, just south of Alice, after the war, a combat veteran with a head full of demons and a suitcase filled with photographs of the concentration camps that he and his men had liberated. Unable to make a living at home, he joined the northward migration to work in the oilfields. "A friend and I were working in Blackwell, Oklahoma," he explains in my recording. "We went to this joint and I go over to play the jukebox, and of all things there were two records of Beto Villa. I bet I spent ten dollars playing them over and over." Then he laughs, an old man remembering what it was like to be young and free in the world, missing home.
On the road, Iris told me, women in the audience sometimes tried to rip Beto Villa's suit off, and piles of fan letters arrived in the mail. And it wasn't just Latinos at the shows—Beto appealed to people from all backgrounds, and his shows in places like California, Kansas, and Michigan regularly sold out. But Iris also remembered restaurants where the waiters ignored them, hotels that flicked on the "no vacancy" sign when they asked for a room.
"It was two different worlds. I experienced both worlds," she said. "It's a shame we have that other world."
Back home, though, her father was simply a beloved musician. When Gus Canales, a wealthy rancher, called in the middle of the night, Iris remembered, Beto packed his sax, climbed onto a flatbed trailer and played for the party. To this day South Texans will share their stories of listening to her father's music while traveling the migrant trails or far away in the Army.
"It's like a woven blanket, that's the way I see it, with all the threads," Iris said, pointing to me, her daughter, and granddaughter. "You're a thread, she's a thread, and she's a thread. We all wind up in this blanket, and that's our life."
Iris eventually married Wally Armendariz, a highly versatile musician and a member of her father's band who later became a band leader himself. One day, sometime in the 1960s, some musicians were hanging around Marroquín's studio, which they called La Grabadora, the recorder. Chano Cadena, an accordion player, had just returned from a tour. Manuel Solis, a legendary tenor lauded for his vocal range, was there as well, and blended nicely with the deep soulful voice of Armendariz. Somebody suggested that they make a record, so they all gathered around the single microphone and recorded "Las Nubes" as a vals bajito, a kind of folksy waltz, with Chano's accordion playing already showing signs of the punchy Tejano accordion style.
What is known about this session resides in the fading memories of Chano and his brother Ernesto, a musician and archivist. The masters contain almost no details, not even the specific recording date or artists listed. It's likely that the absence of documentation has something to do with Carmen's guffaw when I asked if, back then, she knew they were making history. "No, not at the time. It was work," she said. "It was business. That's what it was."
All these years later, Chano still plays in dance halls and town festivals across South Texas. I was told by folks in Alice that he is the living history of our music. What they didn't tell me was that he was born and raised in Palito Blanco, the ranching village of my ancestors, and the one we drove through to reach our ranch. His parents were poor farmers, so as a child Chano fashioned musical "instruments" from milk bottles, chicken wire, and farm tools to replicate the accordion music of Narciso Martínez that played over the radio. His father eventually bought young Chano a dime-store accordion, which he keeps next to a shiny Italian-made electric accordion, a recent gift from his students, to illustrate his long journey as a musician.
In time Chano became a gifted accordionist, and after more than sixty years of playing the dance halls and festivals of Texas, he's a natural jokester. "Your uncle, Jose Amador Garcia, was the first Latino doctor in Alice," he tells me when I introduce myself. "One time I went to him with a damaged finger, the nail had to come out. Dr. Garcia took it out and then handed it to me and said, 'Here, you can use it to play the guitar.'"
I met Chano, who is now seventy-six, and his friend Alberto (Beto) Hinojosa, a saxophonist, at Chano's home near Corpus Christi. He greeted me at the door wearing a short-sleeve shirt with a tropical print and pressed khakis. He quickly apologized for his appearance. "I'm an artist, and artists must present themselves with dignity," he said. To this day, Chano and his conjunto dress in white shirts, vests, and smart hats for all their gigs, big and small.
The two old friends parked their walkers in the living room, pulled out their instruments, and played through the entire spectrum of música Tejana: vals, redowas, schottisches, and of course, the polkas made famous by Chano's revered hero, Narciso Martínez. It was a crash course in the music of my home.
Beto, who wore a leather vest and veteran's cap, told me about working the music circuits in the Midwest, playing with Tony de la Rosa from nearby Sarita, who pioneered the taquachito, a dance named for the possum, with its signature gliding move, that remains the dominant dance form in South Texas. De la Rosa took the accordion innovations of his predecessor and slowed down the polka beat while emphasizing the staccato notes that have given música Tejana its distinctive rancho sound.
I asked Chano if there was ever any class tension over the music, because even today the conjunto music he played is still considered cantina music and shunned by some affluent Tejanos. "Oh, there were conflicts everywhere," Chano said, between towns, between classes. In Alice, Chano often played for the pachucos, the zoot-suit wearing, working-class young people speaking a new slang that mixed and remixed English and Spanish as they set out to forge an ethnic identity. And, as often was the case at the time, it was hard for musicians to get paid. Even Armando Marroquín often failed to pay his artists or paid little for songs that became the bedrock of música Tejana.
In my household, when I was growing up, the uneasy class issues played out musically between my parents, who came from very different backgrounds. My father sang his melodic sentimental songs in the truck coming home from the ranch, and his record collection included the greats of Mexican and Tejano orquesta, the music of the landed middle and upper classes. My father's landed heritage bestowed privilege and permitted him to move in the world of the powerful. He and my grandfather were the chairmen of the Democratic party in our county.
My mother came from the working class, and she grew up on the side of town with the pachuco dance club. Her father, a Mexican immigrant and carpenter, built their home and the old city hall. He plowed his land with a donkey and made sure his daughters had piano lessons. A piano sat in their parlor until the day he died. In fits of frustration over local hypocrisy and in-laws who at times made too much of the class divide, my mother would slide the kitchen door closed, turn up the radio to her favorite conjunto music and the emerging Tejano electronica of the time. My mother viewed the political elite with unease and distrust; powerful people wanted the working classes to forget their history, to instill shame for speaking the Spanish language, and never to forget that the world was organized by hierarchies of class. And my mother, twelve years my father's junior, belonged to a generation of resistance, a generation that had lost patience with the racial and economic status quo.
It was in those years, feeding off that fury and frustration, that Little Joe bridged the gap between working class conjunto and the big band style, just as his predecessor and role model Beto Villa had done with Narciso Martínez. But Little Joe went further, capturing the mood of pride that marked the people and the music. The result was a version of "Las Nubes" that bridges class and culture, weaving together the complex tapestry of our Tejano history in one song, in one story of despair, survival, and overcoming. And it was Little Joe's pride in his heritage that spoke to me in particular. Even in my years of exile from Texas, I carried that pride with me. Pride put a certain swagger in my step, and girded me through countless encounters with people who would have me believe that I was somehow not truly Texan, not truly "American." My pride was rooted in a sense of belonging, a history, a place where home is more than simply a house.
In my mind, I often returned to the image of myself gazing across the chaparral from the top of that old windmill, my spirit unleashed across the brush country, to see me through my darkest moments. But death and loss had turned me away from the most intimate reminders of home. I had avoided the ranch, ignored the music, and always, always bypassed my parents' old home. I had allowed their loss to sever my connection to the little girl who peered across the vast land, looking upon the limitless within me.
In finding Iris, Chano, Ramiro, and Little Joe, I was welcomed home, and with their help, I got her back. Now that I have returned, I hear South Texas through the infusion of conjunto and orchestra in the music of Tish Hinojosa, who has forged a unique style as a singer-songwriter. The edge of Tejano music peeks through in the dark, moody music of Nina Díaz as she jumps around the stage hurling out her deep and sensual songs. I hear the spirit of the old conjunto in the guitar riffs of Austin's Adrian Quesada, in his song "Out on the Street." The sound of his guitar reminds me of the old country winds out in the brush.
But even the music has undergone transformation and a return, of sorts, to its roots. The conjunto and orquesta of earlier years became remixed and injected with synthesizer, becoming hugely commercial in the 1990s as music companies began pouring money into Tejano music. Acts like La Mafia and Mazz became superstars. Emilio and Selena emerged as Tejano royalty through two very different interpretations of the music. He belonged to the world of progressive conjunto, with its saxophones, synthesizer, accordion, and country-western influence that reinforced the cowboy roots of Tejanos. Like many Tejanos, Emilio's musical tastes moved between languages and genres, and he went on to find success recording country music in English. Selena mixed the polkas of yesteryear with the sensual cumbia, adding a dash of reggae and some pop to create a unique sound that matched her personal style.
"You can't separate conjunto from Tejano," says Juan Tejeda, curator of the annual Tejano Conjunto Festival in San Antonio. Musicians, he says, integrated elements of country and rock and jazz into the roots of orquesta with conjunto; some dropped the accordion while others added electronica. "All of these different configurations are part of Tejano rubric."
During the heyday of Tejano music's popularity in the 1990s there were some 150 radio stations devoted to the genre operating across the U.S. In 1995, when Selena was just twenty-three years old, the president of her fan club brandished a gun and shot the queen of Tejano music dead. The outpouring from her fans instantly brought the star and her following to the entire nation's attention. Magazines with her image were quickly snapped up and sales of her records soared into the millions. But when the market winds called for something different, and the consolidation of radio stations and record labels reconfigured the music industry, the interest and the money dried up. But the 1990s also marked the resurgence of traditional conjunto and a rebirth from so-called cantina music to cherished roots music. Cultural preservation groups began rethinking conjunto, public schools adopted conjunto music in the curriculum, and festivals such as Tejeda's, which honors musicians in a hall of fame, brought new life and dignity to the music.
"It persists in the places where some don't look, in the less glamorous places, in its roots of working class," says Cristina Ballí, executive director of Texas Folklife and an avid conjunto dancer. The Tejano and conjunto acts that thrive, she says, benefit from a direct, intimate connection to their audience because the role of music, from the fields to the dance halls, has largely remained.
"People on the ground, all they're looking for is dancing. That's what they are there for. They dance the taquachito," she says, referring to the music style developed by Tony de la Rosa. But as it was from the fields, and early days, the music preserves our bonds. "More than anything, they're there to spend time with family. It's about community."
In late July I returned to Alice to celebrate a childhood friend's wedding at the VFW hall. I hadn't seen her or many other people from Alice in more than twenty years. Just as I had all those years earlier, I pulled up to the caliche-covered parking lot and opened the wide heavy door of worn wood and faded paint. The band was onstage, standing against a simple painting of the Stars and Stripes, a keyboardist to the left and the accordion player on the right. Little girls in frilly dresses chased each other in the middle of the dance floor; grandparents presided over their clan gathered around large tables, a bottle of whiskey planted next to the floral centerpieces for all to share. Teenagers slouched in their plastic chairs, looking bored, eyeing the crowd in search of someone to flirt with. It was exactly as I remembered.
Soon I found my way to the large round table staked out by some high school classmates, a few couples, others single. When I told my friend Ronnie, whom I hadn't seen since high school, that I intended to drive back to San Antonio that night, he invited me to stay at his parents' house and began making calls to organize a blow-up mattress and sheets. Everyone's personalities were largely unchanged, and I marveled at how easily we all fell into our groove, telling jokes over the music across the table, lamenting divorces and passing around photos of kids. Before the night was over, we took a group photo.
The newlyweds, Laura and Joe Chapa, lived up in Detroit, where Joe had found work, as many had before him, in the auto plants and machine shops. The band members were invited friends from Michigan, a Tejano band by the name of Grupo Vicio. They played all the familiar songs, but with a little less rancho, with an urban edge reflecting their city roots. For the band, the party represented a homecoming of sorts too. They were the grown children of folks from the Rio Grande Valley who migrated to Michigan in the 1960s to work in the auto plants. Oscar Rivera, the singer, told me they found one another because their fathers played together in Detroit, keeping that Texas sound alive in the cold north. Tonight, at the VFW, was their first chance to perform in South Texas, where the music they play was born.
Well into the night, while my friends glided across the dance floor, I found a strip of paper and scribbled the name of the one song I wanted to hear. After making my way up to the stage, I handed it to Oscar, who turned to the accordion player and said, offering the paper and a smile, "Las Nubes." But just then Joe, the groom, climbed onstage and announced the dance was over, that the VFW was closed. I thought to myself that without "Las Nubes," my homecoming was incomplete.
We decamped to someone's home for menudo and at one point Joe slid up next to me while I waited in line for a bowl of the tripe soup. "For us who moved away, this is why we come back," he said in a hushed voice, looking around at the laughing guests. "They don't see it, but this is what we miss." If we were speaking Spanish he might have used the word convivir, which fuses the words with and live, to share life.
It was nearly 3 A.M. when we finally cleared out. Without thinking I followed the route to the old house with the creek in the back, where no one I know now lives. The new owners have completely renovated the exterior but they spared the big willow with its haunting tendrils and an old brambly oak in the backyard. A soft glow illuminated the shadowy outlines of the clouds and the impassioned cries of the mockingbirds filled the night sky. I quietly sang the last verses of the song that finally brought me home:
Las nubes que van pasando se paran a llovisnar
parece que se sostiene cuando a mi me oyen cantar.

The clouds passing by stop and drizzle,
they seem to linger when they hear me sing.
---
Enjoy this story? Subscribe to the Oxford American.