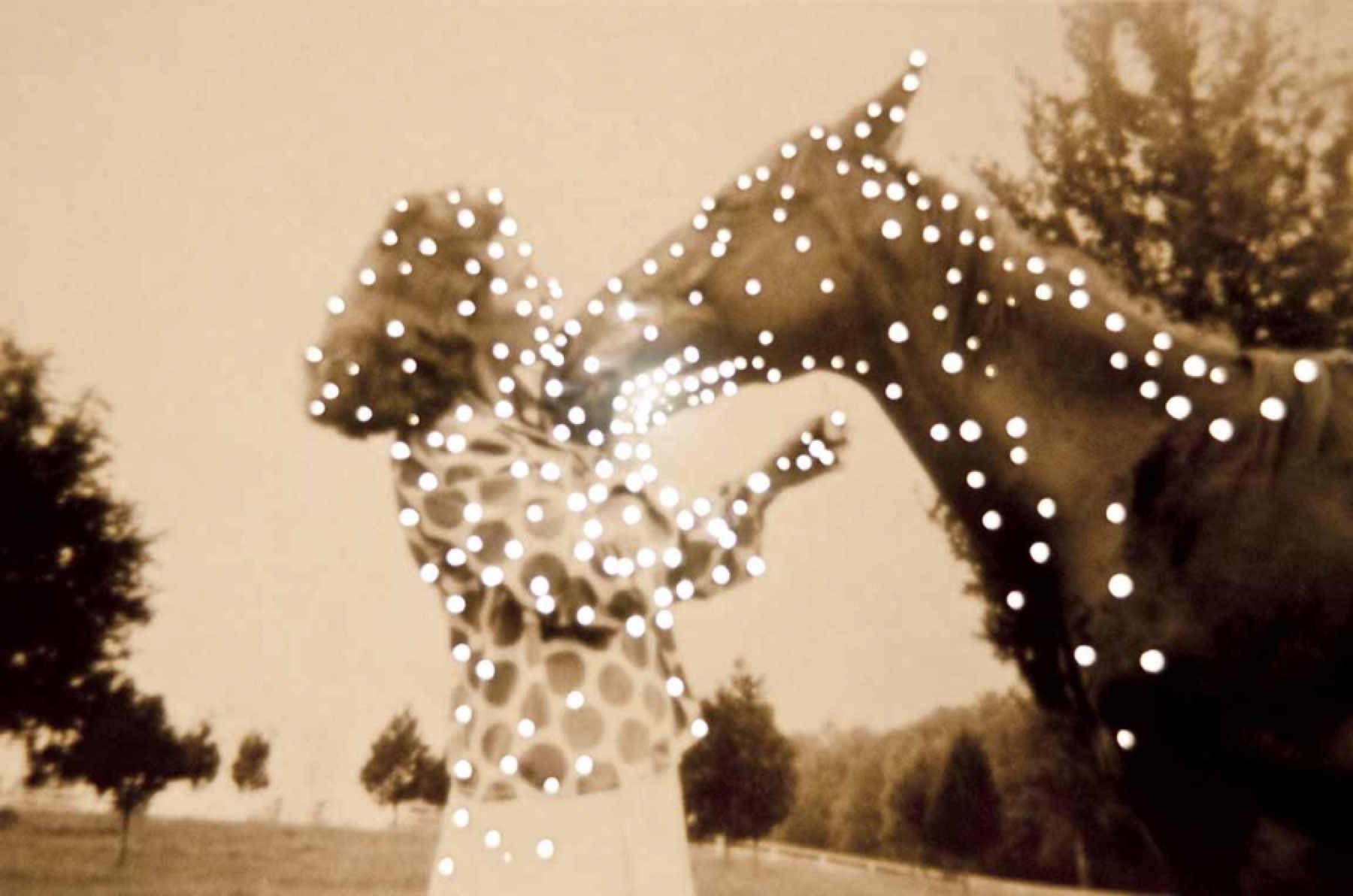 "Afterglow" (2012) by Amy Friend, from the "Dare alla Luce" series
Our Faith in Horses
By Jamie Allen
Shelley and Chief burst through the trees across the pasture. It was the end of a hot day of riding at the stables near our home in Tampa. My sister had gone out there with a friend and, as usual, she was one of the last to return. The stable master had rung the bell, and I waited with the other riders near the oak by the barn and its chicken coop. Shelley would turn fifteen that summer. She never took to softball or cheerleading; she was deeply in love with horses. Our divorced parents recognized this, and Chief—a deceivingly handsome bay with some quarter horse in him—was her prize. Most days, over the slow and sweaty Florida summers, I tagged along at the stables, shadowing my sister as she walked around barefoot in the blue dirt and stickers, mucked stalls, and rode. I was nine.
That day, even in the eyes of a kid, something was wrong. Chief was at full gallop and my sister, her hair blowing wildly, was shouting, yanking on the reins, as they got bigger against the horizon. They were charging straight for us—and the oak—and they weren't slowing down. Chief had already bucked off Shelley more times than we could count. The horse was not right. At the last moment, he cut left then right to avoid the tree. Shelley went airborne.
You don't forget the sight of your older sister flying through the air, but what remains clearest, nearly forty years later, is the sound she made when her back collided with the corner pole of the chicken coop, wrapping around it, the air leaving her body in a ragged and short screech. She unfolded and crashed to the ground.
"You were there quicker than anyone," the others later told me. All I remember is running to her and saying, "Don't move," something I had gotten from some TV show. We were lucky, if you want to call it that. Her back wasn't broken, just deeply unsettled. She was alive. And do you know what her main concern was, writhing there on the ground?
"Where's Chief?"
I have a friend who expresses herself in e-mails with old-school emoticons. When something makes her want to cry with happiness or sadness, or if something is just ridiculous enough, she uses this one:
T_T
I didn't see the crying face at first—the vertical lines are streams of tears. After she explained it, I wrote back, "This is me watching horses run."
I love most sports. But a horse race? A Triple Crown race? There's a reason the Kentucky Derby is called the most exciting two minutes in sports. Consider Game 7 of the World Series, bottom of the ninth, tied up, two outs, bases loaded, home run hitter at bat. Take the soccer World Cup final going to penalty kicks. Take any Hail Mary in the history of football. Bottle those moments and shake. Spill it on a dirt track. Find out the victor quicker than you can poach an egg. And that winner will not be some cocky, overpaid athlete. It's a better-looking creature, a horse, who simply wants to run faster.
Still, loving horses and loving horse racing are in many ways contradictory. Despite the money and glamour of the sport, we treat the animals like shit. We place money on their heads. It can and often does end badly.
Remember the 2008 Kentucky Derby? Big Brown ran away with it. But the pomp of the moment instantly evaporated when Eight Belles, the lovely and strong filly who finished second, collapsed after crossing the line. She suffered broken cannon and sesamoid bones in both front ankles, and right there in front of the drunk and natty crowd, while TV cameras found other things to point at, she had to be put down.
On that day, my sister was visiting me in Atlanta. We watched from a grungy Little Five Points bar. Things turned bleary that night. We nearly got matching Eight Belles tattoos. We were like this:
T_T
The tragedy sparked renewed efforts to clean up horse racing–from the performance-enhancing drugs to the rampant illegal gambling to the cruelly unsafe tracks. Results have varied. A couple of years ago, the New York Times, in an investigative feature on horse racing titled "Death and Disarray at America's Racetracks," estimated that twenty-four horses died each week at U.S. tracks. They called it "an industry still mired in a culture of drugs and lax regulation and a fatal breakdown rate that remains far worse than in most of the world." A photo accompanying the article showed the corpse of a quarter named Teller All Gone dumped in a New Mexico junkyard.
In the winter of 2013, I visited Miami's Gulfstream Park, one of the country's premier tracks. It was a shiny South Florida Saturday and as I crossed the parking lot I could hear the announcer over the loudspeaker, the crowd. The horses were running. I hurried in, made my way along the rail toward the finish line. The pack was rounding the far turn in the fourth race of the day; the crowd stood and cheered lazily, and a winner pulled away. I snapped a photo with my phone as the lead horse, wearing 7, passed. The sky was radiant blue except for a few cotton puffs hanging over the palmy track. What a day.
"Oh, no no no." An old man in a pageboy had moved up next to me on the rail. "Oh, no no no." I figured he had lost money on the race, but I followed his squinted gaze and saw it: a horse down on the track. The jockey lay over his neck. The horse fought and rose, stumbled. It looked like a broken leg. The crowd moaned; some couldn't look, others covered their mouths. They got him down again. A track ambulance arrived and workers unrolled a gray blind in front of the horse. I heard a mother telling her children to look at the seagulls overhead. Behind me, a drunk bettor chomping on a cigar shouted, "Next race!"
It happens all the time.
Shelley, an elementary school teacher, lives in the suburbs of Tampa now, married with two grown kids. She no longer rides, but she has a pit bull and a Pomeranian, a cat, a part-time rabbit boarder, and some crabs and fish. She defends the underdogs, the runts, and the unwanted, and she has always been this way.
Back in the Seventies, everybody got a free pass for some bad behavior. Dad, in particular, struggled with demons. My mom left him when I was a year old. He eventually married a good lady named Cheryl and they started a life together in New Orleans, where he ran a tractor dealership. But he drank a lot, he had issues to resolve. His fears—for us, over his failures as a father—were often communicated through yelling fits, intimidation. He cared too much. He picked fights with people over the principles of things. He pulled his gun on road ragers a couple of times. We'd get phone calls from him, and he'd spend fifteen minutes yelling at us about why we never called—a confused act of love if there ever was one. He'd counter this with tenderness and generosity—giving "experiences" as gifts, long conversations, hard-earned compliments. Much later, when talking to Dad about those times, I said, in offhand awe, "Man, were you crazy?" He said, "Yeah." Like, Did you not get the memo?
In other words, he was like Chief.
Mom worked full-time and struggled to keep tabs on us. In her teens, my sister rebelled in typical fashion, and started going with Tommy, a tough boy with long hair who rarely wore a shirt. When my mom was out, Tommy would come over, and he and Shelley would smoke and tease me. My parents eventually made her break up with him, but they still saw each other on the sly. When Shelley started riding horses, though, it was all she wanted. She found them more enticing than boys, and she begged my parents for one of her own. They eventually relented, and she ended up with Chief.
He was beautiful. He was, in many ways, what a horse was supposed to be before humans came along. Free to do as he pleased. But this being the glory decade of the Triple Crown—when Secretariat, Seattle Slew, and Affirmed each swept the three big races—we hoped to make him into a more acceptable version of himself. He refused, but Shelley loved him anyway.
After he tossed my sister into the chicken coop, an effort was made to break Chief for good, led first by Tommy. He'd stubbornly jump on the horse, bareback, and hold on while Chief bucked and reared. Sometimes the horse would flip all the way over, onto his back, smashing Tommy beneath. On one occasion, Tommy broke his collarbone. Chief rode better with Shelley and others, but not much. He bucked off a friend and broke her arm; he tossed my sister again and again, one time stepping on her head and concussing her. All the while, she pleaded with my parents not to get rid of him.
We love horses like no other animal. Because, like no other animal that we think we can control, we can't control them. We're given proof of this time and again.
On the first Saturday in May of 1989, when I was in college in Tampa, I tuned in to the Kentucky Derby. The race was supposed to be the first installment of the five-week Triple Crown coronation of a "superhorse" named Easy Goer—a chestnut monster that strongly resembled the great Secretariat. A black beauty of a horse named Sunday Silence, wearing No. 10, was the 3–1 second choice.
Sunday Silence had troubles. He was cow-hocked for one–his back legs bent too close together. He had nearly died of a virus when he was a Kentucky weanling. And about a year prior to his Derby, while he was riding across Texas in the back of a van, the driver of the vehicle suffered a fatal heart attack and the van flipped. Somehow, Sunday Silence was not seriously injured. At least not physically. The owners got word from the vet: The horse is terrified of everything and will never race. But legendary California trainer Charlie Whittingham was called in, and he got Sunday Silence racing again and loving it. In his last event before the Derby, at the Santa Anita, Sunday Silence scattered the field with a record-breaking eleven-length romp.
It was cold that afternoon in Kentucky. As they loaded into the gate at Churchill, Dave Johnson, the caller, proclaimed: "This is what thoroughbred racing is all about." He meant the big race, the Run for the Roses. But what transpired would better define his words.
The gates crashed open. Sunday Silence immediately broke wild and left, ramming his neighbor. The jockey, Pat Valenzuela, seemed to barely have control as his colt sprinted through the pack to fourth. Around the first turn, you could hear the giddiness in Johnson's voice: Valenzuela and his horse had the gumption to run ahead.
At three quarters of a mile, in all the crowd noise, someone let out a crazy scream, and that's when Sunday Silence began to roll to the outside. At the final turn, he was in third by a neck. Easy Goer, too, was making his move. What happened next can only be described as bizarre. Or inspiring.
Sunday Silence leapt to the lead in three bounds, and it was as if Valenzuela let go of the reins. The horse, perhaps haunted by visions of loud crashes and flipping vans, veered spastically away from the roaring Churchill Downs crowd, nearly clipped a fading rival, then cut back to the middle of the track to avoid other horses, snaking the final three hundred yards to get away from all the sound and chaos, and to do it faster. And he won, by two lengths. Easy Goer, who ran straight, placed.
It's true: Horses have a way of getting inside of you. We see our best selves in them. We see our worst selves, too, and we accept it. Sunday Silence represented anybody or anything not quite right. Like Chief. By the time the Preakness arrived two weeks later I was mad with apprehension, miffed that Easy Goer was again listed as the favorite to win.
It was a frantic race. Coming around the final turn, with Easy Goer in the lead, his mane flapping like copper wings, Sunday Silence's dark countenance appeared on the outside. A two-horse duel. For the entire stretch run, with the other horses struggling to keep up, Sunday Silence and Easy Goer ran side by side along the rail. Easy Goer led, by a nostril, for much of it, but with a hundred yards left Sunday Silence, ears pinned, eye-to-eye with his rival, with Valenzuela's pale yellow silks rattling like a flag in a storm, refused to give. With two steps to the finish, he pulled his nose in front. It was the closest Preakness finish in history.
Since Affirmed took the last Triple Crown in 1978, thirteen horses have won the Kentucky Derby and the Preakness, the first two of the three races that comprise the title, but lost the mile-and-a-half Belmont Stakes. Sunday Silence is included on that list; Easy Goer beat him handily in the last Crown race. The horses met one other time, at the end-of-the-year Breeder's Cup Classic in '89. It was billed as the "Race of the Half Century." Sunday Silence crossed the wire first, with Easy Goer closing fast. Look at the comments on YouTube. The fans of both horses still argue today about who was better.
When it comes to horses, hope never vanishes. Last summer, I drove thirteen hours north to see the Belmont for the first time. I wore a red-and-blue bow tie on race day. I drank bourbon. I told people where I was from, but no one asked why a Southerner was on Long Island. We were all there for the same reason: California Chrome.
This horse had won the first two legs of the Triple Crown in stylish fashion, dusting the competition before they could even hear the whip crack. He had won his last six races by a total of twenty-seven-and-a-half lengths, and he had a backstory straight from Sunday Silence land: bred for $10,000 (pocket change in horse racing), trained by an old-schooler named Art Sherman and his son, Alan. The owners, Perry Martin and Steve Coburn, used purple and green silks with the cartoon of a buck-toothed donkey on the back—the logo for Dumb Ass Partners, a reference to someone who called them "dumb-ass" for purchasing California Chrome's mama for breeding. Now, the camp was on the verge of sporting history.
I spent the Friday before the race getting to know Belmont. If you at all doubt what we ask of horses, walk the track there. It's a mile and a half around, but with wide turns and a grandstand that, if turned on its side, would rival the Empire State Building. It feels infinite; it's an airport with horses taking off instead of planes. I stood in the middle of the homestretch, facing the final turn, where Secretariat had run straight into history in 1973, winning by a mythical thirty-one lengths and setting a record that is still two seconds faster than any other horse that has run it. (Easy Goer ran the next fastest Belmont when he beat Sunday Silence in '89.)
Most of the horses that have run for the Triple Crown, however, stalled in Big Sandy, nicknamed for its marshmallow-like mix of dirt and sand. Among recent contenders: Real Quiet, in 1998, lost by a hair on his opponent's nose; the next year, Charismatic suffered a broken leg in the final furlong, finishing third. (His jockey, Chris Antley, jumped off and held the horse's injured left leg up until help arrived. Charismatic had career-ending but life-saving surgery the next day.) Big Brown was a 3–10 favorite to sweep the final Crown leg in 2008, but he had to be pulled up before reaching the homestretch.
By the time Chrome and the other horses paraded in on race day, the Belmont crowd was giddy and drunk with the moment's potential. To get a better view, I ran up to the owners' boxes and found a place in the aisle behind Chrome's camp, which was filled with extended family. Half the people in the place held up their phones. When the gates opened, I think every single one of us, even those who bet against California Chrome, hoped he would do something that would somehow change us.
It wasn't until later that we learned that Chrome was injured during the race—he clipped his right front hoof at the hectic start, opening a wound. One announcer likened the pain of it to having your fingernail torn off. Still, Chrome finished a game fourth. But Belmont Park might have collapsed with all the hope sucked out of it.
I bit my fist while watching the race. I've never done that before, but it just seemed like the thing to do. After it was over, I looked down to Coburn's crowd in their box. NBC cameras and a reporter were immediately upon him. I couldn't hear what he was saying; you didn't have to hear it. He jabbed his finger into the air; he was pissed. He essentially called the connections of the winner, Tonalist, cowards because they had not run their horse in the Derby or Preakness. With fresh legs, Coburn said, they stole the Triple Crown from his horse.
You can go through life kicking and bucking, and suffer consequences. Or you can change. In his fifties, Dad confronted his demons. He stopped drinking for the last thirteen years of his life, opened his heart until, in his own words, he "cried at stoplights." He tamed himself, which is perhaps one of the toughest and most confusing acts of love.
Chief, though. He simply refused to submit.
My parents found a good trainer named Larry at some nearby stables. Larry and his men let the horse settle in, but they knew how to break a horse and turn him around. After a few more accidents involving my sister, Dad came in from Louisiana and arranged a session. We gathered at the stables one Saturday—Dad, Shelley, Mom, me, a few others. We watched while Larry stood with Chief in the horse ring. He took a long look at the horse, and the animal glowered back. This was the moment: Either Chief bowed down and became a "good" horse, or we got rid of him. It was his last chance. Even then, I sensed it was nothing more than a ceremony.
As Chief circled and bucked and misbehaved, Larry's whip cracked over and over and over. I remember looking at Dad and, without quite understanding it, feeling the canyon of logic between childhood and adulthood. As children, it's easy to know what our animals are thinking. Chief had no idea what was happening to him.
I looked at Shelley, standing next to Mom. She loved Chief for his faults, for his willful spirit–the very things they were trying to take out of him. In those days, she did something very Seventies with her eyeliner: She would take a lighter to it, soften it, and when it cooled she would apply it around her eyes. Now, watching Chief refuse to give in, black streams ran down her cheeks. No emoticon could do it justice. It was the face of anyone who has ever loved a horse.
---
Enjoy this story? Subscribe to the Oxford American.