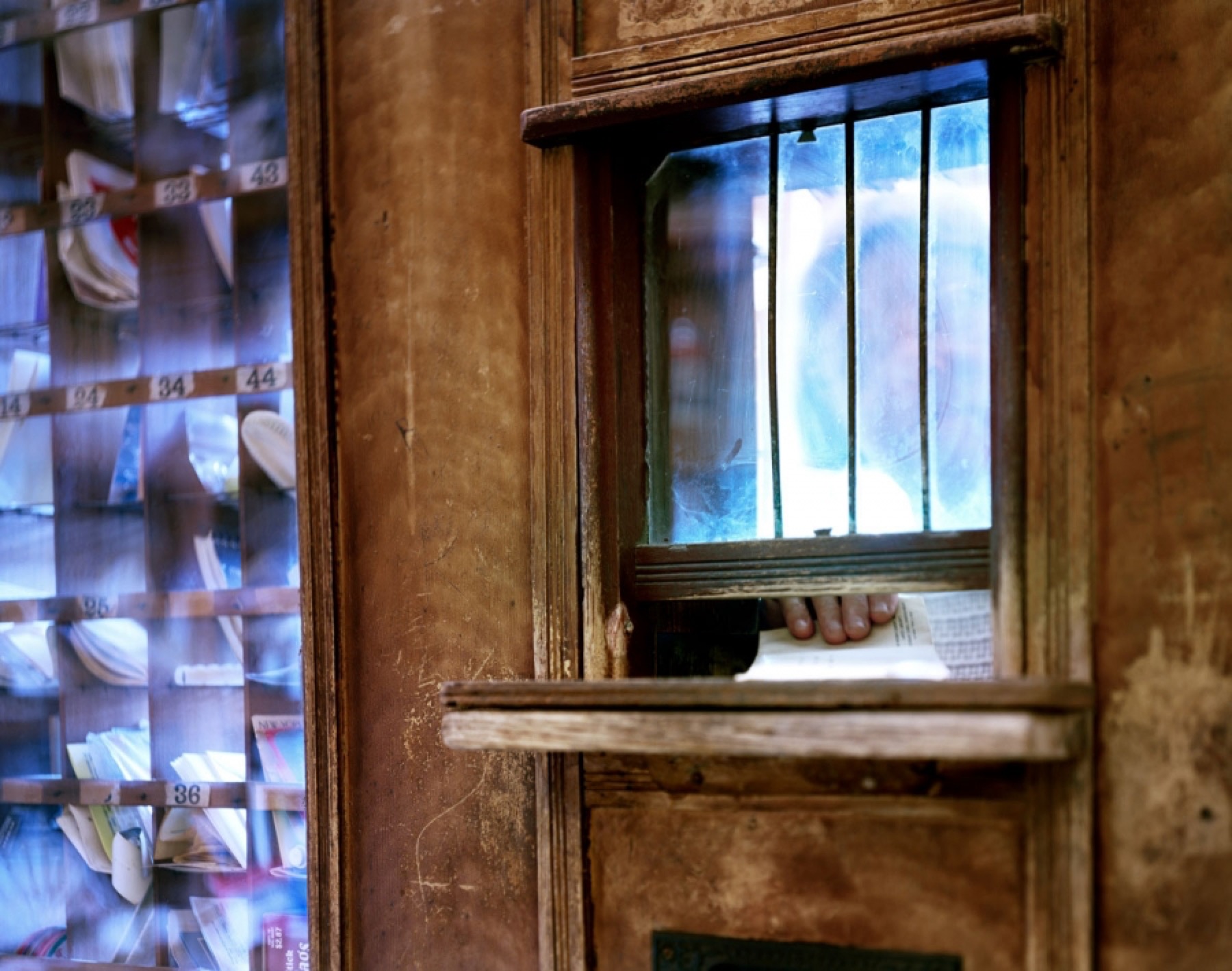 "28531 The Postmistress' Daughter, Harper's Island, NC" (2013), by Rachel Boillot
Truth in Stories
By Eliza Borné
---
About a year ago, I read President Obama's description of the Reverend John Ames as one of his favorite characters in fiction. Shortly after, I noticed that the pastor from Gilead, Iowa, had also started showing up as a figure in Sunday sermons at my church in Little Rock. (It seemed that Ames was having a moment.) So I picked up Marilynne Robinson's Gilead trilogy, an extraordinary portrait of a particular corner of rural America and the decent people who live there—a strong tonic during this long season of political discontent. A line from Lila, the third book, has lately stuck in my mind. "She liked to hear people tell stories," Robinson writes of the abandoned young girl who grows up to marry Ames. "The saddest ones were the best."
I cannot deny that there is a healthy serving of sadness and tragedy in this issue of the Oxford American—the first in our twenty-fifth anniversary year. This fact gnaws at me a bit, as many of us need only to spend ten seconds scrolling through the news to feel immersed in devastation. Yet readers have never come to the OA for simple escape, for unchallenging dispatches from a region that is messy and weird and difficult—a place that frequently bears witness to unfathomable cruelty, as well as genius and beauty. They have come for artistry and they have come for truth. (For "the truth shall make you odd," Flannery O'Connor is reputed to have said.) On that contract, the Oxford American has delivered for a quarter of a century. Our charge is to share important, moving stories with you, our readers, from a region that is still oft-overlooked and maligned. That a scrappy nonprofit magazine is thriving after twenty-five years is cause for celebration. 
The tradition continues here. In 2017, we are publishing a series of three excerpts—in spring, summer, and fall—from Jesmyn Ward's forthcoming novel, Sing, Unburied, Sing; the selection in this issue, "Flayed," concerns a goat-skinning on a child's birthday in Mississippi, told in Ward's singular voice—searing and lyrical, tender and raw. Also in this issue, C. Morgan Babst recounts her breakdown and breakthrough after Hurricane Katrina. Nick Tabor investigates, in meticulous and often horrifying detail, how a 1994 double murder has haunted a small town in Kentucky for decades. In a previously unpublished poem, the legendary late poet Margaret Walker elegizes twelve historic African-American writers of her generation, introduced by Kiese Laymon, one of our fiercest cultural critics. John T. Edge reckons with living in Trump country and finds a way forward in unlikely quarters: by honoring the ingenuity of the farmers and fabricators who invented the crawfish boat. Rien Fertel pens a definitive history of the flambeau carriers of Mardi Gras—a tradition-steeped community of (mostly) men who have lighted the way for Carnival floats and sought respect in New Orleans since the nineteenth century. On the cover and in a selection of photographs, Jack Spencer—who has contributed to the OA since 1998—brings us along for a color-saturated meditation on the American landscape. And in "The Year of the Heavy Moon," Michelle García makes the bold pronouncement that to seek joy in a time of despair is the ultimate expression of our humanity—if we can open ourselves enough to look for it.
"This magazine feels like home." I hear that a lot from OA readers. I've read emails from Southern mothers (so many Southern mothers!) who buy subscriptions for their far-flung children, hoping the Oxford American will bring them closer. I've taken calls from readers who are eager to be reunited with a poem they read years ago. When I'm on the road at panels or festivals, writers confide that they honed their craft by studying our pages. Staying in touch with you, our readers, is one of my favorite parts of this work. After all, the reason we're still here after twenty-five years is that the writers, musicians, and artists who populate the OA tell stories that bring you "home," wherever you are. Sometimes it's a home you didn't know you had or loved. 
This year, we're taking another step in bringing important stories to you through the introduction of a new program we hope will serve many generations of writers. Thanks to a partnership with the ACANSA Arts Festival, here in central Arkansas, we are proud to announce the Oxford American Jeff Baskin Writers Fellowship, a nine-month residency that will be awarded annually to a writer of a debut book of creative nonfiction. Since our earliest days, the Oxford American has helped launch and sustain the careers of many significant writers of literary journalism, memoir, reportage, criticism, and the lyric essay, from John Jeremiah Sullivan to Zandria F. Robinson. (Robinson's essay "Listening for the Country," published in our recent Southern Music Issue, was named a finalist for a 2017 National Magazine Award.) The fellowship honors the legacy of Jeff Baskin, a visionary librarian based in North Little Rock who passed away in 2014, and it expresses our optimism about the OA's future. We need stories, and so our work continues.
If you sense a somber tone in this issue, I hope, too, that you'll find the bright spots—the humor, the light. "I look to you for the silver thread," Margaret Walker writes of a friend. Or as Michelle García reminds us, responding to a work of activist art, "Joy in this time of vitriol and pain seemed so perfect, so necessary, and yet unexpected."
---
View the Issue 96 table of contents here.