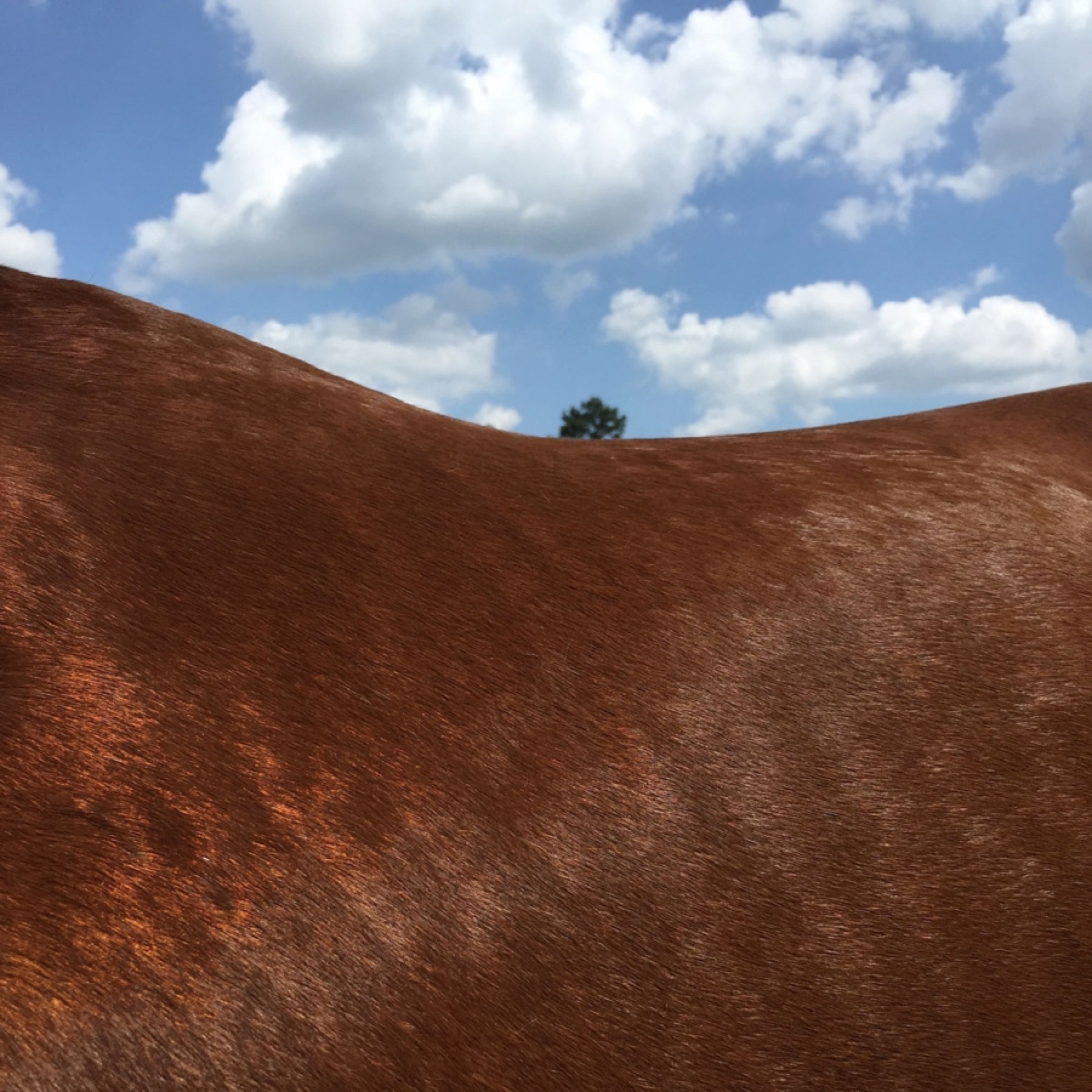 "Copper Valley" (2015), by Lee Deigaard
Black Fences
By Linda B. Blackford
In peak summer season at the Hall of Champions barn at the Kentucky Horse Park, Gene Carter's days take on a predictable routine. First he sweeps the Hall of Champions gazebo in anticipation of the day's crowds. Then he pulls a champion out of his stall—maybe his favorite, Da Hoss, who twice won the Breeders' Cup Mile. Carter hooks Da Hoss to the aisle's crossties, brushes down his sleek bay coat, oils his hooves, and waits for the call to walk him the few yards from the barn to the gazebo. Members of the crowd take their seats in this theater in the round and look up at video screens showing Da Hoss's 1998 victory. The horses take off, race around the first bend, and then the second, as announcer Tom Durkin's register soars higher and louder: And it's Da Hoss, as game as they come! Da Hoss comes back, UNbeeleeeVABLE, sensational! This is the greatest comeback since Lazarus! That's the signal for Carter to lead the old horse into the gazebo as his younger self gallops across the screen. It's a neat trick, and the tourists invariably clap and pull out their phones for pictures. Then Carter leads Da Hoss back to the white-and-blue-trimmed barn until the next show.
By November, russet leaves fall over the Horse Park's black fences, and only a few tourists find their way to the barn. Da Hoss nickers to Carter through the iron bars of his stall. Carter opens it and runs a gnarled hand over the horse's emerging winter coat before he responds in an unintelligible murmur and offers a peppermint from his leathery palm. At twenty-five, Da Hoss's back is swayed, his legs have thickened, and he's lost any vestige of the nervous energy he once had prancing down to the starting gate. Carter looks better; he's ninety to Da Hoss's seventy-eight human years, and his back only just stoops. For both man and horse, brown eyes are slightly clouded, but they brighten when they look at each other—one in hopes of candy, the other in constantly reflecting memories.
"I talk to them, you see, that was always my secret," Carter said. "That's why they always made me ride the crazy horses. I would sing to them and talk to them, and they'd settle right down."
State officials opened the Horse Park in 1978 to give tourists a taste of horse farms without disrupting the breeding and racing schedules on which working farms thrive. The park is set on the same rolling fields the real farms are famous for, although state budget cuts forced the historic white fences to be painted black (the park still gets state funding, although financial self-sufficiency is a stated goal). It hosts equine competitions of all kinds in its numerous arenas, though it's billed as an equine theme park and has enough of a Walt Disney feel that an actual horseman like Carter lends a needed authenticity to the tour. If asked—and only if asked—Carter will tell folks about the time he sat on Man o' War, the greatest racehorse who ever lived (and whose oversized bronze sculpture greets visitors at the park's entrance). He might tell them about winning his first and only steeplechase or about conditioning Annihilate 'Em for his winning run in the 1973 Travers Stakes at the Saratoga Race Course.
After Thanksgiving, the Horse Park moves to winter hours, so Da Hoss will grow his coat even longer and Carter will retreat to his small downtown Lexington house. There, he will watch the racing channels and recount the same stories to his housemate and daughter Vivian, stories she's heard many times before, including the one about his unfulfilled shot at becoming a professional jockey.
Still, Carter is having a moment of sorts—last spring, his family celebrated his ninetieth birthday with great fanfare, and his eight children and fifteen grandchildren returned to Maddoxtown, a historic black hamlet outside of Lexington, where he was born and raised and still prays every Sunday. In October, he was honored at an event to celebrate the old Kentucky Association racetrack, Lexington's first Thoroughbred track, where many black trainers and jockeys trained and raced in what is now downtown Lexington. Those horsemen dominated racing throughout the nineteenth century. But like the track, which was eventually built over with concrete and houses, that history disappeared. By the time Carter reached the racetrack, African Americans were effectively barred from the winner's circle and relegated to the track's backsides.
"Gene represents a lifetime of horse racing history," said Yvonne Giles, a black historian who has done much to upend Lexington's selective historical amnesia but who, it must be said, stays constantly busy with the work yet to be done. "We want to acknowledge him while he's still alive so he won't be forgotten, too."
Forgetting, active or passive, is endemic to Lexington, a place that feels hopelessly wedded to bucolic images of romping foals and crystalline streams that wind through green fields to bourbon distilleries. Although it's hard to find many places in the South fully at ease with their complicated histories, a recent fight over Confederate statues showed that this community has hardly even started to get a grip. That those Confederate statues (still) stand in a square that once housed one of the country's largest slave markets, in a state that never officially seceded from the Union, is just one example of the cognitive dissonance.
Long before then, farm owners figured out that Kentucky Bluegrass produced good racehorses—a circumstance now attributed to a geologic makeup of limestone that grows strong bones (and good bourbon). Slaves took care of the horses and rode them, and after the Civil War, those freedmen rose to the top of the increasingly popular racing industry in Kentucky and beyond.
Here are the facts: In the first Kentucky Derby run in 1875, thirteen of the fifteen jockeys were black, including the winner, Oliver Lewis on Aristides. Black jockeys won fifteen of the first twenty-eight derbies. Isaac Murphy, whose winnings built a mansion in Lexington near the old Kentucky Association racetrack, won the derby three times and had an overall win record of 34.5 percent. Jimmy Winkfield, who was born in 1882, won the derby twice. He went to Russia to race and then fled the Bolshevik Revolution, leading a band of Thoroughbreds to Poland. Winkfield lived the high life as a trainer on the tracks outside Paris, France, but when he returned to Kentucky in 1961 at the invitation of racing journalists, he was turned away at the door of the Brown Hotel because he was black.
All that success was too heady and important for the white supremacy in the shadow of Reconstruction, historians have concluded. And black achievement did not fit well in Kentucky, a state that decided its horse business could survive only within a distinctly "Southern" framework. In her groundbreaking book, How Kentucky Became Southern, Maryjean Wall details a masterful marketing campaign to revive the Thoroughbred industry after the Civil War with a narrative of moonlight and magnolias. "The neo-Southern image was a cleverly crafted picture, situating the Bluegrass within an Eden of smoothly operating plantations where the horses ran fast, the living seemed ideal, and all African-Americans occupied servile positions of offering juleps to the colonels as the white folk relaxed in the shade of columned mansions," writes Wall. "This picture grew in direct contrast to the highly visible sphere that blacks had occupied as star athletes of the sport."
Other historians think that white jockeys and trainers colluded to push their black peers out of the business. In his 2013 biography of Murphy, The Prince of Jockeys, Pellom McDaniels III writes, "The realization that blacks could rise above their previous station based on their pursuit of education, gainful employment, and power as consumers undermined whites' sense of racial superiority." Murphy died in 1896, just a few months before the U.S. Supreme Court set the stage for legal segregation in Plessy v. Ferguson.
So black jockeys and trainers returned to the farms and the backsides of the tracks to be grooms and exercise riders. Their history was so effectively erased that even horsemen like Gene Carter—born in 1926 at the height of Jim Crow segregation—knew nothing of Isaac Murphy or even the Kentucky Association racetrack when he was young.
"I didn't know there were black jockeys," he said when I recently asked him about it. "Listen, they sold slaves here. They didn't want a black man to have too much money, then he won't do what you tell him to do. After segregation, they just kicked them to the curb."
On an overcast December morning last year, Carter put on a pale brown pinstripe suit and drove his long black Town Car out a narrow stretch of road to First Baptist Church of Maddoxtown, est. 1875. Inside the small brick church, he met four of his eight children (three daughters, one son), several grandchildren, and a young great-granddaughter (whom he calls "Chipmunk"), who was wearing a white tulle dress. None of the Carters live in Maddoxtown anymore, though with their extended family, they used to make up a good percentage of its population. A few hundred yards down from the church is what they still call "the homeplace"—one small white house where Carter's late wife, Lillian Harbut, had grown up, and just next door, Carter's small brown childhood home. A sprawling garden of winter greens pops a spot of color in the drab winter light. A big tree used to tower over the front yard, where the children would sit and wait as the grown-ups left for work. "Then we'd run along and pick fruit from all the trees around here," remembered daughter Gwendolyn Carter.
Fields stretch across the road, a landscape of beige and gray that fills the horizon. Broodmares roam, their bellies swelling in anticipation of January and February births. This is the storied Mt. Brilliant Farm, first settled in 1792, now owned by a Texas air-conditioning magnate involved in both horse racing and polo.
Maddoxtown's location is no accident. The black hamlets of the Bluegrass were created to bring back the labor force to the horse farms after the Civil War, when so many freed slaves had made the trip to the North. Big landowners sold them land cheaply, and black families built houses, kept gardens, and worked with horses. That's what Will Harbut, Lillian's father, did, traveling just a mile down the road to Faraway Farm, where Man o' War was at stud. That legendary partnership between man and horse landed them on the cover of the Saturday Evening Post in 1941, and Carter is among many who believe that Man o' War's 1947 death a month after Harbut's was due to a broken heart.
"He stopped eating," Carter said, standing in front of Will Harbut's gravestone behind First Baptist. The horse was buried down the road, and when his remains were moved to the Horse Park, officials asked the Harbut family if they wanted Will Harbut moved as well. They politely declined. Lillian's stone is a few rows away, next to the one already inscribed for her husband.
With tourists, Carter will laugh as he tells the story of his one-second ride on Man o' War. He was always hanging around Harbut at Faraway, partially to learn about horses and partially to impress his future father-in-law. The story has Harbut asking Carter if he wants to sit on Man o' War. He recounted it to me one day at the Horse Park: "Do I want to sit on the greatest horse of all time? Heck, yeah!" Harbut boosted him up, told him to pat the horse, then told him to get down. "Now you've ridden Man o' War," Harbut told him. Carter exclaimed, "I'm the only one who rode him who's still alive!"
By his own and others' assessments, Carter was a great rider and horseman. He had a stopwatch in his head that he could use to assess exactly where he needed to speed up and slow down during workouts. He could calm the excitable ones, those two-thousand-pound animals whose nervous systems were so affected by generations of breeding and inbreeding that "fast" and "crazy" became yoked together. He conditioned hundreds of horses on tracks up and down the East Coast, but he only ever rode in one horse race. That was a steeplechase in a nearby county that he rode for his regular employer. He won. His family had to watch him from a stand of bushes because black people weren't allowed in the grandstand.
"I wanted to race horses. I wanted to ride so bad, but things had passed and segregation had taken over," he said.
A man from New York offered to get him a jockey's license, but the week before they were due to leave, the man dropped dead of a heart attack. "So that was it," Carter said. "I was available, and I never got the chance."
As an exercise rider and groom, Carter never made much money. He and Lillian moved to town, raising their children in a public housing development called Bluegrass-Aspendale that was built close to the sites of the Kentucky Association racetrack and Isaac Murphy's mansion. Carter moved on to different farms, and as he stopped riding, he started breaking the young horses. One yearling he broke sold for $7 million in the Keeneland sales ring. The owner sent him a $500 bonus.
The Kentucky Association racetrack closed in 1933, and a few months later, organizers started turning an old horse farm west of town into Keeneland. Keeneland is now the heart of Lexington's horse industry, where the equine aristocracy passes through the sales ring as young horses and the older horses race on its track. Far from gritty urban tracks like Churchill Downs, people at Keeneland wander under giant sycamores and watch races against a backdrop of meadow where it almost looks as though the horses are racing into the horizon. If you own a box in the clubhouse, which faces west, one of hundreds of employees in green jackets will bring you a lacy white parasol to block the sun's afternoon rays. Outside the clubhouse, the stands teem with crowds of college students or casual betters or those whose Daily Racing Forms are covered in notes—very few African Americans stand among them. It seems an obvious question, as the history of black jockeys becomes more mainstream, why racing wouldn't try to attract what would seem to be a natural and historic fan base.
It's both possible and probable that tracks first ran off their black spectators in the early years of Jim Crow and didn't bother to woo them back when segregation was legally ended. At Keeneland, a separate wooden grandstand near the finish line served black crowds until 1953, when it was torn down to expand the main grandstand. Although there was no longer an officially segregated section for black spectators, observers said they continued to congregate at that part of the track.
Now, racing's grand pooh-bahs may be too worried about numerous other problems aside from the diversity of its audience. According to one report by the august Jockey Club, horse racing nationally is expected to lose about twenty-five percent of its fan base by 2020. Horse racing competes with a raft of other sports, from fantasy football and college basketball to the slot machines available at more and more tracks. Not even the acclaimed Triple Crown winner American Pharoah could make racing as popular as it was in the nineteenth century.
When I asked Carter if he liked going to the races when he's not working, he raised an eyebrow. "It takes money to go to the track," he said. "Besides, I spent my whole life there."
Progress is slow, justice elusive. In his ninety-first year in Lexington, Gene Carter can visit the Isaac Murphy Memorial Art Garden and drive on Oliver Lewis Way. He lives around the corner from Soup Perkins Alley. When he circles the roundabout at the Horse Park, there are a couple of placards set up next to the Man o' War statue that detail the history of black jockeys and trainers in racing. And a few yards away, at the International Museum of the Horse, director Bill Cooke has embarked on an ambitious project. He's trying to put together a permanent exhibit that will include a digital database featuring the contributions of notable black horsemen, beyond just the jockeys. This national register of African-American horsemen would allow people to submit names of notable African Americans from the tracks, the backsides, the broodmare barns, and the training rings. Cooke, who is white, grew up in nearby Harrodsburg. In towns like Harrodsburg and Lexington, schools integrated with little trouble—for white people. Lexington's civil rights protests were ignored by the local media, so many people never even knew there was racial unrest.
"Lexington always prided itself on this kind of benign racism—We're not like Birmingham—but, boy, under that veneer . . ." Cooke said wryly. "I think now people are ready to hear."
When Cooke interviewed Carter for an oral history, Carter didn't want to talk about the racism that had kept him out of the post parades and winners' circles. He trotted out the old stories of Man o' War and Annihilate 'Em, but he said he's not interested in talking about aggressions that have barely changed in ninety years.
"Being bitter doesn't solve a thing, and it still don't change nothing," he told me.
Now, he's waiting for spring, when the dogwoods bloom and the prep races in Florida and California begin their winnowing to the Kentucky Derby hopefuls for the first Saturday in May. The tourists will start coming back to the Kentucky Horse Park, and Carter will be there with Da Hoss and his peppermints and his memories. God willing, he says, they will have both survived another year.

---
Enjoy this story? Subscribe to the Oxford American.