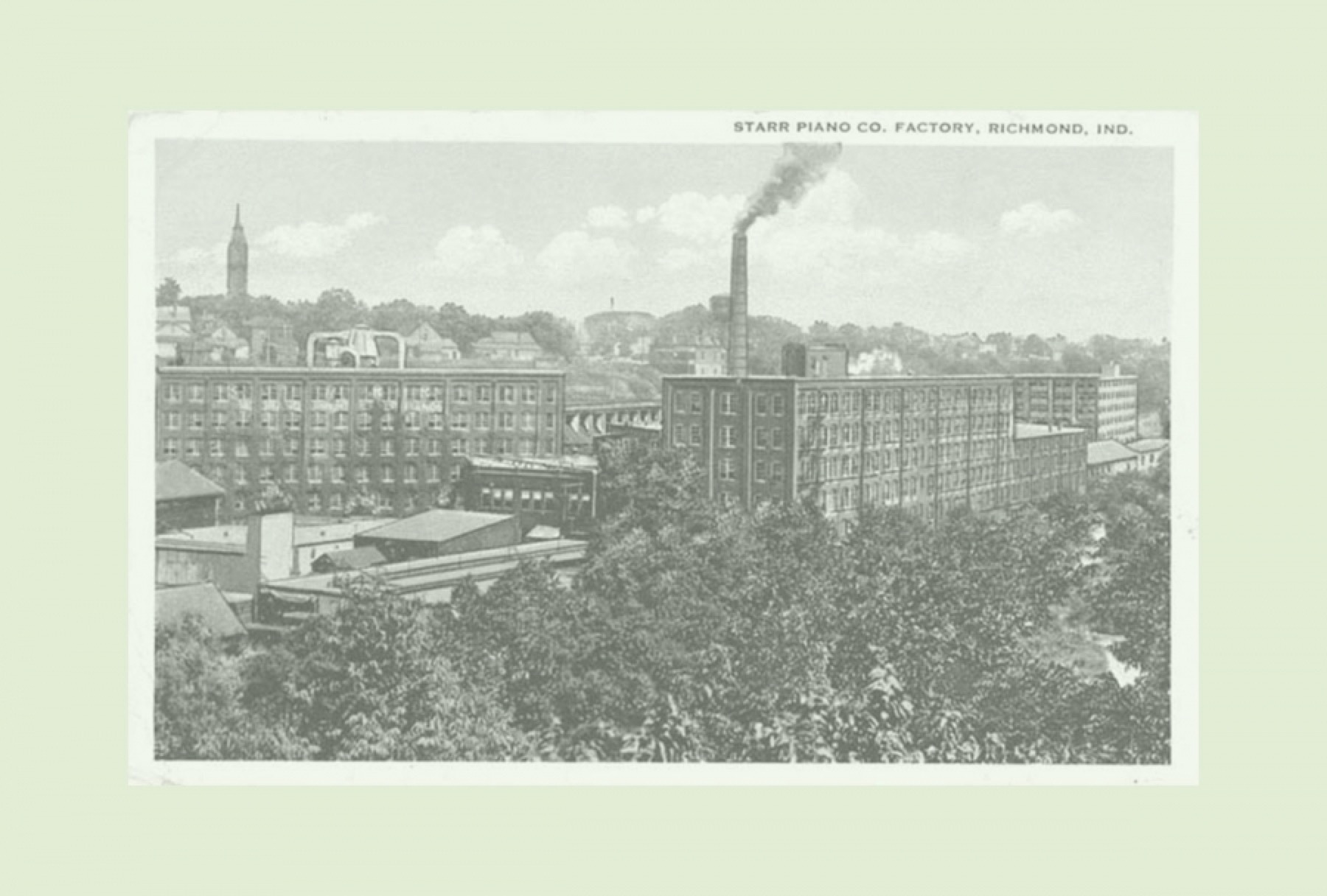 Starr Piano Company, site of Gennett Records
"Camp Nelson Blues"
By Nathan Salsburg
2017 Southern Music Issue CD featuring Kentucky
Track 10 – "Camp Nelson Blues" by Booker Orchestra
---
The music made by the Booker Orchestra of Camp Nelson, Kentucky, has been almost completely obscured by time. In that distinction, it's representative of many of the contributions made, to the Commonwealth and to the country alike, by rural black Kentuckians. Jessamine County's Camp Nelson was a major site for recruitment and training of African-American soldiers in the Civil War, and more than ten thousand United States Colored Troops and their families cycled through during and after the war. (Many were runaway slaves; after Emancipation, a section of the depot was repurposed as a refugee camp. Slavery was not abolished in Kentucky until December 1865.) In 1865, runaway slaves Jim and Sarah Booker walked seventy miles north from Pulaski County to Camp Nelson, and it was here they would raise three musical sons: Jim, John, and Joe.
The Bookers were popular at dances, frolics, and other social events around South-central, Northern, and Eastern Kentucky, performing for whites and blacks alike. (They also were reportedly a fearsome squad on the baseball diamond.) Eighteen years separated Jim (b. 1872) and Joe (b. 1890), and the brothers would have commanded a broad repertoire that likely incorporated pop songs of the day, rags and cakewalks, banjo breakdowns and square-dance tunes, and the emerging popular music called blues. They were each handy on a variety of instruments: fiddle, guitar, mandolin, banjo. A family friend recalled the brothers, on their lunch break in the field, setting a grain cradle upright and bowing its blades with cornstalks. "The prettiest music ever you listened to."
When the subject turns to African-American performances of the 78 rpm era, we tend to think of either the country bluesmen, like Charley Patton or Robert Johnson, or the vaudeville blues shouters, Bessie Smith first among them. Smith sparked a phonographic blues craze after Mamie Smith blew the doors open with her "Crazy Blues" in 1920. Come Paramount's surprise smash with Blind Lemon Jefferson in 1925, the hunt was on for similar country blues guitarists who could replicate his sales. (None materialized.) By the late 1920s, most labels had launched their own catalogs of "race" records, as they were called, attempting to exploit the African-American market. Through these efforts, a number of highly local, and increasingly rare, black musical traditions were unwittingly documented for the ages.
The Booker Orchestra was decidedly that, to which the single record bearing that name attests. Jim, Joe, and John Booker, alongside neighbor Robert "Little Bob" Steele, cut it in Richmond, Indiana, for the Gennett label in August 1927. It pairs a raggy version of the hoary folksong "Salty Dog" with "Camp Nelson Blues," a breakdown, presumably of their own composition, driven by shared fiddle and kazoo leads with nimble guitar runs and strenuous mandolin accompaniment. Although any number of floating "blues" verses could be sung to its AAB form, "Camp Nelson Blues" isn't much of a blues by the genre standards we apply today. Instead it reflects a wide swath of the Bookers' musical predilections, synthesizing, for a few wonderful minutes, a necessarily wide repertoire that would have appealed to a diversity of audiences—town and country, white and black—in a moment in history when the old-time black string band was fast falling out of fashion.
Gennett was the first company to issue recordings of old-time Kentucky music—Anderson County fiddler William B. Houchens cut those in 1922—and the label maintained a steady release schedule of Kentucky fiddlers, songsters, and string bands, until it succumbed to the Depression. Many of these sessions were managed by Dennis W. Taylor, a talent scout in Richmond, Kentucky, not far from Camp Nelson. Taylor's most popular and prolific signing was a young fiddler (who was also his neighbor) named Dock Roberts, a favorite at dances and fiddlers' contests, who had played with and learned from nearby black fiddlers Owen Walker and Fiddlin' Jim Booker, the eldest Booker brother. In the spring of 1927, Taylor organized an assortment of players for a Gennett session that would bear the impresario's name—Taylor's Kentucky Boys. Composed of banjoist Marion Underwood, a guitarist named Willie Young, singer-guitarist Aulton Ray, and Jim Booker on fiddle, the group cut four sides: the first mixed-race recordings made of old-time music from Kentucky or, for that matter, anywhere else. In August that year, Jim's brothers, Joe and John, each provided guitar accompaniment on Dock Roberts's sides, and at the same session that produced the Booker Orchestra record, Jim and John joined Roberts to record three more barn-dance tunes as the Kentucky Boys.
Gennett's press materials, however, obscured this multi-racialism. The only extant publicity photo of Taylor's group substitutes Dennis Taylor himself, violin cheek by jowl to a porcine grin, for the black fiddler Jim Booker.
Gennett was one of the only companies of the era not to issue specialized records for black and "hillbilly" audiences in separate catalogs, and when the Taylor's Kentucky Boys and Booker Orchestra records were released, they were marketed with the label "Old Time Playin'." This was no mistake: the company files flatly state "made for Hillbilly." Only those who had had the pleasure of seeing them play—at a square dance, tent show, or society function; in a cornfield—knew the Bookers as Kentucky's preeminent black string band.
---
Order the 19th Southern Music Issue & CD featuring Kentucky.