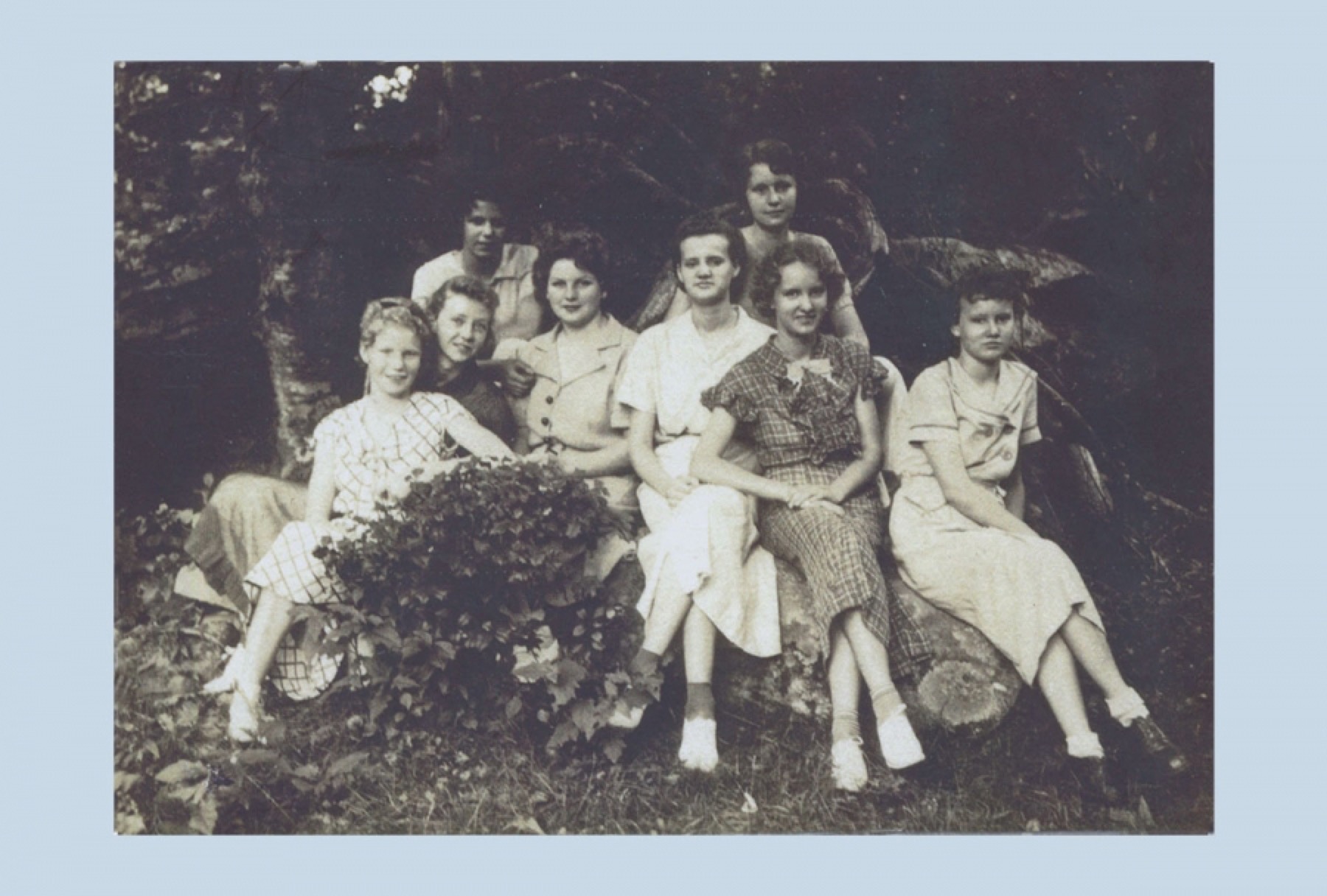 The Pine Mountain Girls' Octet, ca. 1937. Courtesy of Nathan Salsburg and the Pine Mountain Settlement School
"Wondrous Love" and "Pretty Polly"
By Nathan Salsburg
2017 Southern Music Issue CD featuring Kentucky
Track 22 – "Wondrous Love" by Pine Mountain Girls' Octet &
Track 23 – "Pretty Polly" by Locust Grove Octet
---
Before twenty-two-year-old folklorist Alan Lomax, with his wife, Elizabeth, departed for a two-and-a-half-month-long recording trip through East Kentucky in the fall of 1937, he tempered his own expectations and those of his paymasters at the Library of Congress's Archive of Folk Song. Coal companies, he warned, along with phonograph records and the radio, might well have compromised the traditional mountain music he was looking to document. These "metropolitan intrusions backed by wealth and prestige," he wrote, served to modernize and homogenize the region's former diversity of repertoire and performance styles. And indeed, of the thirty-two hours of recordings the Lomaxes made that fall in ten Kentucky coalfield counties, there are a number of faithfully mediocre renderings of treacly pop-country songs made famous by the likes of Gene Autry and Vernon Dalhart, whose records were (and remain) littered around the region. But these intrusions existed congenially alongside fiddle tunes, banjo breakdowns, and old-time love songs and ballads learned through the oral tradition, proof that it was both expansive and flexible enough to admit new adaptations or conceptions, however occasionally puerile, of mountain music.
When it comes to reimaginings of the traditional, there is nothing in the 1937 Lomax Kentucky collection that compares with the four brief pieces sung by the all-female octet of the Pine Mountain Settlement School in Harlan County—performances as sublime as they are sui generis. The octet featured two sets of three sisters along with two other young women in their late teens and early twenties—all natives of Southeast Kentucky and none with any formal voice training—singing under the direction of the school's director, Glyn Morris, and with piano accompaniment by school principal Arthur Dodd. They sang in stoic four-part harmony, sounding world-weary and far older than their years, and with only the slightest trace of Central Appalachian accents. Their performances are touched with a memorable disquiet, particularly in the famous ballad of "Pretty Polly," concerning the enticement and murder of a woman not much older than themselves. "Her name was Pretty Polly," they sang, with a twist on the next line that I've never heard elsewhere: "I know so well."
By the time the Lomaxes recorded them, the octet had recently completed two long concert tours, in November 1936 and May 1937. The former had taken them through the Midwest, where they made an appearance at Mr. and Mrs. Henry Ford's weekly Friday night hoedown at the Ford Company's research center in Dearborn, Michigan; the latter included a performance at the White House for the Roosevelts and two hundred fifty guests. The purpose of these tours was to publicize the school's educational mission in impoverished Southeast Kentucky to donors through concerts of what a Cincinnati Enquirer reviewer called "sad tunes from rural England of the seventeenth and eighteenth centuries which have been preserved in remote sections of the Kentucky Mountains." Their production also featured a segment of English country dances, learned at the school, and a run-through of square-dance figures that the English folklorist and song-collector Cecil Sharp had dubbed on his 1917 visit to Pine Mountain—with a bit more pretension than was due—the "Kentucky Running Set."
Director Morris, born in South Wales and raised in Wilkes-Barre, Pennsylvania (he was no stranger to coal-mining communities), shared Alan Lomax's distaste for what he considered ersatz and was adamant that the octet's presentation was the real deal. "None of that hill-billy stuff," he told the Enquirer. Yet the ballads and hymns in the repertoire he had selected came from sources refracted through the lenses of urban collectors of Kentucky folksongs, among them Londoner Sharp; New York City's Loraine Wyman (a nearly forgotten publisher and interpreter of traditional song, and an early presenter of the mountain dulcimer); and Louisville's wild-eyed art-folk seeker John Jacob Niles. In fact, the octet's version of the now-popular Christmas song "I Wonder as I Wander"—which Niles claimed to have learned from a teenage female evangelist in North Carolina in 1933, and that he later expanded and copyrighted—was the first performed publicly.
Sadly, the Lomaxes recorded only two complete performances by the Pine Mountain Girls' Octet, the disguised-lover-returned ballad of "John Riley" (drawn from Wyman's 1916 Lonesome Tunes: Folk Songs from the Kentucky Mountains) and "Wondrous Love," a staple of Southern tent revivals and shape-note hymnals, in an arrangement by the composer and folk-hymn collector Annabel Morris Buchanan. There's no extant recording of their take on "Lonesome Valley" or of their "Amazing Grace," which they sung in the call-and-response "lined-out" fashion, according to Morris in his memoir Less Traveled Roads, "with all the variations and harsh tonality characteristic of mountain hymn singing. And enjoyed doing so." Perhaps this wasn't presented to Lomax for his consideration, or it was and he regretted not recording it; he would return to East Kentucky in 1959 and again in 1983 with the primary motivation of documenting the lining hymns of the Old Regular Baptists.
Because the Lomaxes recorded only two verses of the octet's "Pretty Polly," I thought that a complete performance of the ballad in their style would be an interesting accompaniment to the original octet's transcendent rendering of "Wondrous Love." It might also serve to commend the music that Glyn Morris and the Pine Mountain singers made to the tradition at large: a reimagining of a reimagining of that tradition.
The Louisville trio Maiden Radio—Cheyenne Marie Mize, Julia Purcell, and Joan Shelley—took the reins on gathering a contemporary octet of Kentucky women, inviting Linda Jean Stokley and Montana Hobbs of the Local Honeys, Heather Summers and Anna Krippenstapel of the Other Years, and Sarah Wood to join them. They recorded their version at Louisville's Locust Grove in August 2017. The text—past the first two verses—is a composite of their own. Glyn Morris credited Loraine Wyman as the octet's source. But Wyman made two transcriptions of "Pretty Polly" and neither line up with the recording. My assumption is that if we were able to hear their whole ballad, it would owe more to Morris than anyone. The tune, however, for both the original and contemporary octets, is that of Wyman's accompanist Harold Brockaway, who Wyman credits in her Lonesome Tunes with having "collected" the melody in Harlan County, where the Pine Mountain Settlement School still operates today.